You want to travel the world while working remotely but aren't sure where to start. So, you searched "how to become a digital nomad with no experience" and came across this valuable and helpful article.
Let's get one thing straight – you have experience! Everyone is skilled and experienced at one thing at least.
But you're here because you feel that you lack the experience it takes to become a digital nomad. Whether that's the skills to travel the world full-time, find a remote job with a livable income, or whatever else you may worry about, I'm here to tell you that this experience and these skills are all attainable.
It may take some time to acquire the necessary skills to become a successful digital nomad, but that is completely normal. If living in different countries every other month while working online is something you truly want, you can most certainly achieve this lifestyle with some guidance and persistence.
By the end of this article, you'll know exactly what you need to do to become a digital nomad with no experience and how to acquire the skills you need.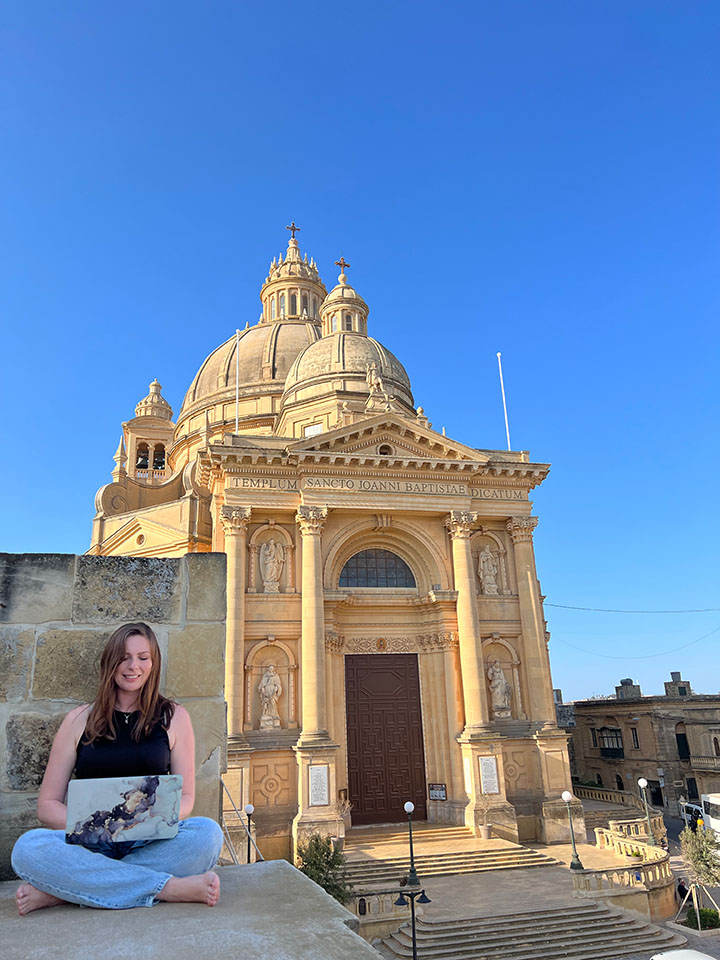 What is a Digital Nomad?
A digital nomad is someone who works online and travels the world full-time. They usually travel with all of their belongings either in a suitcase, backpack, or even a van. All they need to earn their income is a laptop, phone, and a decent wifi connection. 
While there are many different kinds of digital nomads, they all have one thing in common – they live abroad and work remotely.
You may be surprised to learn that in 2019, there were 15 million digital nomads from the United States alone. With this lifestyle becoming more popular with each passing year, you're jumping on the trend at an excellent time.
To get a better idea of what it means to be a digital nomad and the preparation needed to become one, check out our free online course!
What Do You Need to Become a Digital Nomad?
There are three main pillars that you must have to become a digital nomad, whether you currently have experience or not.
These aspects of living a remote lifestyle are essential for a smooth, happy, and successful experience.
Remote Job
When most people ask about how to become a digital nomad with no experience, they are referring to the skills needed to find a remote job. This is a huge part of a location-independent lifestyle.
Having a remote job or passive income stream is what finances your traveling and related expenses.
Whether you work as an employee, freelancer, or own a business, if you can earn your income with just a laptop and a wifi connection, then you have a remote job!
We'll dive deeper later in this article about how to gain the skills needed to land your first remote job to get you started on the digital nomad lifestyle.
Desire to Travel
Does packing your suitcase and jumping on a plane excite you? Do you appreciate new cultures and exploring foreign cities? This is exactly what you need to become a digital nomad!
Having a strong desire to travel and see the world while gaining new experiences is a passion most digital nomads have.
Traveling as a digital nomad doesn't mean being on vacation 24/7. Rather, it mostly consists of temporarily settling down in a new city while working remotely and then moving on after a month or two.
This desire to travel and experience new things is essential to the digital nomad lifestyle. Without this pull to get out in the world, you might as well stay where you are and work from home.
Open Mindset
One of the most overlooked qualities you need to become a digital nomad is to have an open mindset. You must be willing to try new things, set yourself in uncomfortable situations, and learn about new cultures and ways of doing things.
As you travel the world, you will be presented with many "firsts" and things you aren't used to. Whether that's hanging your clothes to dry on your balcony in Italy or removing your shoes in hostels and homes in Thailand, be prepared to go into this lifestyle with a broad and open mind.
The more open your mindset is, and the more you're willing to adapt and try new things, the more value you will get out of living a digital nomad lifestyle.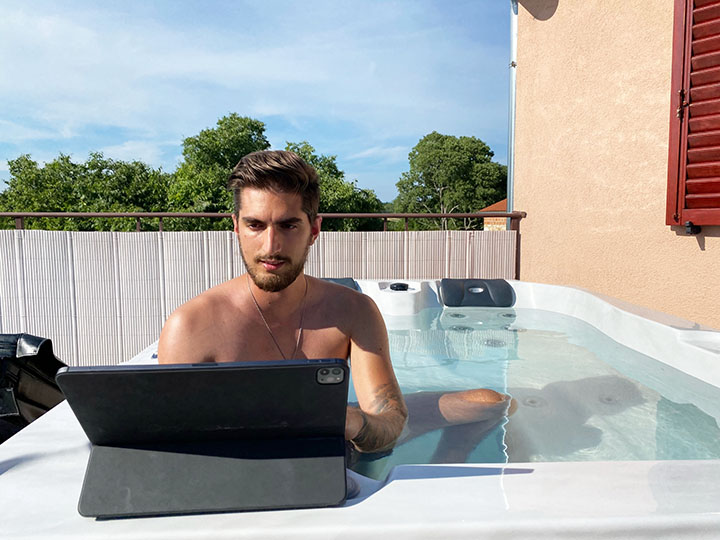 Finding Remote Work as a Digital Nomad with No Experience
Alright, now for the content you're actually here for – how to find a remote job with absolutely no experience that you can do as a digital nomad.
As I said before, you definitely have skills and experience. It's a matter of how you put these skills to work and adapt them to benefit you working remotely.
If you truly are starting out small with no tech or business experience at all, then it may take a little while to get started and learn everything you need to earn a livable income.
However, if you're dedicated and passionate about working remotely while traveling, your dedication and persistence will pay off.
Decide What You Want to Do
Chances are that you already have a job of some kind. Maybe you're a teacher teaching in a classroom or a personal trainer working in a gym or an administrative assistant in an office.
What if I told you that you could take the skills needed to be successful in these location-dependent jobs and turn your career fully remote?
If you love teaching but want to travel the world instead of being in a classroom for nine months out of the year, you can become an online English teacher or private tutor.
Personal trainers can shift their work to become a content creator or virtual trainer.
Administrative assistants who are used to handling emails, appointments, and spreadsheets can become an independent virtual assistant.
The opportunities are endless!
Don't let the assumption that you need to work in IT or be super tech-savvy to find great digital nomad jobs. In fact, there are plenty of non-tech digital nomad jobs that can support your nomadic lifestyle.
If you are currently stuck at a job that you don't enjoy, then you may be looking to pivot in your career. This is where finding a remote job can get a bit tricky.
So, I suggest you explore some of your interests and hobbies and see if you can monetize them. Do you love to try new foods and recipes and have a passion for writing? Start a food travel blog and earn money through affiliate marketing.
Look inside yourself and find what brings you joy. What do you truly enjoy doing? Then search for ways to make money from your hobby or passion. It might require some creative thinking, but I promise you'll find a way to create a digital nomad job out of it!
Build Up Your Skills
Now that you know what you want to do while working remotely, it's time to build up your skills to become successful and earn a livable income with this job.
Let's go back to the personal trainer example. You already have skills in fitness and working with clients to find the best workout routines for them. Now that you're going remote and off on your own, you'll need to acquire some more business-related skills.
Some of these skills may include personal branding, marketing, content creation, and accounting for your business. Always remember that when starting a small business like this one, it's a good idea to hire professional help for things that are way out of your expertise, such as building a website or designing guides and brochures.
Maybe you want to learn an entirely new skill to work in high-paying digital nomad jobs such as a UX designer or front-end developer. It's okay to start from scratch, it may just take you a bit longer to find a remote job.
To gain the skills you need to be successful in your new digital nomad job, dedicate your time to taking online courses to learn and practice these skills.
Some of the best places to find reputable yet affordable online courses and certifications include:
You can also watch tutorials on YouTube for free, depending on the skills you would like to learn.
Start Small
The key to becoming a digital nomad with no experience is to start small. Don't quit your current job and jump right into learning these new skills for your new digital nomad job.
Instead, create a plan or schedule to acquire certain skills by a specific date. Spend an hour after work attending an online course. Slowly increase this time as you get more familiar with what you're learning. Then start implementing your newfound skills.
Going from a location-dependent to a fully location-independent lifestyle doesn't happen overnight. Rather, it can take a full three months after getting settled in your remote job to turn to a nomadic lifestyle.
Gain Some Experience
As you learn your new skills, you'll also need to work on gaining experience using them. Whether you volunteer your skills for a nonprofit organization or start your own projects, as long as you start practicing, you'll start getting experience.
The more experience you have, the more confident you will be when you start applying to digital nomad jobs or pitching clients.
Digital Nomad Job Ideas with Little-to-No Experience
Now that your gears are turning and you're thinking of how you can turn your current job or passion into a remote, money making machine, I'm going to give you some examples of low-skill digital nomad jobs and the experience you need to learn to get started.
Who knows, you may have some of these skills already!
Virtual Assistant
As I mentioned earlier, if you work as an administrative assistant in an office already, it can be easy to transition into a virtual assistant position. It's a good idea to choose an industry you enjoy working in or learning about too.
Some skills you'll need to become successful in this role include:
Data Entry
Social Media Management
Excel or Google Sheets
Managing Calendars
Organization
Online Research
PowerPoint Presentations (or equivalent)
If you can gain these skills, then you can surely become a remote assistant.
Online English Teacher
If you're a native English speaker, you have a unique advantage when it comes to working remotely. There are plenty of opportunities to teach English online as a second language. You can even set your own rates and use platforms that attract students to your classes.
Some skills you'll need to become successful in this role include:
Patience with Teaching
Creating Lesson Plans
Organizing/Scheduling Classes
If you gain these skills, you will definitely become successful in teaching English online.
Social Media Manager
You probably already use social media in your own free time. Now, what if you could make money managing someone else's social media account?
Brands and businesses are always looking for social media savvy people, especially the younger generation, to manage their accounts and grow their online presence.
Some of the skills you need to become a social media manager include:
Knowledge of Major Social Platforms
Content Creation
Analyzing Data and Trends
Slight Graphic Design
Content Management Scheduling
Hashtag/Trend Research
There are tons of courses online that can help you get started with professionally managing a brand's social media accounts.
Content Writer
If you have a passion for writing and storytelling, you may want to look into becoming a freelance writer. Copywriting and blogging are always something an online business needs for search engine optimization and to increase their brand awareness.
There are different types of writing you can do such as ghostwriting books, blogs, email marketing campaigns, printed marketing material, advertisements, website copy, and more.
You'll need to have the following skills to be successful in this role:
Writing/Storytelling
Persuasion Writing
SEO
WordPress
Content Management
As you get more practice and experience writing, you can increase your rates and have more samples to show potential clients.
Customer Service Representative
Do you have the patience of a saint and problem solve like a CEO? Then you may find a role in customer service as a great way to make money online.
You can find part-time jobs either chatting with customers or answering phones remotely for companies. Do keep in mind that you may need to be more aware of the time zone you're traveling in when you hold this type of job.
The skills required to find a job in customer service include:
Patience
Customer Service Skills
Problem Solving
Clear Communication
While these skills are mostly learned naturally, you can find some courses online to help guide you to improve them even more.
The list really goes on. There are plenty of digital nomad jobs that you can start with absolutely no skills out there.
Becoming a Digital Nomad With No Travel Experience
So, we've covered the kinds of skills you'll need to work online and earn a livable income from your laptop. But now I have to touch on another important aspect of the nomadic lifestyle – traveling.
If you aren't very experienced with traveling, especially on your own, you may feel underprepared and not sure what to expect. I'm going to give you the basic advice you'll need to travel as a digital nomad with little experience.
Trip Planning Takes Time
Planning your travels will take time, especially if you're visiting a new destination for the first time. I like to recommend starting out with popular digital nomad destinations where you know there will be a digital nomad community and all of the amenities you'll need like coworking spaces and cafes.
From finding the right accommodation to buying a travel insurance policy to booking an affordable flight, it can take a couple of weeks to organize everything.
Take your time with this! Do the research of your new destination and plan your travels accordingly so you don't overstay your tourist visa.
To help you with your first year of digital nomad traveling, we created the perfect 12-month digital nomad itinerary just for you!
On top of that, you'll definitely want our insider travel tips from years of experience traveling and working remotely.
Allocate a Budget
Successful digital nomads set a budget for their lifestyle depending on how much they earn from working online and other streams of income.
A common problem digital nomads face is running out of funds while traveling and having to come back home to get another job or save money. They end up spending more than they're earning.
So, once you have stabilized your remote income, set a budget for how much you can spend each month. Take into account your accommodations, flights, insurance, transportation, and food.
It's also important to consider unexpected expenses such as missed flights, having your baggage delayed, or getting hurt while abroad. Have some money saved for these surprise costs.
Choosing the Right Destination
Not all destinations are digital nomad-friendly, even if there is a decent wifi connection.
There are a few things that we look for in a city to consider it as a good destination for digital nomads.
Affordable cost of living
Walkability/Public transportation
Ideal weather
Coworking spaces
Community of expats or digital nomads
If you're lost for where to go, check out the best cities in Europe for digital nomads for some inspiration and ideas.
Pack the Essentials
Minimalism is essential when diving into location independence. You'll likely travel with most of your belongings in either a suitcase or backpack – unless you decide to become a van lifer.
How do you know what to pack as a digital nomad, though?
We've created the ultimate digital nomad packing list to help you get a better idea of how to pack minimally and have everything you may need.
Don't forget about your digital nomad gadgets, either! These will be crucial for getting your work done to meet deadlines and create a more comfortable experience while traveling and living abroad.
Prepare to Feel Uncomfortable Sometimes
Traveling abroad to unfamiliar places undoubtedly comes with uncomfortable situations. Simply not knowing what items in the grocery store are can feel overwhelming and uncomfortable. Figuring out a new public transportation system comes with its own challenges.
The best way to overcome these situations is to expect them and simply learn from your experience. It's okay to make mistakes while traveling abroad – it's inevitable! Take this as an opportunity to learn from them.
When you know that there will be times that you aren't sure how to manage something, you're already better prepared to handle the situation.
Consider Digital Nomad Visas
When you're first starting out on your digital nomad journey, you'll probably want to visit as many places as possible. The world is large, so it's no surprise you'll want to travel every few months to a few places.
However, there will become a time when you get tired and want to settle down for a while. That's where a digital nomad visa can be helpful.
Over 25 countries have digital nomad visas allowing remote workers to live abroad for six months to a year and even longer when renewed. So, if you're feeling worn down by traveling, a digital nomad visa can be a great option to live abroad and keep your location independent lifestyle.
Some of our favorite digital nomad visas available include Malta, Brazil, Costa Rica, Greece, Hungary, and Portugal.
Start Your Journey and Become a Digital Nomad with No Experience
So, is it possible to become a digital nomad with no experience? YES!
While you may start out your journey lacking the experience you need to become a successful digital nomad, it's easy to learn these new skills if you're willing to and dedicated to making this transformation in your life.
You can start your digital nomad career in digital marketing, as a graphic designer creating digital products, teach English online, video editing, freelance writing, and so much more if you just learn the necessary skills!
Dedicate your time to online courses and gaining experience, and you'll soon see how quickly you can land your first digital nomad job in a year or less. 
There is one more secret to becoming a digital nomad with no experience – a strong community of like-minded people.
Nomads Embassy has created an exclusive online community of digital nomads who are willing to help you get started on your journey.