Last Updated on 20 November 2023 by Brittany
On January 24, 2022, the government introduced the Brazil digital nomad visa, inviting remote workers to come and live in the gorgeous South American country.
Digital nomads can stay up to one year with Brazil's digital nomad visa. They also have the option to renew for another year if they choose.
Brazil has a thriving digital nomad community, thanks to its affordable cost of living, stunning beaches, and exciting environment. It's also the first country in South America to offer a digital nomad visa.
It's important to note that digital nomads living in Brazil for more than 183 days out of the year with this visa will become tax residents. This means you will owe taxes in Brazil on your worldwide income.
While the application process may seem fairly simple for Brazil's digital nomad visa, it doesn't mean relocating to a new country is necessarily easy. With Nomads Embassy's hand-selected immigration lawyers, you'll experience a smooth and quick move to Brazil.
In this article, we'll discuss the Brazil digital nomad visa requirements, how to apply, and how you can connect with our local immigration lawyers to assist you with your digital nomad visa application.
What is a Digital Nomad Visa?
A digital nomad visa is a temporary residence permit allowing remote workers to live in a country for a specific amount of time.
These remote workers can be freelancers, employees, or business owners. As long as they are not working for a company from the country they hold the digital nomad visa for, they're eligible.
Some digital nomad visas require holders to pay local taxes, while others simply offer them a place to live for six months to two years. Many visas are renewable, while others have a strict one-time issuance.
Each country has its own rules and requirements for its digital nomad visas. So, it's important to do your research on individual visas to see if you're eligible.
A digital nomad visa is perfect for those digital nomads who want to settle down abroad for a little while and really get to know the country where they're living.
Brazil Digital Nomad Visa Requirements
As with any visa, there is a list of requirements you must meet in order to be eligible to apply for it. This is what you need for the Brazil digital nomad visa.
Valid Passport – Your passport must be valid for the duration of your visa
Proof of Remote Work – Contracts or documentation proving you work or freelance for companies outside of Brazil
Earn $1,500 per Month – You must make an income of $1,500 per month or have $18,000 in the bank upon submitting your application

For each additional dependent, you must add $60 per month to the minimum income requirement

Health Insurance – You must have health insurance coverage in Brazil for the duration of your stay
Clean Criminal Background – You must have a clean criminal history certified from your home country's government
Steps to Apply
Now that you know the eligibility requirements to apply for the Brazil digital nomad visa, let's get into the specific steps you need to do to obtain the visa.
Step 1: Gather Documents
Before you start the visa application process, you should gather all of the necessary documents. You will need to digitize these documents to submit the application, but we'll explain more in the next step.
Below are the documents you need for your application:
Copy of Valid Passport
Proof of Remote Work
Bank Statements from Previous 6 Months
Proof of Health Insurance
Certified Criminal Background Check
Original Birth Certificate
Visa Fee
It can take some time to obtain these documents, especially the criminal background check and your birth certificate. Be sure to give yourself plenty of time before you plan to submit your application.
The visa fee for US residents is $290. However, these fees vary by country. You can obtain specific visa fees here.
Step 2: Complete Online Application
It's important to note that you must apply for Brazil's digital nomad visa while outside of Brazil. You can go to any of the foreign Brazilian consulates, depending on where you're located.
Since each consulate has its own procedures, I'm going to explain how the one in New York operates. However, the visa application process is more or less the same. You can find more information on the specific consulate's website.
To complete the online application, go to the consulate's website. On the left-hand side menu, you'll see "Visa Form." Here you will read through instructions on how to file your application.
Once you access the actual application, fill in your information and upload the necessary documents.
IMPORTANT: Make sure to print the Visa Request Form Receipt (RER) to bring to the consulate.
Step 3: Go to the Brazilian Consulate
After submitting your online application, you will then have a meeting at the Brazilian consulate. This should be the same consulate where you sent your online application.
Bring all of your original documents and the Visa Request Form Receipt. You'll have a short interview, and an officer will check over your application and documents.
Step 4: Wait for Approval
It should take about four weeks to receive an answer of whether your application for the Brazil digital nomad visa is approved or denied. Until then, sit tightly and start researching your potential new home.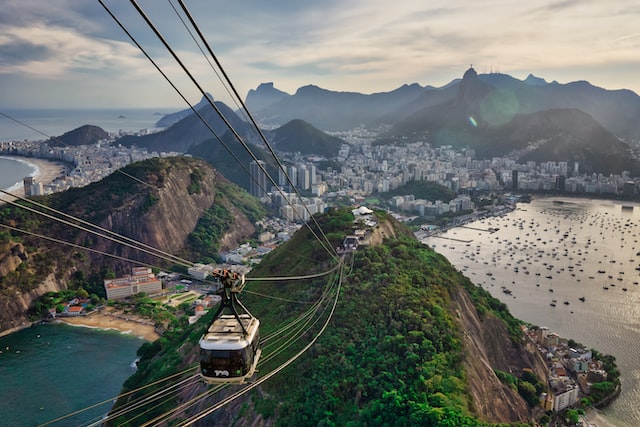 Why Brazil?
Digital nomads have been flocking to Brazil for years now. However, this movement increased over the last couple of years. Some of the most popular spots are Rio de Janeiro, São Paulo, and Florianopolis. Remember, Brazil is almost the size of the United States, so there are plenty of areas to explore.
Brazil has a reputation for its crime, which can dissuade digital nomads from venturing to the gorgeous country. While we won't deny there is a crime issue in the country, if you do your research and stay alert, you will quickly find the beauty in Brazil.
This country is not for amateur digital nomads, that's for sure. The wifi can be spotty and you are bound to run into some unique problems during your stay here. However, it's these movements that will become some of your favorite memories.
If you stick to larger cities, you'll often find coworking spaces or coffee shops with free wifi where you can work from. Cities also have the most infrastructure in the country and offer more familiarity to digital nomads.
Brazil is also known for being extremely affordable for digital nomads. It offers a great opportunity to live a luxurious lifestyle on a budget or to put some money away in savings or investments.
While Brazil isn't for the faint of heart, it has become home to many digital nomads who will advocate for the country and its kind people.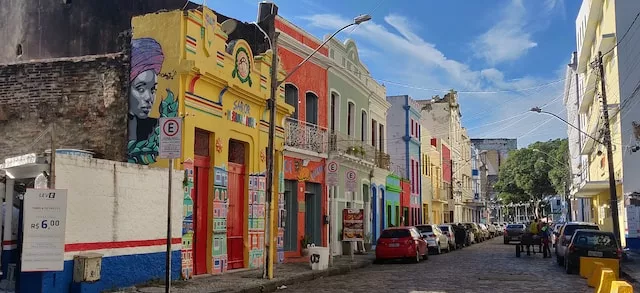 Frequently Asked Questions
While articles like this are informative, you may still have some questions about the Brazil digital nomad visa.
Below are answers to some of the most commonly asked questions we receive.
How Much Does it Cost to Apply for the Brazil Digital Nomad Visa?
The application fees can vary depending on which embassy or consulate handles your digital nomad visa application.
For example, US residents will pay around $290 in application and administrative fees.
You can view an updated list of visa and consular fees for the Brazil digital nomad visa here.
What is the Processing Time for the Brazil Digital Nomad Visa?
The Brazil digital nomad visa application processing time is about 30 days. However, there may be delays due to the volume of applications.
Will I Owe Taxes in Brazil with the Digital Nomad Visa?
Yes, if you are physically present in Brazil for 183 days out of the year with the digital nomad visa, you are liable to pay local taxes.
You can read more about Brazil's tax system and rates here.
How Long is the Brazil Digital Nomad Visa Valid?
The Brazil digital nomad visa is valid for 12 months and renewable for an additional year.
Can I Include Family Members on My Brazil Digital Nomad Visa Application?
Yes, you may include a spouse and dependents who rely on you financially.
With each family member, the minimum income requirement increases by $60.
When applying with family members, you must submit proof of relationship, such as a birth or marriage certificate.
Can I Apply for the Digital Nomad Visa While Already in Brazil?
No, you must apply for the Brazil digital nomad visa at a Brazilian embassy or consulate in your country of residence.
Does Brazil's Digital Nomad Visa Lead to Permanent Residency?
No, Brazil's digital nomad visa does not lead to permanent residency. After two years of living in Brazil on the digital nomad visa, you must leave the country or transform your residence to another reason.
Should I Work with an Immigration Lawyer to Apply for the Brazil Digital Nomad Visa?
While it isn't required to work with an immigration lawyer to apply for Brazil's digital nomad visa, it is extremely helpful and increases your chances for approval.
Working one-on-one with an immigration lawyer ensures you meet the eligibility requirements, have all of the necessary documents, and have someone to communicate with authorities to follow your application through the process.
Relocating to another country can be intimidating and overwhelming when you do it alone. Having a legal professional on your side provides reassurance that your application is completed correctly.
Get Help Applying for the Brazil Digital Nomad Visa
Even after reading this article, applying for the Brazil digital nomad visa may still be confusing. It takes a lot of time to do it on your own. Luckily, you don't have to!
Nomads Embassy can help you apply for the Brazil digital nomad visa with our trusted and professional partners. With our Done-for-You Digital Nomad Visa service, you can experience an end-to-end solution for your relocation to Brazil with the digital nomad visa.
From communicating on your behalf with consulates and embassies to helping you file your application to verifying your documents, our hand-selected immigration lawyers are here to simplify the digital nomad visa application process.
Contact us or fill out the form above to get started on your Brazil digital nomad visa application today!