Last Updated on 4 September 2023 by Brittany
The Croatia digital nomad visa was first introduced in January 2021. After months of rumors circulating about allowing digital nomads to reside in the European country, the government finally made it official.
A vastly underrated country, Croatia is slowly gaining more and more attention thanks to its gorgeous seaside cities and towns, excellent cuisine, and affordable living costs. It's an excellent location for digital nomads who want to stay in Europe.
However, the Croatia digital nomad visa isn't exactly a visa. It's a temporary residence permit, but for the sake of this article, we're going to refer to it as a digital nomad visa due to its requirements of making a remote income.
Digital nomads can stay in Croatia with this visa from six months to a year, without the option to renew. Once the visa ends, you must leave the country for 90 days. After this period, you may reapply for a new digital nomad visa.
It's important to note that Croatia has joined the Schengen Area as of January 1, 2023. So, you will have visa-free travel access to the 26 countries in the agreement with your visa, as you would if you applied for Estonia, Portugal, or Malta digital nomad visa.
By the end of this article, you'll know exactly what you need and how to apply for the Croatia digital nomad visa.
What is a Digital Nomad Visa?
A digital nomad visa is for remote workers, business owners, and freelancers who wish to live in a foreign country for longer than a tourist visa allows.
Technically, these visas are more resident permits, allowing digital nomads to live in the country.
To be eligible for a digital nomad visa, you must work for a foreign company (not one in the country where you're living), own a business, or work as a freelancer with foreign clients.
This is perfect for digital nomads who want to settle down somewhere without worrying about border-hopping or overstaying their tourist visas.
Croatia Digital Nomad Visa Requirements
As with any type of visa, there are requirements you must meet in order to be eligible to apply for it. This is what you need for the Croatia digital nomad visa.
Valid Passport – Your passport must be valid at least 3 months after the visa term
Proof of Remote Income – You must work as a freelancer, employee, or entrepreneur for companies outside of Croatia
Make 17,822.50 HRK per month – You must have a monthly income of at least ~$2,550 or 202,890 HRK (~$31,892.92) balance in the bank if you intend to stay for a year
Health Insurance – Your policy must be valid in Croatia during the length of your stay
Criminal Background Check – A certified background check from your country of residence
Temporary Address in Croatia – You will need a lease agreement or booking confirmation of your address while staying in Croatia
Completed Application – Fill out the application online or in-person and submit it to the Croatia police
Now that you know if you are eligible to apply for the Croatia digital nomad visa, let's break down the process step-by-step.
The following steps are for those who do not require a visa to enter Croatia.
Third-country nationals who need an entry visa must also apply for a D-visa along with the Croatia digital nomad visa. If you do need a visa, please read the information here.
Step 1: Gather Documents and Submit Application
There are three options for how to submit your application for the Croatia digital nomad visa.
You'll have to gather all of the required documents to successfully submit your application. These include:
Copy of Passport
Proof of Purpose (Remote Work Contracts/Employment)
Proof of Income
Bank Statement from Previous 3 Months
Criminal Background Check
Temporary Residence Address in Croatia
Completed Application (online or in-person form)
Visa Fee
It's important to note that your documents must be legalized with an apostille stamp from their country of origin and translated into Croatian by an accredited translator.
If you're applying at a Croatian embassy or consulate, you will pay the visa and administration fees upon submitting the application. These fees are as follows:
Temporary Residence – 420 HRK or ~ $66 USD
Visa – 460 HRK or ~ $73 USD
Residence Card – 310 HRK or ~ $49 USD
If applying in-person at the local police in Croatia, you'll pay the following fees after your application has been approved.
Temporary Residence – 350 HRK or ~ $55 USD
Biometric Residence Card – 240 HRK or ~ $38 USD
Administration Fees – 70 HRK or ~ $11 USD
It's also important to note that when acquiring a criminal background check, it's easiest to do so in your country of residence. If you are from the United States, you'll need a federal background check from the FBI, which requires your fingerprints and should be completed in the US.
Step 2: Wait for Processing
Wait for approval of your digital nomad visa.
Step 3: Register Address in Croatia
Once approved, you will need to register your temporary Croatian address within 30 days of approval or within 3 days of arriving in Croatia.
To do this, you'll need to go to the police station closest to your residence and submit an Obrazac 8a form and your residential lease agreement or hotel/AirBnB booking confirmation.
Step 4: Obtain Biometric Residence Card
You'll go back to the police station to obtain your biometric residence card. You'll need to provide a Croatian-sized passport photo (30x35mm). You can get these printed in Croatia for about 100 HRK to ensure they are the correct size.
You will also need to bring your proof of payment slips for the residence and administrative fees.
The police will take your fingerprints and signature at this time. They will then give you a white temporary residence card. DO NOT LOSE THIS CARD!
Step 5: Receive Residence Permit Card
In about three weeks, your residence permit card will be ready for pickup at the police station. Bring your passport and the white biometric card with you.
You'll then receive your temporary residence permit and have successfully completed the Croatia digital nomad visa process!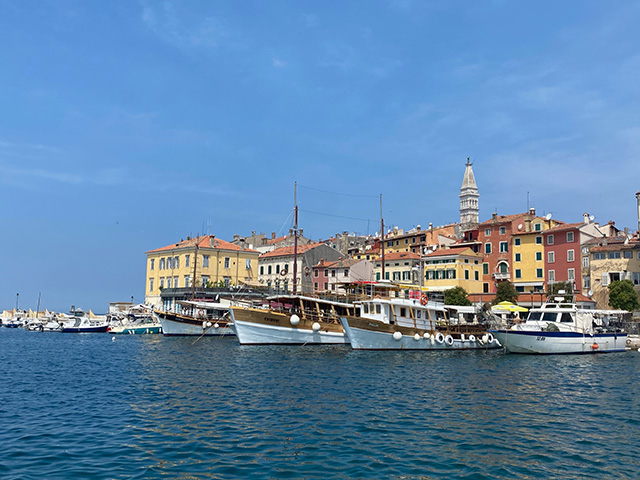 Why Croatia?
If you're a fan of Game of Thrones you may already be familiar with the amazing scenery that Croatia holds. With ancient Roman ruins scattered along the coastline of this incredibly beautiful country, Croatia has so much to offer digital nomads.
Some of the best cities for digital nomads include Split, Dubrovnik, Rovinj, Pula, Zadar, and if you want to be more inland Zagreb.
There are plenty of cafes you can work from thanks to the strong coffee culture in Croatia. You can sit at these cafes for hours without anyone bothering you. Also, the WiFi in Croatia is excellent!
The cost of living in Croatia is considerably affordable compared to other European countries. Groceries, meals, and accommodations are budget-friendly.
Getting around Croatia is fairly easy too. While there aren't many trains except for one that runs from Zagreb to Zadar or Split sometimes, the best way to travel is by bus. There are bus stations everywhere and they are comfortable and pretty affordable.
A great way to spend your free time as a digital nomad is exploring the archaeological sites, visiting the gorgeous national parks (especially Plitvice!), check out the many islands off the coast, and relax by the sea during the warmer months.
There is already a large digital nomad and expat community in Croatia, so you can expect to meet like-minded people while you're there. Many Croatians also speak English very well, so you can make friends with the locals as well.
Let Us Help You Apply for the Croatia Digital Nomad Visa
Even with this article, it can still be confusing and overwhelming to apply for digital nomad visas. Luckily, you don't have to do it alone!
We can help you apply for the Croatia digital nomad visa with our trusted hand-selected, and professional immigration lawyers. With our complete Done-for-You Digital Nomad Visa service, you'll just have to gather your documents, attend the consular appointment, and our lawyers will handle the rest!
Plus, with the Nomads Embassy platform, you'll securely upload your personal documents for our lawyers to review for the Croatia digital nomad visa application.
Contact us or fill out the form in this article to get started on your Croatia digital nomad visa today!