Last Updated on 2 October 2023 by Brittany
If you're searching for a destination with sun, gorgeous architecture, fast wifi, and plenty to do, consider staying in the best cities in Croatia for digital nomads. This amazing country checks all of the boxes for being digital nomad-friendly and is home to some of the best digital nomad cities in Europe.
As a digital nomad who has spent a considerable amount of time in Croatia, I'm sharing my favorite cities when I stayed there. So, you can count on receiving information and advice from a first-hand experience.
Whether you've just heard of Croatia or have been considering traveling through the country for a while now, this article will help you decide which cities are best for your lifestyle.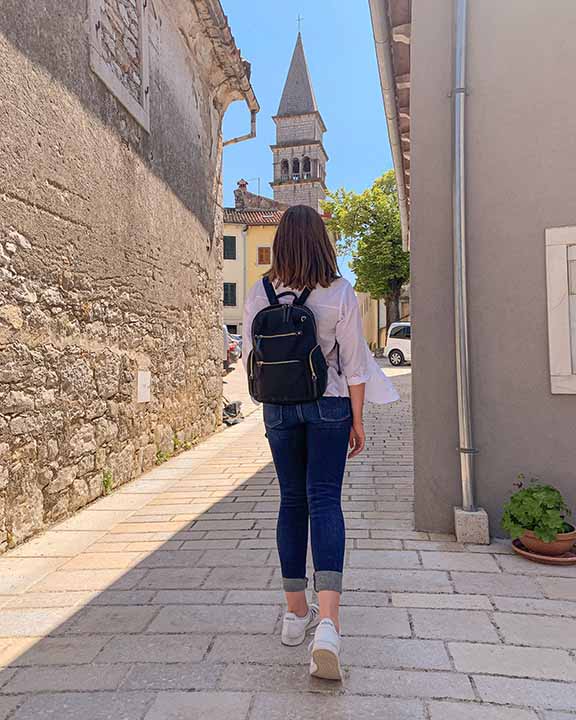 Why Croatia is Perfect for Digital Nomads
Croatia is an up-and-coming digital nomad hotspot that you will surely hear more about within the next couple of years. It's one of the best countries for those who want to get a taste of the European lifestyle while on a budget.
It's also a great place to go for a while for digital nomads who have used up their tourist visa in the Schengen Area. While Croatia is part of the European Union, it is not included in the 26 Schengen states, so most people can stay for three months in Croatia.
It's also extremely welcoming to digital nomads and encourages them to come and visit. So, why is Croatia the perfect digital nomad destination?
Digital Nomad Visa
Introduced in January 2021, you can now apply for the Croatia digital nomad visa if you're a remote worker that meets the income requirement. With this visa, you can live in the country for one year and are not responsible for paying local income tax.
It's fairly easy to apply for this visa, especially when you get professional help from Nomads Embassy's specialized partners. To receive more information about application assistance, fill out the form below.
Fast Wifi
It's rare that you will be without a reliable wifi connection while working remotely in Croatia. In 2020, the average download speed for mobile connections was 65.79 Mbps and 46.76 Mbps for fixed internet connections.
Affordable Cost of Living
Compared to countries in Western Europe, Croatia has a considerably more affordable cost of living. From renting an apartment to grocery shopping to eating out at restaurants, you'll find your dollar/euro stretches quite far in this country.
Of course, if you stay in ultra-touristy places and city centers, you'll notice increased prices compared to the rest of the country. Fortunately, many of the cities on this list are not considered major tourist destinations.
Ideal Weather
Croatia is known for its sunny weather and Mediterranean climate. You can expect mild winters in southern parts of the country along the coast. However, if you stay inland, you may experience colder temperatures and even snow.
If weather is important to you, it's important to consider the best time to visit Croatia to ensure you are comfortable and can participate in the excursions and activities you want.
Reliable Transportation
The best way to travel throughout Croatia is by bus. Unlike most European countries, Croatia does not have an extensive train network. I recommend using Busbud to find the lowest price and reserve bus tickets in advance for intercity travel.
For convenient travel in Croatian cities, you can take advantage of their local bus lines. Uber also operates throughout the country near the major cities.
This is one of the most important factors to consider as a digital nomad because you most likely do not have a car. Having access to reliable transportation is essential and makes traveling much easier.
Digital Nomad Community
With Croatia's digital nomad visa, more and more digital nomads are flocking to the destination and setting up shop. This means there will be more community events and meetups to interact and connect with like-minded people.
Best Cities in Croatia for Digital Nomads
Now that we've covered the details of why Croatia is such a perfect place for digital nomads, it's time to see which are the best cities in Croatia for digital nomads to stay.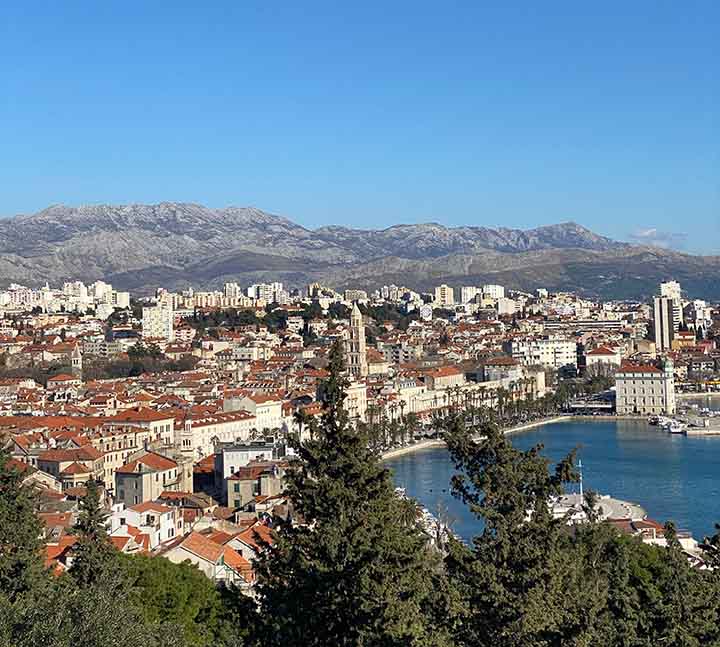 Split
Located along the Dalmatian coast, Split is one of my favorite cities in Croatia for digital nomads. I spent a month and a half living in this Roman-era city and can't wait to go back one day.
With a unique historic downtown located within the walls of Diocletian's Palace, you'll find plenty of cafes, restaurants, boutiques, and more. Just outside of these walls is a daily farmers market, where you can purchase fresh, locally-grown produce, cheeses, nuts, and more.
You'll definitely become familiar with the Riva, which is a promenade right along the sea with a number of comfortable cafes and bars, perfect for watching the sunset.
Coworking Spaces in Split
Personally, I don't love working from an official coworking space, but rather prefer a cafe where I can order a coffee and sit for a few hours. My favorite cafe to work from in Split was D16 Coffee. This little cafe had excellent cappuccinos and was tucked away in the narrow streets within Diocletian's Palace.
MeridienTen is yet another space that welcomes digital nomads and those who work remotely to come together and be productive. Prices start from 10€ per day. Plus, you'll get a free bike rental when you purchase a monthly pass.
Where to Stay in Split
The best neighborhoods to stay in Split include:
Diocletian's Palace
Manuš
Lovret
Bačvice
Gripe
Firule
These areas are close to the center and have plenty of accommodations available to digital nomads.
Since Croatia's economy relies on tourism, you'll find many holiday apartment rentals and hotels available in Split.
If you enjoy meeting other digital nomads and travelers, you may want to consider staying in a hostel, which there are plenty of around the city.
Things to Do in Split
This coastal Croatian city has plenty to offer digital nomads who decide to stay here. Some things you should definitely add to your itinerary include:
Touring Diocletian's Palace
Hiking Marjan Hill
Day Trip to Trogir
Exploring the Beaches
Island-Hopping
Archaeological Museum of Split
While many of these you can do on your own, I find that you get the most information without the stress of planning when you book organized tours. You can take day trips to islands or other cities nearby and get the full feel of Croatia.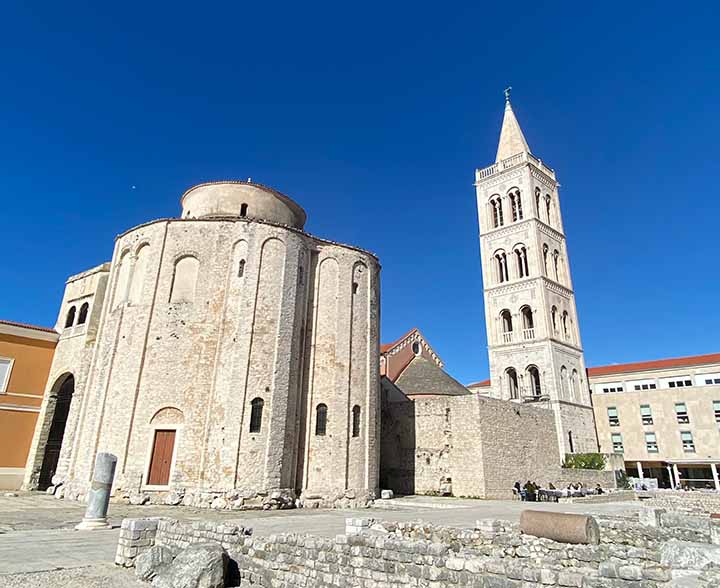 Zadar
The city of Zadar is definitely one of the most unique places I visited in Croatia. Located along the coast, you'll find ancient ruins from the Romans and Venetians scattered throughout the Old Town.
To say that the landscape is stunning would be an understatement. As you sit by the sea, you'll notice towering mountains behind you in what feels like a faraway land. The beaches in the summer are some of the best in Croatia and you can travel to the nearby islands that sit in front of the city to really soak in the seaside nature.
The Old Town, which is located on a small peninsula away from the modern part of the city, is definitely worth a visit. From the limestone streets and ancient architecture to the boutique shops and multiple restaurants and cafes, you'll find yourself quickly falling in love with Zadar.
Why is Zadar perfect for digital nomads? Well, it's home to the very first digital nomad village in Croatia! So, there is surely a community to connect with and you can even live amongst other digital nomads.
Coworking Spaces in Zadar
There are plenty of cafes you can find to work from in Zadar, especially since Croatians have a prominent coffee culture. However, if you're looking for a more established workspace, there are two shared offices where you can rent a hot desk.
COIN Zadar is one of the most popular coworking spaces in the area. It's located in the modern section of the city and offers very affordable prices and packages.
Code Hub is a free coworking space financed by the EU for young freelancers, students, and entrepreneurs to network and have a place to work. You will still need to reserve a space even though it's free to use.
Where to Stay in Zadar
As mentioned earlier, Zadar has a thriving digital nomad village that offers remote workers accommodations, places to work, and discounts from local partners. There is a required two-week minimum stay with prices started at just 130€ per week. The village is located in The Valley and is just a 30-minute walk from the city center.
Other neighborhoods to stay in Zadar include:
Old Town
New Town
Puntamika
Again, Zadar depends on tourism, so there are many apartments, guest houses, and holiday rentals you can reserve. Remember that the prices fluctuate with the seasons.
Hostels are also a great and more affordable option for those who want to meet other travelers and nomads. I stayed at the Downtown Boutique Hostel located in the Old Town and must say it was one of the best hostels I've ever experienced. It was close to everything, offered privacy, and had single rooms available.
However, there are plenty of hostels located throughout Zadar that you can book during your stay.
Things to Do in Zadar
Digital nomads who come to Zadar definitely will not get bored in this exciting city. There are so many things to do year-round in this city.
Some things you should consider adding to your itinerary include:
Listening to the Sea Organ
Seeing Greeting of the Sun
Museum of Ancient Glass
Tour the Ancient Ruins and Roman Forum
Explore St. Anastasia's Cathedral and St. Donatus' Church
Five Wells Square
Visit Nearby Islands
Day Trip to Plitvice Lakes National Park
Another thing you must do while in Zadar is enjoy a meal at Stari Most and try some of the cevapcici (unique small sausages served with bread, onions, and ajvar) in all of Croatia. This dish is common within the Balkans and a must-try while you're there. The restaurant itself is also very beautiful and picturesque.
While you can most definitely easily organize your own activities, sometimes booking excursions and tours is a great way to meet people and learn more about the history of the city.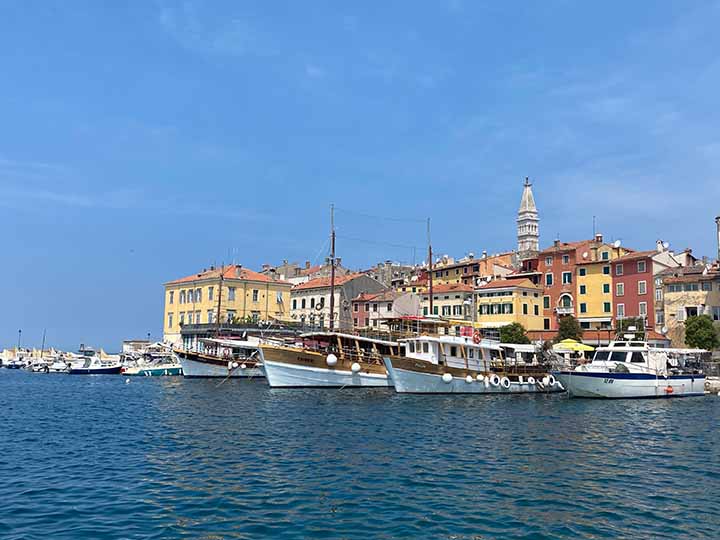 Rovinj
One of the best cities in Croatia for digital nomads during the spring and summer is Rovinj. This ancient seaside town is located on the Istrian peninsula and offers some of the grandest views and spectacular sunsets in Europe.
If you're looking for a city that is more relaxed, less tourist-oriented, and fairly small compared to other popular destinations, Rovinj is the place for you. You'll be so close to the sea that you'll feel tranquility and peace during your stay here.
The old town is absolutely wonderful with narrow and winding limestone streets lined with boutiques, bars, cafes, and delicious restaurants.
Truly, if you want a place to relax a bit and focus on your work with a stunning background, Rovinj is the city for you.
Coworking Spaces in Rovinj
Rovinj is definitely digital nomad-friendly in the sense that it is boastful with cafes and bars where you can set up your laptop and work remotely.
One popular cafe to work from is Caffe Bar Bruno, which is located in the center of the city. The wifi connection is excellent, the drinks are affordable, and the owners don't mind if you work there during the day.
Coworking Rovinj-Rovigno is the only official coworking space in Rovinj. It's located just outside of the city center and offers daily, weekly, biweekly, and monthly packages to reserve a hotdesk, conference room, or private office. 
Where to Stay in Rovinj
Since Rovinji is quite small compared to the other cities we included in this list, you don't have as many areas to choose from when it comes to booking accommodations. Note that anywhere within Rovinj is a great area to stay.
Some neighborhoods to search for accommodations include:
Old Town
Wider Town
North Rovinj
This resort town is bountiful with accommodations for long-term stays. If you do come in the spring or summer, be sure to book your accommodation early as the best ones tend to go quickly.
For those digital nomads traveling on a budget, there are shared dormitories in hostels located throughout the city. This is excellent for those who want to connect with other travelers and save a few extra bucks.
Things to Do in Rovinj
As I mentioned before, Rovinj is a fairly quiet destination perfect for digital nomads looking to just relax and enjoy a beautiful city.
That being said, there are still some things you should make sure to do while you're there:
Explore the Old Town
Visit Local Beaches
Try Istrian Fuzi Pasta and Truffles
Lim Fjord
I also must recommend visiting Mediterraneo Bar to watch the sunset over the sea. They have excellent cocktails and is a great place to meet friends and relax.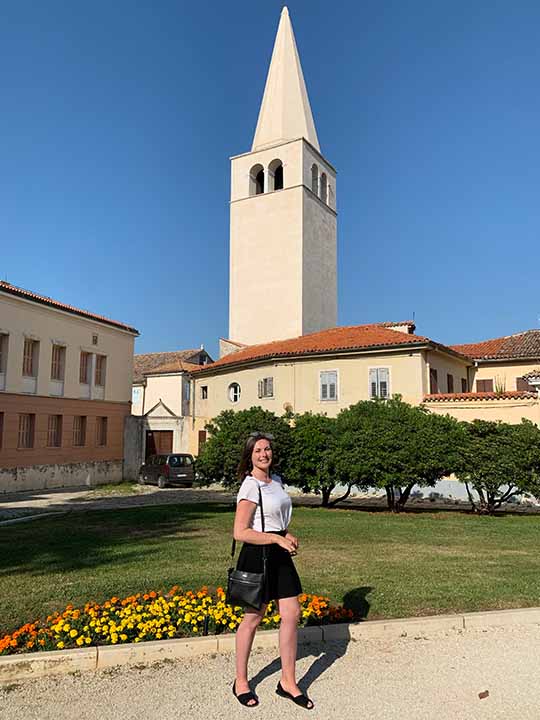 Poreč
Poreč is another coastal city in Istria and is a bit larger and more touristy than Rovinj. The ancient town has Roman ruins scattered throughout the Old Town and plenty of interesting shops, cafes, and bakeries.
You'll find some of the most relaxing beaches near the city where you can swim and soak in the sun. If you're looking for a more active way to enjoy the area, there are bike trails and paths you can take.
This city is perfect for those looking for a break from the hustle and bustle and chill a bit while living the digital nomad lifestyle.
Coworking Spaces in Poreč
Unfortunately, there are no official coworking spaces in the city of Poreč. There are however a number of cafes and bars that welcome remote workers to set up their laptops.
It's also important to note that there is free wifi throughout the city that you can connect to. Just remember to use a VPN service to protect your personal information when using this public wifi.
Two of my favorite cafes to work from include Caffe Soggiorno, which is next to an old tower with another cafe on the top, and Epoca, which offers one of the best sea views while working.
Where to Stay in Poreč
Due to the fact that people enjoy vacationing in Poreč during the warmer months, there are many accommodations to choose from. For those who want a more vacation feel, you can choose from a number of resorts too.
When searching for a hotel, guest house, or private apartment, look in the following neighborhoods:
Old Town
Wider Town
Plava Laguna
Špadići
You'll find many comfortable places to stay in Poreč. The rates will fluctuate depending on the time you visit, but you can find some pretty great deals, especially if you're staying for an extended period of time.
Things to Do in Poreč
Poreč has plenty to do as well as calm places to relax or enjoy a coffee and people watch. If you're a fan of being on the water, you can rent a boat, go fishing, or even go dolphin watching at sunset.
Some activities you should definitely add to your list of things to do include:
Exploring the Old Town
Visiting Local Beaches
Baredine Cave
Visit Novigrad
Look at Roman Ruins
Tour Church Gospa od Andela
Visit Brijuni National Park
You'll quickly see that you can keep quite busy as a digital nomad living in Poreč. Between working, exploring, and booking excursions, you'll create fantastic memories in this Croatian town.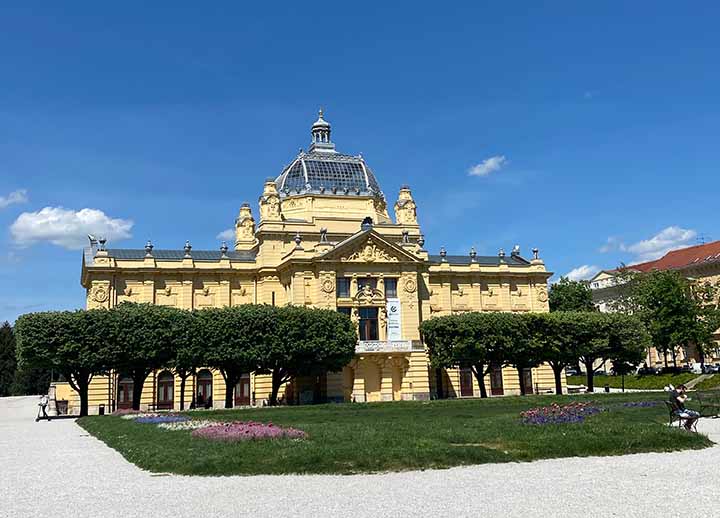 Zagreb
One of the most popular digital nomad destinations in Croatia is its capital city, Zagreb. This colorful city has admirable architecture and several green spaces and parks to relax and enjoy the beautiful weather.
While this city isn't near the sea, you will still find the atmosphere to be beautiful and welcoming to digital nomads. This hotspot has a bustling community of traveling remote workers, a thriving nightlife, excellent shopping options, and a comfortable means of getting around the city.
You'll also find that from Zagreb, you can travel mostly anywhere in Croatia, thanks to the international airport, main bus station, and the rare train station that goes to a small number of destinations.
Coworking Spaces in Zagreb
Due to Zagreb being one of the best cities in Croatia for digital nomads, you'll find a plethora of coworking spaces and independent cafes to work from during the day.
BIZkoshnica is one of the few coworking spaces that offer help and assistance to entrepreneurs who want to start or scale their businesses. This coworking space promotes networking, growth, and productivity.
Wespa Spaces is a space for digital nomads looking for a more structured and professional environment. With packages starting from one-month plans to yearly, you can find great networking and growth opportunities here.
Gacka16 is a unique coworking space for freelancers, bloggers, influencers, and those who work in the travel industry. You'll get 24/7 access to the space, beverages, and access to workout equipment and showers.
Of course, being in a large capital city you'll find many cafes with wifi and outlets where you can sit and complete tasks for your digital nomad job.
Where to Stay in Zagreb
You can expect to find many rentals and accommodations available within Zagreb. Not only do people come to visit for vacation, but there is plenty of business travel that takes place in the city.
The best neighborhoods for digital nomads include:
Lower Town
Maksimir
Šalata
You can easily find apartments to rent in these neighborhoods at a decent price considering they're in the middle of a major city.
You'll also find tons of hostels in Zagreb for cheap rates where you can meet other travelers and participate in free city tours and events organized by the hostels.
Things to Do in Zagreb
Being a major city, you definitely will never get bored living in Zagreb. From enjoying the nightlife and clubs to relaxing in one of their many parks to visiting museums, you'll quickly fall in love with this digital nomad destination.
Some of the major things you don't want to miss include:
Zagreb Cathedral
Museum of Broken Relationships
Walk Tkalčićeva Street
Visit Jarun Lake
Dolac Market
Explore Upper Town
Since there are so many things you can do in Zagreb and don't want to miss it all, you can also take organized tours to ensure you see all the exciting things this city has to offer.
Make Croatia Your Next Digital Nomad Destination
You've just received a ton of information about the best cities in Croatia for digital nomads. Hopefully, you found it helpful and are even more excited to add Croatia to your list of future destinations.
Remember, if you do happen to fall in love with this country, which it's pretty hard not to, you can apply for the digital nomad visa and live there for an entire year.
For more digital nomad travel and lifestyle tips, join our exclusive online community and connect with like-minded people.