When you think about where digital nomads travel, you probably don't consider the best digital nomad cities in Europe as popular destinations. Instead, you picture South America, Southeast Asia, and white sandy beaches.
While some of the most popular digital nomad destinations are in these parts of the world, Europe has incredible cities to offer a traveling remote worker's lifestyle.
During my digital nomad journey, I've spent a ton of time in Europe and must say it's one of my favorite areas of the world to live this lifestyle. From the slow lifestyle (compared to the US), the food, and the history, I found so much peace and amazing people in this part of the world.
Europe is also rapidly becoming more friendly for digital nomads with increased wifi speed and the introduction of digital nomad visas in certain countries.
I'm going to share the best digital nomad cities in Europe with you so you can consider adding them to your travel plans.
What to Look for in a Digital Nomad City
If you're just starting your journey or learning how to become a digital nomad, you may not be aware of what a digital nomad-friendly city entails. While you have the freedom to work from anywhere with a wifi connection, that isn't necessarily a reality.
Even if you have a good internet connection, there are other factors that make cities comfortable for the digital nomad lifestyle. Let's dive right into what to look for in a digital nomad destination.
Cost of Living
Budgeting is a huge part of living a location-independent lifestyle. It's also one of the reasons why South America and Southeast Asia are such popular digital nomad hotspots. Many nomads choose to live in areas where their currency can stretch further than in their home country.
While European cities may be considered expensive and over-priced for digital nomads, there are plenty with an affordable cost of living. You'll see them on this list!
Before selecting your next destination, educate yourself on the cost of living. How much can you expect to spend on rent, groceries, transportation, and a meal at a restaurant? This can play a huge factor in your decision to live in that city or not.
Numbeo has an awesome cost of living tool to compare different cities and even countries. It's one of my favorite websites to use while researching my next destination.
Weather
Before choosing your next destination, make sure to check the weather during the time of year you plan to be there. Don't make my mistake and go to a Greek island for a month in January/February, thinking it would be pleasant (and not extremely windy) outside.
I know we all have different preferences when it comes to the weather, but I'm going to guess a majority of you reading this post prefer sunny and mild to warm weather.
Even though Europe has all four seasons, you can find warmer places during the winter months.
Although, because of the vast temperature differences on the continent, there is somewhere for everyone. If you love a snowy winter, try finding a city up north or in the mountains. For a warmer climate, stay near the Mediterranean sea.
Transportation
Most digital nomads don't travel by car, relying on public transportation. Fortunately, most European cities have excellent public transportation options as well as international travel by train. Let's also not forget the super affordable airlines that can take you from one country to another for less than 20€.
When deciding on your next city, get to know what transportation is available. You'll also want to choose accommodation fairly close to a metro or bus stop so you can easily explore your new city, too.
Culture and Atmosphere
You're going to have a much more fulfilling time in your destination if you're interested in the local history and culture. So, while you're considering new cities and countries, think about what kinds of cultures and traditions excite you. Which ones are you interested in learning more about?
To feel comfortable and "at home" in a destination, it helps to have some knowledge and attraction to the local customs. It's also an excellent opportunity to engage with local residents and adopt new habits and values.
Luckily for you, Europe is rich in culture, traditions, and customs!
Coworking Spaces
If you're anything like me, you don't like sitting in your apartment or hotel working from your computer all day. Instead, you like to explore the city and find a nice cafe or coworking space to complete the day's tasks.
As you research new destinations, make sure they have coworking spaces available with good reviews. Even if there aren't official coworking offices, learn if there is a cafe working culture. Do cafes have reliable wifi where you can sit for a few hours? Will you see other people working from their computers in public?
Digital Nomad Community
Lastly, you'll want to find somewhere with a digital nomad community. It doesn't have to be a hotspot or even a large, thriving community. But any presence of others living the nomadic lifestyle can help you feel at home, make friends, and find support when you need it.
Pro Tip: Join online digital nomad communities for insight about certain destinations and to connect with like-minded people.
Best Digital Nomad Cities in Western Europe
Now that you know what to look for when choosing your next destination, let's finally get into the best digital nomad cities in Western Europe to help you plan your travels.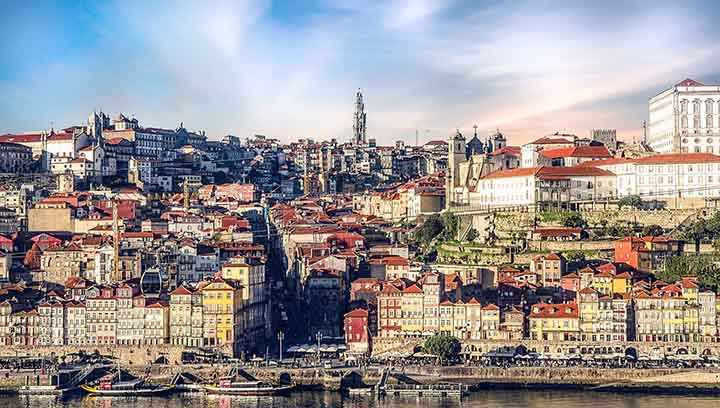 Porto, Portugal
Starting with one of the smaller-sized cities on our list, Porto is an excellent city for digital nomads that is gaining popularity. Located right near the coast, you'll experience awe-striking sunsets, enjoy fresh seafood, and dance in some of the best clubs in the world.
With a very affordable cost of living, Porto is an excellent option for digital nomads who want to live in a European city that doesn't feel too big, has a nomadic community, and has coworking spaces available.
Plus, getting around the city is extremely convenient. You can take the metro, bus, tram, or choose to walk since everything is fairly close. There is so much you can do in this city, too. You'll honestly never get bored when living in Porto.
Let's also not forget that you can live in the country for up to two years with the Portugal digital nomad visa.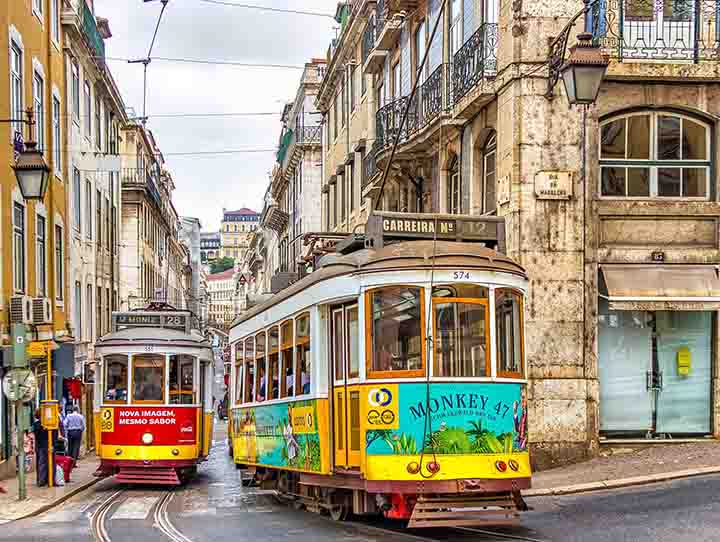 Lisbon, Portugal
Portugal makes our list again, with Lisbon being an upcoming digital nomad hotspot. Larger than Porto, Lisbon offers the incredible Portuguese culture but with more of the hustle and bustle of a city. Do note that the cost of living is slightly more expensive in Lisbon than Porto.
Also located right along the coast, digital nomads benefit from sunny days at the beach, watersports, and of course, the evening sunsets. The food is also incredibly delicious and cheap, perfect for the hungry nomad.
Coworking spaces are popping up left and right in this city. Plus, you'll almost always find wifi connection with an average download speed of 25 Mbps in most cafes. This is definitely one digital nomad city where you'll see a large presence of the community.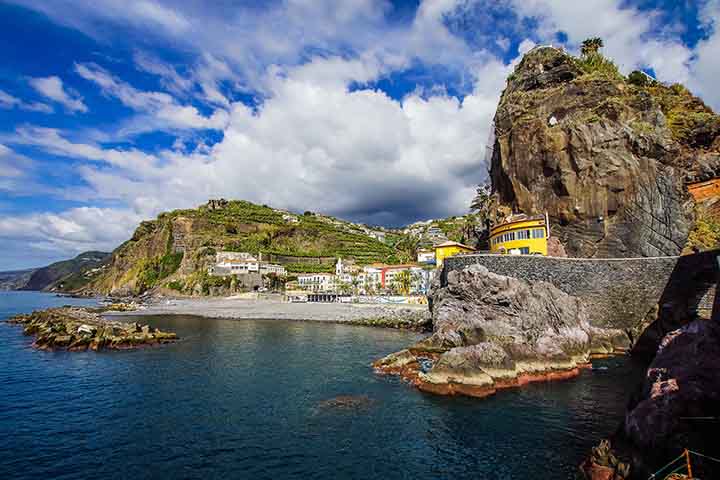 Madeira, Portugal
Who said you couldn't live the island life while in Europe? They clearly didn't know about the Portuguese Madeira Islands off the coast of northwest Africa! Four islands make up Madeira offering digital nomads an island setting with Portuguese culture and customs.
You probably also didn't know that the very first digital nomad village is in Madeira. Whether you decide to live in the village or explore these islands on your own, they're a surprisingly accommodating place for digital nomads.
One thing I want to note is that the wifi connection on the island is impeccable! The average download speed is 79 Mbps, more than three times as fast as cafes in Porto. So, you can find a nice, quiet cafe or go to one of the coworking spaces in the capital city.
Considering you're living on an island, the cost of living isn't outrageous either. You may find that some items are more expensive than if you were on the mainland, but it's a good price to pay for the incredible scenery you're soaking in.
Remember, you can apply for Portugal's digital nomad visa and have the chance to live there for two years. (And here at Nomads Embassy, we can help you with your application!)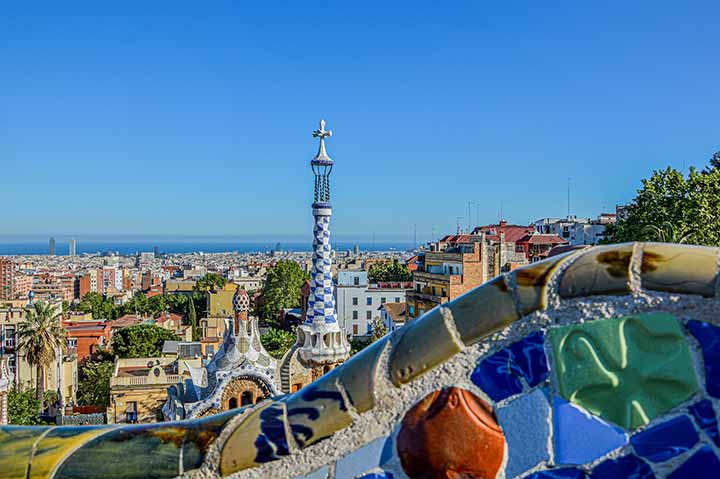 Barcelona, Spain
The great metropolis of Barcelona is a digital nomad's dream! This large city has so much to offer; there's something for everyone in this modern European destination. Located right on the coast of the Mediterranean Sea, you can spend your afternoons hanging out at La Barceloneta sipping on sangria after working from one of the many digital cafes and coworking spaces scattered throughout the city.
Let's not forget about the amazing tapas restaurants you'll find and the unforgettable nightlife you'll experience. With super-easy means of transportation, you can take the metro and buses virtually anywhere you want to go in the city.
You'll surely be blown away by the unique and artistic architecture by Gaudi. Don't forget to stroll through the Gothic Quarter for a throwback to the Medieval Ages too. When I say there's something for everyone in Barcelona, I mean it!
Barcelona may be in the higher price range for some digital nomads, so don't expect to save too much money here, especially when it comes to renting.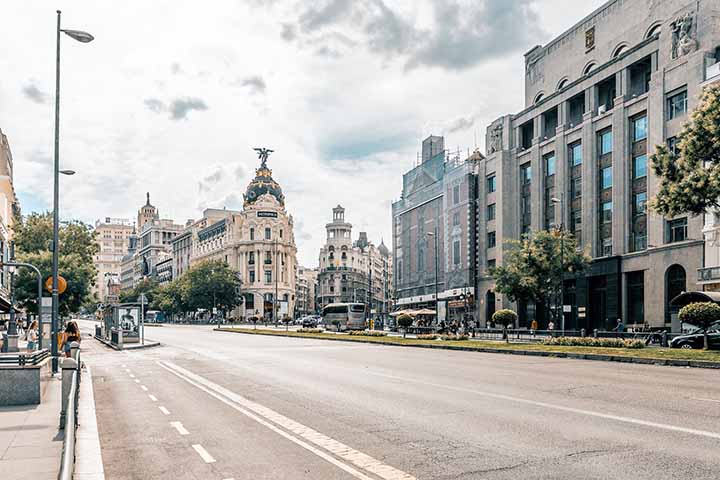 Madrid, Spain
If you love the idea of living in a large Spanish city, then Madrid should be at the top of your destination list. As the most populated city in Spain, this is yet another city where digital nomads can thrive and engage in their hobbies and interests.
With a variety of coworking spaces and cafes to choose from, reliable wifi isn't hard to find in this grand city. You'll also never get bored on the weekends as there is so much to do such as experience the nightlife, visit museums, cathedrals, and admire the city's architecture.
You can expect Madrid's cost of living to be very similar to Barcelona, so you may need to budget a bit more when staying in this European city.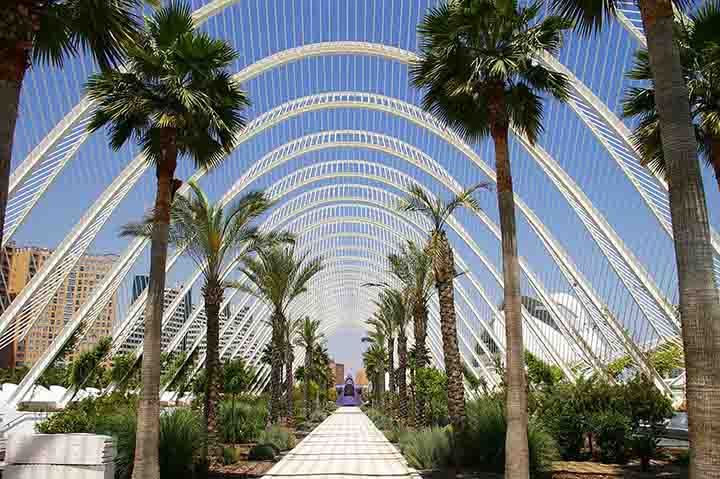 Valencia, Spain
Yet another Spanish city near the coast makes its way onto our list of best digital nomad cities in Europe. Valencia is a modern and bustling city that is close to the beach and easy to get around.
If you're a digital nomad who prefers to work from a cafe rather than pay to spend time in a coworking space, Valencia is the place for you. There are too many coffee shops and bars to list, but know that a majority of them have reliable wifi and comfortable seating.
One thing nomads love about Valencia is the food and laidback atmosphere. Paella, a scrumptious Spanish rice dish, was actually invented in this area, so you know you'll feast well on this during your stay. It's also known for its plump oranges, so get ready for an increase in Vitamin C while you're there.
Valencia's cost of living is on par with the rest of the major cities within Spain. However, some items, such as rent, may be more affordable.
Las Palmas, Gran Canarias, Spain
Take the architecture and culture from Spain and plant it on an island off the northwest coast of Africa, and you'll get the Canary Islands. Las Palmas, the capital city on Gran Canarias, is definitely a thriving digital nomad hotspot.
With plenty of coworking spaces and cafes to work from, you'll often find digital nomads set up around this city. One of the most recommended coworking spaces is Roka Cafe, right by the beach.
You'll get the rich Spanish culture but on an island lined with white sandy beaches and full of friendly people, including nomads and expats. Plus, you'll get to experience the Canarian food, which is just *chef's kiss*
The best way to move throughout the city and the island is on public buses, taxis, scooters, bicycles, or walking. It isn't very hard to get around the city and walking is always a great option as you can explore and see new streets.
Las Palmas is an excellent destination for digital nomads who want to escape the winter cold. The sun shines bright and warms up the days from December to February.
You may also be surprised to learn that living on this tropical island is less expensive than living on mainland Spain. However, rent can be a bit pricey, especially if you want an apartment close to the beach.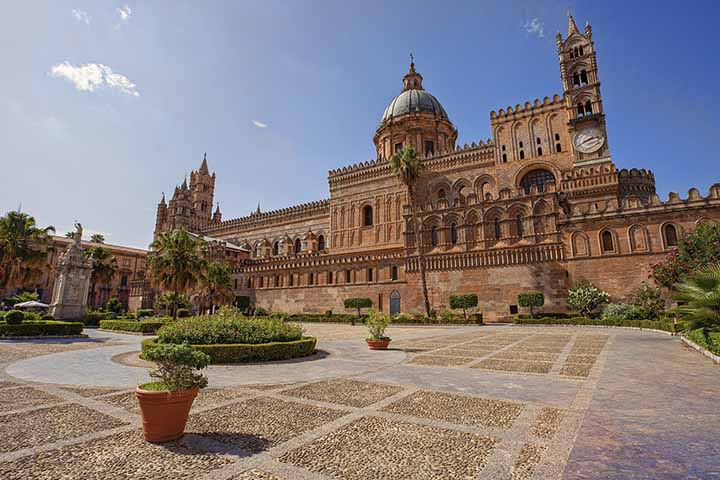 Palermo, Italy
If you're looking to get in on an up-and-coming hotspot for digital nomads in Italy, then Palermo is the city for you. Located in Sicily, the large island just beneath Italy offers incredible views, hospitable people, and some of the best food in the world.
With history, nature, the sea, and all-around good vibes, you can expect quite an adventure if you spend some time working remotely in Palermo. It's the perfect getaway for nomads who need some time away from a bustling city to relax and recharge.
While there aren't many coworking space options in the area, cafes with wifi are not lacking. Enjoy a cappuccino and a freshly baked brioche as you type away and be productive.
It's also very easy to get around the city on foot. Although, there are buses you can take for when the weather is a little too hot during the spring and summer months. The cost of living is a bit higher compared to other destinations, but you can surely get your money's worth when it comes to memories (and food).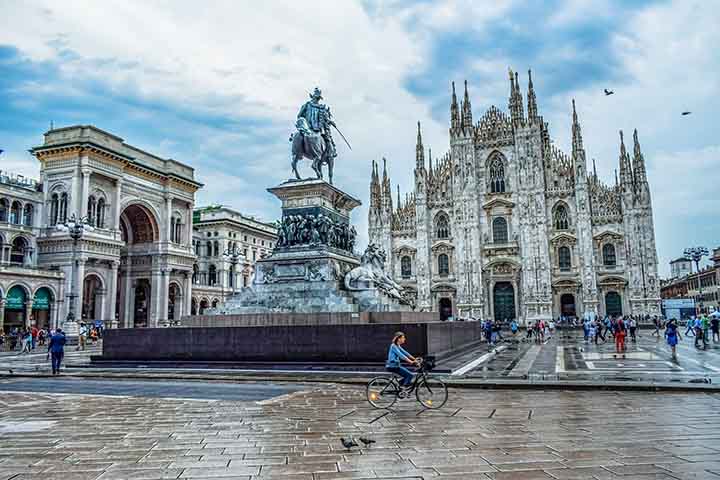 Milan, Italy
The most modern and busiest city in Italy is also one of the best cities for digital nomads. Milan, located in northern Italy, is one of the largest metropolises in Europe. Known as the fashion capital, nomads can also get a slice of life in this gorgeous and prestigious city.
Getting around the city is incredibly easy and convenient with the buses, metro, and tram lines. It's also super easy to travel to cities like Como, Verona, Bologna, and Turin on the weekends by train.
The mixture of modernism and classic features mesh well together in Milan. You can enjoy an authentic Italian pizza for lunch and feast on all you can eat sushi or ramen for dinner.
You'll also have an extremely wide variety of coworking spaces and cafes. With the helpful app, Nibol, you can find coworking spaces and cafes around the city and reserve a seat right from your phone.
A favorite coworking space of mine is Combo Milano, located in the Navigli neighborhood. For 3€/hour, you can use their space and enjoy a coffee included in the reservation.
The cost of living in Milan is on the pricey side, but you definitely will enjoy delicious meals, view incredible sights, and be amongst some of the most fashionable people in the world.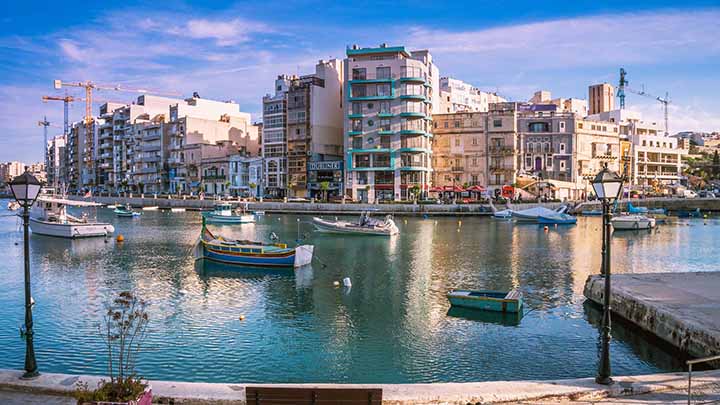 Sliema, Malta
Just below Italy in the Mediterranean is Malta, an archipelago made up of three islands. The country has been a digital nomad hotspot for many years, but their introduction of the Malta digital nomad visa has made it even more popular.
While the country is very small and the island is easy to get around, Sliema seems to be the town where the nomads roam. Located right on the coast, just a ferry ride away from the capital city Valletta, Sliema is a quiet place for digital nomads to recharge, work, and live their best life.
Malta is also praised for its safety. People who come to Malta always mention how safe they felt while walking at night or being alone.
As for coworking spaces, two of the most popular in the area are SOHO Office Space and Glashaus Coworking. Although you can also go to many cafes and work from there using their reliable wifi.
You can expect to spend a little more to live in Malta. Prices are comparable to Milan, if not a bit more expensive. Remember, you're on an island in the middle of the sea here!
If you fall in love with Malta, you can apply to live there for six months to a year with their digital nomad visa with Nomads Embassy's help.
Get a copy of The Digital Nomad's Complete Guide to Malta with everything you need to know about working remotely from the country.
Best Digital Nomad Cities in Eastern Europe
Now that we've covered the cities that are great for digital nomads in Western Europe let's draw our attention to ones in Eastern Europe. On average, cities in Eastern Europe are much more affordable than the ones we just talked about and are a bit more popular amongst location-independent people.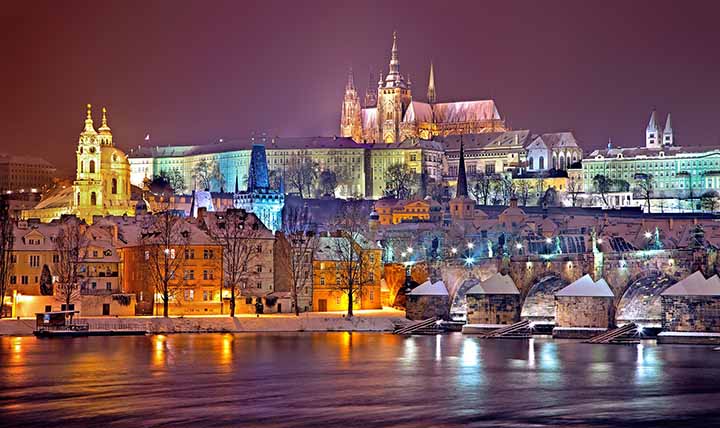 Prague, Czech Republic
Prague is one of the most affordable cities to live in the Schengen Area. Rather than using the Euro, though they use the Czech koruna (CZK). So, 1 EUR equals about 25 CZK for reference.
Other than being a budget-friendly option, Prague also has great coworking and coliving spaces available. It's also super easy to get around the city with their buses and trams as well.
I can't ignore the architecture in Prague either. No matter where you're walking, you'll find gorgeous buildings, especially in the Old Town. It's rich with history and plenty of museums to visit on the weekends.
If you're interested in living in Prague, the Czech Republic offers a visa perfect for digital nomads. However, it's only for freelancers or entrepreneurs who can tie their business to the Czech Republic in some way.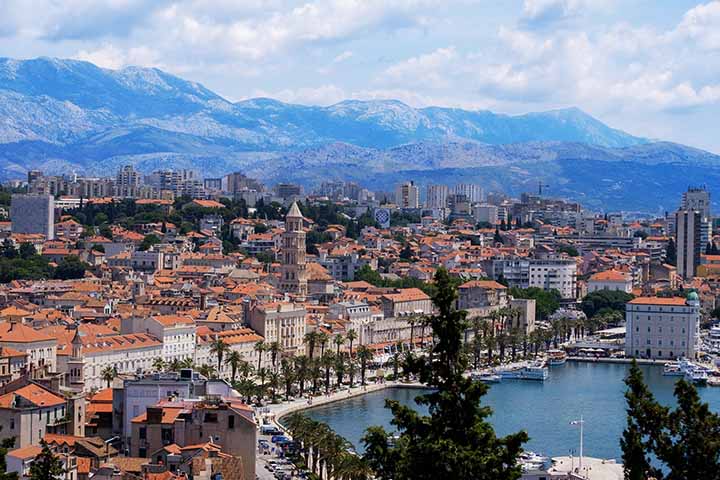 Split, Croatia
One of my favorite countries I've lived as a digital nomad has been Croatia. The first city I stayed in was Split, and it was absolutely wonderful! When I was there in February and March, the weather was mild and the town was pretty quiet because it was the off-season.
Split has an incredible old city that runs along the sea and is built within Diocletian's Palace. You'll find shops, restaurants, and cafes within the palace and its winding limestone alleys.
Again, Croatia doesn't use the Euro, but the Kuna instead. 1 EUR equals about 7.5 Kuna. The cost of living in Split is also fairly affordable compared to other places in Europe.
There aren't many coworking spaces in the area, but there are a ton of cafes with wifi. My personal favorite cafe is D16, right inside Diocletian's Palace. It's cozy and has an excellent cappuccino.
For those who love the country as much as I do, you can apply for the Croatia digital nomad visa. With this visa, you can stay in the country for up to a year.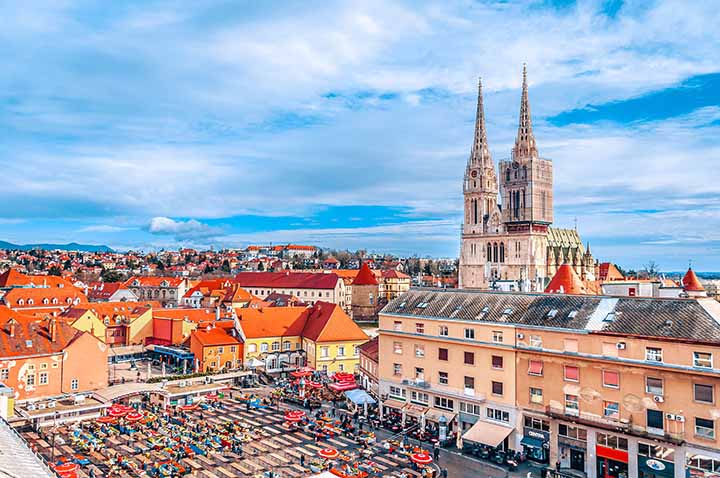 Zagreb, Croatia
The capital of Croatia made it to our list of best cities for digital nomads. Zagreb has been a long-time hub for travelers working remotely mostly because of its strong wifi connection.
Often overlooked because it's located inland and not by the sea, Zagreb is a modern city with plenty of public spaces to work from. One of the most notable coworking spaces is Hub385. It's a multi-level coworking space with excellent wifi and a great opportunity to meet people.
You'll find plenty of things to do in Zagreb as well. From visiting museums to shopping to enjoying the meticulously manicured parks and gardens, there is something for everyone.
The cost of living in Zagreb is also reasonable. You'll find that the quality of life is high for the price you pay.
Don't forget, if you want to stay in the country for more than a tourist visa allows, apply for the Croatia digital nomad visa!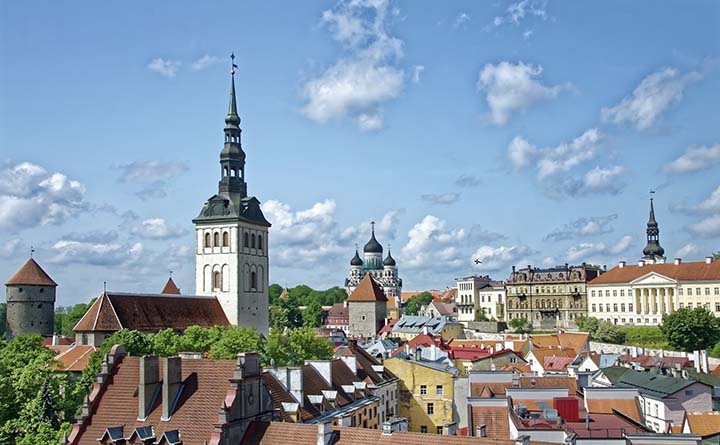 Tallinn, Estonia
Imagine walking through a town that feels straight out of a fairytale. That's exactly what you experience when you go to Tallinn. The capital city of Estonia is an enormous hub for digital nomads, especially thanks to its e-residency program and innovative infrastructure. They prioritize digitalization and wifi, making it the perfect spot for nomads.
While it does get pretty cold during the winter, the summer months are quite pleasant and extremely beautiful. However, if you love snowy days and bundling up, Tallinn may be the place for you after all.
As a popular digital nomad destination, there are tons of coworking spaces and cafes to work from. You'll also find frequent meetups and events strictly for travelers working remotely.
When considering the cost of living in Tallinn, it's comparable to other cities in Western Europe. Unfortunately, this isn't the first place to choose if you want to save money. However, the quality of life is fantastic, and you'll be very comfortable here.
Estonia has led the path for digital nomads within Europe as they were the first to introduce a digital nomad visa. You can live in the country for up to a year and take advantage of all it has to offer.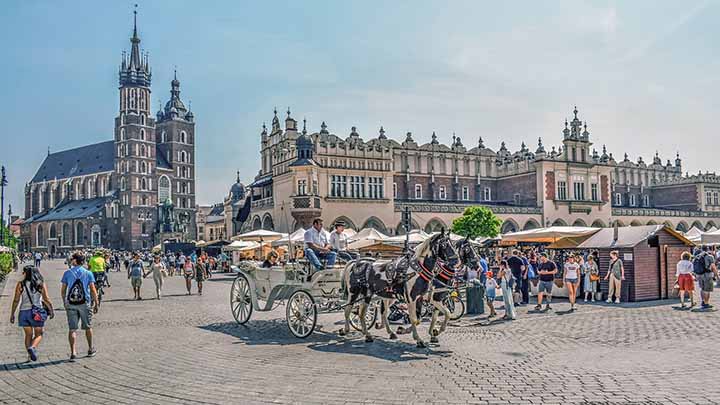 Krakow, Poland
Moving further east, we have Krakow, Poland, next on our list for best digital nomad cities in Europe. As the second-largest city in Poland, Krakow can still feel a bit small sometimes, especially because it is so easy to walk everywhere.
The growing tech hub has been popular amongst digital nomads for years mostly due to its low cost of living and many English speakers. The currency in Poland is the zloty. For reference, 1 EUR equals about 4.60 PLN.
Since this city is so popular amongst location-independent people, you will find plenty of laptop-friendly cafes and official coworking sites. The wifi is also fantastic, with an average of 35 Mbps throughout the city.
While living in Krakow, you'll get to see tons of Medieval architecture, castles, and churches. There are plenty of museums as well. It's also super easy to get around the city with their public transportation or by simply walking.

Belgrade, Serbia
For those looking to settle down in a city with strong wifi, public places to work, and solely focus on their work and business, Belgrade is an excellent option. It's outside of the Schengen Area, which means you can take a "break" and not overstay your tourist visa in the bloc.
As an effort to attract even more digital nomads, Belgrade has started an initiative BelgradeGetsDigital. This program aims to create a community of digital entrepreneurs and workers while improving the digital space in the city.
You'll almost always find an open seat at a coworking space or cafe in this city. You can find available seats in coworking spaces using Coworker and get prices for daily, weekly, and monthly passes.
You'll notice the architecture in Belgrade is stunning. You'll also admire the graffiti art throughout the city. While there isn't too much to do here, it's a great option for nomads looking to spend a bit less while living in Europe and really hunker down to focus on working.
Serbia's currency is the Dinar. For reference, 1 EUR equals about 117 DIN. The cost of living is low compared to other countries, and the quality of life is fairly pleasant.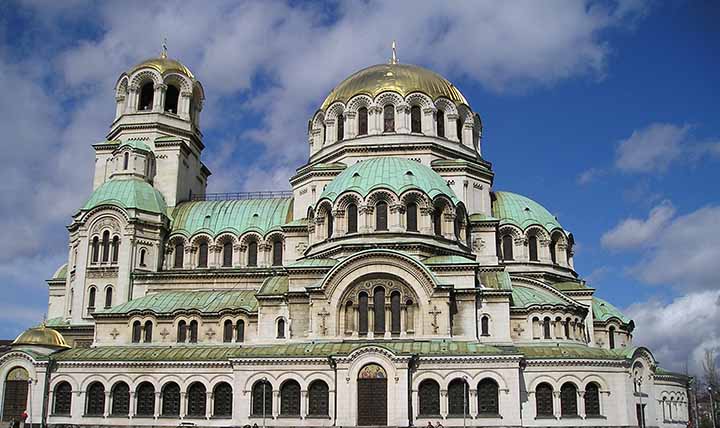 Sofia, Bulgaria
The capital of Bulgaria, Sofia, is known as the country's cultural hub. It's also a thriving digital nomad hub thanks to its affordable cost of living, international communities, and vast list of things to do.
Many say there are two sides to Sofia, an ugly side and a beautiful side. So, don't let your first impression fool you if you happen to find yourself on the "ugly" side of the city. There are so many beautiful buildings, parks, and streets to explore.
It's also a fantastic city for those nomads who love being outdoors. There is so much nature surrounding the city, and it's fairly easy to get to for hiking and other activities.
When it comes to finding a place to work from, you won't be at a loss. There are many coworking spaces and virtual cafes that welcome digital nomads just like you. They're also a great place to meet people and network.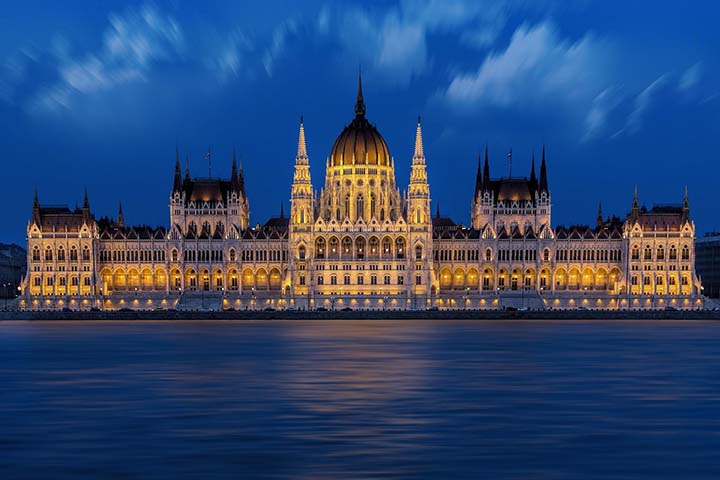 Budapest, Hungary
Budapest has long been a popular destination amongst digital nomads. Its gorgeous architecture, affordable cost of living, and growing community of expats and nomads make this an attractive city for the traveling remote worker.
You'll never be bored in Budapest, especially if you're one to go out on the weekends to bars and nightclubs. Some say the nightlife in Budapest will ruin all of your future experiences because there is simply nothing like it. Oh, and don't forget to relax after a long day of work in the thermal baths!
Budapest, while part of the Schengen Area is a great, economical option for digital nomads who want to stay in Europe. There are a number of coworking spaces and digital cafes to work from, including Loffice, Impact Hub, and Mosaik. You can also work from one of the many gorgeous libraries located throughout the city.
The best ways to get around the city are by metro, bus, or grabbing an affordable taxi. There is so much to see in the 23 districts, but be sure to buy your tickets before getting on the bus as they'll be much cheaper.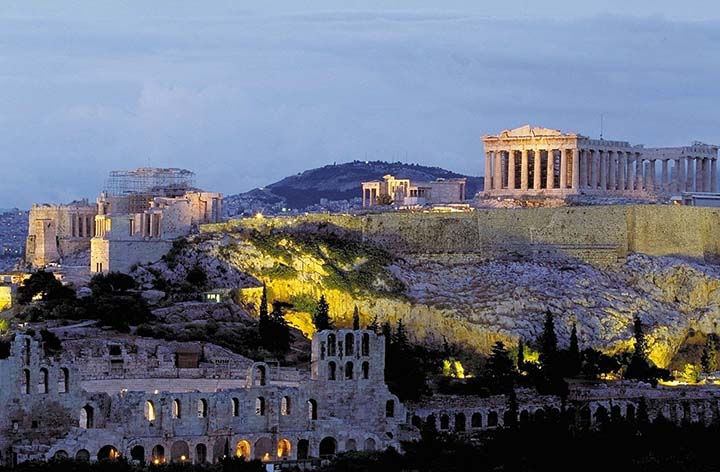 Athens, Greece
If you crave incredible food, rich (like super-rich) history, and hospitable people, then you need to go to Athens as a digital nomad. This historical city has so much character I would need to dedicate an entire blog post just to explain it. You'll find ruins from thousands of years ago sitting around the city nonchalantly and some of the most interesting cafes and restaurants.
The digital nomad community in Athens is strong too! There are plenty of coworking spaces, but the cafe-working culture is strong in this city. So, you can simply order a coffee, ask for the wifi, and sit for hours working. This is what I definitely prefer rather than spending 12€ a day just to sit at a desk in a coworking space.
Of course, there are plenty of fun things to do in Athens. From visiting the Acropolis and museums, exploring Plaka, and engaging in the nightlife, you'll surely never get bored in this city.
While the cost of living in Athens is affordable for some digital nomads, it isn't the cheapest city to live in this part of the world. However, the food, friendly people, and incredible experiences are all worth the extra money spent.
You can also apply for Greece's digital nomad visa and live in the country for up to two years if you meet all of the requirements.
Get a copy of our Digital Nomad's Complete Guide to Athens for free to learn all about what it's like to live and work remotely from this historic city.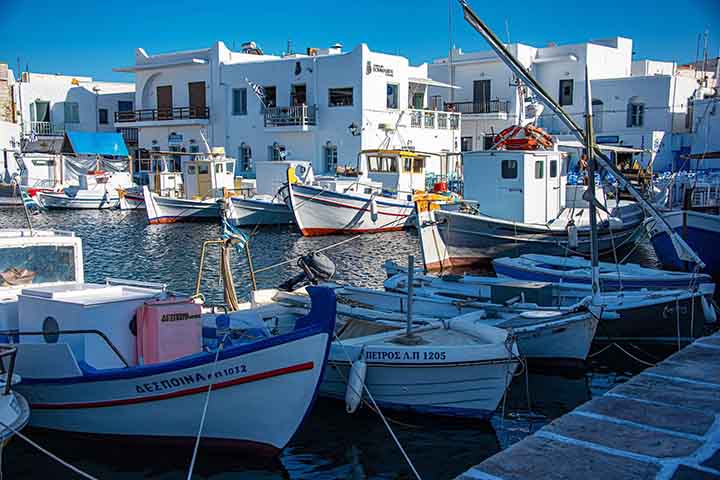 Paros, Greece
We couldn't write an article about the best cities for digital nomads in Europe without giving you a Greek island to visit! Paros is the most friendly island for digital nomads working remotely as the wifi is reliable and is a serene place to work from. Its blue and white buildings are iconic to Greek islands and make for the perfect setting to create content.
Still up and coming on the digital nomad movement, it's an island to still be discovered, which means you can be part of the first wave to experience it. Naousa is the second largest village on the island and a preferred place to stay for nomads. It's a unique fishing village with a natural harbor, so you know you'll eat well at the taverns, restaurants, and bars.
Due to the tourist season being in the summer, it's best for digital nomads to visit in May, September, and October. Prices are a bit more affordable, and there are fewer crowds.
While there aren't coworking spaces on the island, there are plenty of cafes where you can set up your laptop. Again, the wifi is pretty reliable on the island, so you shouldn't have a problem in that aspect.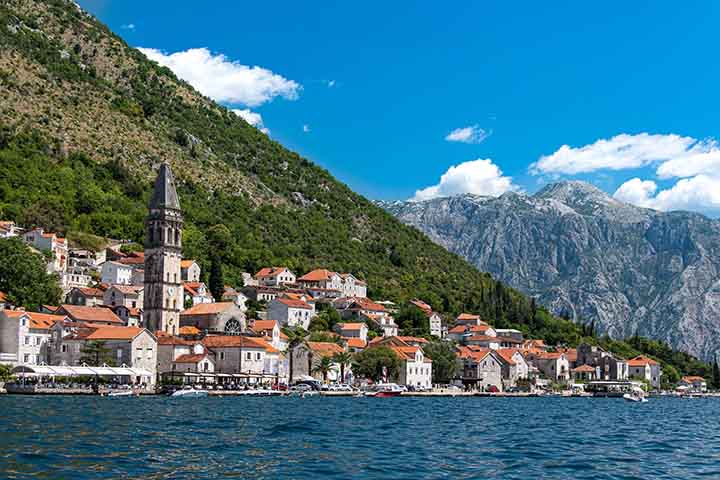 Kotor, Montenegro
If you're adventurous and want to get in on a newer digital nomad destination, then you'll want to check out Kotor. Located right along a gorgeous bay, Kotor has incredible views, especially during the spring and summer.
While this city is still unknown to most nomads, you won't have to fight for seats at a cafe to work on your computer. If you're an influencer or blogger, now is the perfect time to go and write your guides for fellow nomads, too!
You'll love the architecture, museums, and churches throughout this town. Even though it's small compared to the other cities we've listed, you can always find something to do. It's an excellent location for those who love nature too!
Let's also not forget that the cost of living in Kotor is very affordable. And they use the Euro, so you won't have to spend money on conversion rates or commissions if you're from the EU, that is.
Don't forget to search for a good bank for digital nomads before you leave on your journey to avoid all of these extra conversion rate fees!
Get Help Choosing Your Next Digital Nomad Destination
Choosing your next digital nomad destination doesn't have to be overwhelming or stressful. I know, the world is big and there are too many places to choose from. But if you keep in mind what makes a city digital nomad-friendly and ask fellow nomads about their experiences, it will be much easier!
If you're stuck on deciding your next destination or have questions, ask our members in the Nomads Embassy online community about their experience. We want to help you (and maybe even meet up!) to make your digital nomad lifestyle easier.