Last Updated on 18 June 2023 by Brittany
Being a digital nomad in Crete means soaking in the sun and beautiful nature, but also searching for the perfect spot to connect to wifi and get some work done. While in the largest city in Crete, there are some digital nomad-friendly cafes in Heraklion you should definitely check out.
While your apartment or Airbnb may be comfortable, it's always nice to take a walk and experience your new destination.
Working from one of the digital nomad-friendly cafes in Heraklion that we recommend could boost your productivity and give you the opportunity to try one of the many delicious Greek coffees offered.
As you walk through the bustling white paved streets in the center of Haraklion, you may notice that there aren't many people working remotely from cafes.
If you're anything like me, you may feel discouraged to sit down and pull out your digital nomad-friendly laptop at a random cafe and stay for a few hours.
That's exactly why I wrote this article!
We're equipping you with these laptop-friendly cafes in Heraklion where you can feel comfortable typing away, plugging in, and sipping on a delicious frappe, cappuccino, or freddo espresso.
If you truly fall in love with the beautiful city of Heraklion and its unique cafes, then you can stay even longer with Greece's digital nomad visa. Don't worry, Nomads Embassy can help you with your application – but more about that at the end!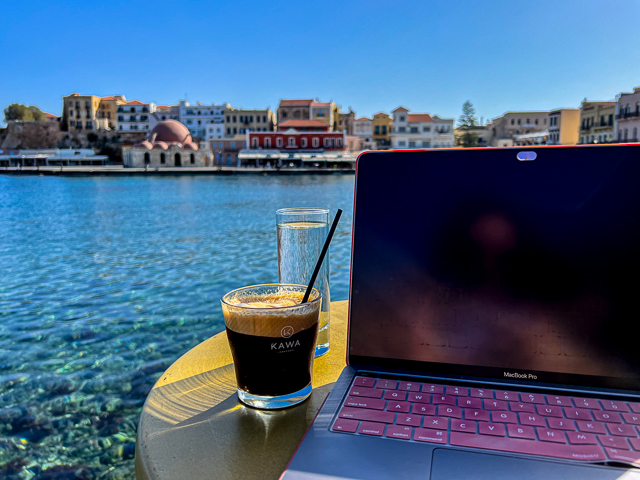 Why Digital Nomads Choose to Work from Cafes
Many digital nomads choose to stay in hotels or Airbnbs when traveling and living abroad. They search for remote worker-friendly accommodations, usually with a dedicated workspace and fast wifi.
So, why would anyone leave their comfortable accommodation to go and work from cafes in Heraklion?
Get Out of the House
It's very common for digital nomads to travel alone. So, it can get a bit lonely working from your accommodation all day every day.
For this reason, many remote workers choose to find a cafe with reliable wifi and outlets so they can be amongst others working remotely.
Finding a digital nomad-friendly cafe offers the opportunity to walk around, explore the city, try new cafes, and get some fresh air.
Let's face it; the reason you're a digital nomad is to travel and see the world! There's no better way to do that than by walking to a nearby cafe.
Social Setting
When living a nomadic lifestyle, it's important to put yourself into social situations where you can meet other, like-minded people.
Working from digital nomad-friendly cafes will put you where you need to be to meet other remote workers. When you visit the same cafe multiple times, you'll find familiar faces and may even make a friend or two!
Boost Productivity
Now, you may think that being in public surrounded by strangers working remotely may keep you from completing the day's tasks. On the contrary! Many digital nomads find that they are more productive when in a situation where other people are working in the same space.
Digital Nomad-Friendly Cafes in Heraklion
To help you save time and make the most of it while in Heraklion, we've put together a list of digital nomad-friendly cafes where you can work from.
Our criteria for a suitable cafe for digital nomads include reliable wifi, comfortable seating, access to outlets, and great food or coffee.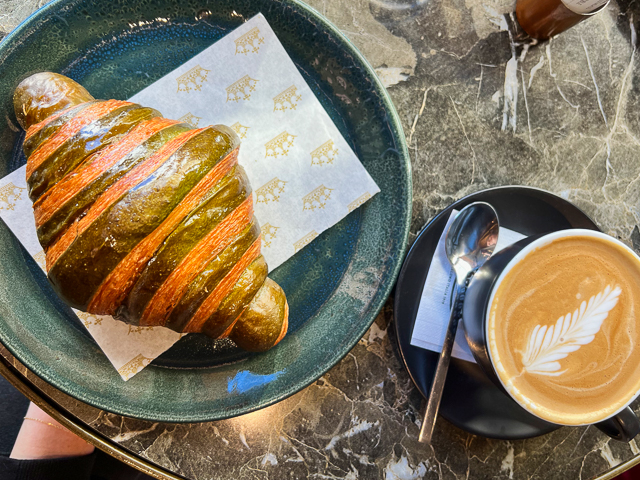 1. Queen Cafe
Location: Agiou Titou &, Evropis 13, Iraklio 712 02, Greece
The Queen Cafe is always busy! You will often see people sitting outside sipping on cappucinos and enjoying a pastry or sandwich throughout the day.
While at first glance Queen Cafe looks like more of a social setting, it is especially well-equipped for digital nomads! With easy access to outlets inside, comfortable chairs, and fast wifi, you will definitely get a productivity boost.
When visiting Queen Cafe, you must try one of their enormous stuffed croissants or milk custard pies. In addition to coffee, they also serve smoothies, fruit juices, beer, wine, and cocktails.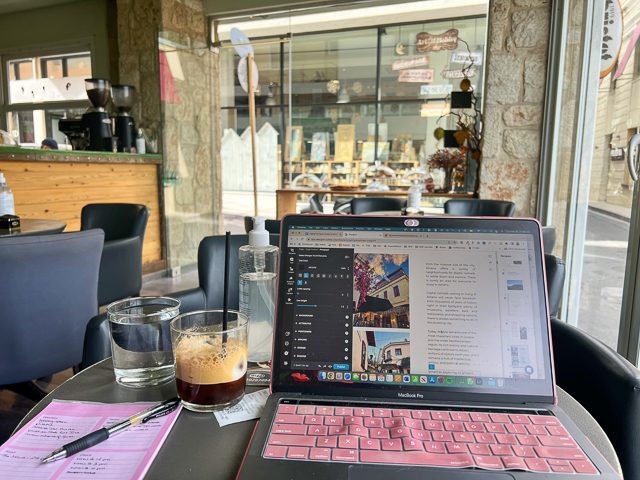 2. Bite Cafe
Location: Idomeneos 1, Iraklio 712 02, Greece
This small corner cafe offers a beautiful view of the Heraklion marina and beautiful blue waters of the Mediterranean Sea. The owners of Bite Cafe are also extremely friendly and always want to know where their customers are from and wish them a beautiful stay in Crete.
With delicious cakes, pies, and cookies displayed in the window and refreshing beverages like freddo cappucinos and fresh juices, you can stay for hours and work from this digital nomad-friendly cafe in Heraklion.
The seats are also super comfortable! There is a bar with seating against the wall where you can sit if you don't want to take up table space too.
3. Marina Cafe & Restaurant
Location: Epimenidou 19, Iraklio 712 02, Greece
The Marina Cafe & Restaurant overlooks the historic Venetian fortress rocca al mare and the boats docked in the harbor.
This all day bar and restaurant welcomes digital nomads looking for a comfortable table with a gorgeous view to work from for a few hours. It's a great option for those looking for a delicious lunch before opening their laptops too.
With indoor and outdoor seating, you'll find a suitable atmosphere for getting your work for the day done quickly.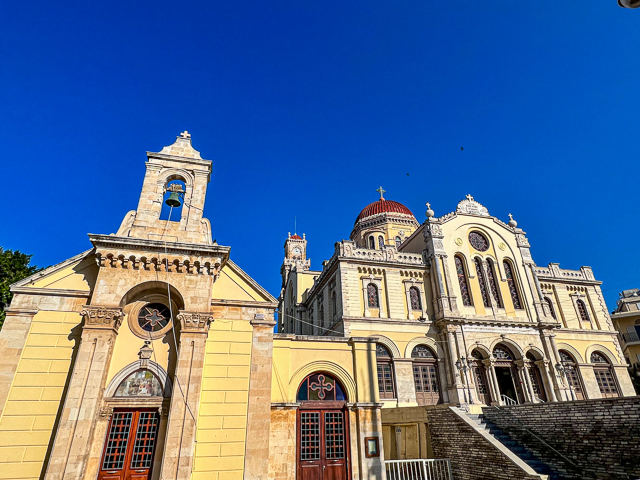 4. Speira
Location: Archontopoulon 9, Iraklio 712 01, Greece
For book lovers and free thinkers, Spiera is one of the best cafes in Heraklion to work remotely from! Beautifully decorated with floor-to-wall bookshelves, comfortable couches, and outdoor seating, digital nomads can stay for hours on their laptops.
The cafe has two levels. The top level has large tables to share and access to outlets. When you need a beak or just want to day dream a bit, admire the grand book selection and turn through the pages.
The outdoor seating on the sidewalk has a gorgeous view of the magnificent Church of Agios Minas. For those who enjoy a beautiful setting while working, then we definitely recommend Speira Cafe.
If you're craving something delicious, then look no further! With a full menu of appetizing breakfast and brunch foods, you'll get the energy you need to finish your tasks for the day.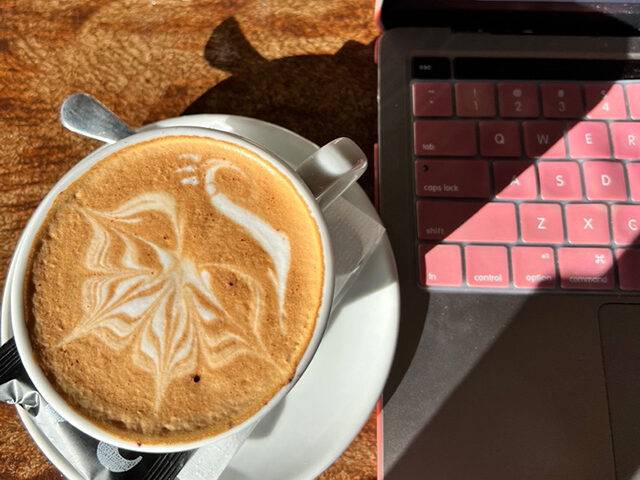 5. Volta
Location: Pl. Kallergon 12, Iraklio 712 02, Greece
Great for people-watching and enjoying a delicious dessert or breakfast, Volta cafe is ideal for digital nomads looking to sit for a couple of hours and answer some emails.
The cafe can get quite busy, especially in the mornings and evenings. However, during the day, you can often find an empty table with a view of the main pedestrian street.
There are two things to know before going to Volta cafe, though. The music can be a bit loud, but if you don't mind trending and upbeat songs, it won't be a problem. The second is that there are limited outlets, so make sure to go with a fully charged laptop.
6. Coco Cafe 89
Location: Pl. Kallergon 16, Iraklio 712 02, Greece
Right next to Volta Cafe is Coco Cafe 89. It has a very similar vibe boasting with music and offering great views for watching people bustle through the streets of Heraklion.
With an excellent breakfast menu and satisfying cappuccinos, Coco Cafe 89 is great for catching up on emails or reviewing the day's work while sipping on a refreshing fruit juice or cocktail.
Located right next to the gorgeous historic Venetian Fountain and under towering green trees, it's an ideal place if you want to be in the center of it all in Heraklion!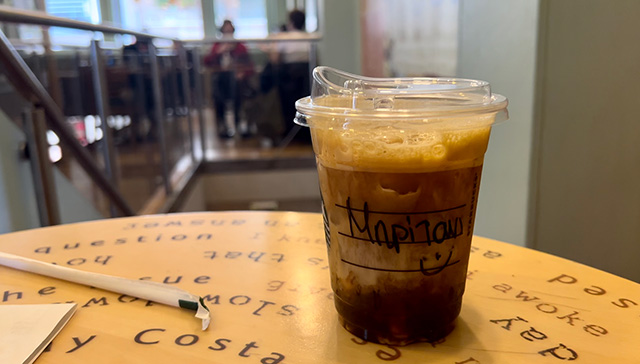 7. Starbucks
Locations:
Androgeo 6, Iraklio 712 02, Greece
25th Avgoustou 42, Iraklio 712 02, Greece
Σοφοκλή Βενιζέλου, Iraklio 713 03, Greece
Of course, we couldn't leave Starbucks off of the list of digital nomad-friendly cafes in Heraklion. With three convenient locations, remote workers can always rely on a Starbucks to offer reliable wifi and delicious caffeinated drinks.
Heraklion's main Starbucks (the first address we listed) has two levels and two patios with comfortable seating.
The second address is a bit smaller but has plenty of outdoor seating.
The last location is a bit further from Heraklion's city center and is located in a shopping center. However, it also offers a beautiful patio with plenty of seating as well as indoor tables and chairs.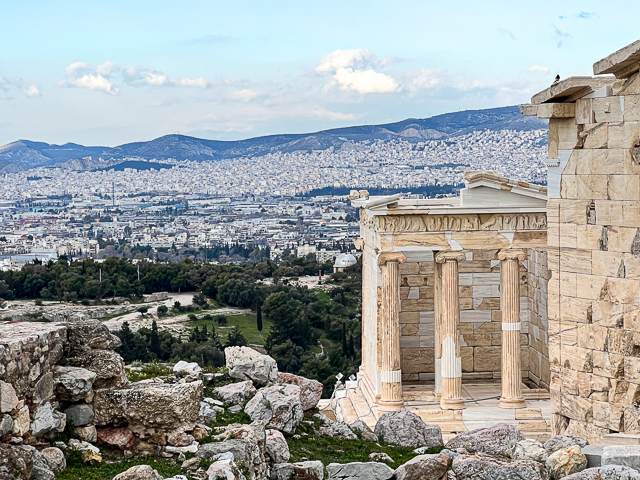 Live and Work Remotely from Greece for Two Years
It's inevitable that you will instantly fall in love with Greece, especially Crete, when you visit as a digital nomad. In fact, it's difficult to leave!
Now you don't have to leave Greece for at least a year with their digital nomad visa.
If you earn at least €3,500 per month working remotely, you may be eligible to apply for Greece's digital nomad visa and live in the country for two years with the option to renew for another three years.
This digital nomad visa also leads to permanent residency, making it a great option for digital nomads looking to settle down abroad.
Apply for the Greece Digital Nomad Visa with Nomads Embassy
Is Greece calling you to come and live there for at least one year?
Apply for Greece's digital nomad visa with the help of professional legal assistance with Nomads Embassy's hand-selected immigration lawyers in Athens!
From answering all of your questions to communicating on your behalf with consulates and ministries to helping you with the actual relocation process, we're here to make the digital nomad visa application process easier than ever.
Interested in learning more about Greece's digital nomad visa?
Fill out the contact form in this article to request a free eligibility check to verify your eligibility and connect with our immigration lawyers today!