Last Updated on 27 November 2023 by Brittany
Do you dream of living in exciting European cities on the coast while working remotely? Now you can with the official Portugal digital nomad visa!
Digital nomads were already taking advantage of the Portugal D7 visa, which is for people who earn an income remotely or from retirement payments.
Now, with the official Portugal digital nomad visa, remote workers have a legal visa specifically for them!
With the Portugal digital nomad visa, applicants can live in the country for two years with the option to renew their residency permit for up to five years. After five years of living in Portugal, you may apply for permanent residency.
There is an option to stay in Portugal for just 12 months instead of two years. If you choose to continue to live in Portugal, then you must apply for a residence permit.
They will also have visa-free access to the 27 Schengen countries.
Applicants may include their spouses and dependents on the digital nomad visa.
Portugal joins other European countries in offering digital nomad visas, including Malta, Croatia, Greece, Hungary, Spain, Italy, and Estonia.
While the application process may seem fairly simple for Portugal's digital nomad visa, it doesn't mean relocating to a new country is necessarily easy. With Nomads Embassy's hand-selected immigration lawyers, you'll experience a smooth and quick move to Portugal.
In this article, we'll discuss the Portugal digital nomad visa requirements, how to apply, and how you can get in touch with our local immigration lawyers to assist you with your digital nomad visa application.
What is a Digital Nomad Visa?
A digital nomad visa allows remote workers to live in a foreign country. This visa grants a temporary residence permit, typically lasting from six months to two years, with the ability to renew.
To be eligible for a digital nomad visa, you must earn an income remotely either as an employee, business owner, or freelancer. Holders of the digital nomad visa may not participate in local economic business opportunities. All income must be earned from an entity outside of the country they reside in.
A digital nomad visa is perfect for those remote workers who simply want a change of scenery or have constantly been traveling and would like to settle down somewhere for a bit.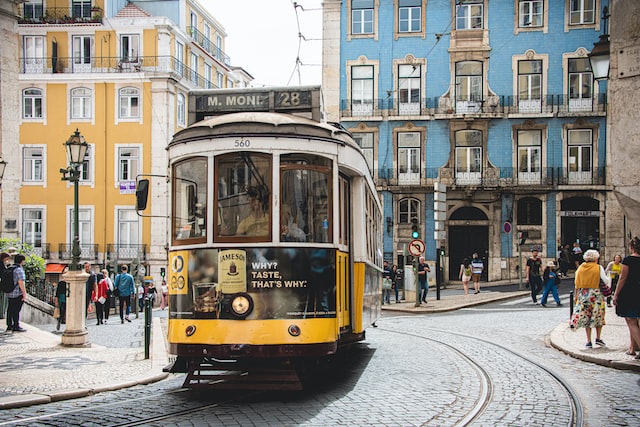 Portugal Digital Nomad Visa Requirements
Every digital nomad visa has specific requirements to be eligible to apply for them. Below are the Portugal digital nomad visa requirements we know so far. 
IMPORTANT UPDATE: Going into effect on January 1, 2024, the minimum income requirement will increase to €3,280 per month, and applicants must show access to funds of at least €9,840 in a bank account.
Valid Passport – Your passport must be valid at the time of applying
Work Remotely – You must earn a remote income as a freelancer, employee, or business owner of a company located outside of Portugal
Earn €3,040/month* – You must meet the minimum income requirement equal to at least 4x Portugal's national minimum wage
Health Insurance Policy – You will need health insurance coverage for the duration of your stay
Clean Criminal Record – You must submit a certified criminal record clean of marks
If you meet the above requirements, you're most likely eligible to apply for the Portugal digital nomad visa.
*Important Note: The minimum income requirement increased from €2,750/month to €3,040/month to be 4x the minimum wage in Portugal.
**Update: A previous version of this article required an NIF number. This is no longer required for the digital nomad visa.
Steps to Apply
To apply for the Portugal digital nomad visa, you will have to submit your visa application to a Portuguese embassy or consulate in your home country or at the Serviço de Estrangeiros e Fronteiras in Portugal.
Step 1: Gather Documents
It's always a good idea to start gathering the required documents to submit with your application as the first step in applying for the Portugal digital nomad visa. Below is a list of the documents you may need.
Copy of Passport
Proof of Income from the last 3 months
Proof of Remote Work
Tax Residency Documents
Proof of Relationship to Dependents (if applicable)
Certified Criminal Background Check
Health Insurance Policy with Coverage in Portugal
These documents may need to be translated into Portuguese and certified with an apostille, but it is up to the discretion of the embassy or consulate processing your application.
Step 2: Submit Application
To submit your application, you must schedule an appointment at a Portuguese embassy or consulate in your country of residence or at the Serviço de Estrangeiros e Fronteiras in Portugal.
When filling out the application, it's important to choose whether you plan to apply for the 12-month or two-year residence permit.
You will need to complete the following visa application here.
Be sure to bring originals and copies of your documents to submit along with your application.
There is also a 90€ application processing fee you must pay.
Step 3: Wait for Approval
The processing time for the Portugal digital nomad visa is around two to three months. Of course, this depends on the embassy or consulate you submit your application is located and how busy it is.
Step 4: Receive Residency Permit
After obtaining your Portugal digital nomad visa, you must then apply for your residency permit in Portugal. You will have four months from the time you enter Portugal to find an apartment and sign a lease for at least one year.
Bring your visa and all of the documents you submitted to the consulate.
You will have your fingerprints taken and receive your residence permit, which can be renewed for up to five years.
Portugal for Digital Nomads
Portugal is one of the hottest trending digital nomad destinations. There are massive communities in Lisbon and Porto. You can find hip cafes, restaurants, bars, and awesome coworking spaces in both of these cities.
Read Next: Popular Coworking Spaces in Lisbon for Digital Nomads
Plus, every night, you'll get to experience stunning sunsets over the Atlantic Ocean and enjoy sunny days on the sandy beaches.
Walk through this European country and admire the architecture, art museums, and incredible cuisine of fresh seafood and delicate pastries. Not to mention, the weather is almost always sunny and warm.
Portugal is a leader in the world for digital nomads. They also opened the very first digital nomad village in February 2021.
As one of the most anticipated digital nomad visas of the year, Portugal is ready to welcome remote workers and digital nomads to come and live in the country while experiencing the incredible culture and scenery.
Frequently Asked Questions
Below are answers to some of the most frequently asked questions about the Portugal digital nomad visa.
Can I apply for the Portugal digital nomad visa while already in Portugal?
No, you must apply for the Portugal digital nomad visa at a Portuguese embassy or consulate in your country of residence.
Will I owe local taxes in Portugal if I have the Portugal digital nomad visa?
Yes, you will become a tax resident of Portugal when you live there. However, foreigners earning income from abroad may qualify for the non-habitual resident program (NHR) and receive a lower tax rate.
It's important to note that the program is set to expire in 2024.
Do I have to stay in Portugal for a certain amount of time as a resident?
Yes, there is a minimum stay requirement when you obtain a residence permit in Portugal. You must not leave the country for more than six months at a time. You must also be physically present in Portugal for at least 183 days out of the year.
If you wish to renew your residence permit, the immigration agent will review your physical presence in the country. If you do not meet the minimum stay requirement, your renewal may be rejected.
Let Us Help You Apply for the Portugal Digital Nomad Visa
Even with this article, it can still be confusing and overwhelming to apply for digital nomad visas. Luckily, you don't have to do it alone!
Nomads Embassy offers one-on-one assistance with our hand-selected immigration lawyer partners to help you file your application and gather all of the necessary documents you need.
We have hand-selected the best immigration lawyers in Portugal to assist you in applying for the Portugal digital nomad visa in a timely and efficient process.
To request a consultation with our partners, complete the form located in the article.
Want to receive the latest digital nomad news and visa updates right in your inbox? Join our newsletter to stay up to date today!