If you're considering working remotely while traveling, you'll need an account with one of the best banks for digital nomads. One issue many digital nomads who travel internationally face is finding a bank account that works with their unique lifestyle. 
Some of the major problems you'll have to deal with are high international transaction fees, contacting your bank while abroad, ATM fees, and more. When money from your digital nomad job is tied up in a bank account that you're having trouble accessing, this can cause incredibly stressful situations. 
To avoid these problems that regular banks may impose, we've scouted out the best banks for digital nomads. With these digital and traveler-friendly accounts, you can rest easy knowing you are saving money and can always access your funds. 
What Makes a Bank Digital Nomad Friendly?
You probably already have bank accounts set up at home. So, why would you need to reconsider your bank when you choose to embark on the digital nomad lifestyle? 
Well, not all banks are digital nomad-friendly. Think about how often you visit your bank's local branch to deposit or cash a check or withdraw. As someone traveling the world full-time, this simply isn't possible anymore. 
You need a bank that caters to a remote international lifestyle. You must be able to access a digital banking platform or app and contact your bank while you're abroad. 
Later in this article, we'll talk about what you should consider when choosing a bank as a digital nomad.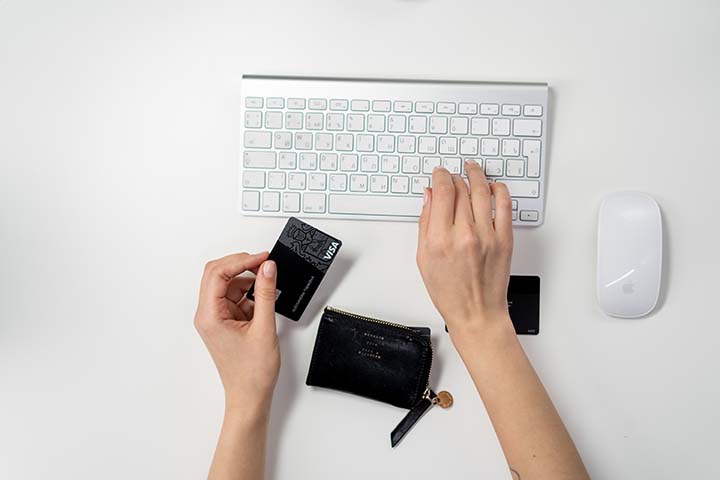 Best Banks for Digital Nomads
To help you find a bank for your lifestyle, we've collected a list of the best banks for digital nomads for you to choose from. 
CapitalOne 360
The CapitalOne 360 checking account is convenient for consumers who are residents of the United States. With absolutely zero maintenance fees, you can open this account right online without making a minimum deposit. Simply deposit money in your account within 60 days to keep it open. 
This account is a great digital banking option. While there are locations throughout the US and CaptialOne Cafes, they are more focused on their banking app and platform. 
You can deposit checks directly from your phone, meaning you never have to visit a branch. You can also accept payments directly into your account through their partnership with Zelle as well as make payments. 
Let's not forget one more important feature of this checking account. You'll earn a 0.10% APY interest on the funds you keep in your account. This is a rare benefit most checking accounts don't offer. 
Sign up for a CapitalOne 360 checking account.
CapitalOne also has an excellent travel credit card, the CapitalOne Venture card. You'll earn 2x points for every $1 you spend, plus zero international transaction fees. 
Check out the CapitalOne Venture card now. 
Charles Schwab
Another bank account for United States residents, Charles Schwab is an excellent digital nomad-friendly bank. The best feature for digital nomads who open this account is the worldwide ATM fee reimbursement. Just think about how much you spend on fees just to take out cash while you're traveling. With a Charles Schwab account, you won't have to! 
Another fantastic feature for travelers is they do not charge a foreign transaction fee. There are also zero maintenance fees or a minimum balance requirement. 
The mobile app and online platform are super easy to use according to reviews. It's easy to transfer money and make payments too. Plus, you'll earn 0.03% APY interest on your checking account balance.
Also, a high yield investor checking account with Charles Schwab bank means you'll receive a contactless payment debit card. This is super convenient as most countries in Europe use contactless cards or mobile payments. 
The only downfall of opening a Charles Schwab account is that you must be in the United States to open it. So, before you embark on your digital nomad journey, make sure to open your account and get everything squared away. 
Sign up for a Charles Schwab account.
Chime
If you're looking for a banking platform that is super easy to use, has no fees, and can access worldwide, then Chime is the bank for you. Their slogan, "Finally, a banking app built by a tech company," proves just how simple their platform is to use. 
One of the benefits of a Chime account for digital nomads is the early direct deposit feature, which transfers your money two days faster than normal banks. It's also free to open with no minimum and has no monthly fees. 
One of my favorite features of Chime is the emphasis on growing your savings account. As someone who needs a safety net while traveling the world, this is an awesome benefit. Chime will round up your purchases to the nearest dollar and deposit the extra into your savings. The app makes it super convenient to save money with automation, so you don't have to think about it. 
The website does advertise that there are over 60,000 free ATMs you can use with your card. However, these are only located in the United States at the moment. 
Monese
For digital nomads from Europe and the United Kingdom, one of the best banks for you is Monese. If you're dealing with transferring money to different countries and currencies for your work or travel, then you'll want to look into this account. 
With the easy sign-up process, you can open an account right from your phone and download their mobile app. They also have customer support in 14 different languages and are easy to reach if you need assistance. Plus, you can transfer money for free between different Monese accounts. 
Monese currently supports the UK pound, Euro, and Romanian leu. 
Unlike the accounts we mentioned above, this bank does have some maintenance fees. However, there are different levels and services that you can pay for. These monthly fees range from a starter account for free to a premium account at £14.95 per month. 
Monzo
If you're a remote worker from the United Kingdom, then you'll definitely want to look into a Monzo bank account. Considered up-and-coming in the UK, Monzo gives you full access and control over your money. 
For UK nomads, this is an excellent online banking option because they don't charge foreign transaction fees or hike up the exchange rate. You can also use your card worldwide where Mastercard is accepted. 
Speaking of the debit card, Monzo is proud of their steel metal card that puts all other plastic ones to shame. 
From their mobile app, you can see your other bank accounts, which provide a full overview of your finances. Plus, when you open a savings account, you can earn 1.07% AER interest in 12 months with a deposit of £500. This deposit is then kept away for one year as it earns interest. 
If you're traveling with friends who also have a Monzo account, you can easily split bills too. Keep track of who owes you what after sharing a meal, purchasing travel tickets, and more. 
N26
The German-based bank N26 was a favorite for many digital nomads. Unfortunately, starting in 2022, residents from the UK and US will no longer have access to this online banking platform. 
If you are a resident in an EU country, then you still have the chance to experience this convenient and reliable bank. You can open the account in just eight minutes online without dealing with piles of paperwork or standing in line. 
With their free checking account, you can use your Mastercard worldwide. Plus, you can make instant transfers to other N26 account holders. This is perfect when splitting costs with friends. 
They also have an excellent customer support option directly in their mobile app. You can speak with someone in English, German, French, Spanish, or Italian to answer your questions. 
Payoneer
My personal favorite digital nomad bank is Payoneer. It's extremely easy to use and handles multiple currencies, including USD, EUR, and GBP. This digital bank is ideal for freelance remote workers and online business owners. 
It's a bit of PayPal meets an actual bank. You can request and make payments, which is excellent if you're a freelancer or business owner. But you can also pay your VAT and withdraw money when needed. 
Payoneer is especially useful for e-commerce business owners as it directly links with platforms such as eBay, Amazon, Wish, and Rakuten. For freelancers, it directly links with Upwork, Fiverr, Adobe, and more. 
Let's also not forget that the account is completely free! No maintenance fees. No deposit minimum. It's a great option for digital nomads!
You also don't need to live in a specific country to open an account. However, to receive the debit card, you will need it shipped to an address in the EU. 
Sign up for a Payoneer account. 
Revolut
Digital nomads who like to dabble in cryptocurrency trading need a Revolut bank account. Serving residents from Europe (EEA), United States, Australia, Singapore, Switzerland, Japan, and the United Kingdom, Revolut comes highly recommended. 
You'll have much more control over your money with Revolut's innovative banking platform. You can connect all of your bank accounts to have an overview of your balances. Plus, with the smart budgeting features, you can save money to meet your goals. 
For those digital nomads who invest in crypto, you can do so directly from the app. You'll instantly go from cash to crypto with this easy-to-use platform. 
Let's not forget the awesome travel benefits Revolut offers. Not only can you spend your money in local currency, but you also get travel perks. With Smart Delay and exclusive lounge access, traveling just got more comfortable. 
This account is free to open, but there are various plan options. These plans range from free to 13.99€ per month. So, finding the right plan to fit your financial goals is necessary. 
Sign up for a Revolut account. 
Wise
Formerly known as Transferwise, Wise is one of the best banking options for those dealing with multiple currencies. Those nomads with international clients, and receiving or spending money in various currencies need Wise. 
With some of the lowest exchange rates and international transfers, Wise users can send and receive money without losing a great percentage. (We're looking at you PayPal.) You can also hold up to 10 different currencies in your account. 
You can easily open your free multi-currency account with Wise online in a matter of minutes. You'll also get to withdraw up to $100 from an ATM twice a month for free, otherwise, it's $1.50 after that. One drawback is that you will need to pay $9 for your initial Wise debit card. 
Since most transactions are done digitally, Wise is the perfect solution. You can also use your card in 200 countries and spend using the local exchange rate. Wise is truly a bank for citizens of the world.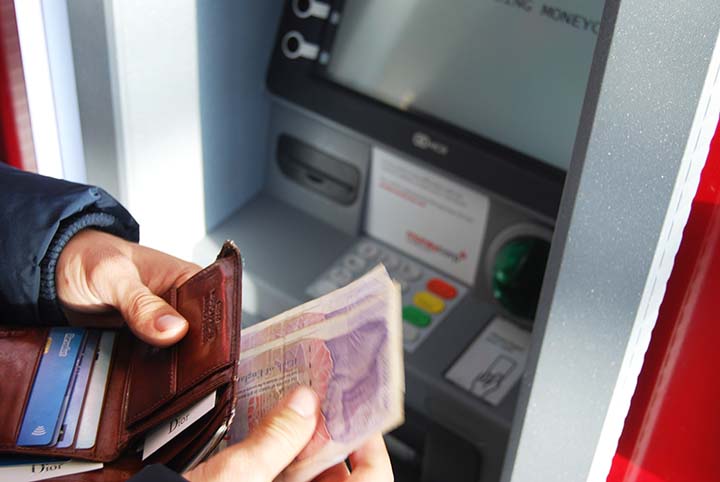 What to Consider When Opening a Digital Nomad Bank Account
Now that we've given you a list of the best banks for digital nomads, it's time to learn about what you should consider. 
We've already mentioned that you'll need a bank account that you can access from anywhere in the world. But there are so many more factors to think about! 
Foreign Transaction Fees
Some banks charge you a percentage of what you've spent when you use your card in a foreign country. This is known as a foreign transaction fee, which is in addition to the exchange rate. 
So, every time you swipe (or tap) your card when you are traveling abroad, your bank can charge you this fee. While it may be a few cents here and there, it can really add up. 
In my first couple of months as a digital nomad, I had no idea about foreign transaction fees. After adding up how much my bank charged me, I was shocked by the total. It was upwards of $100 over two and a half months! Don't make my mistake and look for an online bank account that doesn't charge this. 
Bank Administration Fees
Some banks will charge a monthly administration fee for simply holding your money. Of course, this fee goes towards their operating costs, but not all banks charge this. For example, most banks in the United States do not charge an administration fee for personal accounts. 
Of course, there is nothing wrong with paying this monthly fee if it offers features you benefit from. Just be sure to factor this fee into your budget and financial plans. Remember, for freelance remote workers, this fee is a tax write-off.
Cash Withdrawal Fees
International travelers know just how important it is to keep some cash on them at all times. In many countries, especially in South America and Southeast Asia, you'll find that many businesses only accept cash. 
The problem with getting cash in foreign countries is that you'll have to use ATMs outside of your bank's network. While the ATM will charge a fee for using the machine, your bank could charge you an extra fee as well. 
Most of the banks listed above do not have cash withdrawal fees and some will even reimburse you for the fee charged by the ATM.
Mobile App Accessibility
Just because a bank has a mobile app for online banking doesn't mean that it's reliable and easy to use. When choosing a bank that's right for you, make sure the app is accessible. 
It should allow you to perform all of your banking actions from transferring funds to checking your statements to chatting with customer support and freezing a stolen or lost card. 
Read reviews and look at screenshots of mobile banking apps before you sign up for an account. 
Worldwide Availability
As someone who may be in a new country every few weeks, it's essential that your bank has worldwide availability. This means you can use your card in foreign countries without any issue. 
It also means that you can transact in different currencies without being charged an arm and a leg. Re: foreign transaction fees. Another thing to think about is the exchange rate your bank charges. Some hike it up to make more profit while others stick to the local rate. To be one of the best banks for digital nomads, they must provide access worldwide.
Customer Support
As with any service you use, you'll want a reliable customer support system when you have problems or questions. Many of the banks I mentioned above have 24/7 assistance in multiple languages. You can chat with them through the app or call them if needed. 
This feature is essential if you have lost your card or have a question about a charge to your account. It's comforting to know that your bank will help you no matter where you are in the world. 
Make Your Digital Nomad Life Easier
Living a lifestyle of traveling full-time while working remotely is quite a unique situation with even more unique problems that come with it. At Nomads Embassy, we know just how frustrating and overwhelming this can be, which is why we are here to help! 
If you liked reading this article and advice about how to be a more successful digital nomad make sure to join our exclusive community of other like-minded people. You'll also receive updates about our content and the latest digital nomad news. 
Join Our Exclusive Online Community Now