If you're a digital nomad traveling and working remotely from your computer without a VPN to protect your personal information, you're making a grave mistake. Whether you're an amateur or experienced digital nomad, you've probably heard about protecting your information with a VPN, but what does a VPN hide exactly?
Not knowing the importance of a VPN and the kind of information it hides is probably why you aren't using one right now. By the time you finish reading this article, we guarantee you'll be downloading your first VPN.
Without the protection of a VPN while traveling the world puts you at risk of having sensitive personal information stolen. As a result, your digital nomad journey could end abruptly – or worse.
In the next few minutes, you'll learn the answer to the popular question of what does a VPN hide, what it doesn't hide, and how to get one.
What is a VPN?
Before we dive into what a VPN hides, let's figure out what it is exactly. VPN stands for "virtual private network." It is a barrier between your computer's activity and the network to which it's connected.
It will protect you and your personal information while using public wifi networks in cafes, parks, and airports. So, you can browse the web freely and get your work done without worry.
There are hundreds of VPN products available, ranging from beginner-friendly to tech expert level. Finding the right one is crucial and will help hide your most sensitive and important details.
Hint: We're sharing our top VPN picks at the end of the article!
But what does a VPN hide that keeps you safe?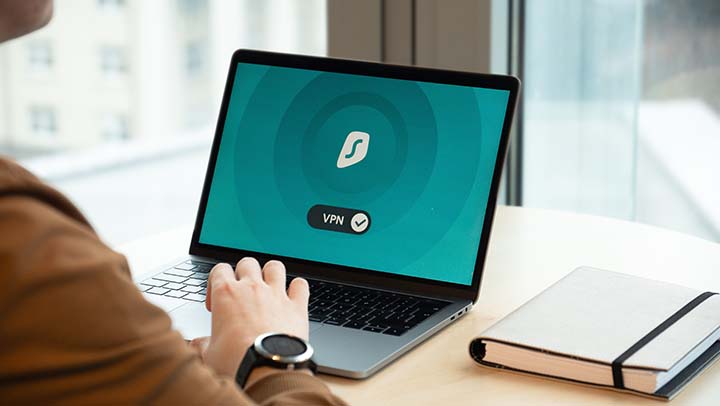 What Does a VPN Hide?
Now that we've established what a VPN is let's get to the real reason you're here – to find out what a VPN hides.
Your IP Address
Your IP address is a code connected to your computer to identify it while connected to the internet and network. If discovered, this code can tell others where you're located, which can then lead them to information such as your name, address, financial information, and contact info.
When you use a VPN, it hides your IP address by masking it with another IP address. This way, your true IP address is unknown, and people cannot access the information it provides.
Your Online Activity
A VPN can hide what you do online, like the websites you visit from your internet service provider (ISP). Why would you want to hide your online activity from them?
Unfortunately, some ISPs have been known to "throttle" their customers when using certain sites, especially gaming and video streaming services like Netflix. They slow down the connection, increase loading times, and decrease download times.
To ensure you're getting the necessary bandwidth to efficiently use the internet, implement a VPN. You'll be enjoying your favorite show without seeing that spinning circle in no time.
Your Location
When you connect to a local network, your computer identifies with the location you're connected to. So, search engines like Google know where you are and will show results popular within your area.
A VPN will hide your geographical location with its servers. Some VPNs have servers worldwide, so if you're in Canada but want to look like you're connected to the internet in South Korea, you can do so with a VPN.
We'll get into more detail about how this is especially useful for digital nomads later on.
Your Personal Data
While living as a digital nomad, you're bound to connect to unsecured public networks in airports, bus stations, cafes, and other places. Without the use of a VPN hiding your personal data, hackers can steal your passwords, credit card information, and other sensitive details you should protect at all costs.
Your Torrenting Activity
If you have a habit of torrenting things you aren't really supposed to, a VPN can hide this activity from your ISP. If providers catch you illegally torrenting with their network, they can stop serving you, leaving you with a bad reputation and no internet connection.
Be careful when using a VPN while torrenting, though. They aren't always reliable, mostly due to human error. Pay attention to your settings and make sure everything is working correctly to stay safe.
Your Online Shopping
When shopping online with a VPN, you can hide your credit card information while making a purchase. It can even help you save money and get local deals when you change your location with the VPN.
We're sharing a great travel trip later on in the article about saving money when purchasing flights while using a VPN.
Your VPN
A really good VPN will hide itself from websites while you're using it. There are some government websites that do not allow people to use VPNs to access their content. So, to tell if your VPN is high-quality, go to a government website while using a VPN to see if you can access it.
What Doesn't a VPN Hide?
Digital nomads with VPNs have a huge advantage over those who don't when it comes to protecting and hiding their personal information while browsing the internet worldwide. While VPNs are essential tools to have, there are some things they do not hide.
Your Browsing History
A VPN cannot hide your browsing history. Even though it can hide your online activity from your ISP, your search history is still present thanks to your browser. Your VPN actually doesn't have anything to do with your internet history.
If you want to hide your search history, try an incognito browser window. This won't track the websites you've visited or save them in your history.
Your Website Cookies
Nah, we aren't talking about chocolate chip or Oreo cookies here. An internet cookie is a batch of data left on your computer when you visit websites. These cookies then collect information and your internet habits to report back to the website. Essentially, it collects data for marketing and advertising.
For example, cookies can tell a website how many times you visited it and how long you spent browsing it.
While a VPN does not stop cookies from tracking you, it can provide incorrect information, especially when it comes to your location.
Your Data Usage
Whether or not you use a VPN, your ISP or data provider will know how much data you're using. While a VPN encrypts your online activity so your providers won't see what you're doing, they will still see how much data you use.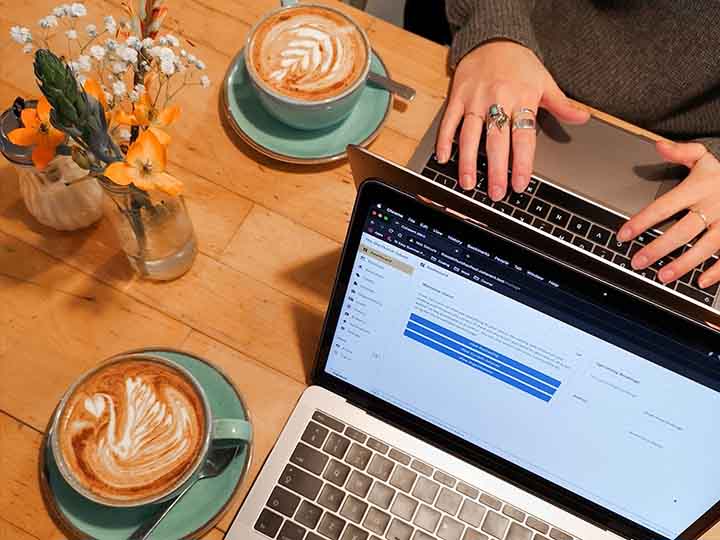 Why Digital Nomads Need a VPN
In our opinion, everyone who uses public or unsecured networks should have a VPN downloaded on their computer. However, digital nomads can especially benefit from this privacy and encryption, especially while traveling from country to country.
Access Restricted Websites
There are some countries where certain websites are restricted. For example, some websites that originate in the US are unavailable in Europe because they do not meet GDPR guidelines.
Now, this can be a huge problem for digital nomads from the US who are traveling in Europe. Say that digital nomad is a writer living in France and she needs to access this website because it belongs to one of their clients. The only way to do this is by using a VPN with a server in the United States. Now it looks like she is accessing the website from the US, not France.
Watch Netflix Without Limitations
If you're a seasoned digital nomad you're probably already aware that Netflix has different movies and shows available in different countries.
So, what if you start binging a series in one country and then travel to another country where it is no longer on Netflix. Are you going to settle for never knowing what happens to your favorite character?
The answer is no!
You're going to use a VPN to make Netflix think you're in the last destination so you can finish your show and see how it ends.
You can do the same thing with other video streaming services and have access to hundreds more shows and movies no matter where you're located.
Get Cheaper Flights
One of the most satisfying things digital nomads experience is finding an epic deal on a flight to their next destination. What if we told you that these hard-to-come-by deals were actually easier to get when you shop with a VPN?
Believe it or not, plane ticket prices fluctuate depending on where you're located. For example, if you're in the United States booking a flight from Portugal to Croatia to get a step ahead on your travel plans, it could be less expensive if you set your VPN to Portugal or Croatia.
It can take some tinkering and testing, but you will notice a difference in the prices and save some money.
Extra Protection While Abroad
Getting your personal information stolen sucks no matter where you are in the world, but for digital nomads, it is so much worse when it happens while they're abroad. It can be difficult to get in touch with your credit card companies, book accommodations, and more.
A VPN protects you from having such sensitive information stolen from you. This is especially important if you tend to go to coworking spaces and cafes or connect to public networks.
Hide Your Location
There are some instances where digital nomads have to hide their physical location while using their computers. Sometimes it's to access restricted websites. Other times they hide their location so their employer doesn't know they are working from another place.
Some employers are sticklers for having their employees or contractors in the same country. As a digital nomad, you know that it isn't necessary, but you don't want to lose your job just because you're working remotely in Mexico. So, you set your VPN to your home country while working and your employer thinks you're home.
Is this ethical? We'll leave that up to the individual nomad to figure out.
Secure Public Wifi Networks
The stereotypical image of a digital nomad is someone sitting on their laptop somewhere you wouldn't necessarily see someone with a computer like on a beach, in the woods, or in a park. Realistically, digital nomads work from cafes, bars, libraries, and coworking spaces where they must connect to public wifi networks. Sometimes when they're in a pinch they'll connect to public networks and work from bus stations, airports, and train stations as they wait to board.
Most of these networks aren't properly secured, leaving those who connect to them vulnerable to hackers looking to steal their information. Using a VPN to hide your IP address and personal information can deter these hackers from stealing them.
How to Choose a VPN
There are hundreds of VPN services available, so choosing the right one can feel overwhelming. Finding the right one depends on what you need it for and how skilled you are with tech.
It's also important to keep in mind that not all VPNs will work with your operating system. Some are made only for Macs while others operate only with Windows.
You'll also want to find one with a user-friendly interface if you aren't familiar with technical coding. This will make it much easier for you to use the VPN and keep your information private.
As a digital nomad who travels around the world, you'll also need to make sure the VPN you choose covers the locations you need. For example, it should have servers in the country where you're from. This way you can still access websites such as your online banking through your VPN without issue.
Which Type of VPN is Right for You?
Now that you know what you should look for in your VPN, let's discuss the different types of VPNs you can choose from. The two main types of VPN include remote access and site-to-site.
If you're looking for a personal VPN service while living as a digital nomad, you'll want to go with remote access. This is used on personal computers and hides one IP address.
Large companies and businesses are more likely to use a site-to-site VPN as they have multiple computers with information to protect while browsing the internet.
Paid vs. Free VPN
We get it, you don't want one more thing to pay each month like a VPN when you're traveling the world. You're probably tempted to download a free version and call it a day. We highly advise against doing this.
While there are free services out there, they are not the most reliable and often collect and sell your data, which kind of defeats the purpose of using a VPN, right? The security isn't as strong as paid services, either, leaving you vulnerable to skilled hackers.
VPNs with a paid subscription are definitely worth the money as they offer better online security, customer support, and often cover more areas. Some VPNs are just a few dollars a month and usually have an annual plan where you can pay for the service upfront.
It really is an essential and beneficial investment for digital nomads connecting to different wifi networks worldwide. As our parents would say, it's better to be safe than sorry!
Our Top VPN Picks
Okay, by now you're probably tired of hearing about how important it is to have a VPN as a digital nomad and how valuable it is. Your next move is to search for a VPN that is right for you.
But wait! We've done the hard part for you already!
Rather than scouring the internet and reading through different VPN providers, we put together our top picks to help you narrow down your search.
Surfshark
With servers worldwide, Surfshark is one of our favorite VPNs for digital nomads. In fact, I'm using it right now as I write this article in a local cafe!
You can download and use this VPN on multiple devices including your laptop, phone, tablet, and even your smart TV. Plus, it's only about $2 per month with plenty of promotions and deals going on year-round.
We also love the customer support that comes with the service. All around, Surfshark may be our favorite VPN to date.
NordVPN
Another top contender for digital nomads is NordVPN. Covering 60 countries worldwide and over 51,000 servers, you can expect ultimate protection on all of your devices including your phone and tablet.
They also promise that they are one of the fastest VPNs on the market, so you don't have to wait to watch your Netflix show no matter where you are in the world. It's super easy to use too. With just a click of a button, you can protect yourself from online theft.
ExpressVPN
With extra-large coverage, ExpressVPN has servers in 94 countries with unlimited bandwidth. What does this mean for you? It means you'll have a seamless and super-fast connection.
ExpressVPN offers browser extensions for Chrome, Firefox, and Edge and works with various operating systems. You can also download it for your phone and tablet to keep all of your internet browsing safe.
Ivacy
Hide your IP address, watch Netflix in foreign countries, and protect your data all while having access to 2 TB of cloud storage and a password manager when you use Ivacy VPN.
Super user-friendly with plenty of perks and discounts for first-time users, Ivacy is a great and often underrated VPN for digital nomads. You can also protect up to ten devices at a time, perfect for those digital nomads traveling with backpacks full of tech products.
It also has an internet kill switch, which activates automatically when you lose connection so you are always protected while using Ivacy.
PrivateVPN
PrivateVPN is probably one of the easiest VPNs to set up. This is perfect for those digital nomads who aren't particularly tech-savvy but know they still need a VPN connection while accessing public networks.
Even though they are smaller than the other providers we mentioned, they still have over 200 servers in 63 countries. Plus, their customer support is reliable and quick to solve issues.
If you aren't sure which VPN to choose, PrivateVPN offers a free trial to help you make your decision.
Cyberghost VPN
Cyberghost VPN is another top pick for digital nomads. It's extremely easy to use as you can protect your information and hide your IP address with just one click. You can also use it on multiple devices including smart TVs and gaming systems.
For those digital nomads who truly travel all over, Cyberghost VPN has you covered with 7,400 servers in 91 countries. So, you can experience internet freedom no matter where you are.
PureVPN
To put it straight, PureVPN is extremely simple to use with some of the best protection. There isn't a lot of fluff to it – just strong security so you can browse the internet safely.
They also break down barriers and borders so you can access your favorite streaming sites from various locations while staying anonymous online.
PureVPN also has a great special deal for first-time users where you can pay just $2 per month for two years of service.
Get More Digital Nomad Tips & Resources
Knowledge is power, especially when you're a digital nomad exploring the world and making your income online. How do you learn essential tips and answers to questions like what does a VPN hide and why you need one? You join a digital nomad community!
Nomads Embassy's exclusive online community is full of valuable information and tips from digital nomads for digital nomads. Connect with like-minded people and live your best remote life today!