Last Updated on 20 May 2023 by Brittany
Are you feeling overwhelmed and stuck about how to plan the next year of traveling? Well, you've just stumbled upon the perfect itinerary for digital nomads to visit 12 cities in one year.
Living a lifestyle of full-time travel and working remotely is one of the best and sometimes most stressful experiences. From making sure you're not overstaying tourist visas to finding the perfectly priced flight to your next destination, there's a lot of planning and strategizing that goes into your travels.
With so many incredible places in the world, you may feel like you're running out of time to visit them all. When you follow this digital nomad itinerary, you'll get to visit 12 cities in one year that are considered digital nomad hotspots and hubs.
Plus, you'll never be stuck in a city with cold temperatures during the winter and won't have to worry about overstaying tourist visas when you use them.
You heard that right. We've just planned the next year of your digital nomad lifestyle for you. No crazy late-night research. No checking average temperatures in certain months. We've done it all for you!
Planning Your Digital Nomad Lifestyle
Now, you may be wondering why you would want to plan out an entire year of traveling and working remotely.
I get it! When I first started my digital nomad lifestyle, I liked to go with the flow and follow wherever my heart took me or the cheapest deals. It was fun – for a while. But then it just became stressful and expensive with surprise costs.
So, I started to be more strategic about where to go and how long I'll spend there. And you should to. There are a ton of benefits when you plan your digital nomad lifestyle ahead of time.
Avoid Overstaying Tourist Visas
If you're a digital nomad who likes to move around and not settle down, then you're likely living on tourist visas. This type of visa can last anywhere from 30 to 90 days. In some places, like Mexico, you'll find a 180-day tourist visa.
However, calculating your days and understanding the terms of a tourist visa can be a bit difficult. For example, many countries are allowed in the Schengen Area (European countries) for 90 days. However, after these three months, you must leave the area for 180 days before coming back.
So, planning your year of travel ahead of time will help you avoid overstaying your tourist visa, which can result in a large fine or banishment from the country.
Budget Appropriately
When you plan your travels in advance you're able to stick to your budget better than when you make last-minute decisions. It's always a good idea to have a set amount that you plan to spend in a month.
We've made it even easier to keep and set your budget with our Digital Nomad Budget Spreadsheet too.
Planning ahead not only gives you time to scout out the best accommodation and flight deals, but you can plan to go during the shoulder or off seasons in certain destinations.
Prepare Better
Packing your suitcase or backpack for an entire year can sound pretty difficult. However, it's much easier to prepare yourself and your belongings when you have a set itinerary.
Even though we've created the Ultimate Digital Nomad Packing List for you, it's always a good idea to know what kind of clothing you should bring depending on the climate.
For example, since this itinerary avoids countries during their coldest months, you should pack spring and summer outfits to wear year-round. Don't forget you'll also pick up clothing and items along the way.
Who Is This Digital Nomad Itinerary For?
So, who will benefit from this digital nomad itinerary to visit 12 cities in one year?
This itinerary is perfect for any digital nomad who wants to escape cold weather during the winter months and wants to visit the biggest hotspots for traveling remote workers.
It's also a great itinerary for those who enjoy slower travel without needing to apply for temporary resident permits and visas to stay in a foreign country.
However, this itinerary does take you to some of the most popular countries that now offer a digital nomad visa. So, take this opportunity to explore and decide if there is somewhere you can see yourself living for a year or two.
12 Digital Nomad Cities in One Year
The beautiful thing about this itinerary for digital nomads to visit 12 cities in one year is that you can start whenever you'd like! Simply go to the destination stated for the month you plan to begin.
Another benefit of this itinerary is that we've planned it to follow flights and travel routes that just make sense and won't cost you an arm and a leg.
So, without much more delay, let's dive into this awesome one-year digital nomad itinerary.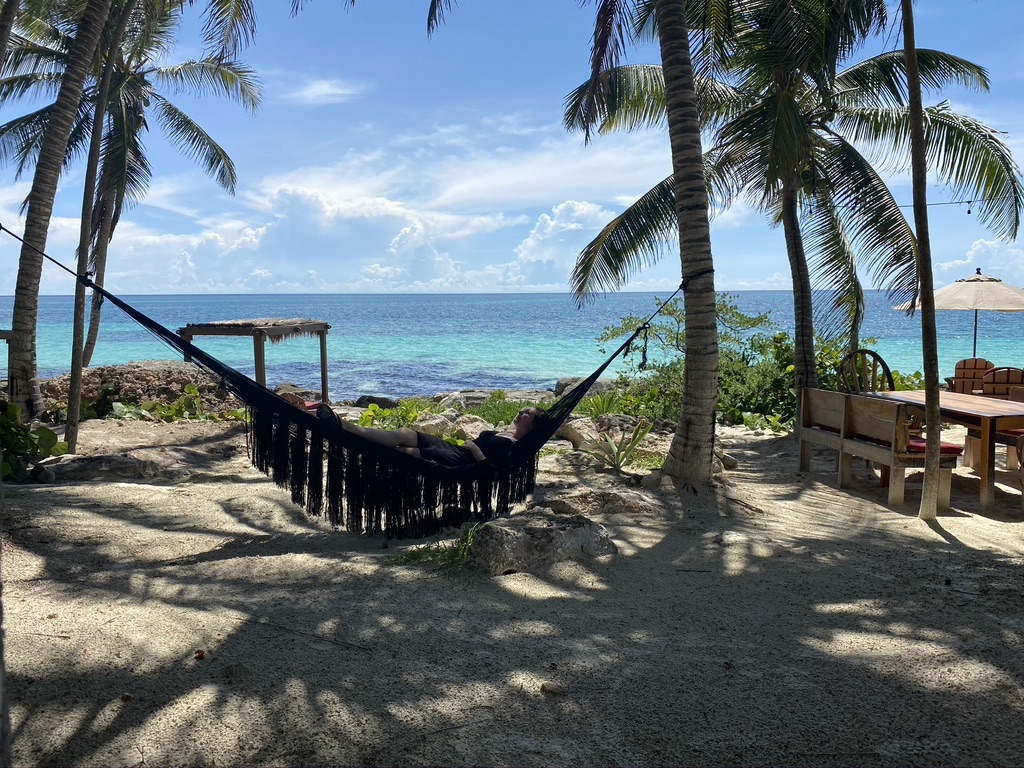 January: Playa del Carmen, Mexico
Average Temperature: 81°F / 27°C
Rain: 0 days
Playa del Carmen is located on the Yucatan Peninsula surrounded by the Caribbean Sea. It offers a tropical climate with amazing views and ancient history for digital nomads.
I've spent a handful of months living in Playa del Carmen and loved every second of it! From the various cafes and coworking spaces to the sunrise yoga classes on the beach to incredible accommodations in gorgeous condo buildings, I couldn't recommend it enough.
The wifi is extremely fast and local SIM cards with data and hotspots are quite affordable at just about $20 per month. There are a ton of bars and restaurants serving delicious and authentic Mexican food as well as healthy salads, steakhouses, Italian restaurants, and sushi.
While it's a popular tourist destination, you'll still find a large community of digital nomads. Many of them stay in Selina Coliving for an affordable, beautiful, and social setting.
You'll also never run out of things to do during your month in Playa del Carmen. From visiting the Mayan pyramid Chichen Itza to swimming in magical cenotes to taking a day trip to Tulum, you'll find a unique paradise in this digital nomad hotspot.
February: Medellín, Colombia
Average Temperature: 82°F / 27.7°C
Rain: 7 days
Live in the City of Eternal Spring during the shortest month of the year in Medellín, Colombia. Located in the north of the country, this inland city is a popular destination amongst digital nomads due to its ideal weather, colorful architecture, and affordable prices.
You'll find a ton of cafes and coworking spaces throughout the city welcoming digital nomads to come and set up their laptops. With friendly people and plenty to do while in the area, you'll surely fall in love with the culture and surroundings.
While there are coliving spaces and hostels such as Selina Coliving, many digital nomads also find great accommodations on Airbnb. There are many modern condos with amazing views of the city and mountains that come with desirable amenities such as pools and gyms.
To stay entertained and soak in the Colombian culture, you'll want to take day trips to Guatape, a gorgeous lake, take the metro cable up Parque Arvi, or go on a Pablo Escobar tour.
March: Rio de Janeiro, Brazil
Average Temperature: 85°F / 29°C
Rain: 9 days
Moving over to the east coast of South America, you'll spend the month of March in the incredibly large city of Rio de Janeiro in Brazil. You'll get a large metropolis vibe while also being near the gorgeous beaches along the Atlantic Ocean.
You'll find a large digital nomad and expat community in this city of 6 million residents, making it easy to find your tribe and meet new people. Being in such a large city also gives you the opportunity to try different coworking spaces, bars, and go participate in events such as street festivals.
Brazil has a reputation for being dangerous, so it is important to take some extra precautions compared to other destinations. Ask your host or locals of neighborhoods to avoid and never walk around showing off your valuables. Taxis are very affordable, so take one whenever you're out when it's dark.
If you become attached to Brazil and could see yourself living there for a couple of years, then you may want to consider applying for their digital nomad visa. You can read more about the requirements and application process here.
April: Lisbon, Portugal
Average Temperature: 68°F / 20°C
Rain: 7 days
You'll be able to get an affordable flight from Brazil to Portugal come April. Hopefully, by now you've picked up some Portuguese greetings and mannerisms to use in your new destination of Lisbon.
As another hotspot for digital nomads, you'll instantly fall in love with this gorgeous European city. You'll experience some of the most amazing sunsets, indulge in incredible cuisine, and meet some pretty memorable people during your stay in this city.
While the temperature will be cooler than in South America, it's still quite enjoyable. It's perfect springtime weather and allows you to witness the blossoming of colorful flowers as you explore the city.
From exploring the coast of Portugal to touring centuries-old castles to experiencing some of the best nightlife the continent has to offer, you'll quickly learn why digital nomads flock to this part of the world.
If you find yourself feeling at home while in Portugal, you should consider applying for their version of a digital nomad visa – the D7 visa.
You can read more about the visa requirements and application process here.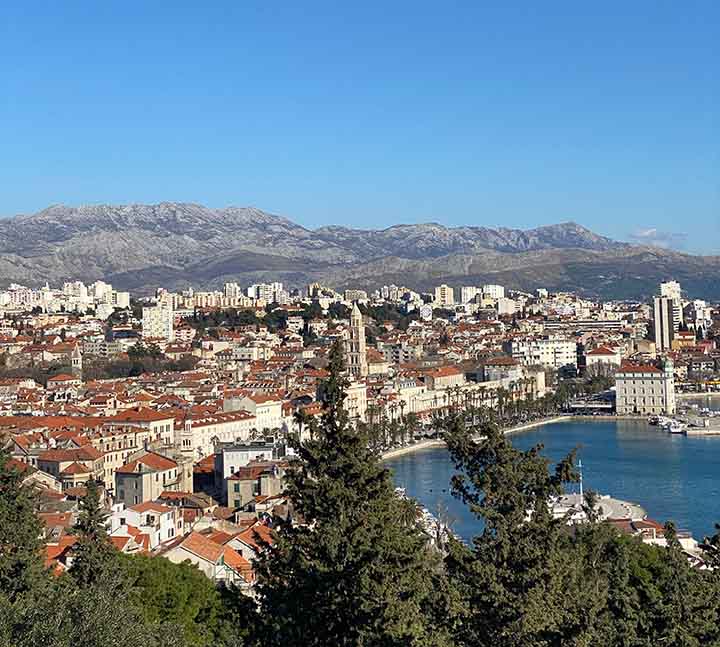 May: Split, Croatia
Average Temperature: 73°F / 22.7°C
Rain: 6 days
Considered one of the best cities in Croatia for digital nomads, Split has plenty to offer a remote working community. Located right along the Dalmation Coast, you'll find crystal blue Mediterranean waters, exquisite seafood cuisine, and historical sites.
I personally had the chance to live in Split for a month and absolutely loved it! Even in the off-season it was a pure treasure to experience. From sipping coffee along the Riva to finding a comfortable spot to work from in D16 Coffee to hiking up Marjan Hill for an incredible view of the city, you'll find plenty to do while in Split.
There are also more coworking spaces popping up specifically for digital nomads. This is perfect for networking and meeting like-minded people as well as increase your productivity while working remotely.
Split is also in a strategic location for you to travel to nearby destinations such as Zadar, Hvar, Sibenik, Trogir, and the famous Dubrovnik. There is also an overnight ferry from Split to Ancona or Bari in Italy for a weekend getaway.
Croatia is by far one of my favorite places to be as a digital nomad. With economical prices and gorgeous views, I will always recommend it to people looking for a Mediterranean destination.
If you fall in love with this country like I did, then you could live there for one year with a digital nomad visa. Read more about the visa requirements and how to apply for it here.
June: Kotor, Montenegro
Average Temperature: 82°F / 27.7°C
Rain: 8 days
Our next stop on this itinerary of 12 cities in one year is Kotor, Montenegro. As an up-and-coming digital nomad destination, you'll definitely want to experience this city before it bursts with remote workers.
Located along Kotor Bay, you'll find an old town from the Middle Ages with gorgeous views and even richer history. A very quiet destination, this is a great place to really focus on your work or to sit back and relax after five months of traveling to exciting and thrilling destinations.
Montenegro is a fairly small country, so traveling around and seeing other important cities like Budva and Podgorica is fairly easy. You won't find many coworking spaces in the town just yet, but the wifi is still good in local cafes and restaurants.
You'll most definitely experience some of the best seafood dishes while living in Kotor. From taking scenic heights to sunbathing by the water to reading up on the unique history of the country, you'll surely find yourself at peace and happy here.
Montenegro has also recently announced its plans for a digital nomad visa. While we are waiting for more details, you can read what know so far about it here.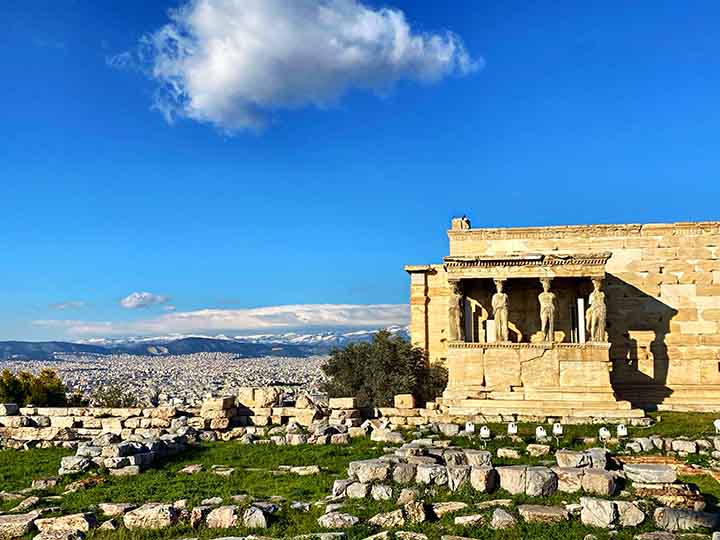 July: Athens, Greece
Average Temperature: 90°F / 32°C
Rain: 0 days
Imagine on your way to your favorite cafe to grab breakfast in the morning, you casually stroll by the ancient Acropolis sitting high above the city of Athens. Or you notice some temple ruins on your way to the metro to meet some friends downtown. This is what it's like living in Athens, Greece as a digital nomad.
While you can expect some pretty high temperatures in July in Greece, it's the perfect opportunity to enjoy the stunning beaches on the coast and visit nearby islands.
In fact, you don't necessarily have to spend the entire month in Athens, even though it is becoming a digital nomad hotspot. You could visit smaller islands such as Paros and Tinos to truly experience Greek life. However, be aware that this is a completely different experience than living in a major city and is much quieter and calmer at times.
If you happen to find that Greece feels like a home away from home that you would like to explore a bit more, you can with their new digital nomad visa. Read more about how you can live in Greece for two years and the requirements here.
August: Tbilisi, Georgia
Average Temperature: 89°F / 31.6°C
Rain: 5 days
Traveling in August can put quite a strain on your wallet since it's the holiday season for most places. Fortunately, Tbilisi, Georgia has very economical prices in both accommodations and travel year-round.
For years Tbilisi has been a hotspot for digital nomads, thanks to their prices and high quality of life. To stay cool during this hot month, you can hang out at the Tbilisi Reservoir and Lisi Beach. However, you can always travel to Batumi and experience the Black Sea on the weekends too.
You'll find a large digital nomad community here, making it easy to network and make new friends. Simply walking around this historic town will keep you awestruck with the interesting architecture too, especially the leaning tower of Tbilisi.
Georgia is a great option for digital nomads to come and settle to focus on their work and even save some money for a while. Residents from many countries may stay in Georgia for 360 days on a tourist visa, making it a great place to wait out until you can reenter the Schengen Area again.
September: Ho Chi Minh City, Vietnam
Average Temperature: 87°F / 30°C
Rain: 16 days
It's time to move to another part of this amazing world – Southeast Asia! This area of the world is bustling with digital nomads, thanks to the startup culture and affordable cost of living. Our next stop on this digital nomad itinerary is Ho Chi Minh City, Vietnam.
As one of the cheapest places to live for digital nomads, Ho Chi Minh City has a ton to offer. From cool coworking spaces and cafes to amazing street food to a truly new culture to experience, you'll find yourself truly loving Vietnam.
You'll also notice many relics and monuments from the Vietnam War. It's important to take this time, especially if you're from the US, to learn about the effects it had on the area. It will surely open your eyes and give you a new perspective.
Don't forget to explore the incredibly decorated temples and explore outside of the city as well. Even if you find the most comfortable cafe to work from, there is plenty to see and do while living here for the next month.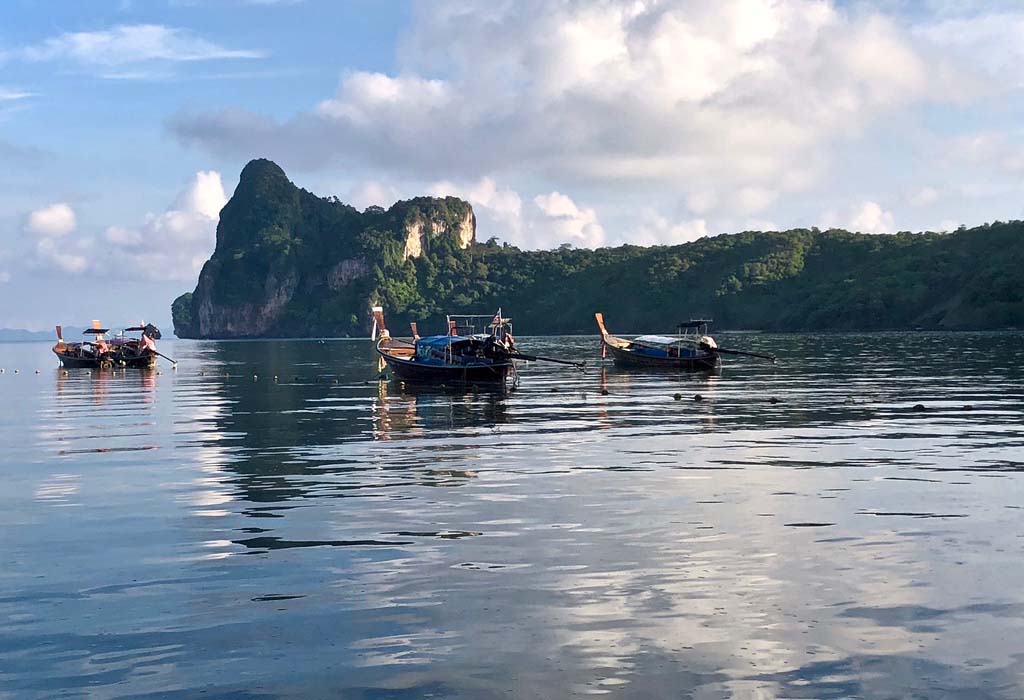 October: Koh Samui, Thailand
Average Temperature: 83°F / 28°C
Rain: 16 days
It's time to move from the hustle and bustle of a major city to the quiet island life in Koh Samui, Thailand. This is one of the best times of the year to visit Southeast Asia as the humidity and temperatures are much lower than in the spring and summer months. Though you may get some rain, it often won't last long and will be quite the show since storms in this part of the world are pretty intense and entertaining at times.
Koh Samui has a great digital nomad community and gives you a chance to unwind and take in the gorgeous natural wonders Thailand has to offer. From spending your days riding your scooter around to exploring temples to attending night markets, you'll definitely find your love for this island quickly.
It's also super economical to live in Thailand as a digital nomad. You'll often find that the street food is cheaper and even better than eating in a restaurant. If you're lucky and can plan ahead, you may also even find a great deal on accommodations right on the beach.
November: Bali, Indonesia
Average Temperature: 87°F / 31°C
Rain: 13 days
We couldn't leave Bali off our one-year digital nomad itinerary with all the top hotspots. While it may have lost its authentic feel from the many tourists it has attracted, there is still a magical essence about this tropical retreat.
From being surrounded by rice fields to watching sunsets on the beach to indulging in the practice of yoga, you'll surely find peace and comfort while living in Bali. While the cost of living is still considered affordable, it may be higher than the previous destinations mentioned in the area. That's why it's so important to plan and budget ahead of time!
Bali is full of digital nomads hopping on their scooters and exploring the island, going to coworking spaces, and entertaining meetups. You'll find your people and make lasting friendships while you're here. It's impossible not to meet great people in such a magical place!
December: Sydney, Australia
Average Temperature: 78°F / 26°C
Rain: 11 days
And just like that, we're on the other side of the world! In December, you should be in Sydney, Australia enjoying the ideally perfect weather and sunshine. Moving from our favorite Southeast Asia countries to Australia may be a culture shock at first, but you'll adapt quickly.
Sydney is super modern and you'll quickly find everything you may need while living here as a digital nomad. It's a true metropolis with thriving businesses, startups, and entrepreneurs achieving their dreams.
When you aren't checking out cool nightclubs or relaxing on the beach, you'll most definitely befriend the locals and learn more about Australian culture. Don't be surprised to find extraordinary bugs either… the country is known for its wildlife.
To enter Australia, even as a tourist, you must apply for a visa. You can do this at an Australian embassy or consulate or check out their website for more information.
Get More Digital Nomad Travel Tips
I really hope you found this itinerary helpful. Even if you don't follow it precisely, hopefully, you got some inspiration from it to plan your next year or two of traveling as a digital nomad.
If you enjoyed this article, make sure to join our newsletter for weekly tips and advice about living the digital nomad lifestyle!