Last Updated on 20 May 2023 by Brittany
It's time to start searching for the best cities for digital nomads in winter. Let's face it; nobody actually likes living in freezing cold temperatures during the winter. The sun sets too early. You have to wear too many layers. It's just unpleasant and depressing.
Well, you my friend have the awesome and highly-coveted luxury of working wherever you choose as a digital nomad. What does this mean, exactly?
You never have to spend another winter miserable and in the cold again!
You can escape to one of the best cities for digital nomads in winter. In these destinations, the sun shines bright and the weather is warm so you can still enjoy working outside on your balcony or walking along the sea.
To be honest, this is one of my favorite parts of being a digital nomad. Growing up with cold Pennsylvania winters made me dread snowfall and long dark nights. Now, I simply escape and go to the best cities for digital nomads in winter to stay warm and happy.
Warm Cities for Digital Nomads in Winter
This world is absolutely wonderful. There are so many places where you can escape and actually enjoy the months between December and March. You simply have to get close enough or cross the equator!
However, if you've read our previous articles about choosing a digital nomad destination, it isn't as easy as it may sound. You must find a place with reliable wifi, an affordable cost of living, and easy to travel using public or shared transportation or by foot.
To help you narrow down your search for ideal digital nomad cities in winter, we've created a list of the top destinations with great weather, a digital nomad community, and an all-around remote worker-friendly environment.
Koh Samui, Thailand
Average Temperatures
December 77°F / 25°C
January 77°F / 25°C
February 78°F / 25°C
March 80°F / 26°C
Thailand has long been a favorite digital nomad destination. Not only is it an economical choice, but the weather and gorgeous islands make it even more ideal to live and work remotely.
Koh Samui is one of the largest Thai islands with white sandy beaches, lush jungle greenery, and friendly residents. Digital nomads can find a strong wifi connection here and an easy, laid-back lifestyle.
Some of the top recommended places to stay include Surat Thani, Bophut, Lamai, and Chaweng. You'll find coworking spaces throughout the island and cafes with free internet too.
It's a good idea to rent a scooter while you're there to easily get around and explore everything this gorgeous island has to offer.
So, if you've dreamed of lounging in a hammock with your laptop while sipping from a fresh coconut, Koh Samui is the place for you during the winter months.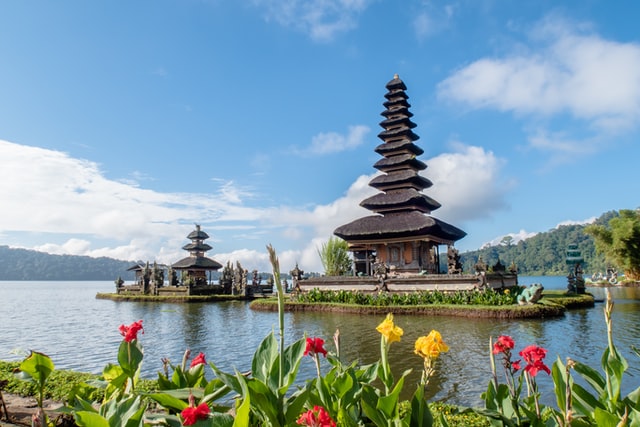 Bali, Indonesia
Average Temperature
December 79°F / 26.5°C
January 78°F / 26°C
February 78°F / 26°C
March 79°F / 26°C
Of course, we had to add Bali to the list. Now, when you search for the weather during our winter months, you may notice Bali is in its rainy season. However, if you've ever been to Southeast Asia, you know that the rain can last just 20 minutes and the rest of the day is sunny. So, don't let this scare you away!
Over the years, digital nomads have laid claim to Bali as a great remote worker destination. Again, it's one of the most affordable places for digital nomads, but it also has incredible views, people, food, and atmosphere.
You'll find a huge digital nomad community in Bali, which is great for networking and finding friends from all over the world. So, hop on a scooter and enjoy your warm sunny days living in Bali and experiencing a new and exciting culture.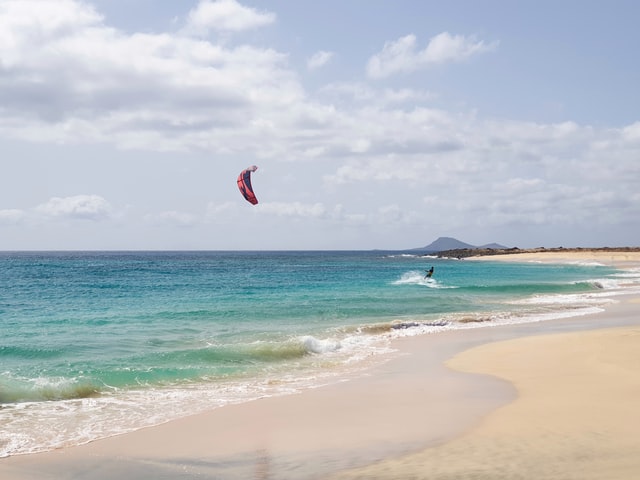 Sal, Cape Verde
Average Temperature
December 79°F / 26°C
January 77°F / 25°C
February 77°F / 25°C
March 77°F / 25°C
Located off the west coast of Africa, you'll find the archipelago of Cape Verde, also known as Cabo Verde. This cluster of islands has ideal weather year-round, especially during the northern hemisphere's winter months.
With sandy beaches, great surfing waves, amazing cuisine, and friendly people, Sal is one of the best cities for digital nomads in winter. While it's still considered an underdog in the digital nomad world, you can get in on this destination early and find the best coworking spaces and cafes before everyone else.
If you fall so in love with Cape Verde and the relaxed lifestyle here, you can apply for their digital nomad visa and live on the islands for an entire year!
See how you can apply for Cape Verde's digital nomad visa now.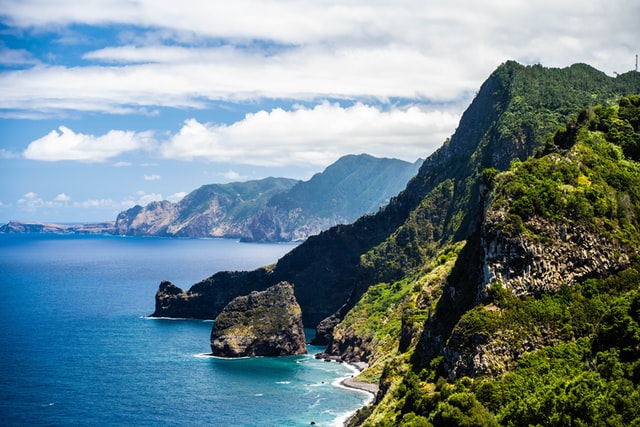 Madeira, Portugal
Average Temperature
December 55°F / 12.7°C
January 53°F / 11.6°C
February 53°F / 11.6°C
March 54°F / 12°C
Home to the very first digital nomad village, Madeira is a Portuguese island perfect for digital nomads who want a mild and sunny winter. While this island isn't considered tropical during the winter, it does have sunshine and a cool, refreshing climate for those who don't necessarily want to feel sticky and sweaty.
Filled with natural beauty, lush greenery, and incredible beaches, you'll find fun, tranquillity, and a great digital nomad community on the island. With a number of great coworking spaces, like Hub Remotely in Santa Cruz, you'll be super productive and have a chance to meet other like-minded individuals.
Plus, you can stay for up to two years in Portugal (including Madeira) with their digital nomad visa.
See if you're eligible for Portugal's digital nomad visa now.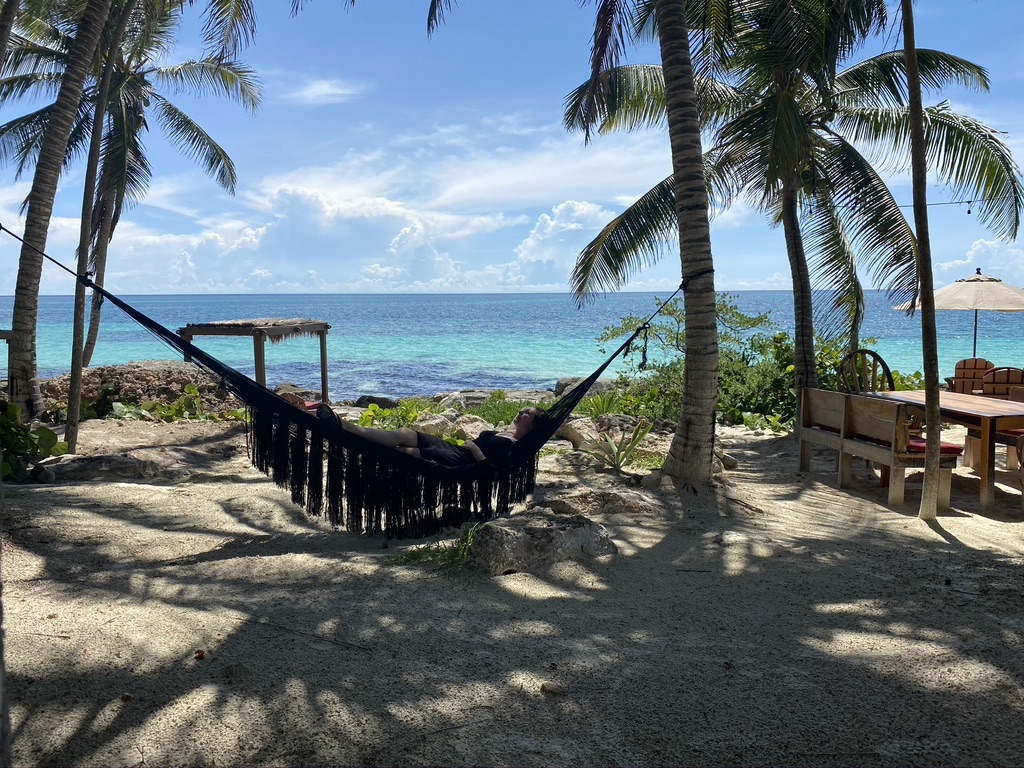 Playa del Carmen, Mexico
Average Temperature
December 82°F / 27.7°C
January 81°F / 27°C
February 82°F / 27.7°C
March 84°F / 28.8°C
Who wouldn't love escaping from a cold blustery winter to run off to Mexico? Any digital nomad based in North America would jump on this opportunity in a second, especially if they had to stay within their home country's time zone.
Playa del Carmen is a bustling city in the Yucatan Peninsula full of digital nomads and tourists looking for some relaxation. We spent a few months in Playa del Carmen and it truly felt like a home away from home while we were there. You can find coworking spaces and cafes with excellent wifi like Mi Doggo Cafe, Choux Choux Cafe, or Dolce & Salato.
Plus, wouldn't you just love being so close to the Caribbean sea and taking a dip after work or spending your days at a beach club ordering lunch on a lounge chair? It's truly a great city for digital nomads during the winter as the weather is warm and much less humid than it is during the summer months there.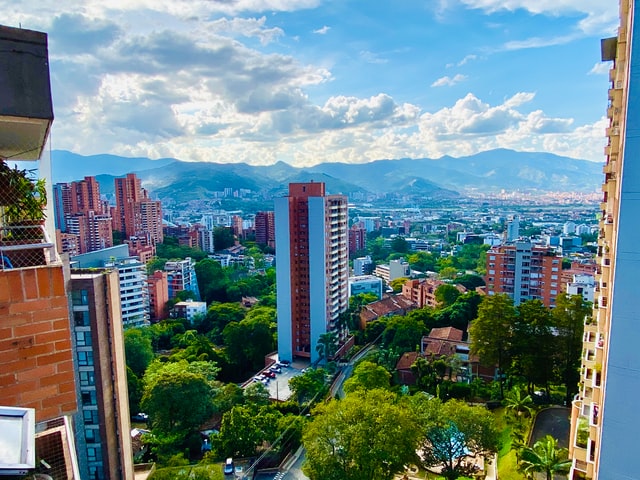 Medellín, Colombia
Average Temperature
December 80°F / 26.6°C
January 82°F / 27.7°C
February 82°F / 27.7°C
March 82°F / 27.7°C
Known as the City of Eternal Spring, Medellín is a thriving digital nomad hotspot. With colorful buildings, a grand mountainous landscape, and ideal weather, it's no wonder this charming and bustling city attracts so many remote workers.
While this city is landlocked and doesn't have access to the ocean, there are still plenty of ways to enjoy the outdoors during the winter months here. From hiking in the mountains to enjoying the luscious parks to attending community events, you'll find everything you need (and didn't know you needed) in Medellín, Colombia. 
See how you can apply for Colombia's digital nomad visa and live there for a year.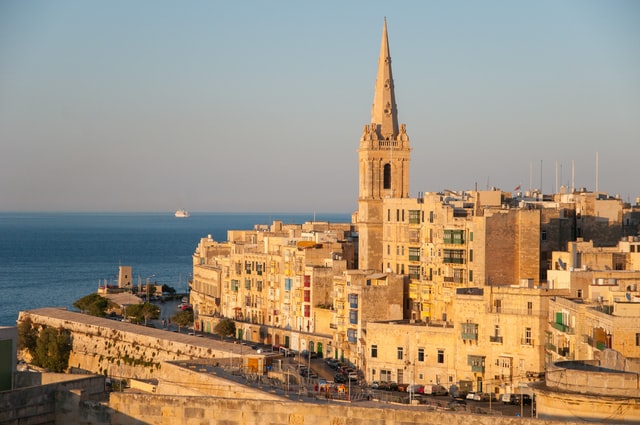 Valletta, Malta
Average Temperature
December 62°F / 16.6°C
January 60°F / 15.5°C
February 60°F / 15.5°C
March 63°F / 17°C
To say that Valletta, the main city on the small Mediterranean island of Malta, has ideal weather all year round is quite an understatement. Even if you're looking to move away from freezing temperatures, but still enjoy throwing on a sweater and a light jacket, then Valletta may be the place for you during the winter.
With over 300 days of sunshine, Malta is an excellent destination for digital nomads who are looking for somewhere with great weather, good food, a friendly community, and a laidback and beautiful lifestyle. This European country has plenty to offer, and one of its official languages is English, making it easy for many digital nomads to communicate during their stay.
It's hard to say goodbye when you spend time on this historical and beautiful island. With Malta's digital nomad visa, you don't have to! You can stay in Malta for at least one year with the visa living and working remotely.
See if you're eligible to apply for Malta's digital nomad visa now.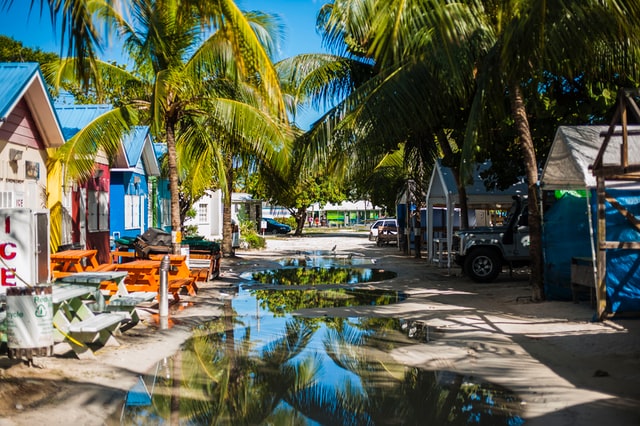 Bridgetown, Barbados
Average Temperature
December 85°F / 29°C
January 84°F / 28.8°C
February 84°F / 28.8°C
March 85°F / 29°C
As your friends and family shiver at their desks in a fluorescent-lit office wearing layers of shirts and sweaters, you could be living in the Caribbean working remotely from Bridgetown, Barbados. The term "winter" as we know it doesn't exist in the eyes of Barbados residents.
You'll enjoy gorgeous summer-like weather during these winter months allowing you to sprawl out on the sandy beaches after a day of work and soak in the Vitamin D we're all told is so essential for our health. With new coworking spaces popping up left and right, friendly people, and outstanding wifi connection, Bridgetown is surely somewhere you'll want to be during the winter as a digital nomad.
Who says you only have to stay for the winter, though? With Barbados's 12-month Welcome Stamp, also known as a digital nomad visa, you can live and work remotely from the island for one year.
See if you're eligible to apply for Barbados's digital nomad visa now.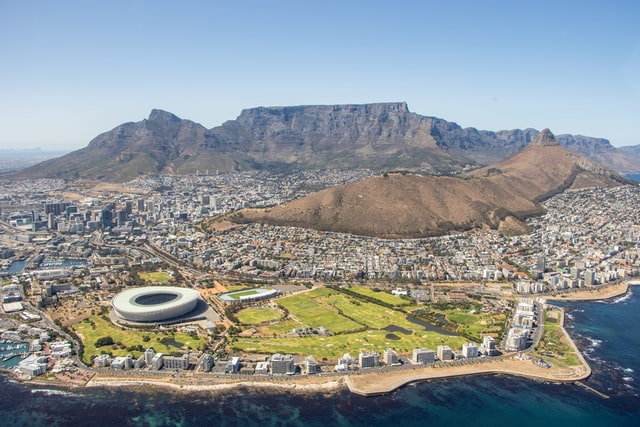 Cape Town, South Africa
Average Temperature
December 81°F / 27°C
January 83°F / 28°C
February 84°F / 29°C
March 81°F / 27°C
Head to the southernmost tip of Africa and set up your digital nomad workspace in Cape Town, South Africa this winter. With mild and ideal temperatures all year round, Cape Town is the perfect destination for those looking to spend a good deal of time outdoors.
This modern and bustling city welcomes traveling remote workers with welcoming arms. As the wifi is strong and coworking spaces and cafes become more popular and available, Cape Town is becoming a quick digital nomad hotspot.
Explore the city's important history, visit museums, witness penguins playing on the beach, and even dare to climb the peaks and mountains while living in Cape Town. You'll also find a great digital nomad and expat community living in this eccentric city, making it a great place to grow your circle and meet new people.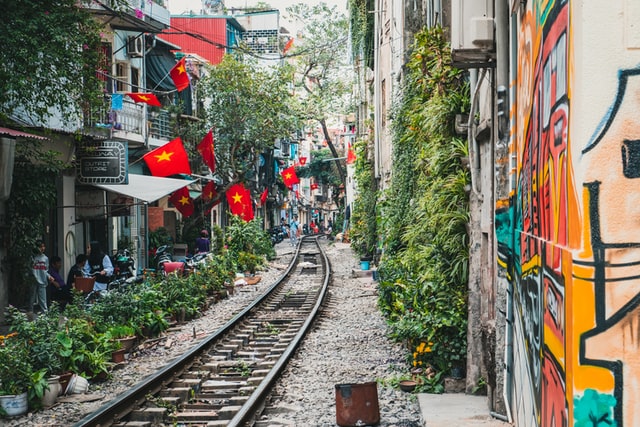 Hanoi, Vietnam
Average Temperature
December 72°F / 22°C
January 68°F / 20°C
February 70°F / 21°C
March 74°F / 23°C
If you're searching for the hustle and bustle of a large city in Southeast Asia with economical prices, rich culture, and entertainment, then look no further than Hanoi, Vietnam. The winter months are actually the best time to visit as these are the coolest temperatures you'll experience in this part of the world.
Another popular hub for digital nomads, Hanoi is full of tech-driven workers, entrepreneurs, and freelancers. You'll find a large community of remote workers along with plenty of coworking options and cafes with free wifi. Let's also not forget the amazing food you'll eat while living here too.
From admiring extravagant temples to walking through street markets to looking out on the Red River, you'll find uniqueness and beauty amongst the craziness of Hanoi.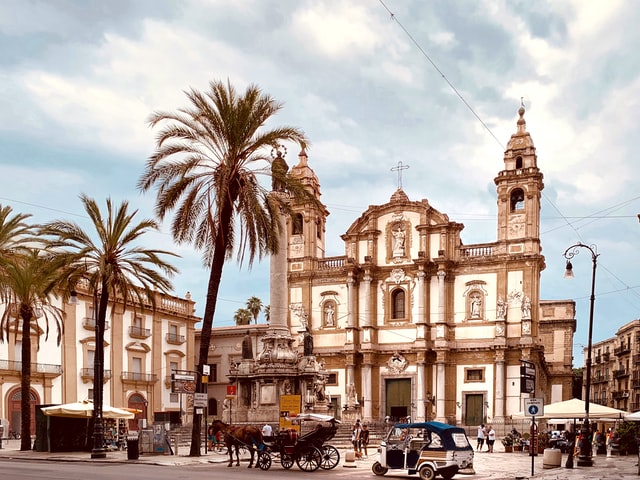 Palermo, Italy
Average Temperature
December 61°F / 16°C
January 59°F / 15°C
February 59°F / 15°C
March 62°F / 16.6°C
Italy isn't just a summer vacation destination, it can also be a great place away from the cold winters in the north, especially when you come to Palermo on the island of Sicily.
Digital nomads will find sunshine, hospitable people, and the greatest food you've ever tasted in your life in Sicily. With new digitalization, the area has even better wifi now than a few years ago and more organizations are welcoming remote workers and digital nomads to the island.
While you may not be jumping into the sea during these winter months, you'll still find enjoyable and ideal weather compared to other areas of Europe. Plus, who would want to partake in discovering one of the next digital nomad hotspots?
Get More Digital Nomad Destination Recommendations
It's a pretty big world out there, which can make it difficult to find and decide your next digital nomad destination.
Nomads Embassy makes it easier than ever to live the digital nomad lifestyle and choose your next destination. From assistance with applying for digital nomad visas to travel tips and recommendations, we're here to support you!
Join our weekly newsletter to receive this valuable information straight to your inbox and stay up to date with the latest digital nomad news and trends.