The hardest decision to make after deciding to become a digital nomad is what to put on your digital nomad packing list before you embark on the journey to your first destination.
You've packed luggage for week-long trips and vacations before, but you've probably never packed for a trip that could last multiple months – or even years. What the heck do you bring with you?!
I was in the same boat when I first started my digital nomad journey. My first time working away from home, I spent two and a half months in Spain and Italy with just a 40 liter backpack. I then upgraded to a small suitcase and duffle bag for my slow travel itineraries, where I would spend at least a month in a single city rather than changing cities every couple of days.
Sometimes I overpacked, and other times I forgot some pretty essential items. So, to help you ensure you're fully prepared for your journey, I've created the ultimate digital nomad packing list curated from my own experience.
Of course, this is a general list of items you should bring. Depending on your destination, there will be other, more specific items. For example, if you're going to Thailand, you'll want to check out our packing list for digital nomads in Southeast Asia for more specific items for that region.
Are you ready to start gathering the items you'll need for a successful digital nomad lifestyle and adventure? Let's get to it!
Tips for Minimalist Packing as a Digital Nomad
Minimalism is one of the most important yet most difficult, mindsets to adopt as a digital nomad. Unfortunately, you can't bring all of your belongings abroad with you. So, each and every item you pack should have a purpose and multiple uses.
Be intentional about what you add to your digital nomad packing list. Make sure you will surely use every single item in your luggage. Remember, you can always buy things while abroad – and you probably will!
Below are some tips for packing with a minimalist mindset.
Pack for a Week and a Half
Whether you're planning to stay abroad for one month or a year, you really only need to bring about a week and a half's worth of clothing. You'll most likely have easy access to laundry facilities, especially if you book a private apartment or guest house.
When you do your laundry at least once a week, you'll always have something to wear. There's no need to overpack when it comes to your outfits.
I'll share exactly how many pieces of clothing you should pack in more detail later on.
Build a Capsule Wardrobe
Just because you're packing a week and a half's worth of clothing doesn't mean you'll only have ten outfits to wear. When you build a capsule wardrobe, a few clothing items can make hundreds of different outfits when combined correctly.
What exactly is a capsule wardrobe?
It is when your clothing has a set color theme and can be mixed and matched to create different outfits. For example, three pairs of pants that match with four different shirts can make 12 outfit combinations.
If you search on Pinterest for capsule wardrobe ideas, you can find a style you like and start building your own.
Luggage Options for Digital Nomads
If you plan to visit as many of the best digital nomad cities as possible, then you'll want to keep your luggage light and compact. Don't expect to be carrying two large suitcases around the world with you. Just think of the baggage fees you'll pay when you fly!
Like many digital nomads, you'll probably try to find the most affordable means of transportation like budget airlines or taking buses. This is why it's crucial to find the right luggage.
What options do digital nomads have in terms of luggage?
You can choose to go with a classic suitcase or use a travel backpack.
Both of these options have their advantages and disadvantages, which we could spend the whole article debating.
When using a suitcase, make sure your destination has well-paved sidewalks so you can easily walk with your luggage.
If you're traveling to countries in Southeast Asia or South America, then I highly recommend bringing a travel backpack. It will be so much more convenient when you're walking through cities or boarding buses and ferries.
The Ultimate Digital Nomad Packing List
Now that we've covered some important packing tips for traveling lightly, it's time to actually get into what you should include on your digital nomad packing list.
I've broken this list down into categories and have included some of my favorite products to bring with me on my travels as well.
Remember, this list is general, and only you can know what will truly make you comfortable while embarking on this exciting new chapter. These are just recommendations from my own experience.
I also created a one-page packing checklist for you to download to stay organized and make sure you aren't missing anything.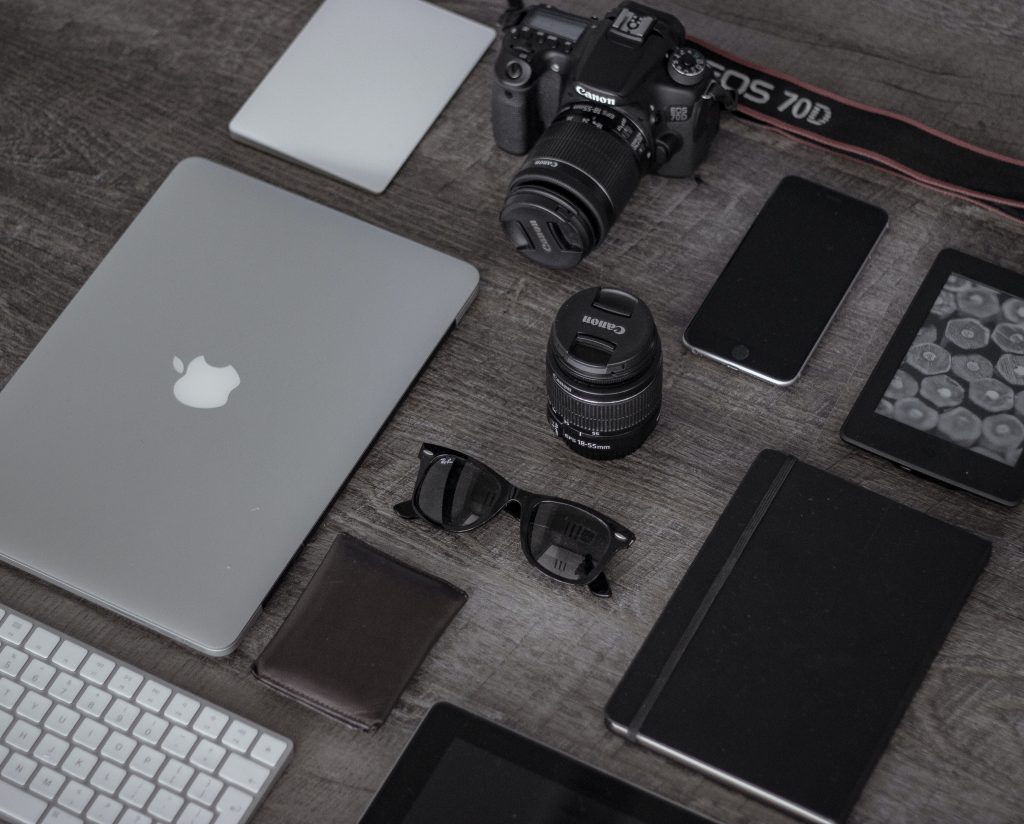 Technology
As you make an income remotely with your digital nomad job, you're going to need to bring some tech-related items along in your luggage.
Laptop
Smartphone (Unlocked)
Laptop
It's essential to find a laptop that is digital nomad-friendly. This means it should be lightweight yet powerful enough for you to complete work tasks.
I travel with a MacBook Pro and can't say enough about how much I love it. It's reliable, fast, lightweight, and if anything goes wrong, there are Apple stores worldwide I can go to.
Smartphone (Unlocked)
To save money on your phone bill while traveling abroad, you'll want to purchase a local SIM card in the country you're in or order a DrimSIM for international coverage. Rather than paying $10/day with your mobile service provider from home, you can pay ~ $20/month for service in your new destination.
However, to be able to switch out your SIM cards, your smartphone must be unlocked. Before leaving your home country, ask your phone provider if it is unlocked and if not, how to unlock it.
Laptop Sleeve
Keep your laptop safe with a protective laptop sleeve. You're going to be bringing your computer to quite a few places, including coworking spaces, cafes, and airports. Don't risk dents, scratches, or hardware damage by not having a laptop case.
External Hard Drive
God forbid something happens to your laptop, and you can't access any of your documents while traveling abroad. You won't lose any of your data, files, or images when you have an external hard drive. It's an extra security measure just in case anything unexpected happens.
Portable Power Bank
The last thing you want to be stuck with while alone in a foreign country is a dead phone. To avoid this situation, make sure to pack a portable power bank to always have ready if you can't find an outlet available to charge your phone.
VPN Subscription
Having a VPN subscription is essential when connecting to public wifi networks because it hides your personal information and protects you from potential hackers. Plus, you can access your favorite shows on Netflix from your home country while abroad!
E-Reader
Believe me; you do not want to pack books with you while traveling the world. They add unnecessary weight and take up too much valuable space. The best thing you can do is bring an e-reader, like the Kindle Paperwhite, which can hold thousands of books and is about as light as a feather.
You may want to consider reading some digital nomad books as you sit on your next flight or bus ride to pass the time, too.
Noise-Canceling Headphones
Whether you choose to stay in hostels or want some peace and quiet while riding on the train, you'll definitely want to pack a pair of noise-canceling headphones.
Universal Travel Adapter
Ensure you can charge your devices no matter what country you're in with a universal travel adapter. You don't want to be caught without one!
Portable Bluetooth Speaker
It can get pretty quiet when you travel alone and rent an apartment by yourself. Fill that silence by playing music through a lightweight, portable Bluetooth speaker. While you may not necessarily need to add this to your digital nomad packing list, it's something I never travel without.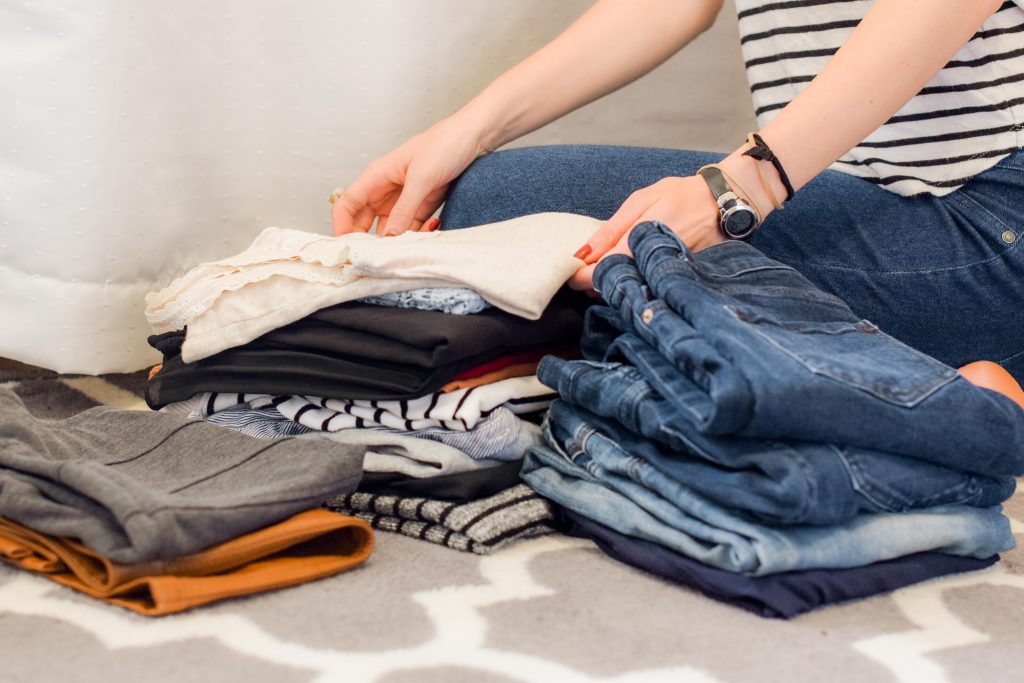 Clothing and Accessories
So, you've got your electronic gadgets and devices covered; it's time to move on to what kind of clothing and accessories you should bring with you. Remember my earlier tip about creating a capsule wardrobe when you start packing these items.
5 Casual T-Shirts
2 Long-Sleeved Shirts
1 Sweatshirt
2 Sweaters/Cardigans
2 Pairs of Jeans
1 Pair of Trousers
2 Pairs of Athletic Pants
2 Pairs of Shorts
1-2 Bathing Suits
7 Pairs of Underwear
5 Pairs of Socks
Packable Down Jacket
Winter Hat
Baseball Hat
Sunglasses
5 Casual T-Shirts
Pack some lightweight, layer-able, solid-colored t-shirts. You'll probably be wearing these most days, so make sure they're made from good quality material and can hold their shape when washed.
2 Long-Sleeved Shirts
When the weather gets cooler at night, or you're staying in a brisk climate, you'll want to make sure you have some long-sleeved shirts with you. Again, they should be high-quality that will last a while.
Dress Shirt or Blouse
You never know when you might have to dress a bit nicer during your travels. Whether you're going to a nice restaurant, attending a business meeting, or going on a date, you'll want to bring at least one nicer shirt with you.
Sweatshirt
You're going to use your sweatshirt a lot, especially when traveling on planes, buses, and trains as they tend to be chilly. Plus, who doesn't love lounging around in a sweatshirt while working from home? Try to stick with bringing just one sweatshirt since they do tend to take up a lot of space.
2 Sweaters or Cardigans
It's important to have items that you can layer if the weather gets cold, especially if you're traveling in Europe during the winter. You can do this perfectly with sweaters or a cardigan.
2 Pairs of Jeans
It's a good idea to bring a pair of dark or black jeans and a pair of light jeans. These will most likely be your go-to pants, so make sure they're comfortable and durable.
A Pair of Trousers
Again, you never know when you'll have to look nice as a digital nomad. Bring a pair of trousers or slacks to pair with your dress shirt or blouse. You can also wear these casually if you want since that's the style now too.
2 Pairs of Shorts
Depending on where you're destination is, you should bring two pairs of shorts that you can wear casually.
If your destination has tropical weather, you might want to trade a pair of jeans for another pair of shorts, but this is your call.
2 Pairs of Athletic Pants
Sweatpants, leggings, or joggers are essential while traveling as a digital nomad. These will be your comfortable outfits while sitting on long train or bus rides and your workout clothes if you like to be active.
1-2 Bathing Suits
You'll always want to have at least one bathing suit packed wherever you go. If you're going to a destination with a beach, then you'll want to bring two with you so you have one to wear while the other is drying.
7 Pairs of Underwear
Don't go crazy with packing underwear! If you do laundry at least once a week, seven pairs will be plenty to get you through your travels.
5 Pairs of Socks
It's the same rule of thumb with socks as it is with underwear. Remember, you can always purchase more if you need.
Packable Down Jacket
If you're planning to travel somewhere during the autumn or winter, you'll want to bring a packable down jacket with you. These jackets keep you nice and warm but also fold up to fit in your luggage.
Winter Hat
Again, if the weather will be cold, you'll want to bring a winter hat with you to stay warm.
Baseball Hat
You can never go wrong with packing a basic baseball hat. It's perfect if you're going on excursions under the hot sun or if you're simply having a bad hair day.
Sunglasses
Bring at least one pair of sunglasses with you, especially if you need prescription lenses. These are essential if you're traveling somewhere with mostly sunny weather.
Shoes
Deciding which shoes to pack is one of the hardest parts of packing as a digital nomad. They tend to take up so much space and add extra weight to your luggage. To help you stay minimal, here are my shoe suggestions for traveling as a digital nomad.
Walking Shoes
Comfortable Sandals
Flip-Flops
Dress Shoes (Optional)
Walking Shoes
This is not up for debate. You need a comfortable pair of walking shoes. These can be sneakers, a casual shoe, or whatever you want – as long as they're comfortable to walk in for hours. 
My favorite shoes to travel with are the Adidas Grand Court sneakers (they come in men and womens sizes) with a Cloudfoam sole. They go with everything and are so comfortable!
Comfortable Sandals
You'll want to pack a comfortable walking sandal for when the weather gets too warm for sneakers. They should have a thick, supportive sole and walk almost like a sneaker.
Flip Flops
If you're staying in hostels with shared bathrooms and showers, you definitely need some flip-flops to use as shower shoes. It's also a good idea to have flip-flops if you plan to hang out on a beach during your travels or just to wear around the house. Since they're flat, they won't take up too much space in your luggage.
Dress Shoe [OPTIONAL]
Personally, I take an extra pair of shoes that are a bit more elegant than my sandals or walking shoes. I make sure they're still comfortable and go with my dressier outfit, but can also be worn casually.
For women, this can be a simple ballet flat or a stable, low chunky heel. I recommend leaving the stilettos behind, though. If you need an elegant shoe, then wait until you're at your destination to purchase a pair.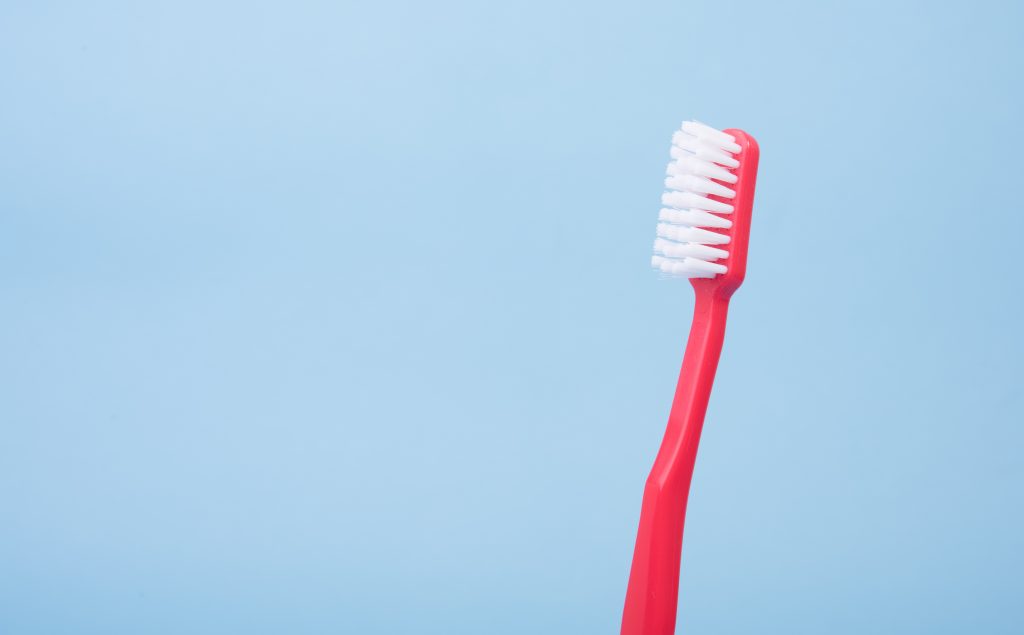 Toiletries
When it comes to packing toiletries, always keep in mind that you can purchase most items at a convenience or grocery store at your destination. But, if you're like me and always want to be prepared, you should bring the following items with you.
Toothbrush & Toothpaste
Shampoo & Conditioner
Dove Soap Bar
Deodorant
Skincare
Sunscreen
Lip Moisturizer
First Aid Kit
Medications
Toothbrush & Toothpaste
Dental health is just as important as our physical health. You may even want to pack a travel electric toothbrush to ensure you're keeping your teeth as clean as possible.
Shampoo & Conditioner
Purchase the small three-ounce travel-sized bottles of shampoo and conditioner to start off your journey. You can always refill them or buy a larger bottle later on.
Dove Soap Bar
My favorite soap to bring with me when traveling is a bar of Dove. It's great for washing your face, body, and hands and lasts for what feels like forever.
Deodorant
This one is pretty self-explanatory. Nobody wants to smell you while sitting on a long flight. Don't forget deodorant, please.
Microfiber or Quick-Dry Towel
You won't always have a towel provided where you're staying, especially if you're booking a bed in hostels. Make sure to bring a microfiber or quick-dry towel, just in case. These fold up nicely and don't take hours to dry, which means you can shower just a few hours before you have to pack everything up and move to your next destination.
Skincare Items
If you have special skincare items that you can't live without, you'll want to bring them as well. Be sure to keep it minimal, though! It's easy to get carried away with these types of products.
Sunscreen
It's a good idea to pack some sunscreen, especially if you're going to a hot climate. You don't want to get sunburned on your very first day in your new home.
Lip Moisturizer
This little tube will become a lifesaver, especially during long flights with dry, cold air. It doesn't take up any space and will be very useful throughout your travels – trust me.
Travel Hairbrush
Hairbrushes can be bulky, but they're necessary to pack. Choose a travel hairbrush instead, like the WetBrush Pop & Go Detangler Brush, which folds to a compact size and offers a pain-free experience.
First Aid Kit
The main item to bring in your first aid kit is band-aids. From getting a paper cut to blisters on your feet from walking all day, you'll definitely find a use for band-aids during your travels.
You should also bring Neosporin cream for cuts as well.
Medications
Have you ever needed an over-the-counter medication while abroad and tried to find something like it in a foreign language? It's difficult! Bring some over-the-counter medicines like Tylenol, Claritin, and Benadryl with you to avoid this situation.
Also, be sure to bring any prescription medications with you as well.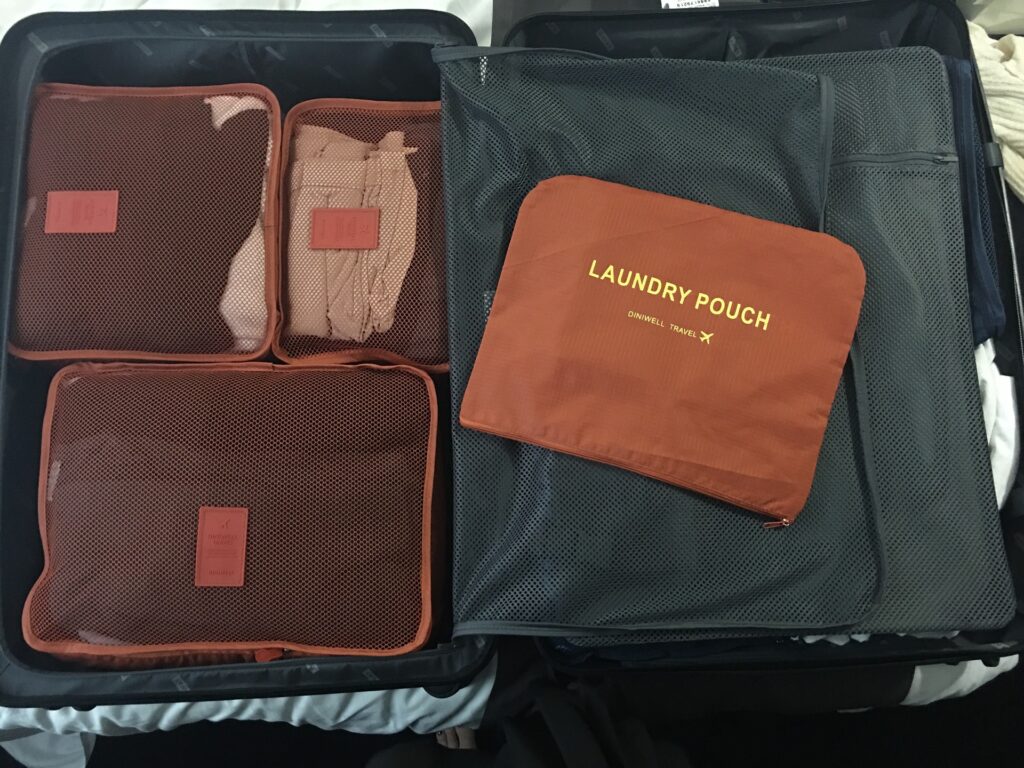 Travel & Packing Essentials
I can't talk about what to add to your digital nomad packing list without giving you some packing hacks and essentials. To stay organized, compact, and comfortable, you'll want to use the items listed below.
Sleep Mask
Digital nomads need their rest, especially when enduring long travel times or staying in hostels. A sleep mask is definitely something you'll want to keep on hand during your travels.
Packing Cubes
Packing cubes were all the rage a few years ago when people realized just how helpful they were in organizing their luggage and condensing their belongings. I use them especially to pack my underwear and toiletries.
Backpack Rain Cover
If you decide to travel with a backpack, you'll want to get a waterproof rain cover to go over it if the weather turns on you. This will protect your backpack and the items you have inside.
Electronic Cables Organizer
Tame all of those charging wires and cords with an organizer that has velcro straps, pockets, and more. This will help you stay organized and keep loose wires under control.
Vacuum Seal Bags
Another one of my favorite packing hacks is using vacuum seal bags to compress my clothing to make it fit inside my luggage. These bags will remove excess air and create more space. You can find some with an air pump, but I prefer the ones where you roll the air out.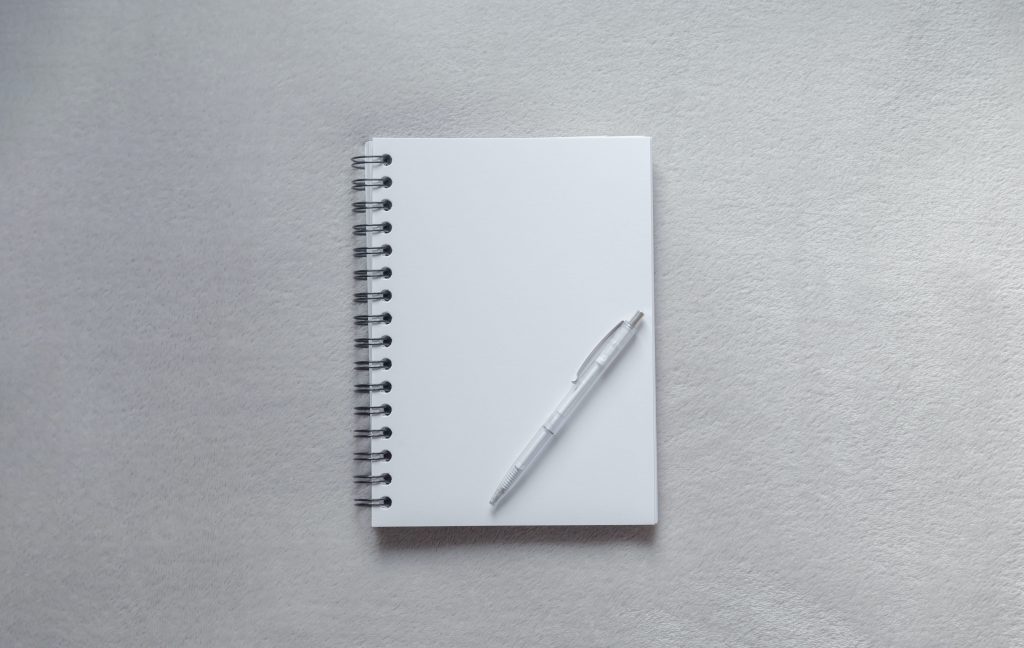 Miscellaneous Items
There are some essential items a digital nomad should pack that don't really fall into a specific category. Nonetheless, these are items you should definitely take with you.
Day Pack or Tote Bag
Notebook & Pens
Day Pack or Tote Bag
When you're exploring the city or heading to a new cafe to work from, you should have a day bag to carry your laptop and other belongings. I usually find this bag super useful to pack smaller items and use as my "personal item" while flying.
Reusable Water Bottle
I try to be environmentally friendly when I can, so I pack a reusable water bottle when I travel. If you're traveling to a country where the tap water isn't drinkable, bring a LifeStraw bottle to filter out parasites, bacteria, and more.
Padlock
If you're staying in hostels, you'll want to bring a lock with you to keep your valuable safe in a locker.
Notebook & Pens
Whether you use a notebook for work or just want to keep a diary of your travels, you'll always find a need for one while traveling.
Travel Umbrella
Don't get stuck in the rain unprepared. Slip a compact, windproof travel umbrella into your luggage to stay dry in even the worst weather.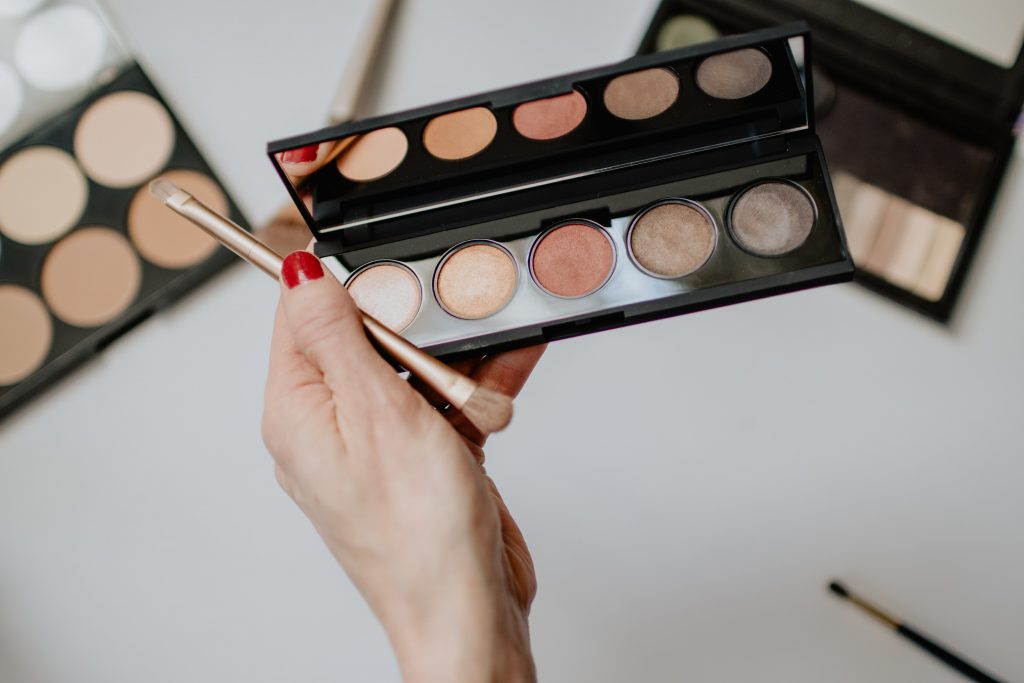 Extra Items to Pack for Women
Everything I've listed above has been for all genders, but for women, there are still some items to consider packing for your digital nomad journey.
2 Dresses or Skirts
Makeup
Makeup Remover
2 Bras
1 Sports Bra
Jewelry & Accessories
Sarong or Bathing Suit Cover
2 Dresses or Skirts
Depending on your personal style, you may want to pack a couple of dresses or skirts, especially for warmer weather. These are great because you can dress them up or down if desired.
Makeup
Many women enjoy wearing makeup and feel empowered when they do. Feel free to bring it with you, but keep it to a minimum. Stick to a foundation, one eye shadow palette, eyeliner, and mascara.
Makeup Remover
To keep your skin healthy and clean, you'll want to bring some makeup remover with you as well. You'll be able to find this at your destination as well.
Menstrual Items
Many female digital nomads bring a menstrual cup while traveling because it's easier than scouting out pads and tampons in a foreign country and is environmentally friendly.
2 Bras & a Sports Bra
I always bring two regular bras with me, one black and one a natural color. I also pack a sports bra for when I exercise or just feel like lounging around.
Jewelry & Accessories
Jewelry can change the entire feel of an outfit if done right. Bring a couple of pairs of your favorite earrings, a necklace or two, and some rings to dress up a more casual outfit and to personalize your style.
It's also a good idea to bring a fashionable scarf or a Speakeasy travel scarf, which has a hidden pocket for cash and your passport, to accessorize even more.
Sarong or Bathing Suit Cover
If you're traveling somewhere with a beach, you'll want to bring a sarong or something to put over your bathing suit while you're walking to and from the beach. You can surely find these at your destination too if you don't want to bring one with you.
Remember, You Can Always Buy Items Along the Way
We can often get carried away when making our digital nomad packing list because we feel like we can only get the items we love in our home country. This isn't the case, though!
Remember, you can always buy items at your destination. Who knows, you may even find a new favorite product during your travels.
See What Other Digital Nomads are Packing
Want more tips from first-hand experience from other digital nomads about what they bring with them during their travels?

Join our exclusive online community to connect with like-minded people and ask your most burning questions about living the digital nomad lifestyle.