Even when you're on the road traveling as a digital nomad, it's important to keep your teeth and gums healthy with a travel electric toothbrush. While you're exploring new places and working remotely, oral hygiene may be the last thing on your mind.
Many digital nomads don't want to pack a bulky electric toothbrush to save room in their suitcase or backpack. There are so many other items you would probably rather take up space in your luggage, right?
Well, with these space-friendly electric toothbrushes, you won't sacrifice luggage space and keep your teeth pearly white.
Read below to find the best travel electric toothbrush for digital nomads living life on the go.
What is the Best Travel Electric Toothbrush
Everyone has their own needs when it comes to oral care, especially when it comes to a lifestyle of traveling. From bleeding gums to whitening teeth or choosing a rechargeable battery versus replacing them, there's an electric toothbrush out there for every digital nomad.
Can You Travel with an Electric Toothbrush?
With so many restrictions about what you can and cannot bring on a plane, you may be wondering if you can even travel with an electric toothbrush. Since many digital nomads prefer to travel lightly and use only carry-on luggage, they may be hesitant about bringing a battery-operated or rechargeable toothbrush in their bag.
The answer you're looking for is YES! You can travel with an electric toothbrush on a plane, train, bus, boat, and any other means of transportation you choose.
Now that we have that cleared up let's dive into the best electric toothbrushes out there for digital nomads.
Electric Toothbrushes with a USB Charger
What is one thing digital nomads always have on hand? A USB charging port!
Whether they connect their phones, external hard drives, or PowerBanks, digital nomads are almost always in reach of USB ports. Now they can charge their electric brush while traveling!
Below are some of the best toothbrushes with USB chargers digital nomads should consider.
Philips One by Sonicare Rechargeable Toothbrush
Not only does the Philips One by Sonicare Rechargeable Toothbrush maintain its battery and power through a USB charger, but it is sleek in design and has a super compact travel case. This means you'll have an easy time packing this hygienic tool. You also won't have to worry about bulky charging stations or carrying extra batteries.
A single charge lasts a whopping 30 days, which is just one less thing you have to worry about while traveling and experiencing the world. You can even use your portable charger to juice up your battery while on the train.
Now, the Philips One by Sonicare Rechargeable Toothbrush isn't only super convenient, but it's fantastic for your teeth. With a two-minute timer with 30-second intervals, you'll know when you've brushed the perfect amount.
HIEIE Sonic Electric Toothbrush
Step up your oral hygiene routine with the HIEIE Sonic Electric Toothbrush. With five different settings, including Clean, Polish, White, Sensitive, and Massage for gums, you can personalize the way you brush your teeth wherever you are in the world. You can also choose from three strength settings to ensure your teeth get the clean attention they need.
When it comes to the HIEIE Sonic Electric Toothbrush's battery, it can last 30 days on a single charge when you brush twice a day. There is also an LED indicator to show you the charge status. This means you'll never be left with a lifeless toothbrush again.
Brüush
Delivering a whopping 31,000 strokes per minute, Brüush is one of the best toothbrushes with a USB charger that digital nomads could buy. With a convenient travel case, three different replacement brush heads, and a USB charging base, you have everything you need for a clean, white smile.
Let's not forget the six cleaning modes and the two-minute timer with 30-second intervals to remind you to switch to a different part of your mouth. You'll feel like you just walked out of the dentist's office every time you brush with it. The battery also lasts for 30 days on just one charge.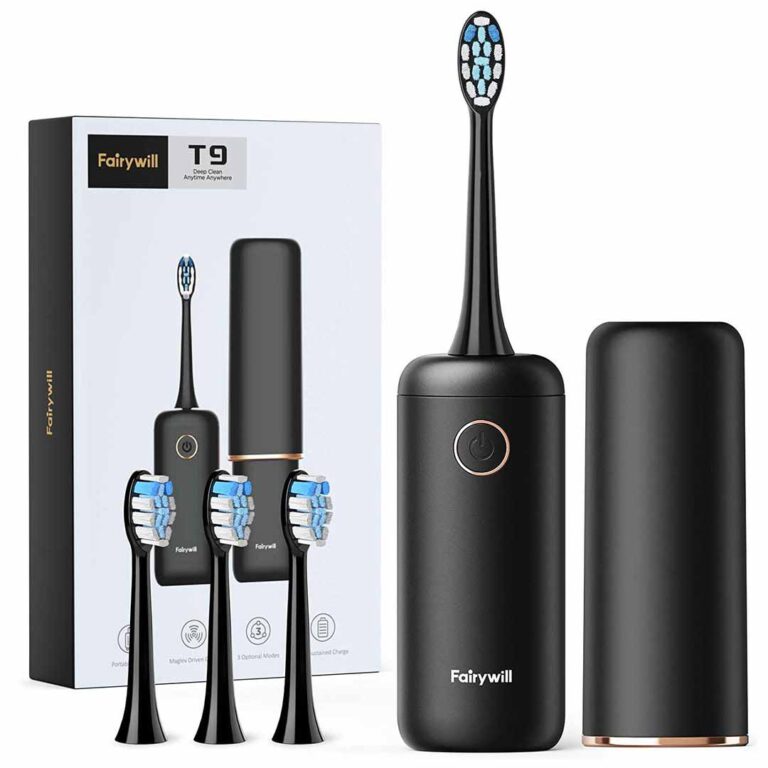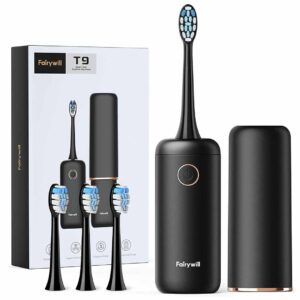 Fairywill T9 Travel Electric Toothbrush
The Fairywill T9 Travel Electric Toothbrush revolutionizes carrying a powerful toothbrush around the world. The unique shape of this toothbrush serves as part of its travel case, meaning you save room in your luggage. You'll also get four toothbrush head replacements to stay fresh and clean.
It takes just two hours to charge, which will then last for four weeks! Simply plug the USB charger into any acceptable outlet and your toothbrush will be ready to go in mere hours.
Electric Toothbrushes with a Charging Case
We get it; there are a ton of things running through your mind every day. From remembering to meet deadlines to clients to booking flights and accommodations to planning sightseeing and meetups into your schedule, you might not always remember to plug your electric toothbrush in to charge it.
Our solution for you is a toothbrush with a charging travel case. Simply put it back in the case where it belongs and it will charge the battery so you're never stuck with a lifeless brush again.
Below, we're sharing our favorite electric toothbrush with a charging case that is perfect for traveling digital nomads.
Philips Sonicare DiamondClean Smart 9700
Get the best of the best when it comes to oral hygiene with the Philips Sonicare DiamondClean Smart 9700 toothbrush. With three speed settings and five cleaning modes, you can improve your gum health by seven times in just a week. Plus, with Bluetooth technology, your toothbrush syncs with the Philips Sonicare mobile app to determine your brushing habits and how you can improve.
Now, let's talk about the travel features of this dynamic electric toothbrush. The case isn't perfect for just keeping your brush safe while traveling, it also charges the toothbrush for you! So, if you're on a long flight and forgot to charge it the night before simply put it in the case and it'll be charged by the time you land.
Oh and let's not forget the charging glass that comes with it. If you have some room in your luggage you can bring the sleek glass cup that acts as a charging station or a convenient way to rinse your mouth.
Battery-Powered Travel Electric Toothbrushes
Some digital nomads want to keep things simple. The fewer cords and wires they have in their bags, the better. Just think about all of the chargers and wires you already have for your phone, computer, e-reader, and tablet. You don't want another one for your toothbrush!
The best thing for digital nomads in this situation is to get a battery-powered toothbrush. By simply inserting a battery, you'll have clean teeth for weeks – sometimes even months. Let's explore some of our top recommended toothbrushes that run with batteries.
Violife Sonic Toothbrush
One of the smallest travel electric toothbrushes on the market, the Violife Sonic Toothbrush is a minimalist digital nomad's dream. Powered by just one AAA battery, this powerful little tool provides 22,000 strokes per minute.
If you aren't looking for the fancy features of a pimped-out toothbrush but still want high-quality oral hygiene, then this toothbrush is for you! Super lightweight and with no extra gadgets to carry around, you'll always have room for your Violife Sonic Toothbrush in your bag.
Quip Battery Powered Travel Electric Toothbrush
Simple, slim, and extremely travel-friendly, the Quip Battery Powered Travel Toothbrush is a game-changer for digital nomads who want to keep their luggage light and their teeth white. With just one AAA battery, this toothbrush has a whopping three-month charge!
With a two-minute timer and 30-second pulse settings, you can reduce gingivitis and improve your oral health. The sleek travel case is also super convenient as it protects your toothbrush and acts as a holder by mounting to mirrors or counters. The slim metal handle is stylish and a guaranteed space saver.
Can You Use a Travel Adapter for an Electric Toothbrush?
Many digital nomads wonder if they can use their electric toothbrush with a travel adapter if they have to plug it in to charge it. The answer depends on the type of toothbrush you have and its voltage.
For example, the voltage in the United States is much lower than in European countries. Therefore, items like hairdryers blow out due to the voltage difference.
One solution is to purchase a travel adapter and voltage converter. This allows you to use your own items in different countries with different voltages and outlets – saving you a ton of money if you're traveling full-time!
So the answer is yes, you can use a travel adapter for your electric toothbrush, but only if it is also a voltage converter as well. Otherwise, you can have a very dangerous problem.
See What Other Digital Nomads are Packing
The best way to prepare for a new country or get ready for your digital nomad journey is to talk to other people who live the same lifestyle.
With Nomads Embassy's exclusive community, you can connect with like-minded people and ask for advice or suggestions on where to go, what to pack, and more!