Yes! You can become a digital nomad with no skills.
With absolutely no experience or even a college degree, you can find a remote job and become a digital nomad.
Actually, the first step to becoming a digital nomad is to land a remote job. So, once you have one or two or three, you're halfway to living the digital nomad lifestyle! (Don't worry, the other half involves traveling the world and living your best life.)
Don't let someone tell you that you can't become a digital nomad when you don't have any skills. There are plenty of beginner jobs for digital nomads out there, sometimes you just have to get creative.
But we've done the hard work for you. By the end of this article, you'll know about five different remote jobs that don't require experience that you can apply to today!
1. Virtual Assistant
As a virtual assistant, you will assist business owners and executives organize their days and complete the more menial tasks they need to be done. These tasks can include data entry, scheduling meetings, and answering emails.
However, the role of a virtual assistant is a diverse one. It could also involve more creative work such as managing social media accounts and giving input for different projects.
While this job doesn't require digital nomads to have too many skills, there are some programs you should be familiar with. These include Google Drive, Microsoft Excel or Sheets, Microsoft Word, and Canva. They are fairly intuitive and so common you probably use them already.
Some personal skills you should already have include a willingness to learn new things, impeccable organization, and detail-oriented.
Where to Find Virtual Assistant Work
2. Online English Teacher
If you're a native English speaker with a webcam, microphone, and a desire to help others learn English, this may be the perfect job for you!
Becoming an online English teacher doesn't require many skills. Although, you will have to complete a certification course for your TEFL (Teach English as a Foreign Language). This course is 120 hours long and can be done entirely online.
Sign up for the TEFL course and save 15% now!
You can work with children to adults and follow pre-determined lesson plans to teach them English. There are plenty of platforms out there you can use, you just have to find the right one for you.
Where to Teach English Online
3. Transcriptionist
Do you type at the speed of light and have a good ear? Then you can work as a transcriptionist as a digital nomad – no skills required!
As a transcriptionist, you'll listen to audio and transcribe what you hear. All you'll need are a good pair of headphones and a computer.
When registering with a website as a transcriptionist, you may have to complete a quick assessment to make sure you've reviewed the rules and such. Other than that, you don't need any experience or skills for this remote job.
Where to Find Transcribing Jobs
4. Phone Mystery Shopper
You probably always have your phone in your hand. Why not start making money by using it?
As a phone mystery shopper, you will call businesses and establishments and check the quality of the employees' responses. You'll receive assignments with questions to ask and things to look for.
At the end of each phone call, you'll be required to write an unbiased report about your experience.
The only requirements for this job are that you'll need a phone and the ability to write clearly.
Where to Find Work as a Phone Mystery Shopper
5. Content Moderator
Nobody has time for hate speech, insults, or putting out personal information online anymore. To make sure these types of comments or reviews don't appear in group forums or on review sites, content moderators scan and delete them.
This digital nomad job requires no skills at all and can be done by anyone with a great eye for detail. Your job is to make sure all posts and comments are in line with the group or company's guidelines.
Where to Find Content Moderator Work
Even More Job Ideas…
In 2021, there are more and more remote work opportunities becoming available. This means you have more opportunities to become a digital nomad with no skills!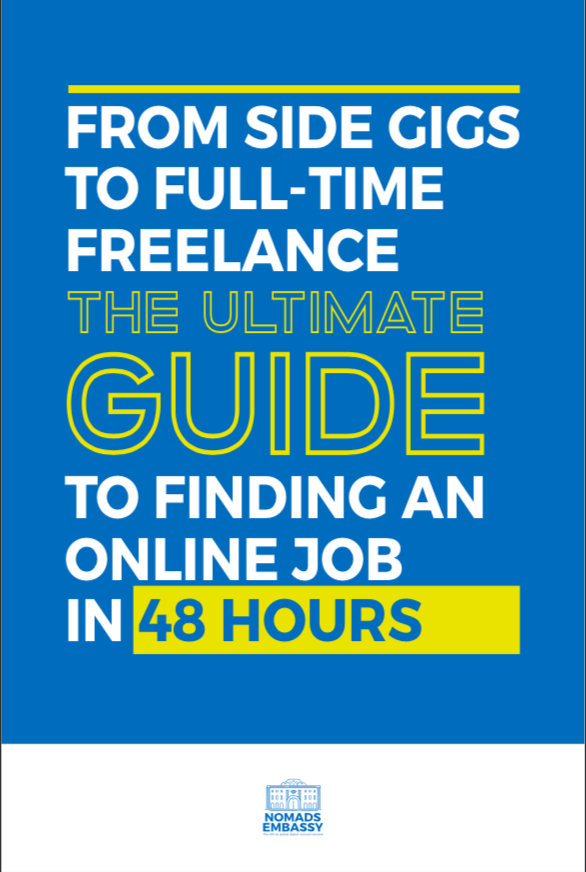 For even more remote job ideas and more information about how to find the best one for you, we wrote The Ultimate Guide to Finding an Online Job in 48 Hours.
With 40+ pages of content about working remotely and job ideas you can start today, it's a must-read for every aspiring digital nomad.
Learning New Skills as a Digital Nomad
Sure, you can become a digital nomad with no skills, but why would you want to put yourself into a box? Stop limiting yourself and start learning new skills!
The jobs we listed in this article are great for when you're first starting off or even to supplement your current income. However, when you learn in-demand skills, you can expect to make a lot more money as a digital nomad with these high-paying digital nomad jobs in 2021.
One way to learn new skills is to take online courses. There are thousands out there with professionals teaching you essential skills to landing a high-paying remote job.
You can start by taking our course, How to Become a Digital Nomad in 2021 to learn more about the lifestyle of working remotely and traveling abroad.
You can also join a digital nomad community to see which skills and jobs are currently trending. You may even find a remote job opportunity in this group!
Nomads Embassy Helps You Become a Digital Nomad with No Skills
Now that you have an idea of some digital nomad jobs you can do with little to no experience or skills, it's time to start the digital nomad journey.
Nomads Embassy is here to lead you through this journey to a digital nomad lifestyle. With an interactive platform, innovative step-by-step process, and one-on-one assistance, you'll become a digital nomad faster and easier.
Join the waiting list* and be the first to know about how Nomads Embassy can help you become a digital nomad.
*When you join the waiting list, you'll receive The Ultimate Guide to Finding an Online Job in 48 Hours for free 😉