If there's one thing digital nomads are always on the lookout for, it's travel hacks. Living a life of full-time travel and working remotely from your computer requires you to be savvy with money, time management, and research skills.
You work hard for the money you earn with your digital nomad job. You don't want it to go to waste overpaying for travel expenses. When you follow these digital nomad travel hacks, you could actually save money on your overall lifestyle compared to if you were location-dependent, especially while living in a cheap destination.
You've probably heard of travel hacks for vacationers and backpackers, so how are digital nomad travel hacks any different? Well, since you're living a lifestyle and not just spending a week or two traveling, there are certain habits to adopt that will save you money as you live and travel abroad.
In this article, I'm sharing some of my favorite digital nomad travel hacks that won't only save you money, but also your valuable time. Plus, you'll learn essential hacks for staying safe while traveling and experiencing your destination to the fullest.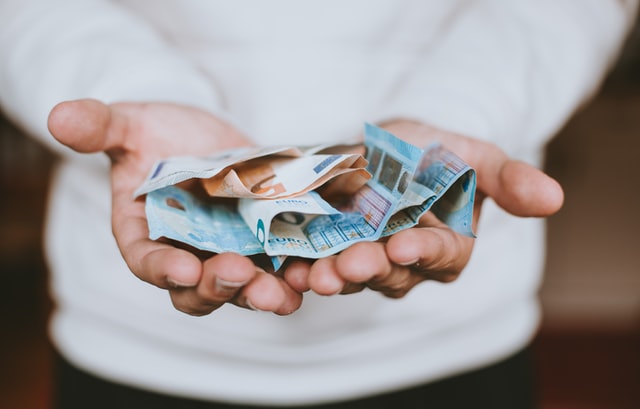 Travel Hacks for Saving Money Overall
Before we get into the really specific digital nomad travel hacks, I want to go over the major tricks to save money on your overall lifestyle.
Let's face it, the most expensive parts of the digital nomad lifestyle are dining out, booking flights, and accommodations. The rest is pretty affordable, depending on your destination of course.
Below are three travel hacks that can save you a ton of money and even get you free travel perks and experiences.
Sign Up for a Travel Credit Card
Did you know you can earn free flights and hotel stays just by spending money on everyday items? With a travel credit card, you can!
With every dollar you spend, you can earn points to redeem for travel expenses and purchases. Plus, travel credit cards also usually come with no foreign transaction fees, which can save you on average 3% when using your card abroad, and other travel perks like insurance.
Without changing your spending habits or anything, you can earn enough points to get a free flight, free hotel stays, or a free car rental. All you have to do is put your purchases on your travel credit card, pay it off, and earn the points. It doesn't get easier than that!
We recently wrote a blog about the best travel credit cards with no annual fee, which essentially means you're earning free flights and more free of charge! So, if you're in the market for a travel credit card, be sure to give it a look.
Use an International or Local SIM Card
If you've ever traveled abroad and bought an international plan from your home mobile provider, you probably paid an arm and a leg just to have a few gigs of spotty data while overseas.
This isn't feasible as a digital nomad who spends months, even years, traveling abroad. To save on plans that can cost $10 a day, consider getting an international SIM card or a local SIM card.
This is the absolute cheapest option to have cell phone service while traveling. In most countries, you can go to a mobile provider and get an affordable data plan without signing any hefty contracts like in the United States.
Or you can use an international SIM card like DrimSIM. This pay-as-you-go SIM card works in 190 countries and you can opt for an eSIM, which is a virtual card connected to your phone.
Become a Pro at Eating on a Budget
When you visit a new destination you want to experience the culture, which is often done by eating the local cuisine. However, eating out at restaurants, especially those top-rated on Yelp, can get quite expensive.
It's important to learn how to eat well while traveling on a budget. One way to do this is to take advantage of street food, which is often some of the best food you'll eat for a fraction of the cost of a restaurant meal.
You can also try local cuisine without eating a hole in your wallet by going to local grocery stores. Usually, you'll find prepared meals and ingredients from that region that you can taste and try to cook with at home if you have a kitchen.
When I traveled through Thailand, I preferred getting meals like pad thai from street vendors rather than going to a sit-down restaurant. It often tasted better and was a quarter of the price!
Travel Hacks for Booking Flights and Transportation
Now we're getting to the really juicy stuff – digital nomad travel hacks for when you're actually booking your travel.
You've all heard of someone getting an incredibly cheap plane ticket to an awesome destination, but how did they do it? Whenever you search for a ticket it's always just a bit too much.
In this section, I'm sharing my best tips to save money when booking tickets to your next destination.
Buy Plane Tickets Six Weeks in Advance (on a Tuesday)
The airline industry is truly the wild west in terms of travel. Some days you can find awesome flight deals for what feels like pennies while other times you're giving up a kidney for a one-way ticket.
Fortunately, there are some ways to ensure you're getting a great price.
The first trick is to book your flight at least six weeks before you plan to travel and to purchase tickets on a Tuesday. For some reason, this is when prices are statistically at their lowest.
Another way to ensure you're getting a great deal is to keep your flying dates flexible. Search for the cheapest month to travel to your destination and book your flight for a Monday, Tuesday, or Wednesday.
Compare Different Routes and Transportation Methods
As a digital nomad, you probably enjoy slow travel and seeing as much of the world as possible. If you're flexible in your travels, there's no better way to save money on flights and transportation than comparing different routes and methods.
For example, sometimes the cheapest option to get to your final destination is to slow travel taking buses and trains and staying in different cities to get there. Of course, this is only for those who aren't on a time crunch.
Another way to compare routes and prices is through third-party websites. For comparing flights I like to use the following:
To find the best method of transportation, I'll use:
While this method may not always save you time, it could save you a ton of money while also helping you see places you may never have considered.
One example I like to use from my past travels is when I had to get to Split, Croatia from the Greek island Tinos. Direct flights from Greece to Croatia were a bit out of my budget.
So, I spent a week flying from Athens, Greece to Bologna, Italy, spent two days in Venice during Carnivale, and took a 13-hour bus from Venice to Split with a stop in Zagreb. The total transportation cost about $150.
I also got to experience the beauty of Carnivale in Venice, which is a magical destination everyone should see at least once.
Opt for a Bus or Train
Flying can be pretty pricey, even with budget airlines. They charge for every little thing and paying to check a bag could cost more than the actual ticket sometimes!
I'll also let you in on a secret – I absolutely hate flying. So, when I can take a train or bus to my destination within a reasonable amount of time and price, this is what I go with.
If you're traveling in Europe, then the train and bus system is excellent. It's easy to find a route that makes sense for you and grab a cheap ticket.
In Mexico and South America, buses are also the main means of travel other than flying as well.
I use the following apps to find bus and train tickets for my travels:
Again, you can use Omio or Rio2Rome for finding the best route option and tickets too.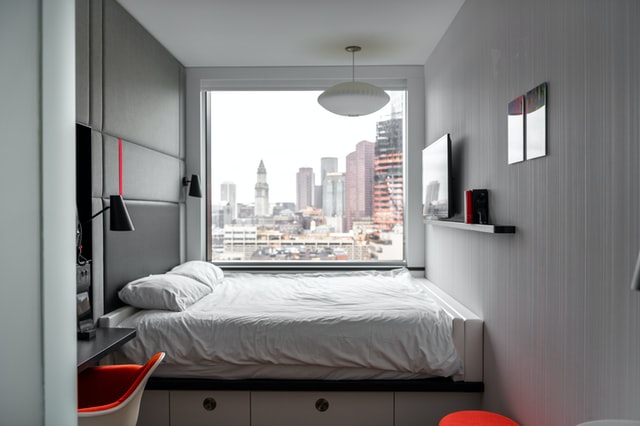 Travel Hacks for Finding a Digital Nomad Accommodation
One of the most important decisions you'll make as a digital nomad is where you'll stay while traveling abroad. There are a few things a digital nomad accommodation must have, including reliable wifi and to fit in your budget.
Of course, there are travel hacks to find the best digital nomad accommodation for your needs. Plus, I'm sharing some super cheap options you can take advantage of too.
Keep Your Dates Flexible
Just like when you're searching for a cheap flight, it's important to keep your dates flexible when booking your accommodation.
Try to travel in the shoulder seasons to get great deals on your stay while also having the opportunity to fully enjoy your destination.
While it may be tempting to book your stay during the low season because of a great price, it isn't always a good idea. Take it from me.
I booked a month-long stay on a Greek island in January. I got the apartment for a quarter of the original price, which was great. However, the weather wasn't the absolute best and 75% of the restaurants and stores were closed.
So, my wallet definitely won in this situation, but there wasn't much to do while living there in the winter.
Keep your dates of stay flexible, but be cautious of when you plan to travel to your destination.
If you're considering going to Croatia, you'll find our blog post about the best time to travel to Croatia helpful.
Stay for Free as a House Sitter
What if I told you that you could stay in your destination for free? The only strings attached is that you would have to look after someone else's house and possibly pets.
The concept of house sitting has really taken off in the last couple of years. When you become a house sitter, you can stay in people's places while they are traveling. It's a win-win for both parties because you get a free stay and the owners of the house get someone to take care of their pets and home.
Of course, it's a bit more complicated than just reaching out to someone who is going on vacation and asking to stay at their place. You must be verified and have recommendations and sometimes a criminal background check.
There will often be an interview as well to ensure you're trustworthy. The work to become an established house sitter is worth it, though!
You can learn more about how to become a house sitter here.
Stay in Hostels
Hostels are an excellent way to save money while traveling and meet people from all over the world.
Now, you may be picturing a run-down building in a foreign country with uncomfortable bunk beds and zero privacy when in a hostel. I promise you, they have gotten much better and more luxurious over the years!
You can even book private rooms with private bathrooms in hostels nowadays. So, you can feel like you have some privacy while also taking advantage of meeting people.
Most hostels have communal areas for working, socializing, and cooking meals. You can even find some with free breakfast included each morning.
The best place to find a hostel that has everything you want in a digital nomad accommodation is on Hostelworld. With 36,000 properties available, there's something for everyone.
Book Long-Term Stays
If you're searching for accommodations on Airbnb or Vrbo, you can get a lot more bang for your buck if you book long-term stays. Most hosts offer a significant discount if you stay for a month in their property.
If you find a property that you really like, you can also message the host and ask if you can work out a discount. Explain that you plan to stay there for a long period of time, so they don't have quick guest turnover, making it easier for them to manage.
Look in Local Facebook Groups
There are hundreds of digital nomad Facebook groups in specific destinations that offer local tips and even housing options.
All you have to do is join the group and ask if there are any apartments available or where you can find an affordable one in the area. Most people are willing to help and you may find an excellent deal.
When I stayed in Playa del Carmen, Mexico, I found a gorgeous apartment where I stayed for a month for much less than what was listed on Airbnb at the time.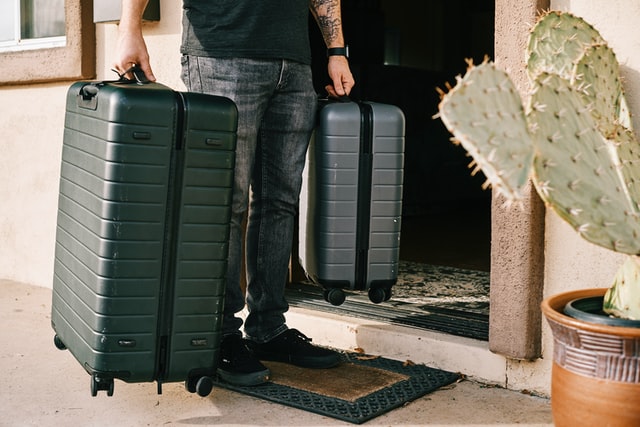 Travel Hacks for Light Packing
What does packing lightly have to do with saving time and money? Well, the digital nomad travel hacks I'm about to share with you won't only save you money on baggage fees, but it help you be more comfortable while you travel.
You don't want to carry around multiple suitcases or backpacks with you traveling from city to city. Especially if you're traveling through South America or Southeast Asia, getting around with a ton of luggage can be difficult.
So, if you can travel the world and live out of a suitcase the size of a carry-on, you'll find that you can save a ton of money when you fly or store your bags for a few hours.
Create a Capsule Wardrobe
This tip isn't just for the female digital nomads! Everyone should create a capsule wardrobe when they plan to become full-time travelers.
Having just a few items of clothing that all match can create hundreds of different outfits for all occasions. This is essential when living the digital nomad lifestyle as you never know what situations you may find yourself in.
There are # basic concepts to creating a capsule wardrobe:
Choose a color scheme
Embrace your style
Consider your lifestyle
It's important to consider the types of climate you'll be traveling in as well. Some destinations may require sweaters while others require shorts and tank tops.
Creating a capsule wardrobe will keep your luggage light and your outfit options endless.
Check Luggage Restrictions
If you plan to fly on budget airlines, then it's important that you check their baggage restrictions. You may be surprised to learn that the luggage measurements for a carry-on bag on Ryanair (Europe's main budget airline) are smaller than the restrictions for a carry-on bag on Spirit or Frontier (the US's main budget airlines).
Also, consider the space you'll have while riding on trains or taking buses as well. To avoid overpaying to check baggage all the time or trying to find a way to make your luggage fit, plan for these luggage restrictions ahead of time.
Get Organized
It's absolutely incredible how much you can fit in just a small carry-on suitcase and a backpack. Some people live for months out of these two pieces of luggage.
What's their secret?
Staying organized.
The savviest digital nomads who pack lightly are skilled in organizing their luggage, folding clothing properly, and making everything fit perfectly.
The two items I never pack without are vacuum seal bags and packing cubes. These life-saving organizers create so much space in my luggage and help me fit everything I need.
Download a Digital Nomad Packing List
Not sure where to start with packing your suitcase before embarking on a digital nomad lifestyle or feel like you might be forgetting something?
Then you need to download a digital nomad packing list!
You'll probably find our recent article of 51 items you should add to your digital nomad packing list helpful too.
Sometimes having everything written out can be super helpful and remind you to pack only the essentials.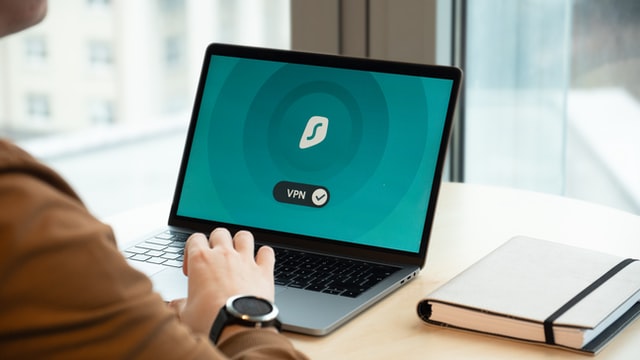 Travel Hacks for Staying Safe
Taking precautions to stay safe while traveling abroad can save you a ton of money in the long run. Getting out of sticky situations can often cause lots of unexpected expenses.
But if you follow these digital nomad travel hacks to stay safe, you'll decrease your chances of these situations from happening.
Use a VPN
A virtual personal network, or VPN, is absolutely essential for all digital nomads who connect to public wifi networks. Whether you're working from a cafe or checking your email in the airport before boarding a flight, you must use a VPN.
A VPN hides your personal information and much more to protect you from prying eyes and hackers trying to steal your data. To prevent this dangerous situation from happening, make sure to always use a VPN when connecting to wifi in public.
You can get awesome deals on VPN services. You can save 81% on a SurfShark subscription (my preferred service) and pay just a couple of dollars a month to protect yourself while abroad.
Get Digital Nomad Health Insurance
I know what you're thinking – how often do you really go to the doctor in a year when you're living at home? Probably not often. So, why would you get digital nomad health insurance while traveling the world?
Well, it's better to be safe than sorry when it comes to your health.
Digital nomad health insurance is quite different from travel insurance, which we'll mention next. With this insurance, you can have regular doctor appointments, such as a routine physical, annual OBGYN appointment, or dental cleaning wherever you are in the world.
Just like you would see a doctor at home for an ear infection or sore throat, you can see a doctor while abroad with your digital nomad health insurance.
Some popular insurance companies amongst digital nomads include:
If you're searching for an insurance policy, be sure to check out our article about what to consider before purchasing digital nomad health insurance.
Get Travel Insurance
Okay, so what's the difference between digital nomad health insurance and travel insurance? Well, above we spoke about getting routine medical treatment while traveling abroad with digital nomad health insurance. Travel insurance is protection for trip disruption and delays, lost baggage, emergency medical situations, and other travel-related situations.
It's a good idea to have both of these types of insurance as a digital nomad. Sometimes you can even get travel insurance included in your travel credit card so save you even more money.
Some popular travel insurance companies amongst digital nomads include:
You can take your protection even further and purchase insurance to protect your digital nomad gear like your computer and phone with Protect Your Bubble as well.
Back Up Your Computer
In the event that your computer is stolen, broken, or stops working completely, you don't want to lose all of your files, photos, and video. Make a habit of backing up your computer every week onto an external hard drive to ensure you never lose important items.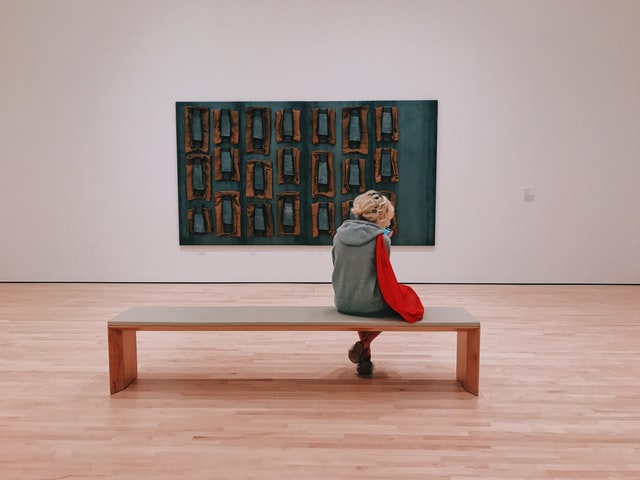 Travel Hacks to Experience Your Destination
Going to museums and on tours can get a bit expensive when you're experiencing your destinations. Living the digital nomad lifestyle requires a balance of exploring foreign cities while also keeping some sense of normalcy and routine.
Now, I'm definitely not going to tell you not to go on tours and to museums. You're traveling the world for goodness sake! However, I am going to give you some tips for how to experience it while saving money.
Go on Excursions and Tours
Sometimes it's necessary to splurge a bit on a group tour or excursion, especially if it's a difficult site to reach on your own. With an organized tour, you can really enjoy your experience without the worry of planning everything.
You'll also have the opportunity to meet other travelers and get insightful knowledge you may have missed if you went to the site alone. You can also find some great deals on tours, especially ones that include meals. Just be on the lookout for them.
Take Advantage of Free Walking Tours
If you stay in hostels, you'll find there are often free walking tours offered daily. This is an excellent way to get some exercise while seeing some of the most important parts of the city where you're staying.
Sometimes the tour guides do ask for a donation, so do be prepared to give a few dollars for their time. However, the information and experience you get is definitely worth it.
If you aren't staying in hostels, you can simply search for free walking tours online. Or you can do your own audio tour right from your phone with WeGo Trip.
Use Student Discounts
If you're a university student and have your student ID on you, try to use it whenever you purchase tickets to a museum or cultural attraction. Many places have discounted tickets for those with a student ID.
It may not always work due to certain restrictions and requirements, but it never hurts to ask.
I was able to save $20 on my tour to Machu Picchu in Peru right after I graduated from my university because I had my student ID with me at the time.
Search for Free Admission Days
Some museums have free or discounted admission days throughout the year. Some even do it once a month. If you're lucky enough to be in a certain city when a museum has this offer, make sure to take advantage of it!
For example, the Louvre in Paris has free admission to everyone on July 14. Do remember that you should still reserve tickets, especially on free admission days.
Interact with Local Residents
One of the absolute best (and free) ways to experience your destination is to interact with local residents. Whether you strike up a conversation in a cafe or bar or end up talking to someone on the street, making a friend with someone from the area gives you awesome insight.
You can ask about the culture and how things are done in the city. You can share your own stories and experiences as well. Plus, you'll learn new viewpoints, perspectives, and facts about where you're staying.
Get More Digital Nomad Travel Hacks and Advice Every Week
If you enjoyed these digital nomad travel hacks on how to save money, stay safe, and get the most out of your destination then you should sign up for the Nomads Embassy newsletter.
We send weekly emails with travel hacks, digital nomad news, and advice to help aspiring and experienced digital nomads live a successful remote lifestyle.