Last Updated on 22 November 2023 by Brittany
Winter is the perfect time for digital nomads to explore a new part of the world. That's why many remote workers stay in Greece in February.
With mild weather, affordable accommodations, and a ton of things to do, Greece isn't just for your summer beach trips or cruises. This gorgeous Mediterranean country offers digital nomads an active and comfortable lifestyle even in the winter.
So many remote workers fall in love with the Greek lifestyle that they end up living there for a year or two with the Greece digital nomad visa!
Before you get excited and find the first flight to Greece from wherever you are in the world, let's dive into what exactly life is like in Greece in February for digital nomads.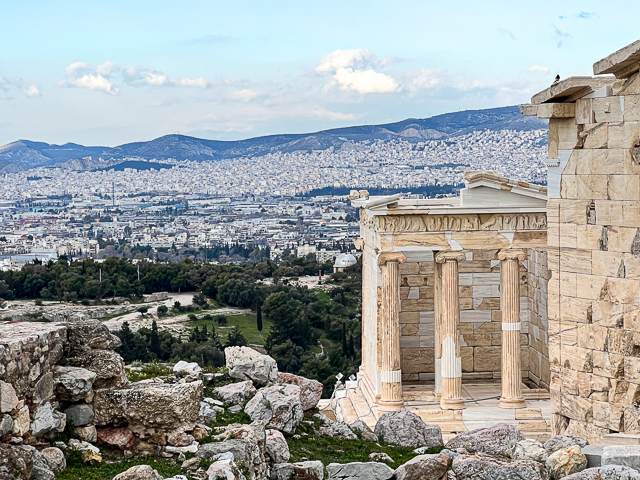 Is February a Good Time to Visit Greece as a Digital Nomad?
In my humble opinion, Greece in February is the perfect place for digital nomads who want to stay in Europe but avoid extremely cold winters.
From firsthand experience, I spent two months in Greece, from January to March, and it was incredible! While I wasn't keen on jumping into the sea, even on the sunniest days, there were locals taking a swim every morning.
Greece in February offers digital nomads a unique perspective and opportunity to experience the authentic Greek lifestyle. The number of tourists compared to the summer is very low. It won't feel too crowded or overwhelming.
Depending on where you stay in Greece, the weather is fairly mild. Being in the southern Mediterranean, you can expect to don a winter coat and a light scarf while out exploring the country.
While Greece in February is fairly quiet, there are still plenty of things to do and see. Plus, it gives digital nomads the opportunity to find a cozy cafe to work from undistracted.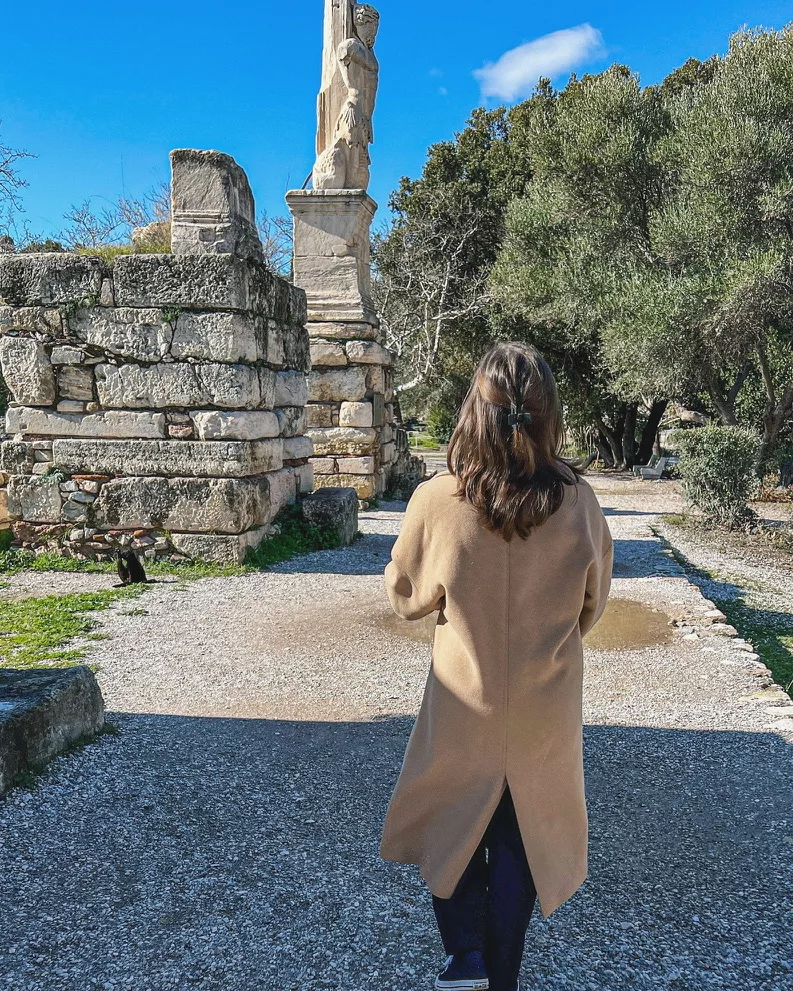 How Cold is Greece in February?
You can expect temperatures ranging from 6℃ (44℉) to 16℃ (61℉) during the day, depending on where you choose to stay in Greece in February.
However, you can definitely count on getting plenty of sunlight in Greece in February. Just in Athens, you'll experience 136 hours of sunlight during the month. Bright, sunny days are crucial for digital nomads who want to be as productive as possible.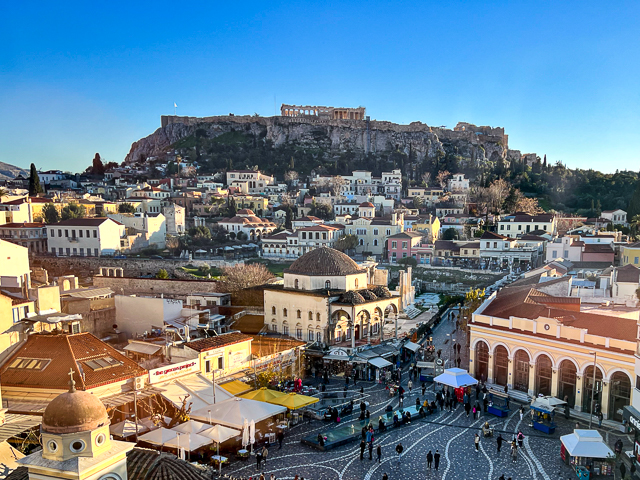 What is Greece Like in February?
Well, we've already determined that Greece in February is a digital nomad's winter paradise if they aren't looking for somewhere hot and tropical, that is.
Digital nomads who appreciate the European lifestyle, history, and mild winter temperatures will find that Greece is the perfect winter destination.
Fewer Tourists
Just the city of Athens attracts 6.5 million tourists every year. Most of them come during July and August.
When traveling to Greece in February, you will notice a lack of tourists. Museums won't be crowded. Lines to the Acropolis are nonexistent. Beaches are nearly empty!
For digital nomads who want to experience historic and iconic sites but want to avoid being in crowds, traveling in the off-season is the best option.
Just before the pandemic, we spent a month on the small Greek island of Tinos and were the only tourists in the village! It was such a fun and intimate way to discover the lifestyle there.
Affordable Accommodations
During the winter, accommodations in Greece are half the price they charge during the summer. In the center of Athens, we rented an apartment for just €1,000 for the month.
Since there are fewer tourists, which means less demand, hotels, hostels, and Airbnbs reduce their rates.
Discounted Attractions
From November to March, many archaeological sites offer reduced admissions. That means, instead of paying €20 to climb to the top of the Acropolis, you only have to pay €10!
Plus, many cities offer free admission on the first Sunday of every month during the off-season.
Digital nomads who are budget-conscious and like to take advantage of affordable locations will get to experience Greece for half the price when they go in February.
Seasonal Businesses Closed
One of the downfalls of visiting Greece in February is that many seasonal towns and businesses will shutter their doors during the winter months. With fewer tourists, it doesn't make sense for a beach club or cafe to stay open.
In reality, this could cause a bit of a struggle when trying to find an open restaurant, but it's all part of the adventure! Who knows, you may stumble on one of the best meals ever, trying to find an open local restaurant.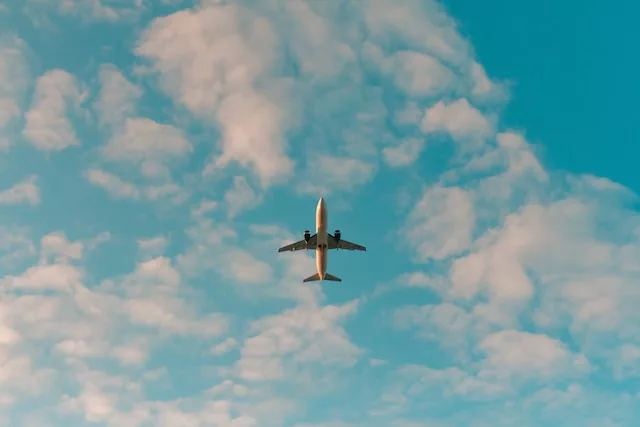 Where to Visit Greece in February
Greece is known for a handful of digital nomad hotspots. But when you look at the country on a map, you'll soon realize just how big it is! That's without including all of the islands.
We've picked our top five places to visit in February to help you narrow down your digital nomad winter destination in Greece.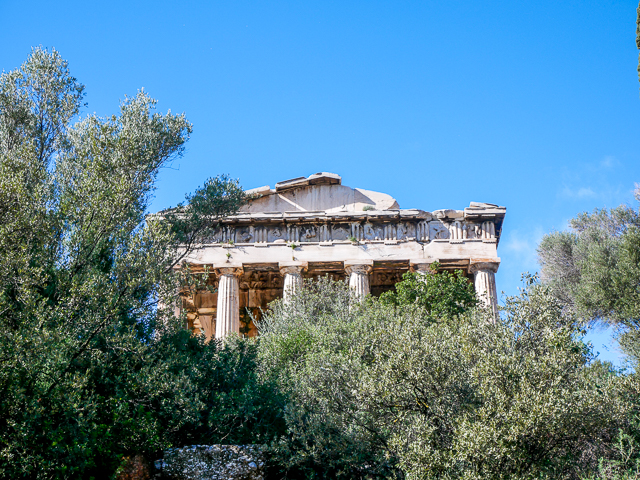 Athens
You can never go wrong with staying in the capital city of Athens as a digital nomad. There is literally everything you could ever want there!
From archaeological sites to museums to restaurants to nightclubs to shopping to a large digital nomad community, Athens has it all.
The weather is also favorable during the month of February. While it may still be slightly chilly, you can count on sunny days and minimal snowfall.
Read Next: Cafes in Athens for Digital Nomads
As we spent a month discovering Athens and rating it as one of the best cities for digital nomads, Nomads Embassy created a guide to living there. You can grab your free copy below:
Plus, you can read about our first-hand experience in Athens for even more details about what to expect as a digital nomad in Greece in February.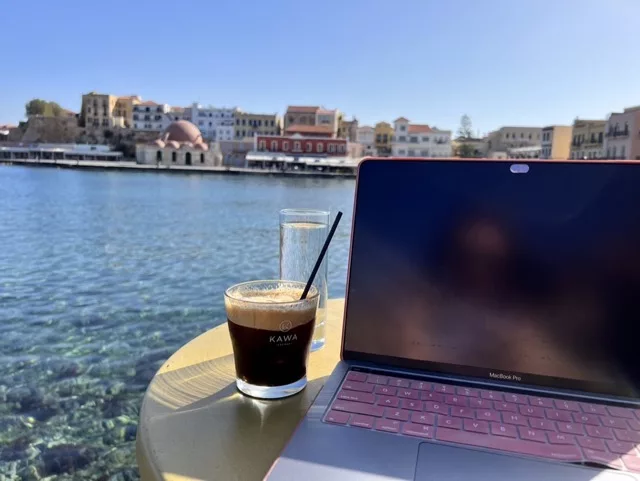 Crete
Crete is the largest island in Greece and is self-sustaining. Known for consuming the most olive oil per year per person, Crete has some of the best food, best beaches, and friendliest people you will ever meet during your travels in Greece.
With three major cities, Heraklion, Chania, and Rethymno, all three are excellent hubs for digital nomads. If you're looking for a smaller community but still have a ton of things to do, then Crete is the destination for you!
From discovering small beach towns to hiking trails to skiing in the mountains, Crete is the perfect place to visit in Greece in February as a digital nomad.
Pro tip: You're definitely going to want to rent a car some days to explore everything this island has to offer easily.
We stayed in Heraklion and absolutely loved the vibe there. Friendly, interesting, and close to archaeological sites, we would definitely stay there again. Plus, I found some of the coziest cafes in Heraklion for digital nomads.
Our time in Crete didn't go to waste for our Nomads Embassy readers! We wrote an entire additional guide just for digital nomads who want to explore this island. You can claim your free copy below
You can also read a recap of my firsthand experience as a digital nomad in Crete for a more in-depth opinion of the Greek island in February.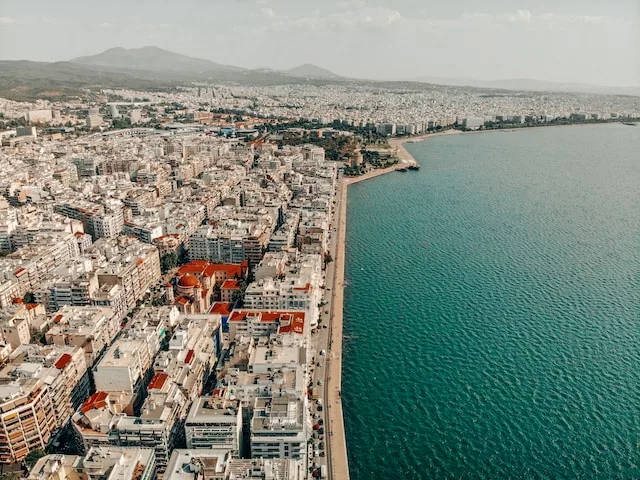 Thessaloniki
Located in the northern part of Greece, Thessaloniki is a port city with just as much history as Athens. With a gorgeous promenade along the sea, you can soak in your Vitamin D even in February when you stay in this lively Greek city in February.
While the temperatures may be colder than in Athens, you can still count on sunny days and enjoyable walks around the city. With streets lined with cafes, boutique stores, tavernas, and coworking spaces, it's a digital nomad's winter paradise.
Plus, with the city being on the less-visited list, you may find a more authentic experience staying here than in Athens.
Tinos
Are you looking for a small getaway or escape from the hustle and bustle of cities? Are you ready to buckle down and focus on your remote work?
Then, the small island of Tinos is the perfect destination in Greece in February for you!
Located just a 20-minute ferry ride north of Mykonos, Tinos town has all of the qualities you dream of in a Greek island. With white buildings, blue accent doors and windows, and plenty of friendly cats wandering the streets, it's a place to rejuvenate and relax.
While there isn't much to do on the island except rotate through the cafes, eat a gyro, and sit on the beaches, sometimes it's nice to live a slow, quiet life.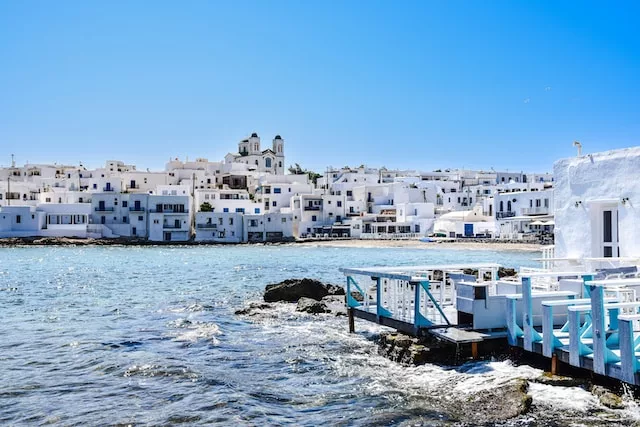 Paros
A bit of a larger island than Tinos, Paros offers an authentic experience to digital nomads who wish to live on a Greek island in February. There is definitely more to do in the sizable towns, including museums and more restaurant and cafe options.
This Cycladic island offers a handful of towns that digital nomads may find interest in. Plus, it's fairly easy to travel between the towns via bus routes. Or you can always rent a car and discover the island on your own.
While there aren't official coworking spaces on the island, there are plenty of cafes with free wifi and outlets where you can set up your digital nomad laptop and get some work done.
What to Wear in Greece in February
Let's be honest: you won't be wearing the traditional beach outfit you see people post on social media when they go on vacation in Greece if you choose to go in February.
Instead, you can expect to wear jeans, sweaters, and a light winter coat during your stay in Greece in February.
However, it can also depend on the weather. The sun is still fairly warm during this time of year! For those sunny days, you may not need a winter coat, but a light jacket instead.
If you choose to stay on the islands, you can expect it to become pretty windy. For this, we recommend a hat and scarf.
In other words, you can expect to wear traditional fall and winter clothing while in Greece in February, but you won't have the chill bite or overcast gray of a northern winter.
How to Live in Greece for One Year as a Digital Nomad
When digital nomads visit Greece, it's hard to leave. Many of them like to explore the option of fully relocating there to live.
It's never been easier now that Greece's digital nomad visa is available!
If you meet the below requirements, you could be eligible to live in Greece for one year or more.
Earn at least €3,500 per month working remotely
Have a clean criminal record
Obtain international health insurance
Sign a lease agreement in Greece
You can also bring your spouse and children with you if you travel as a digital nomad family.
One of the most unique features of Greece's digital nomad visa is that it leads to permanent residency. When you apply for the residence permit and live in the country for five years, full-time, you can apply for permanent residency and eventually citizenship.
You can read more about the Greece digital nomad visa here.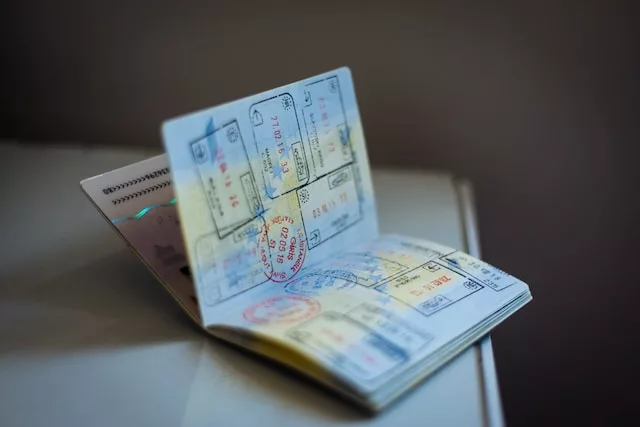 Relocate to Greece as a Digital Nomad with Nomads Embassy
Finding out that there is an opportunity to move to Greece as a remote worker probably just made your day.
Now, we're going to put the cherry on top!
Nomads Embassy: The World's First Embassy for Digital Nomads has partnered with hand-selected local immigration lawyers in Greece to assist our readers with their Greece digital nomad visa applications.
With our Done-for-You Digital Nomad Visa Service, you can increase your chances of approval and get to Greece faster.
Our immigration lawyers will follow your visa application from start to finish, answer any questions you may have, and communicate with the necessary authorities in their local language.
You just have to submit your documents, answer questions, and attend appointments if needed.
In just a few months, you could be living in Greece full-time as a digital nomad!
To get started, request our free eligibility check by completing the form above.