Last Updated on 5 June 2023 by Brittany
Searching for a new destination to work remotely from requires plenty of time and research to ensure it has everything you'll need. To simplify your search for a city in Greece, I'm sharing why I recommend Athens for digital nomads based on my firsthand experience.
I spent a month living in Athens at the beginning of 2023. I had been to Athens for a few days three years earlier and felt I needed more time to explore this unique and ancient city. So, when I found a great deal on a beautiful apartment right next to the largest marble stadium in the world, I knew now was the time to go!
Plus, with the Greece digital nomad visa, it was Nomads Embassy's duty to scout out the best destinations for our members and meet with our hand-selected immigration lawyers to assist them with their visa applications.
In this blog post, I'll be sharing my experience in Athens as a digital nomad, along with tips to get the most out of your time there. Plus, there's a free surprise at the end just for Nomads Embassy readers.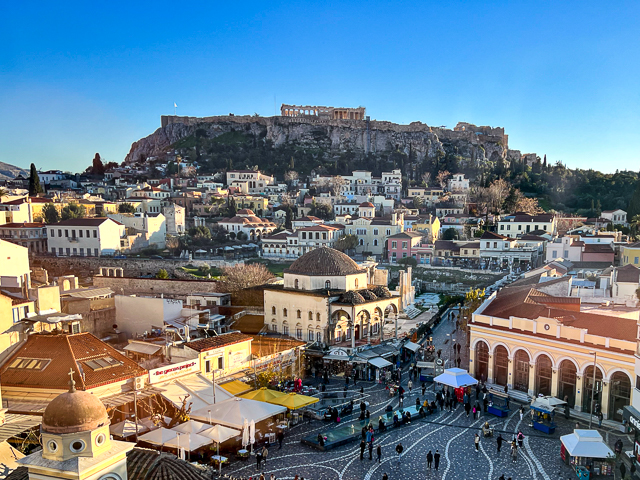 A Day in My Life as a Digital Nomad in Athens
While I love having a daily routine, I find it exhilarating to adapt and create new routines based on my location. Though the structure is mostly the same, my routine in Athens as a digital nomad was slightly different.
One thing I had to adapt to was eating later than usual. As someone who was born and raised in the United States, I'm used to eating lunch at noon and dinner at 6 pm. However, when I arrived in Greece, meals were pushed back by two hours!
So, lunch was 2 pm at the earliest, and dinner would always occur around 8 pm. I had no complaints, as long as I enjoyed a delicious Greek meal!
My days would be spent walking through the city to find the perfect cafe in Athens for digital nomads. I frequented quite a few, but my favorites were Papia and Dope Roasting Co.
Free time was spent wandering through archaeological sites, such as the Acropolis, Hadrian's Library, and the Roman Forum or museums. I highly recommend the Museum of Ancient Greek Technology! 
Below is a quick breakdown of what my daily routine consisted of:
7:30 AM Wake up
8:00 AM Morning run or walk
9:30 AM Breakfast at a local cafe
10:00 AM Work from a coworking space or cafe
2:00 PM Grab a gyro for lunch in the city
3:00 PM Visit a museum or archaeological site
5:00 PM Stop in a cafe or bar to finish working
8:00 PM Enjoy a delicious dinner
Of course, your day may look a bit different based on your hobbies or interests. That's one of the reasons why I love Athens for digital nomads. It caters to so many different people; there's truly something for everyone here.
Why I Chose Athens as a Digital Nomad
There are so many great cities and destinations in the world for remote workers. So, why did I choose Athens for digital nomads?
There are quite a few reasons, actually.
Ideal Weather
I chose to spend a month in Athens during the off-season from mid-January to mid-February. There were two reasons for this: accommodations and tourist sites are discounted, and the winter weather is mild.
Instead of spending another winter in a cold and gray city, I wanted to soak in some sunshine. The winter weather in Athens is typically sunny, but I wouldn't necessarily say that it's warm. You'll definitely still need a coat and maybe a scarf at night.
But that was a much better option than staying somewhere with almost no sun and bleak, freezing weather.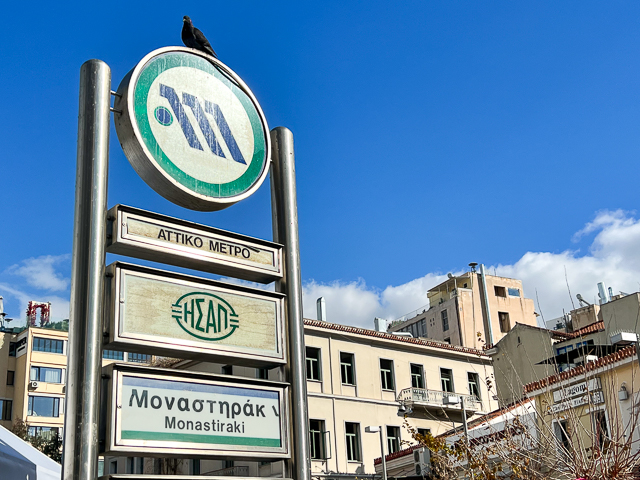 Great Public Transportation
Athens is huge. If you get to the top of the Acropolis or one of the many hills around, you'll see just how vast this city is. While most of it is walkable, you'll probably end up taking public transportation at some point.
There are buses, trams, and metro lines available to help you get from point A to point B efficiently and safely. We'll dive more into the details of how to use the public transportation in Athens later in this guide.
International Community
Athens has a large international community, ready to welcome new members like digital nomads.
Many Erasmus students and study abroad students from outside of Europe attend universities and courses in the city. With large companies, people from all over the world come to work for them too.
This creates a great opportunity for digital nomads to expand their friend groups and network. They get to meet people from all over the world who are also experiencing Athens as a new destination.
Of course, Athens brings in a ton of tourists visiting on holidays and vacations too. In fact, over six million tourists visit Athens every year.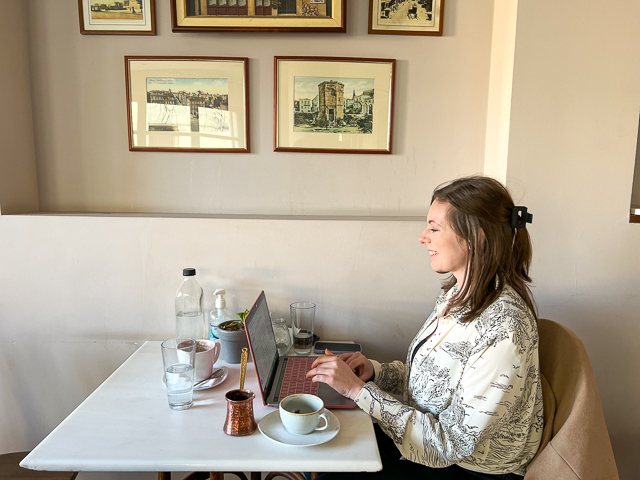 Coworking Spaces and Cafe Culture
One of the most important features digital nomads look for in a new destination is the availability of laptop-friendly cafes and coworking spaces.
When it comes to Athens, digital nomads will be satisfied with the cafe and coworking options they have to work from.
Walking down the street, you'll notice many digital nomads and students set up shop in a cafe, sipping on a specialty coffee, and enjoying a traditional pastry for a few hours.
Going to a cafe or coworking space is also a great way to meet people and other digital nomads in Athens.
Excellent Wifi and Mobile Connection
Throughout Athens, you can connect to the 5G mobile network and experience fast wifi speeds almost anywhere you go. Almost every restaurant, bar, and cafe has free wifi that you can connect to.
There is also a strong local network in certain parts of the city that digital nomads can connect to for free.
For digital nomads who rely on a strong and reliable wifi connection, Athens has exactly what you need.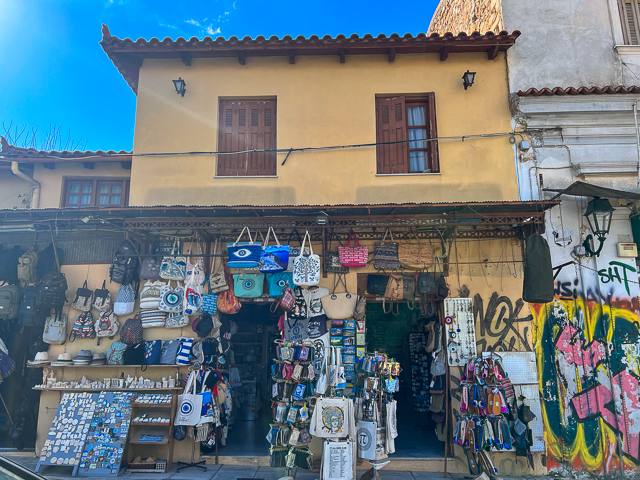 Affordable Cost of Living
An experienced digital nomad knows just how important budgeting is when they travel. Fortunately, Athens has a relatively affordable cost of living for being the capital city in a European country.
According to Numbeo, the cost of living in Athens is 39% lower than in the United States. It is almost 80% cheaper to rent an apartment in Athens than in a major city in the US as well.
So, digital nomads can actually get a better quality of life in Athens than in their home country.
English is Widely Spoken
As a major international city that also doubles as a top tourist destination, English is widely spoken throughout Athens. Menus are translated from Greek to English and other languages, as well as street signs.
Of course, it is always respectful to learn common words used in the local language to show respect to the residents. But you'll find that the Greek people will happily communicate in English with you.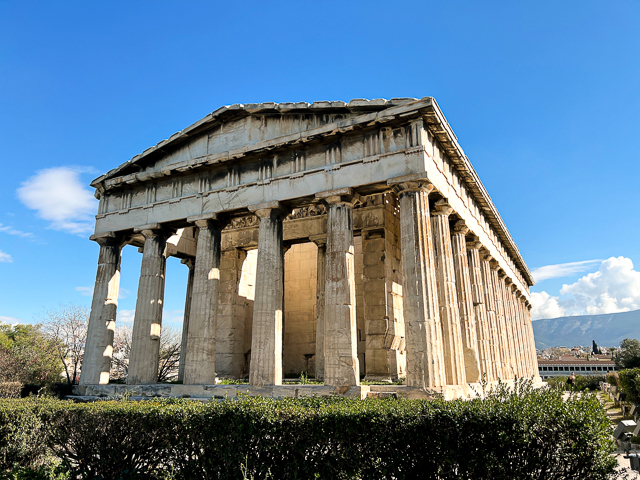 Rich History
If you have an interest in ancient history, like me, then Athens, Greece, is a great digital nomad destination. Just walking along the street to your favorite cafe, you'll likely come across ruins from thousands of years ago with a unique story.
You can spend your free time learning about the Ancient Greeks, their culture, and their technological inventions. Seriously, there is no excuse for being bored if you have any interest in these topics while in Athens!
Incredible Cuisine
Did you know that one of the healthiest diets is the Mediterranean diet? When in Greece, you don't have to try hard to stick to these nutritious and delicious meals.
One of my favorite parts about traveling is trying new food and local cuisines. If you're someone who loves fresh seafood, hearty meat dishes, olive oil, honey, and colorful salads, then Greek cuisine is perfect for you.
Greece is by far one of the best places I've experienced when it comes to local food.
A typical Greek restaurant will serve meze-style dishes, which are small plates meant to share. This allows you to try multiple things at once! It's a great opportunity to go out with new friends and get a full Greek experience.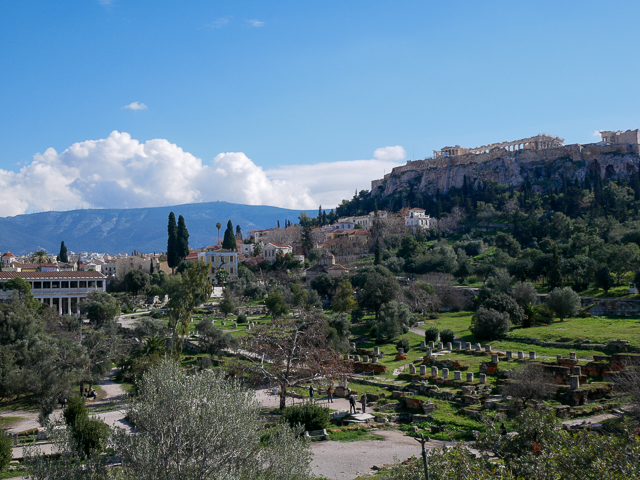 Common Questions About Athens for Digital Nomads
When researching a new digital nomad destination, you probably have quite a few questions about it. As I mentioned before, choosing a new city as a digital nomad is more complicated than if you were choosing somewhere to vacation.
You want to be sure that there is stable wifi, a community of digital nomads, and that you'll have access to everything you may need.
Below are some answers to the most commonly asked questions about Athens for digital nomads.
How expensive is Athens, Greece?
Even though Athens is a major capital city in Europe, the cost of living is quite affordable.
Of course, there are many opportunities to splurge in this city, too.
It's all about how you budget your finances! You can find great prices on fresh local produce at weekly farmers markets or have a €3 gyro for lunch every day.
Or you could go to the top restaurants in Plaka and spend €18 on a meal with a glass of fine Cretan wine.
However, if you're coming from the United States or the UK, then you'll likely find that the cost of living is much lower and maybe even higher quality than you're used to.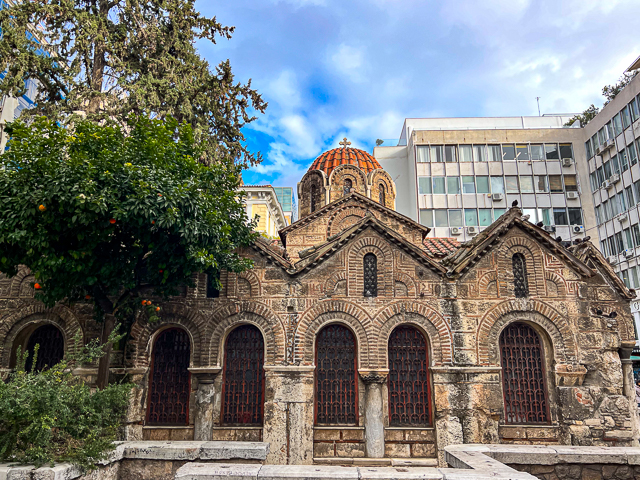 Is Athens Safe for Digital Nomads?
As with any major city, crime tends to be a bit higher compared to smaller towns and the Greek islands.
However, from my personal experience, I never felt unsafe walking through Athens alone during the day. As a general precaution, as with any destination, I avoid walking alone late at night. I did notice that the streets can get a bit dark at nightfall.
Two things I noticed while wandering around Athens are the high population of homelessness and common drug use. While it was a bit uncomfortable at first, I was never bothered or interrupted as I went along with my day.
As with traveling in any new city, it's important to be aware of your surroundings and make smart decisions. While I would consider Athens, Greece, safe for digital nomads, it's still a good idea to be conscious of what's happening around you.
Does Athens Have Reliable Wifi?
Yes! One of the reasons I love Athens for digital nomads is its strong and reliable wifi.
You can find great wifi connections in almost every cafe. In my Airbnb, I had excellent wifi and even thanked the hosts for it.
In tourist-populated areas, you'll even find a free network to connect to. So, you can sit in a beautiful square or park and answer some emails from your computer.
There is also a 5G mobile network, ensuring you're always connected.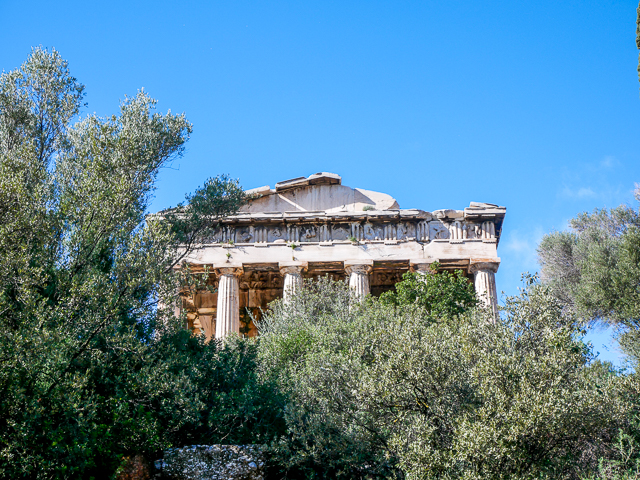 When Should I Visit Athens, Greece, as a Digital Nomad?
This is the million-dollar question – when is the best time to visit Athens as a digital nomad?
Honestly, any time of the year is a great time to visit. However, it depends on what you're searching for.
If you are looking to visit Athens when there aren't many tourists and you want great deals on accommodations and half-priced tickets to major attractions, then I would recommend visiting from November to February.
Maybe you aren't too concerned about tourists but still don't want to be in the thick crowds. You also would like sunny and warm weather. Then I would recommend visiting in the shoulder seasons, which are March to May and September to October.
Maybe summer is the only time you can make it to Athens, and you don't mind the intense Mediterranean sun and packs of tourists. (Keep in mind that six million tourists visit Athens annually.) Then you might consider visiting Athens during the high season, which is from June to August.
Although, as a digital nomad, I encourage you to avoid the high season, as accommodation prices skyrocket, and you may not find the best apartment for your month or two.
What Time Zone is Athens, Greece?
Athens is in the Eastern European Time Zone or GMT+3.
For reference, it is seven hours ahead of New York and seven hours behind Sydney, Australia.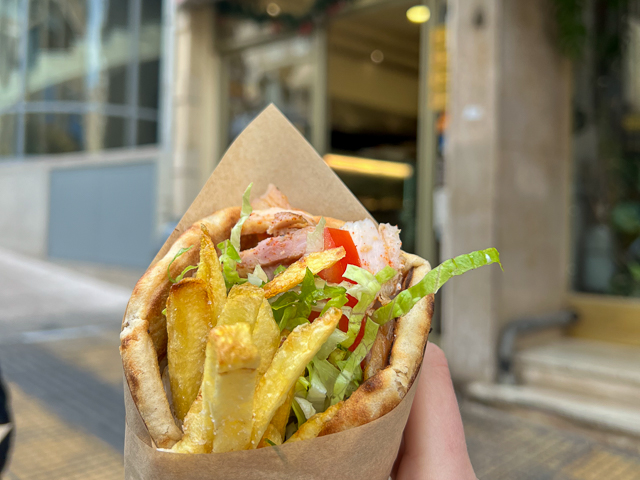 What Language Do People Speak in Athens, Greece?
The official language of Greece is Greek. However, many people speak English very well, so there is no need to worry about difficult language barriers.
You can almost always count on restaurants, cafes, hotels, shopowners, and grocery store employees to know some English to answer questions or give directions.
Is it Easy to Travel Around Greece from Athens for Digital Nomads?
Yes, it's pretty easy to travel around Greece from Athens.
Athens is just ten kilometers from Piraeus port, with tons of ferries leaving daily for the famous Greek islands. You can take a quick weekend trip to the Saronic Islands, like Hydra or Poros.
If you want to explore the mainland, then there are plenty of trains and buses that leave from Athens to cities such as Thessaloniki.
The Athens International Airport is also just a 20-minute drive from the city and has flights throughout Greece, including the islands.
As the country's capital city, getting around Greece is quite easy thanks to frequent and convenient schedules and transportation.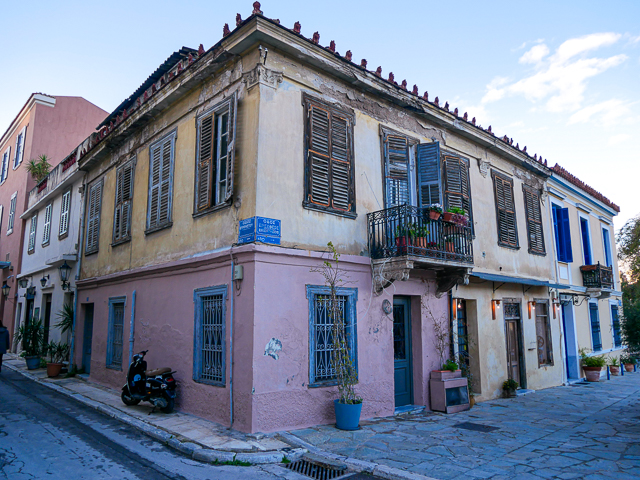 Where are the Best Neighborhoods in Athens for Digital Nomads?
With the vast area that Athens covers, digital nomads may feel overwhelmed with choosing a neighborhood to call home for a while. Athens is full of unique neighborhoods, each with its own personality.
I recommend the following neighborhoods in Athens for digital nomads:
Syntagma
Plaka
Monastiraki
Pangrati
Politechnio
Thiseio
You can find more information about these neighborhoods in the surprise that's coming soon!
What is There to Do in Athens for Digital Nomads?
There is seriously so much to do in Athens for digital nomads!
From eating at restaurants with rooftop views of the Acropolis to actually climbing to the top of the Acropolis and visiting all of the museums or taking the tram to Athens' revived waterfront to dancing in famous nightclubs, there is no room for boredom.
Athens is such a large city that it has something for everyone. You just have to find your place.
How Can I Move to Athens, Greece, as a Digital Nomad?
Some people come to Athens and never want to leave. There is too much of the city to explore still that they need more time to truly experience it.
Luckily, remote workers can temporarily move to Athens with the Greece digital nomad visa!
If you can prove that you earn at least €3,500 per month working remotely, then you can live in Greece for two years, with the option to renew it. You can even put yourself on a path to permanent residency with this digital nomad visa too.
One of the best features of Greece's digital nomad visa is that you can apply for it while already in Greece as a tourist. You'll simply submit your paperwork for a two-year residence permit under the digital nomad visa law.
This can all be a bit complicated, though. That's why Nomads Embassy has partnered with hand-selected immigration lawyers right in Athens to assist you with your application!
See if you're eligible for the Greece digital nomad visa now!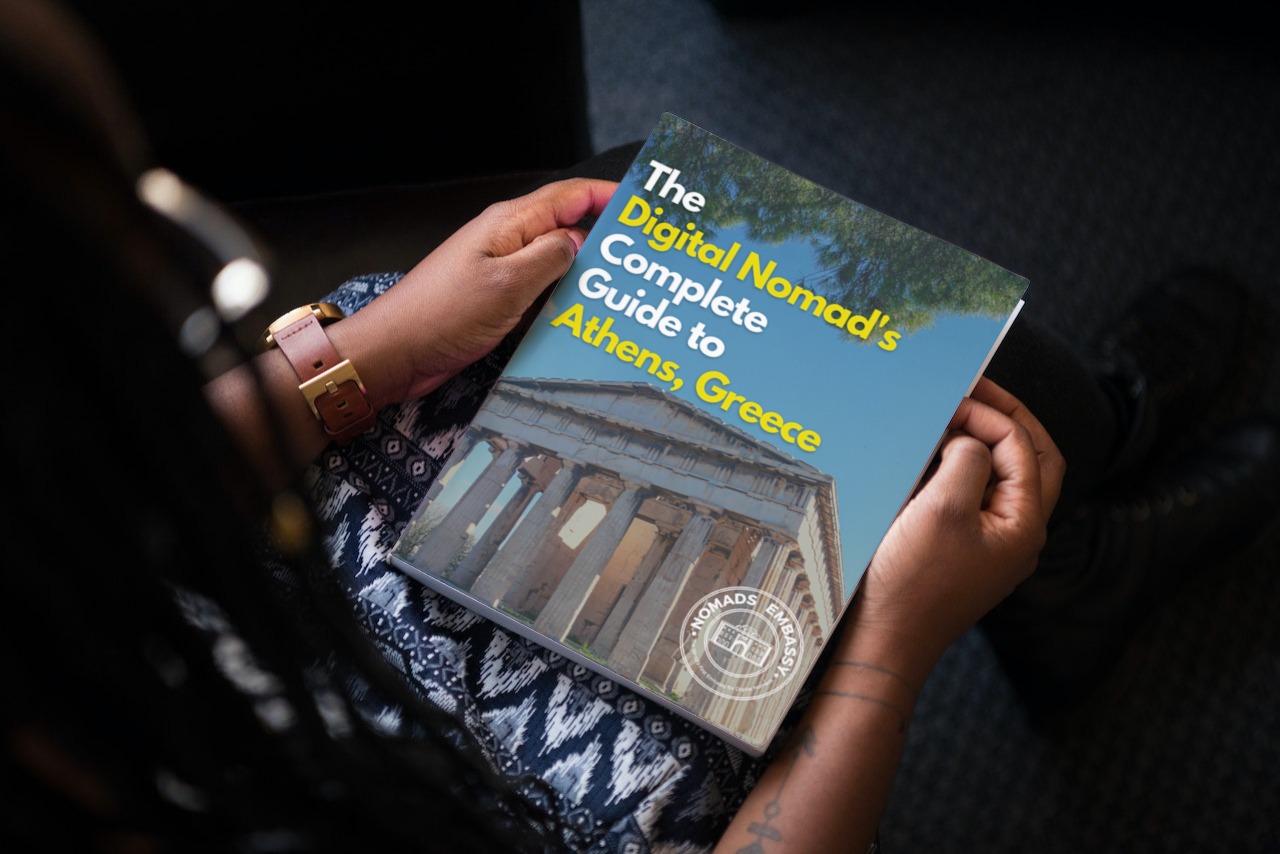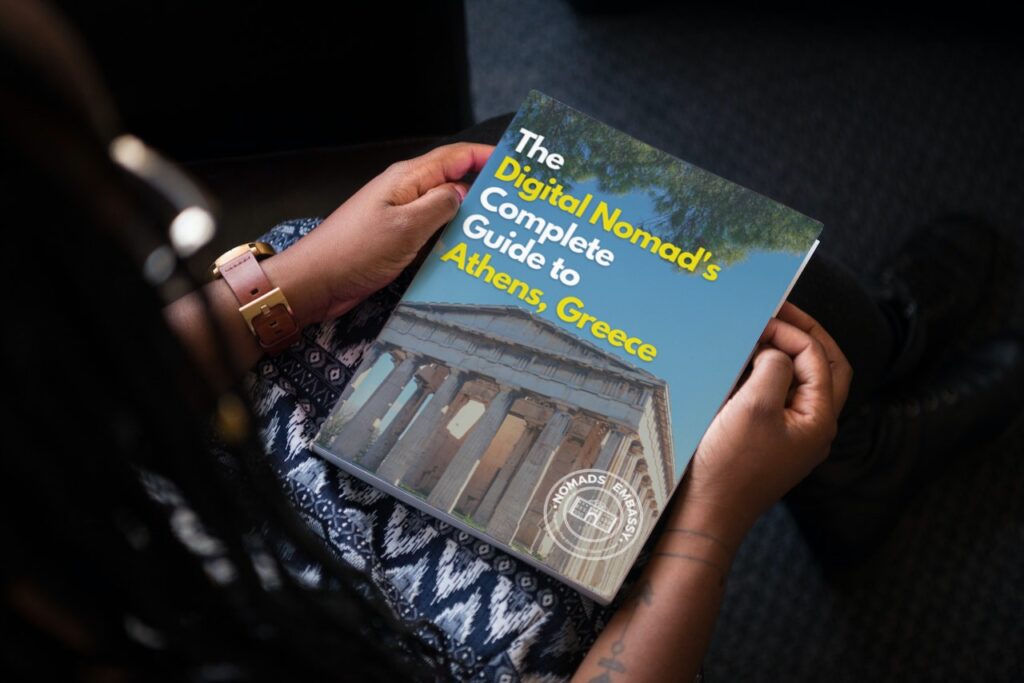 The Digital Nomad's Guide to Athens, Greece
I just gave you a lot of information about Athens for digital nomads, but I have even more to share!
I wrote an 80-page guide about Athens for digital nomads containing everything you could ever need to know about life in this beautiful city.
From how to get from the airport to which neighborhoods to stay in to secrets that could save your life to the most Instagrammable spots in the city, this guide has it all!
As a thank you for supporting Nomads Embassy, we're making this guide available to you for FREE. (Yes, you heard that right!)
Download Your Free Athens for Digital Nomads Guide
Live in Greece for Two Years with Nomads Embassy
Does Greece sound like somewhere you want to live for the next two years?
With the Greece digital nomad visa and Nomads Embassy's help, you can!
See if you're eligible to apply for the digital nomad visa in just 15 minutes with Nomads Embassy.
Simply complete the contact form in this article to request a consultation with our immigration lawyers to get started.