An Airbnb, hostel, or hotel isn't always the most comfortable environment to work remotely from while in Greece. With so many digital nomad-friendly cafes in Athens, remote workers can explore the city while still being productive.
Greece is known for its delicious coffee, especially frappes, traditional Greek coffee, freddo espresso, and freddo cappuccino. As you walk through the beautiful neighborhoods of Athens, you'll find plenty of remote workers on their laptops, sipping on coffee and nibbling on a tasty pastry.
While there are plenty of cafes in Athens, they aren't all necessarily ideal for digital nomads. We've scouted the most popular neighborhoods and found the best cafes in Athens for digital nomads, so you can save time and increase your productivity.
Plus, with the Greece digital nomad visa, you'll have even more time to explore these great cafes and bars in Athens.
Digital Nomad Cafes in Athens
To help you manage your time while working remotely in Athens, we've put together a list of the best digital nomad cafes in Athens.
Our criteria are quite simple. They must have fast, reliable wifi, comfortable seating, available outlets, and a great environment for working remotely.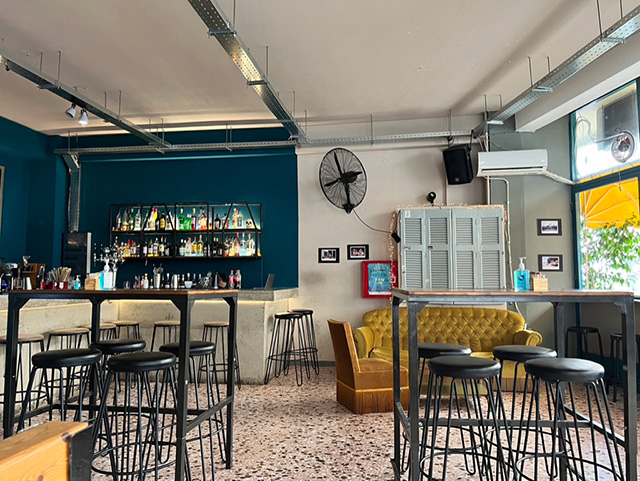 1. Papia (ΠΑΠΙΑ)
Location: Aftomedontos 4, Athens 116 35
In Greek, papia means "duck," so don't be surprised when you notice this all-day bar and cafe decorated with fun rubber duckies.
Serving coffee, tea, hot chocolate, lemonades, and cocktails, you can set up for hours in this trendy cafe to work remotely. With cushioned booths, high-top tables, and a plushy couch to relax on, you'll find many digital nomads and students typing away on their laptops.
There is also a friendly cafe cat that will likely jump up on your seat next to you, asking for a scratch behind the ears.
Papia does not serve food but will provide a cookie with your coffee or chips with an alcoholic beverage.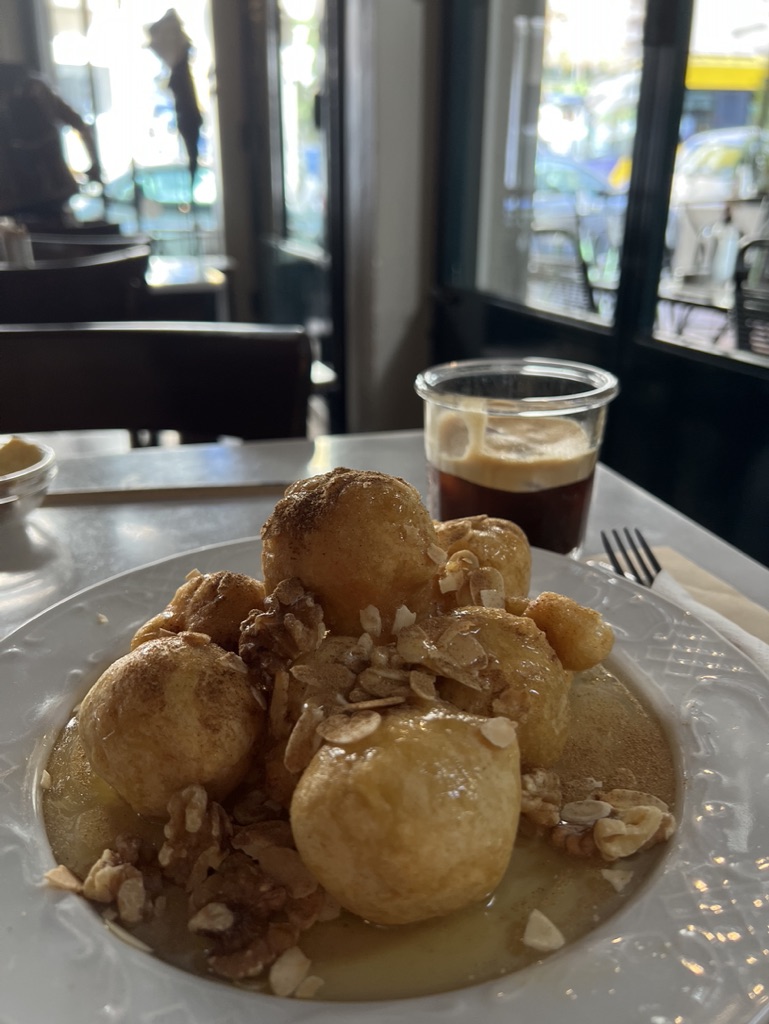 2. The Louvre (Το Λούβρον)
Location: Eratosthenous 6, Athens 116 35
The Louvre is another all-day cafe and bar that is great for digital nomads looking to get some work done for a couple of hours. They serve coffee, cocktails, breakfast, and mezze, which are small plates of traditional Greek food.
The wifi is reliable, and the seating, especially the booth against the wall, is comfortable. On warmer days, you can sit outside under the canopy of green vines and string lights.
It's a great place to pull out your laptop while enjoying a delicious meal or snack. We recommend the sweet loukoumades, which are fried donut balls covered in honey, cinnamon, and nuts.
The only downside to The Louvre is that it could benefit from more outlet access. However, if you come with a fully charged laptop, you can definitely get some work done here for a couple of hours without interruption.
3. Plegma Coffee & Living
Location: Eufranoros 10, Athens 116 35
This pleasantly aesthetic cafe doubles as a boutique store selling artisan-made jewelry, home items, notebooks, and more. With great natural lighting, soft neutral colors, and extremely friendly staff, digital nomads will feel right at home at Plegma Coffee & Living.
You'll find many other students and remote workers sitting in the cafe, working and studying while enjoying a cup of coffee or a savory breakfast platter.
The wifi is fast, and the seating is comfortable. There are even some tables on the sidewalk under umbrellas for those warmer days.
There are two things we would like to mention about Plegma, though. You'll have to be strategic with where you sit if you want to be near an outlet. And they are closed on Mondays.
Other than that, we can't recommend Plegma enough as one of the best digital nomad cafes in Athens!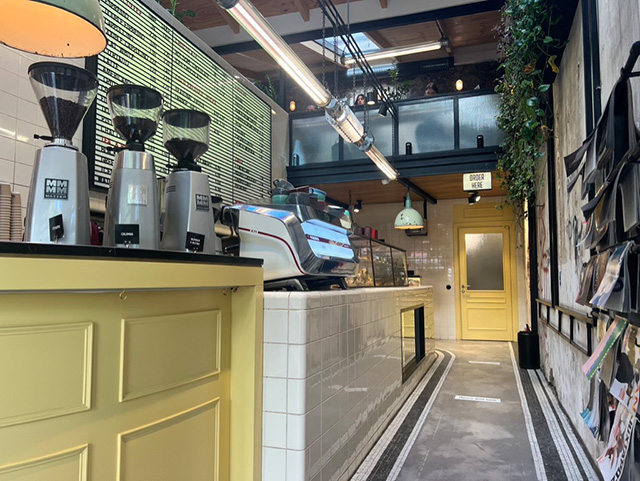 4. Dope Roasting Co.
Location: Vissis 25, Athens 105 51
There are three Dope Roasting Co. locations throughout Athens, but just one of them is digital nomad-friendly. Located in the center of the city, this cafe has plenty of seating, both indoors and outdoors, and outlet access. 
There is even a second floor with high-top seating to overlook the rest of the cafe, which is super comfortable for digital nomads who really need to focus and want to stay away from a busy crowd ordering coffee.
Offering a variety of coffee roasts, coffee drinks, pastries, and sandwiches, including bagels, Dope Roasting Co. is one of our favorite places to set up our computers and knock out a few hours of work.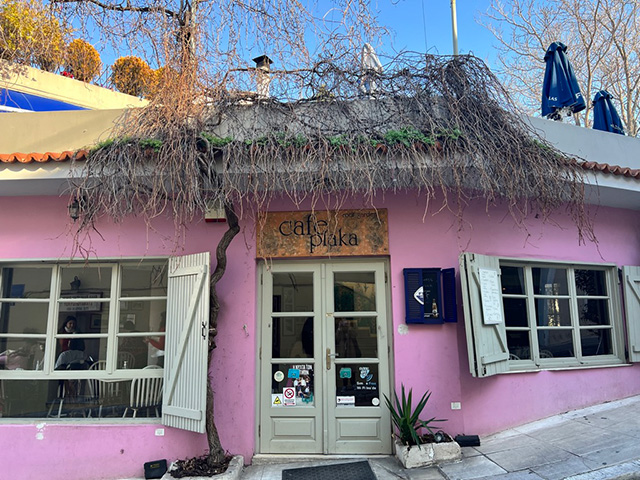 5. Cafe Plaka
Location: Tripodon 1, Athens 105 58
In the heart of one of the most popular and beautiful neighborhoods in Athens, Cafe Plaka is hard to miss with its bright pink exterior and white window shutters.
What is especially welcoming about Cafe Plaka is the rooftop terrace overlooking the Plaka neighborhood and the rest of central Athens. On the lower level, you'll find plenty of seating and even a wood-burning fireplace to stay warm during the winter months.
You can order anything from traditional Greek coffee to hot chocolate to wine and pair it with delicious breakfast, lunch, and dinner meals.
Cozy and quiet during the week, digital nomads love coming to Cafe Plaka to cross things off their to-do lists.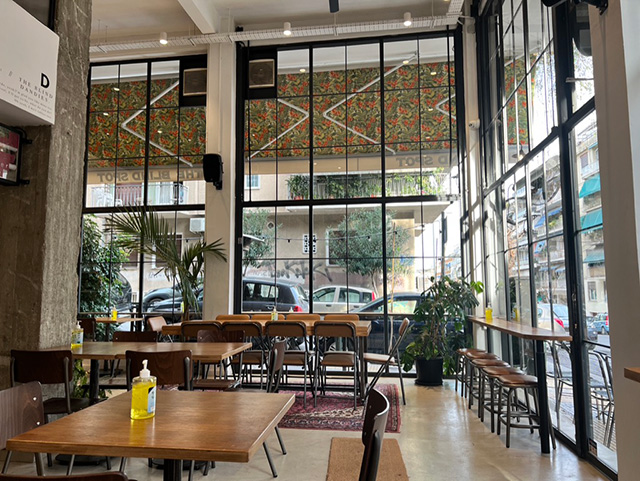 6. The Blind Spot
Location: Eufranoros 22, Athens 116 35
Located in the neighborhood of Pangrati, The Blind Spot is a trendy cafe and brunch place for digital nomads to set up shop. With floor-to-ceiling windows and a great playlist, you'll appreciate the natural light.
While The Blind Spot has reliable wifi and great seating for digital nomads to work from their laptops, it can get quite busy during the morning and afternoon for lunch. So make sure you bring some headphones if you get easily distracted by people enjoying a meal with friends and colleagues.
We definitely recommend ordering an omelet and juice for breakfast while working from here one morning.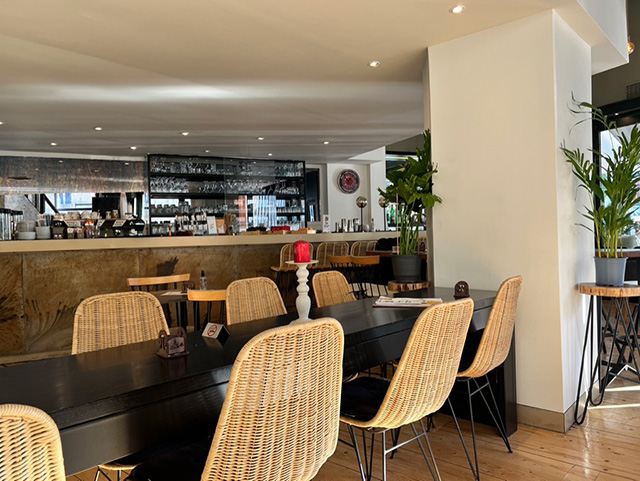 7. Π=3.14 All Day Bar
Location: Vriaxidos 23, Athens 116 34
A beautiful venue, Pi All Day Bar is an excellent place to work remotely as a digital nomad in Athens. Located in the Pangrati neighborhood, this cafe is open all day, staying true to its name, until one in the morning!
You'll find people coming in and out all day ordering coffee and cocktails, working remotely, or with friends catching up on the latest gossip. Fairly quiet during the day, the evenings can get a bit loud with music and crowds.
You can order anything from coffee to smoothies to alcoholic beverages. If you order a cappuccino, you may even get some pretty art as a surprise in the foamy milk.
8. The Rabbit Punch
Location: Ευφράνορος 40, Athens 116 35
Sip on a specialty coffee throughout the day while working remotely from The Rabbit Punch. With plenty of comfortable seating, both at tables and high-top bars along the windows, you'll quickly realize why this is one of the best digital nomad cafes in Athens.
Open all day; you can order breakfast, brunch, and lunch, as well as finely crafted cocktails here. We recommend trying their sweet pancakes for breakfast before starting to open your laptop to check your email.
With reliable wifi and other digital nomads working in the cafe, The Rabbit Punch is a comfortable and productive space for remote workers in Athens.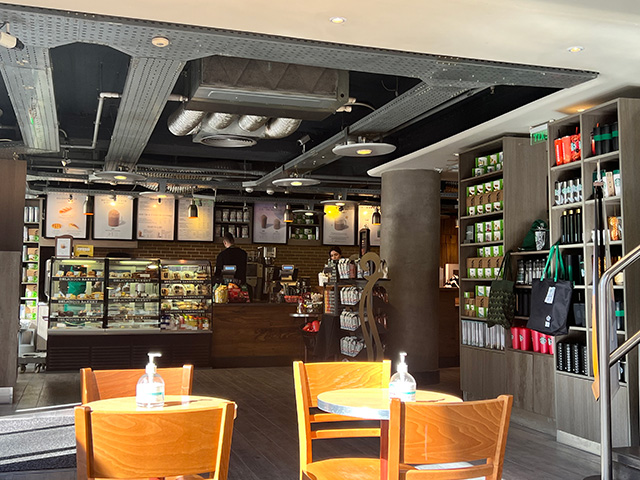 9. Starbucks
Locations
Mitropoleos 80, Athens 105 56
Korai 4, Athens 105 64
Καραγιώργη Σερβίας, Pl. Sintagmatos, Athens 105 63
Michalakopoulou 27, Athens 115 28
Every digital nomad can count on the tried and true Starbucks chain to order a specialty coffee, get free wifi, and sit for hours at their laptops. Sometimes going to a reliable cafe chain to work is just what a digital nomad needs to be productive and have some familiarity in a new country.
There are four Starbucks locations in central Athens. The largest location is Monastiraki, or the first address listed above, a popular square with plenty of restaurants and shops beneath the Acropolis. With two floors and plenty of seating and outlets, it's a popular spot for students and digital nomads alike.
While we definitely encourage you to support the small cafes and businesses in Athens during your time as a digital nomad in Greece, there's no shame in going to a Starbucks and ordering your favorite specialty drink.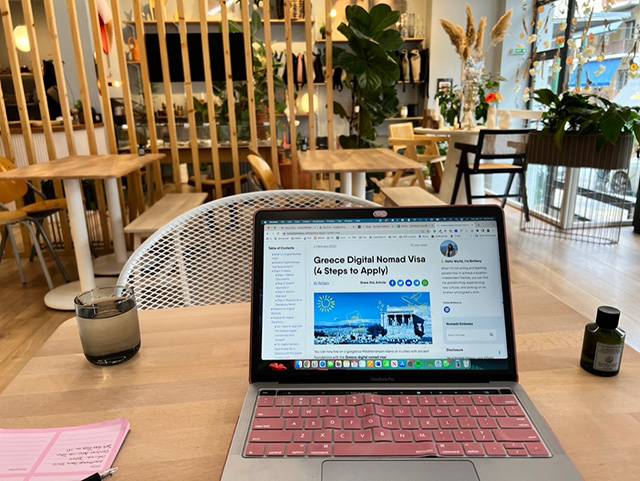 Why Digital Nomads Choose to Work from Cafes in Athens
If you're staying in an Airbnb or hotel or have an apartment in Athens, you may be wondering why digital nomads would work from cafes.
Truthfully, working from cafes in Athens can boost your happiness and productivity for an affordable price. It's a healthy way to get out and explore a new city while still making sure you're getting your work done.
Remote Working Community
If you're traveling alone as a digital nomad, working from cafes in Athens could be a great opportunity to meet new people. You'll find other remote workers sitting in cafes and may find the chance to strike up a conversation.
Even if you aren't looking to make friends, just being around other people who are working can help you concentrate and feel like you're part of a community.
Greek people are also extremely friendly and are happy to have a light conversation with you about your time in their beautiful country.
Get Out of the House
It's a bit contradictory to stay in your Airbnb all day working remotely as a digital nomad. Part of the reason you're living a digital nomad lifestyle is to explore new cities and cultures.
One of the best ways to do this is by venturing out to a new cafe twice a week. You'll see different parts of the city, learn how to get around, and observe the local life without sacrificing precious working hours.
More Affordable Than a Coworking Space
While there are coworking spaces in Athens available for digital nomads, sometimes working from cafes is a more affordable option. Rather than paying a daily or monthly fee to use a space, you just have to purchase a beverage and some food.
So, not only do you get to enjoy a delicious meal, but you can stay in the cafe for a few hours to work remotely.
Just think, instead of paying 18€ per day for a coworking space, you can spend just €8 for a coffee and a pastry at a local cafe to spend a couple of hours there.
Discover More Digital Nomad Recommendations with Nomads Embassy
While exploring a new city and country is a fun and exciting part of living the digital nomad lifestyle, sometimes you just don't have time to waste trying a new cafe or accommodation.
When you stay in touch with Nomads Embassy by joining our newsletter and exclusive online community, you don't have to waste time finding digital nomad-friendly places.
With articles like this, we're sharing the world's best digital nomad destinations, businesses, cafes, and more, so you can experience better productivity and less trial and error.
Join the newsletter for the latest digital nomad news and recommendations today!