Last Updated on 4 May 2023 by Brittany
Scouting out a new destination as a remote worker is like having a second job. There are hours of research and reading to be done. To help you with your search, I'm sharing why I recommend Crete for digital nomads, one of Europe's up-and-coming digital nomad destinations.
At the beginning of 2023, I spent a month living in Heraklion, Crete, the island's largest city, working remotely. While researching islands in Greece to stay as a digital nomad, I settled on Crete for two reasons. 
It had the most Starbucks locations
I found an incredible deal on Airbnb
Don't come at me about the Starbucks thing! As someone who has been living in certain countries where cafe laptop culture isn't truly accepted, I was determined to be near some Starbucks where sitting for hours on a computer wasn't offensive. 
Plus, with the Greece digital nomad visa available, it was our duty at Nomads Embassy to scout out remote worker-friendly locations and meet with our hand-selected immigration lawyers for our members. 
During our time in Crete, we fell in love with the island – even though we were there in the off-season. While it isn't your typical Greek island with white buildings and blue roofs, Crete has so many gorgeous towns and nature to offer digital nomads.
In this blog post, I'm sharing my firsthand experience as a digital nomad in Crete, along with tips on how to make the most of your time there. Plus, there's a free surprise at the end just for Nomads Embassy readers!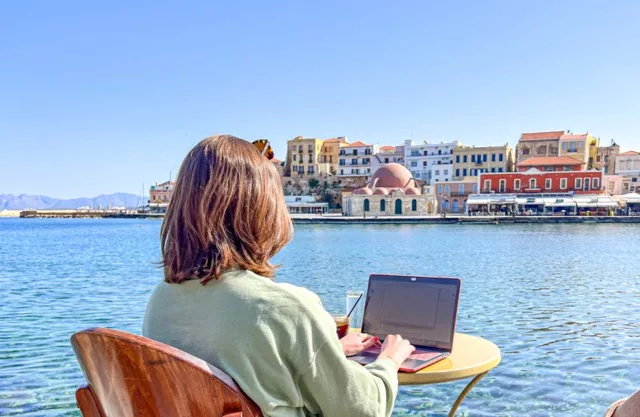 A Day in My Life as a Digital Nomad in Crete
As someone who thrives with a consistent routine, I still find it exciting to adapt my routines depending on my destination. While the base of my routine is pretty much the same, there are some things I add or take out considering where I'm located.
In Crete, I was able to keep my daily routine while traveling, except I was able to include a daily walk near the sea. If you've ever been sitting at a computer for hours and need to recharge for the rest of the day, there's nothing better than strolling along a seafront promenade after lunch.
My days would be spent wandering Heraklion for a cafe to work from, reading in the park, or visiting the stores that lined each street in the center.
During my freetime, I would visit the museums, such as Rocca a Mare or the Archeaological Museum of Heraklion, or exploring other cities in Crete on the weekends.
Below is a quick breakdown of what my daily routine consisted of:
7:30 AM Wake up
8:30 AM Breakfast at a local cafe and morning walk
10:00 AM Work from a cafe
2:30 PM Grab a gyro for lunch in the city center
3:00 PM Visit a museum or archaeological site or walk by the sea
5:00 PM Stop in a cafe or bar to finish working
9:00 PM Enjoy a delicious dinner
Of course, your daily routine in Crete may be very different depending on your interests and habits. That's one of the reasons I can't recommend Crete for digital nomads enough; there is something for everyone here to enjoy.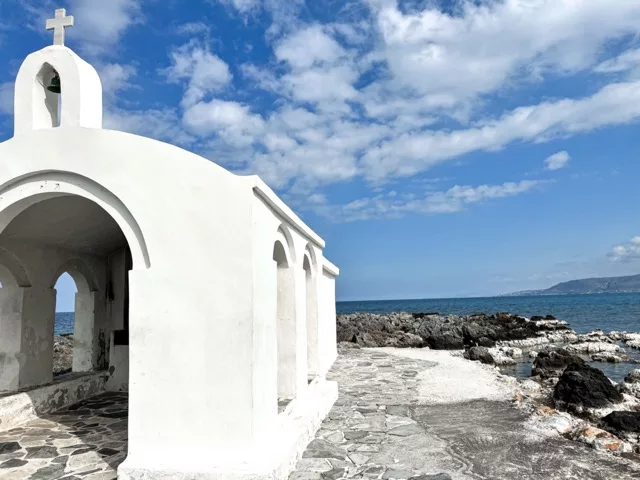 Why I Chose Crete as a Digital Nomad
With so many metropolitan cities with great infrastructure and coworking spaces around the world, you may be wondering why I chose to spend a month on the largest Greek island as a digital nomad.
Firstly, one of the joys I have as a digital nomad is getting to change my environment every month or two. While I had spent the previous month in Athens, one of the largest capital cities in Europe, I wanted something with a slower pace and near the sea. 
Not only does Crete have stunning views to offer, but it has all of the necessities and infrastructure to keep digital nomads productive and happy.
Ideal Weather
Spending the end of February and the beginning of March in Crete was the perfect choice for me. I'm not someone who thrives in the cold weather during the winter. So, Crete was my escape for sunshine and mild weather.
The ideal weather is perfect for digital nomads who enjoy spending time outdoors; whether that's hiking, laying on the beach, reading in a park, or sitting at a cafe working from their computers.
With 300 days of sun, Crete is one of the best places you can go within Europe for excellent weather year-round.
Diverse Landscapes
Bustling cities, sleepy rural towns, snow-capped mountains, sandy beaches, and lush forests for hiking, Crete literally has it all!
I've never been anywhere that I could see mountains with snow on them while basking in the sun on a sandy beach and dipping my toes in the cool seawater. 
When I say there is something for everyone in Crete, I truly mean it. That's why I'm so encouraging about Crete for digital nomads! No matter your background, hobbies, or job, you can find happiness in Crete.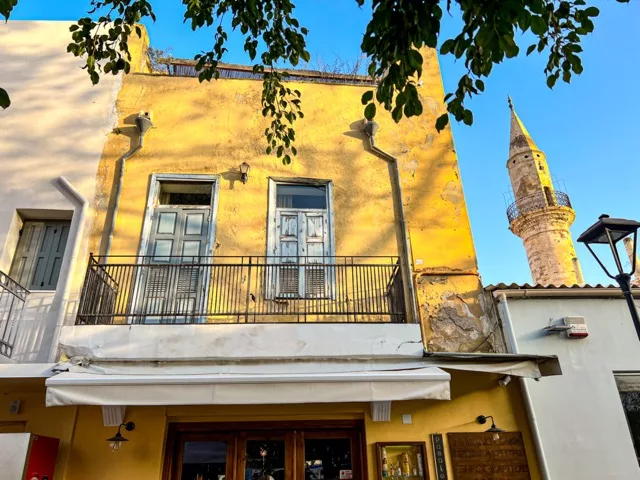 Affordable Cost of Living
Compared to other Greek islands and Athens, Crete has a fairly affordable cost of living.
You can expect to pay less for meals while dining out and groceries, especially when going to the local farmers' markets.
However, rent can vary depending on the season. Expect much higher prices for Airbnb and short-term rentals from May to August as this is when vacationers come to enjoy Crete's sunshine and beauty.
Reliable Wifi and Connection
For an island in the middle of the Mediterranean Sea, Crete has some pretty reliable wifi. Mobile devices will get 5G connection, which you can then use as a hotspot for your computer.
Most cafes and restaurants also have strong wifi, perfect for answering emails and maybe even taking a video call or two.
The main cities, such as Chania and Heraklion, also offer public wifi networks in the centers. This is super convenient if you wish to work from a park or a cafe that, in the rare instance, doesn't have wifi.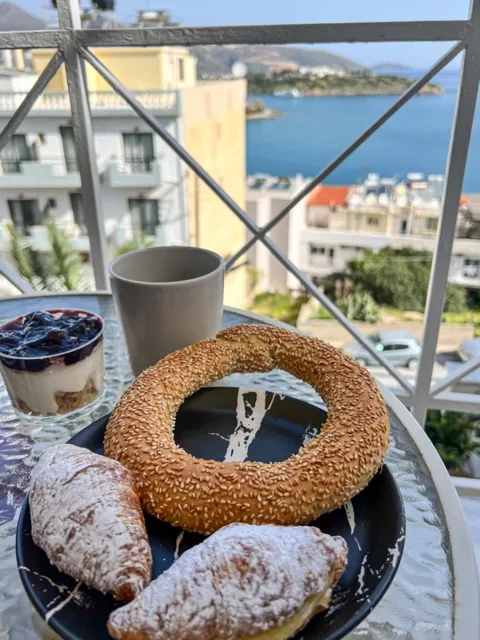 Incredible Food
If you think Greek food is good – just wait until you try Cretan food!
The Cretan diet is full of Mediterranean specialties, including olives, feta cheese, fish, eggplant, peppers, red meat, and tasty bread. In fact, Cretans consume the most olive oil (30 liters per person on average) annually than any other European destination.
I also have to mention the desserts in Crete. Not only are they DELICIOUS, but it was quite often that restaurants would serve us a generous dessert on the house with a small bottle of raki, an after-dinner digestif.
If you're a digital nomad that enjoys trying local delicacies and eating incredible food, then you'll surely be in heaven in Crete.
Interesting History
Crete's history dates back almost 7,000 years. The first civilization was the Minoans, and you can still see ruins from their empire, including the Palace of Knossos.
With thousands of years of history with multiple cultures spanning from the Ancient Greeks, Romans, Byzantines, Venetians, Turkish, and others, you can experience and learn all about the wars, conquerings, and more that took place on Crete.
Whether you're a history buff or not, there are interesting stories and myths, including the birth of the god Zeus, that belong to this island.
Cafe Culture
While the laidback island life is definitely present in Crete, you can still find remote workers, students, and other digital nomads working on their laptops from cafes.
I even wrote an article about my favorite cafes in Heraklion to work from to help you narrow down your options when you visit. 
Sitting at a cafe for hours is not a problem in Crete! As long as you keep ordering delicious pastries and coffee, then you're welcome to stay, enjoy, and work.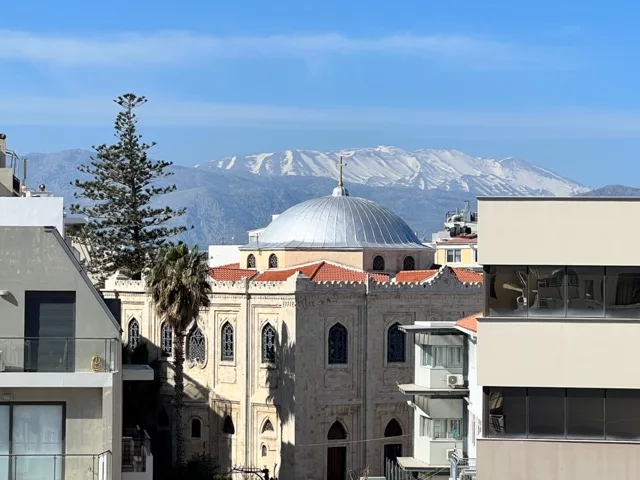 International Community
I'm not the first to recommend Crete for digital nomads, as there is already a community of remote workers living there. But there are also retired expats and international students attending the local universities.
So, you can expand your friendships and network with people from all over the world on this one single island.
English is Widely Spoken
Crete is a popular tourist destination, so many of the residents speak English very well. Pretty much all throughout the most visited parts of Greece, you will find English widely spoken.
Having some language familiarity can make it easier and more comfortable for digital nomads living in a foreign country. However, it's always fun to learn some phrases in Greek while you're there!
Common Questions About Crete for Digital Nomads
When I spoke to my friends about going to Crete, they had a ton of questions for me about life as a digital nomad there. Below are some of the most commonly asked questions for you to consider when deciding on your next digital nomad destination.
How Expensive is Crete?
Compared to Athens, Crete is definitely more affordable in terms of eating out and tourist sites. However, Crete's prices can increase during the tourist season, including rent and sometimes food.
When is Crete the Hottest?
Crete's hottest months are July and August with an average high temperature of 29 degrees Celcius.
However, don't let this scare you away! There is nothing better than taking a dip in the sea to cool down.
Which Side of Crete is the Best?
People have split Crete into two sides, the east and the west, with Heraklion in the middle. In the west, you will find more developed towns and cities. While in the east, you will find more rustic and rural landscapes with smaller more remote towns.
To say which side is best depends on what you're looking for. In my opinion, I enjoyed the east side more, but only because I was craving some peace and quiet in nature for a few days.
Where to Stay in Crete as a Digital Nomad?
The top cities for digital nomads in Crete are Heraklion, Chania, Rethymno, and Agios Nikolaos.
They are all walkable, have great cafes and restaurants, and are bustling with exciting things to do.
Where is Crete Located?
The island of Crete is located in the eastern Mediterranean Sea between Greece and Libya and Egypt. It is less than an hour flight or a 12-hour overnight ferry ride from Athens.
Crete is part of Greece, which is in the European Union and part of the Schengen Area.
What Time is it in Crete?
Crete's timezone is Eastern European GMT+3.
In other words, it is seven hours ahead of New York and the US east coast and nine hours behind New Zealand.
Is Crete Safe for Digital Nomads?
Crete is considered to be very safe for both tourists, digital nomads, and residents. 
You will feel just as safe walking around at night as you do walking around the cities in broad daylight. As a woman exploring cities and cafes alone some days, I never feel worried or unsafe during my time in Crete.
What Language Do People Speak in Crete?
The local residents speak Greek in Crete. However, there is a specific Cretan dialect that is similar to Greek that you may hear during your time there.
Fortunately, English is widely spoken amongst those who live in Crete, so it is easy to navigate the island as a digital nomad.
Does Crete Have an Airport?
Yes, Crete has two international airports in Chania and Heraklion. There are daily flights out of both, so there is no trouble traveling to and from the island.
What is There to Do in Crete as a Digital Nomad?
What isn't there to do in Crete as a digital nomad?!
From visiting the plethora of museums, the hundreds of beaches, eating at traditional taverns, and exploring historic cities, boredom is not found here.
In fact, the surprise I've included at the end of this blog post goes into detail about everything there is to do in Crete as a digital nomad.
How Can I Move to Crete as a Digital Nomad?
It isn't uncommon for people to go to Crete and never want to leave.
Luckily, remote workers can temporarily move to Crete with the Greece digital nomad visa!
If you can prove that you earn at least €3,500 per month working remotely, then you can live in Greece for two years, with the option to renew it. You can even put yourself on a path to permanent residency with this digital nomad visa too. 
One of the best features of Greece's digital nomad visa is that you can apply for it while already in Greece as a tourist. You'll simply submit your paperwork for a two-year residence permit under the digital nomad visa law.
This can all be a bit complicated, though. That's why Nomads Embassy has partnered with hand-selected immigration lawyers right in Athens to assist you with your application!
See if you're eligible for the Greece digital nomad visa now!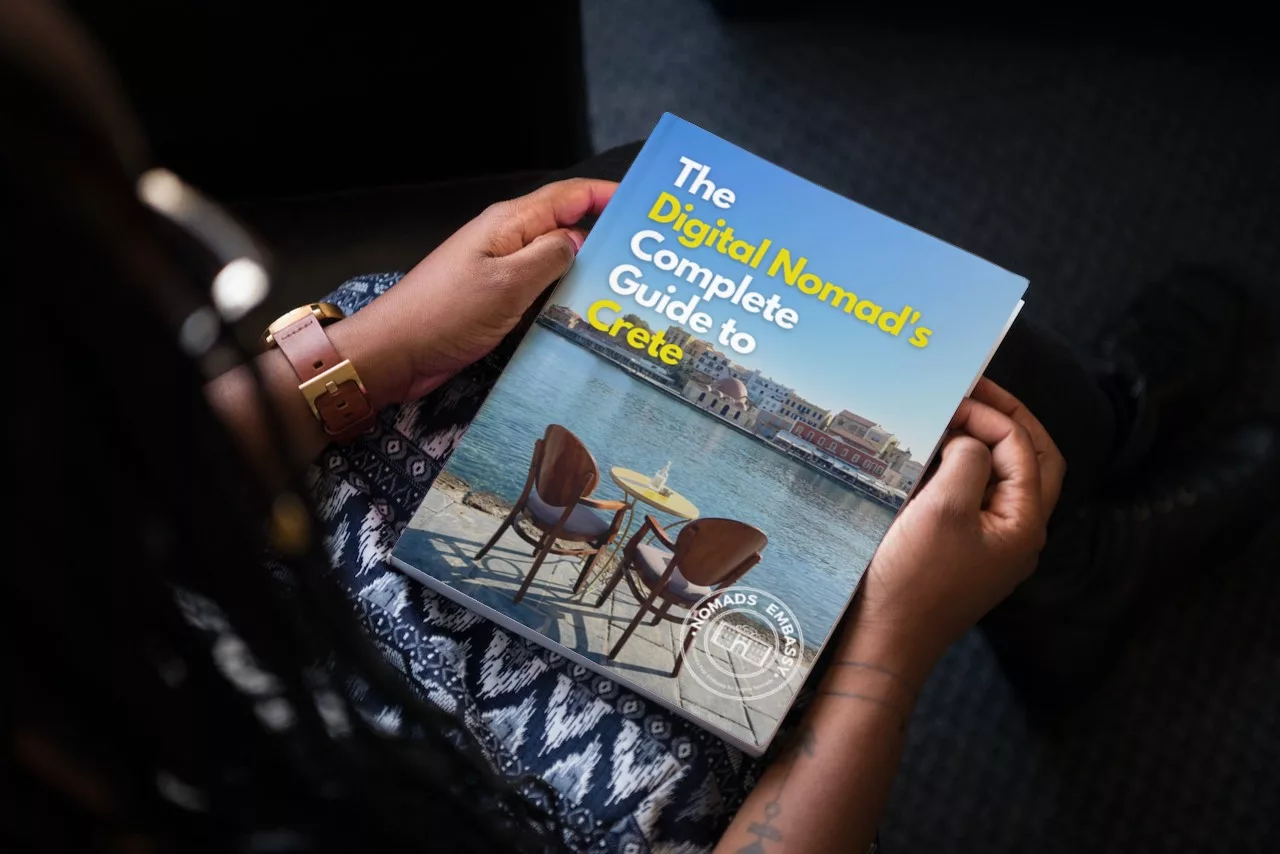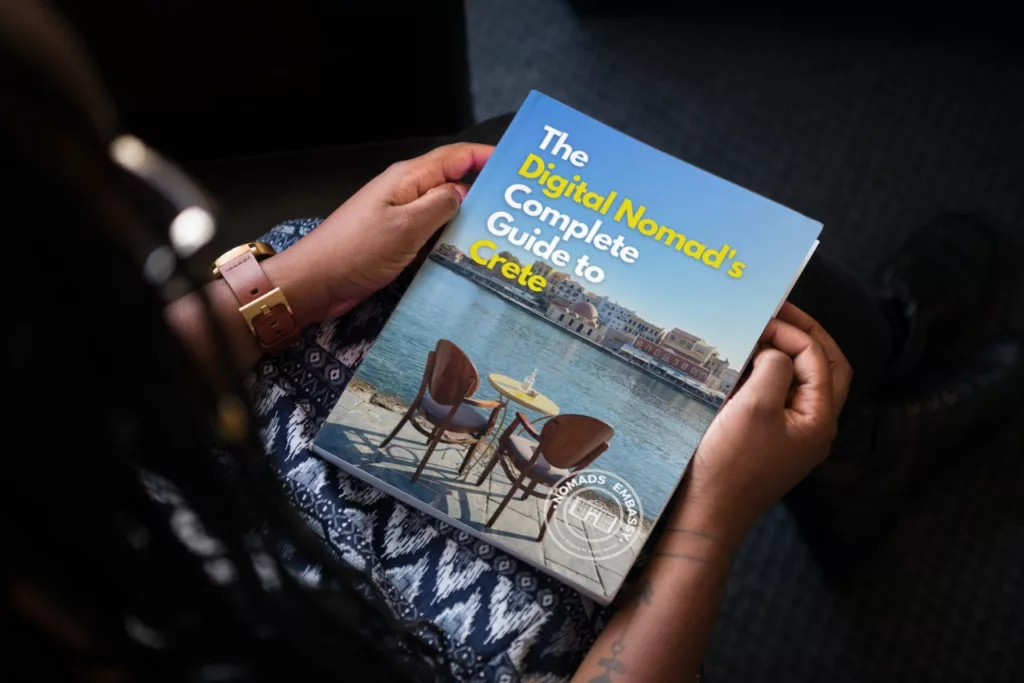 The Digital Nomad's Guide to Crete
I just gave you a lot of information about Crete for digital nomads, but I have even more to share!
I wrote an 76-page guide about Crete for digital nomads containing everything you could ever need to know about life in this beautiful city.
From how to get from the airport to which neighborhoods to stay to secrets that could save your life to the most Instagrammable spots in the city, this guide has it all! 
As a thank you for supporting Nomads Embassy, we're making this guide available to you for FREE. (Yes, you heard that right!)
Download Your Free Crete for Digital Nomads Guide 
Live in Greece for Two Years with Nomads Embassy
Does Greece sound like somewhere you want to live for the next two years?
With the Greece digital nomad visa and Nomads Embassy's help, you can!
See if you're eligible to apply for the digital nomad visa in just 15 minutes with Nomads Embassy.
Simply complete the contact form in this article to request a consultation with our immigration lawyers to get started.