Nomads Embassy: The World's First Embassy for Digital Nomads simplifies the digital nomad visa application process by connecting remote workers with hand-selected immigration lawyers through an innovative and streamlined platform.
Nomads Embassy strives to get 20,000 digital nomad visas by 2025.
How Nomads Embassy Started
Jack Gomarasca and Brittany Loeffler have been working remotely and traveling the world since 2018. At the beginning of their journeys, they often found themselves relying on travel blogs and forums for important information about traveling and living as a digital nomad.
There was no official point of reference to go to for important information, such as visas and paying taxes as a digital nomad.
After a misunderstanding about how tourist visas worked in Europe, they were told they had to leave the Schengen Area in 48 hours to avoid overstaying.
As they sat on a 10-hour flight to Mexico in the middle of the COVID-19 pandemic, they decided it was essential for digital nomads to have access to credible visa and tax information all in one place.
And so Nomads Embassy was born.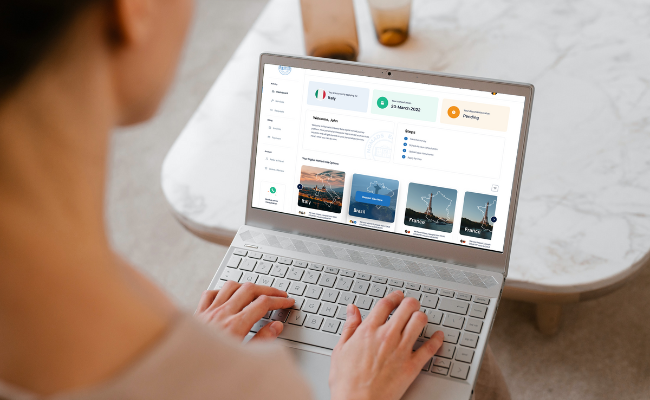 How Nomads Embassy Helps Digital Nomads Worldwide
With over 30 nations offering digital nomad visas to remote workers, many digital nomads are curious about relocating to a new country temporarily.
Applying for visas can be extremely complicated. Many digital nomads find themselves giving up on their applications after running into a couple of obstacles.
Nomads Embassy makes applying for digital nomad visas easier than ever with an innovative platform and strategic partnerships.
Hand-Selected Immigration Lawyers
Digital nomads can now be matched with hand-selected, local immigration lawyers to assist them in their digital nomad visa application and relocation to a new country.
Secure and Innovative Visa Application Platform
With Nomads Embassy's secure platform, digital nomads can upload their documents for their lawyers to review and use to submit the visa application – cutting down the visa application process from three weeks to just seven days!
We're More Than Just a Platform
Nomads Embassy is so much more than a visa application platform for digital nomads and immigration lawyers.
We are a strong community of like-minded individuals and a point of reference for digital nomads worldwide.

With our exclusive online community, we're connecting location-independent travelers to share information, and experiences, and make new friends abroad.