As a digital nomad, you don't want to settle down somewhere with nothing to do when you aren't working. Fortunately, remote workers visiting a small Mediterranean island are finding tons of things to do in Malta to fill their time and create incredible memories.
As the next digital nomad hotspot in Europe, English- speaking Malta has been a favorite destination for remote workers for years. With its ideal 300 days of sunshine during the year, crystal clear water, iconic cities, and delicious cuisine, Malta is the perfect place for digital nomads.
Aside from the country's fast 5G connection and a large community of traveling remote workers, there are exciting and unique things to do in Malta during your stay.
Through cultural activities, museums, and exploring new cities with convenient public transportation, digital nomads will hardly run out of things to do in Malta.
Are you ready to have a fulfilling and memorable time in Malta? Make sure to add these activities and sites to your itinerary!
Malta for Digital Nomads
It's no secret that Malta is a favored destination amongst digital nomads who are looking for community, strong wifi, gorgeous scenery, and an affordable place to live.
There is quite literally everything you could ever need as a digital nomad in Malta. While small in size, this country is might in innovation, technology, and remote working.
Scattered throughout the main island of Malta and its sister island, Gozo, are digital nomad-friendly cities with hubs of cafes and coworking spaces to help increase productivity.
The public transportation systems include buses and ferries, creating convenient and affordable routes to travel anywhere your heart may desire. For most digital nomads, Malta quickly feels like a home away from home during their stay as they explore and discover the islands.
Maybe, the most inviting feature of Malta for digital nomads, though, is the digital nomad visa they offer remote workers.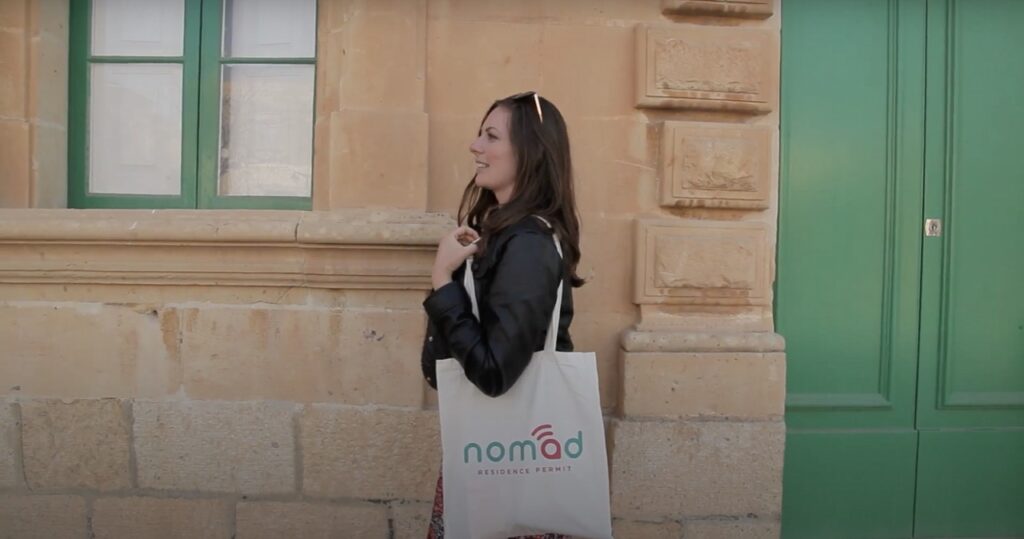 Nomad Residence Permit
With Malta's Nomad Residence Permit, digital nomads can live in the country for one year, with the option to renew it twice to live there for a total of three years.
It's also one of the easiest digital nomad visas to apply for, as the entire process is done online. Applicants will also receive an answer about their application in just 30 days!
For those digital nomads who simply fall in love with Malta, this is an excellent option to stay in the country even longer and fully experience all it has to offer. Let's be realistic; all the things to do in Malta on this list will quickly fill up an entire year!
See if you're eligible to apply for Malta's digital nomad visa here.
Digital nomads and remote workers from the EU, EEA, and Switzerland would not need to apply for the permit due to the freedom of movement rights within the area.
Can't Miss Things to Do in Malta
There is truly something for everyone to do in Malta and enjoy their time. Whether you're searching for a quiet place to work remotely, take incredible photos, learn about local history, or relax in the sun, Malta has it all!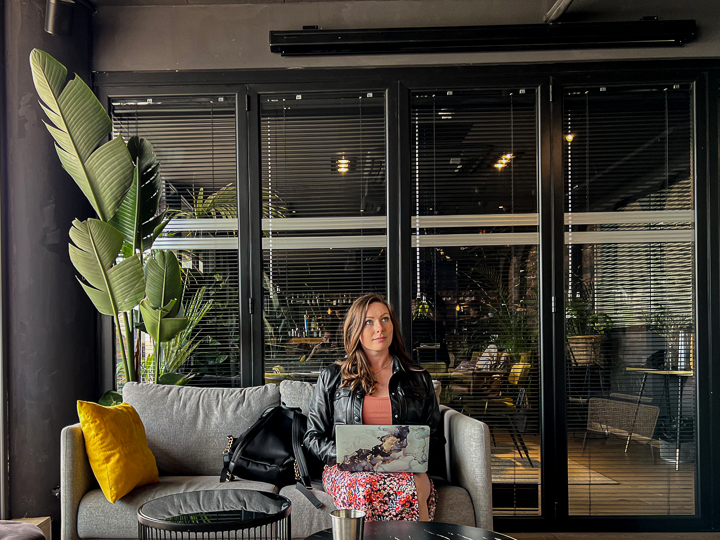 Visit a Coworking Space
Most remote workers and digital nomads who decide to stay in one place for a while decide to get a membership at a coworking space. Not only do coworking spaces boost productivity, but they provide opportunities to network and meet other digital nomads.
Malta is full of incredibly modern and comfortable coworking spaces. You'll find a majority of them in Sliema, Gzira, Valletta, and St. Julian's. Most offer daily and monthly membership passes with access to amenities such as fitness centers, networking events, and parties.
When you first arrive, tour as many coworking spaces as possible before deciding which one is best for your productivity and work.
Relax on the Beach
You can't visit a Mediterranean island without spending some time soaking in the sun on the beach! Malta has a variety of beaches to choose from, including both sandy and rocky beaches.
Some of the best beaches or places to enjoy the sea are St. Peter's Pool, Golden Bay Beach, Mellieha Bay, Gnejna Bay, Pretty Bay, and Ir-Ramla il-Hamra on Gozo. All beaches are free, with a lot having the option to rent a chair and umbrella to stay cool in the sun.
Make sure to stop by the grocery store and pack a picnic before enjoying a delicious and fulfilling day at the beach.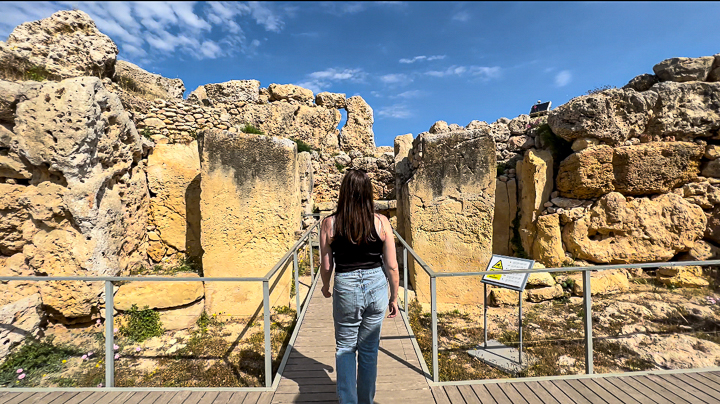 Educate Yourself on Local History
Malta has quite an eventful history with remnants from each important time period still present on the islands.
Starting from neolithic and megalithic periods, you can visit ruins such as the Ggantija temples and Hagar Qim temples.
Moving forward in time, you'll find ancient sites such as St. Paul's Catacombs and incredibly beautiful and intricate churches throughout the Maltese islands.
Known for its strong military history, especially during the reign of the Knights of Malta, you can visit multiple forts facing the sea that were used to protect the land from invaders, such as Fort St. Angelo.
There are also plenty of museums to stroll through and admire old artifacts including the National Museum of Archaeology, the Maritime Museum, the Inquisitor's Palace, and the National War Museum.
After spending time in Malta, you'll have a whole new chapter of history to tell your friends and family about!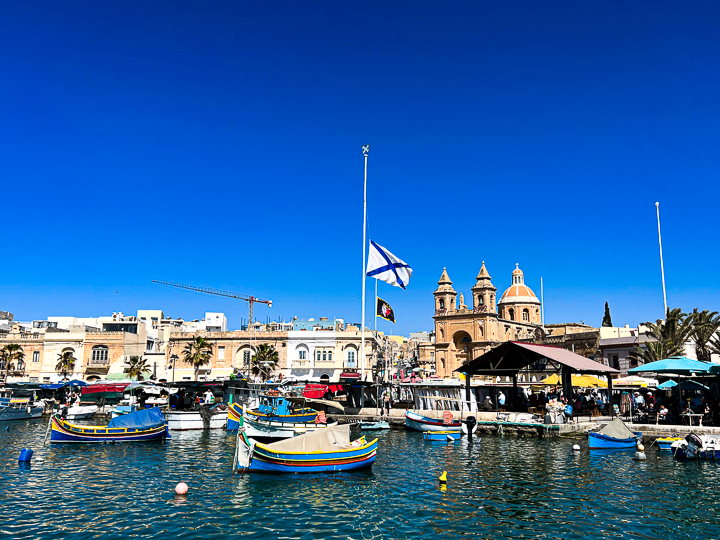 Visit the Sunday Market in Marsaxlokk
Marsaxlokk is an old fishing village with colorful boats known as "luzzu" used to catch local fish each morning. On these boats, you'll notice eyes painted on the front of them. These are to ward off evil and protect the fishermen while out on the water.
Marsaxlokk fishing village is a definite must-visit while you're in Malta. From enjoying a delicious seafood dish along the harbor to walking through the narrow streets, you'll surely enjoy your time here.
Make sure to visit the village on a Sunday morning to get the full experience. Every Sunday the village hosts an outdoor market full of vendors selling freshly caught fish, pastries, herbs and spices, fruit, and vegetables. You can also find household items, souvenirs, and even shoes and clothing from some stalls.
Admire St. John's Co-Cathedral
Built between 1572 and 1577, St. John's Co-Cathedral has a stunning baroque style that will leave you absolutely speechless. Located in the centre of the capital city Valletta, the co-cathedral is one of the top attractions in the area.
Boasting with religious paintings, statues, and artifacts, you could spend tours admiring the intricate details of the sculptures and design. You'll also notice the tombs of the Knights of Malta on the floor of the main sector.
To top it all off, the co-cathedral is home to Caravaggio's famous original paintings The Beheading of St. John the Baptist and St. Jerome Writing.
Smell the Flowers in the Barrakka Gardens
In Valletta, you'll find the gorgeous Upper and Lower Barrakka Gardens. Decorated with flowing fountains, colorful flowers, and views of the sea and neighboring cities, they're peaceful places to read a book, check your emails, or take photos.
In the Upper Barrakka Gardens there is a Saluting Battery, where you'll have the pleasure of hearing cannons go off every day when the clock strikes noon. Uniformed soldiers and guards patrol the garden and stand at attention during this time.
It's a reminder and way to honor Malta's military history and those who served the country in the past.
Walk Through the Silent City of Mdina
The former ancient capital of Malta is Mdina, a walled city on top of a hill made of small, winding streets. Here, you can get lost for hours touring these streets and alleys, only to come across beautiful doors, flowers, and churches around unsuspecting corners.
There are plenty of restaurants, cafes, and gelaterias scattered throughout Mdina. You'll definitely want to peek into some of the incredibly decorated churches and the main cathedral while on your visit too.
The main gate and entrance into the city is quite stunning and is the perfect welcoming to this historic place.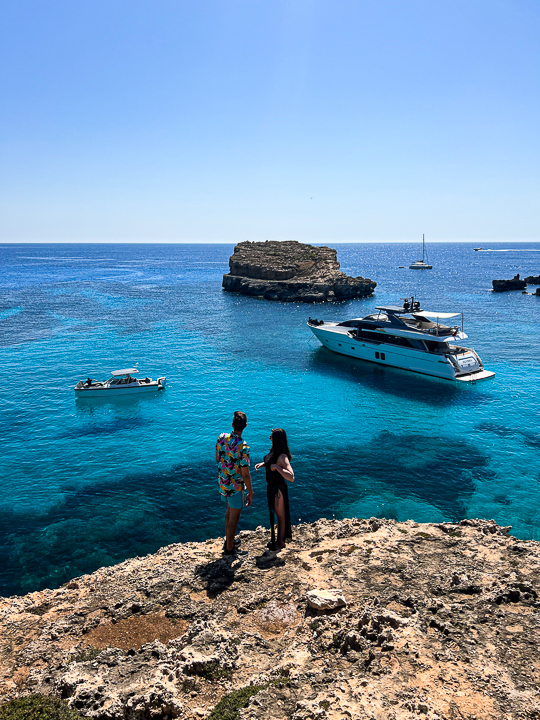 Take a Dip in the Blue Lagoon
Located on the uninhabited island of Comino, you'll find the thrilling electric blue waters of the Blue Lagoon. This is a popular summer destination for visitors to swim in the lagoon and party with their friends.
Grab your towel, sunscreen, and a bottle of water, and find a place to get comfortable on the rocks or the small sandy section near the water. There are chairs and umbrellas that you can rent for the day for even more comfort.
Since there are no cities or towns on Comino, there is a line of food trucks serving fresh fruit, sandwiches, salads, and more for you to satisfy your hunger.
You can grab either a boat from Gozo island or take a Blue Lagoon cruise for a day trip from Sliema on the main island to get to the Blue Lagoon. While you're on Comino, you may also want to stop by the Crystal Lagoon, a more secluded spot that is just as stunning.
Climb the Citadel of Victoria
Victoria is the main city of Gozo and one of the most beautiful in all the islands that make up Malta. Formerly known as Rabat, the city's name changed to honor Queen Victoria in 1887.
In the Cittadella with fortified walls, you'll find a prison from the 16th century where you can see markings from old prisoners, an archaeology museum, a beautiful cathedral, and traditional Maltese restaurants.
From the walls, you can have a 360-view of the small island of Gozo. Resting on a hill right in the middle of the island, you'll be amazed at the astonishing landscape and the blue waters surrounding it.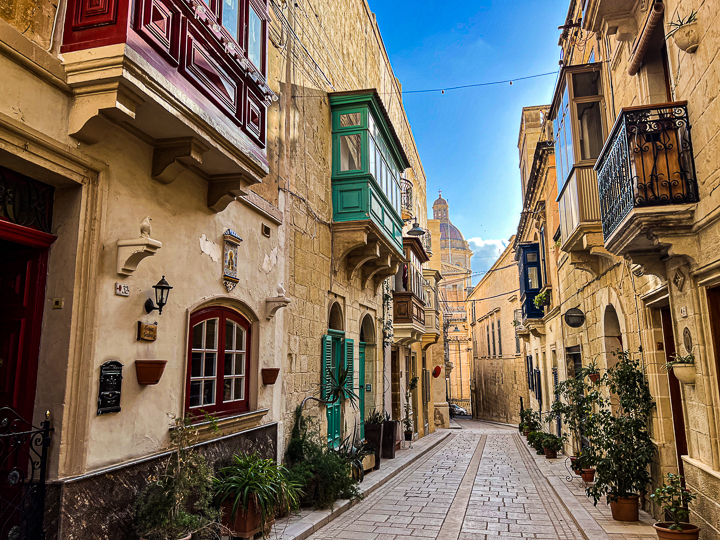 Get Lost in Birgu/Vittoriosa
One of the Three Cities, Birgu, which was also named Vittoriosa in the 16th century, is an excellent day trip while visiting Malta. With narrow streets that twist and turn, it's easy to lose your way in this city.
The unique colorful doors and traditional Maltese balconies hanging over the street are simply beautiful and deserve to be admired. You'll also find one of the oldest houses still standing in the city, tucked between two modern homes.
In Birgu, there is also Fort St. Angelo, the Maritime Museum, and the yacht harbor full of envy-inducing boats. We definitely recommend walking over the bridge to Senglea and enjoy a meal on the waterfront facing Vittoriosa for a spectacular view.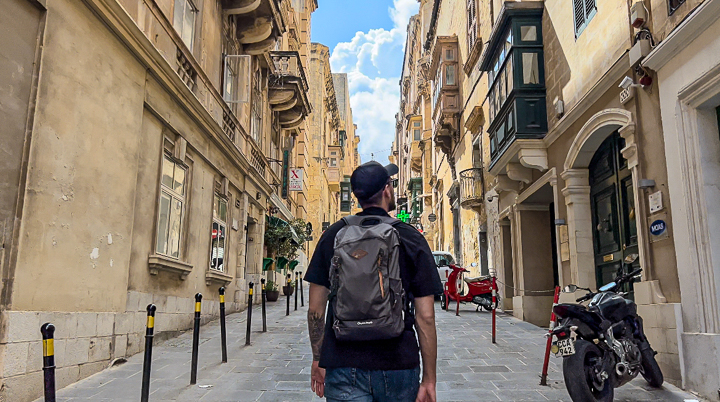 Wander Around Valletta
You can easily spend an entire day wandering around the capital city, Valletta. With numerous churches to visit, such as the Basilica of Our Lady of Mount Carmel, St. Paul's Cathedral, and of course, St. John's Co-Cathedral.
The staircases that connect narrow streets in Valletta are a great photo opportunity and will definitely keep you active and in shape while visiting Malta. Make sure to also notice the British telephone booths and post boxes while wandering the streets.
You'll definitely eat well while in Valletta too! The city is full of delicious restaurants with a wide range of cuisines and price ranges to choose from.
Retail stores and souvenir shops line the streets presenting handmade crafts and unique products boasting Malta's symbolic eight-point cross.
As a digital nomad, Valletta is a great place to find a cafe with free wifi or work from a nearby coworking space during the day. You'll find plenty of things to do in Valletta, especially if you spend a year or more in Malta.
Enjoy a Night Out in Paceville
Weekends are made for fun and relaxation! That's exactly what you'll experience when you spend your Friday or Saturday night in Paceville.
Get your group of fellow digital nomads together and plan for a night out on the town for bar hopping in this exciting and enthusiastic neighborhood. From enjoying the casinos to dancing in a nightclub to catching the latest movie release at the cinema, you'll surely have a wonderful time in Paceville.
The next day, you can hang out at St. George's Bay and soak in the sun while enjoying gelato or an ice-cold cocktail.
Stroll Along Sliema's Waterfront Promenade
If you're adamant about forming and keeping a reliable morning routine, there's no better way to get some movement before your morning coffee than by strolling along Sliema's waterfront promenade.
This beautiful stretch of coast has a flat and comfortable sidewalk right along the water for you to admire the sunrise and reach your goal of 10,000 steps.
Along the promenade, you'll also find many restaurants and cafes eager to serve you breakfast, lunch, happy hour, and dinner. Whether you're a morning person looking to stay active in the morning or simply need to satisfy your hunger, the Sliema promenade is the place to do it.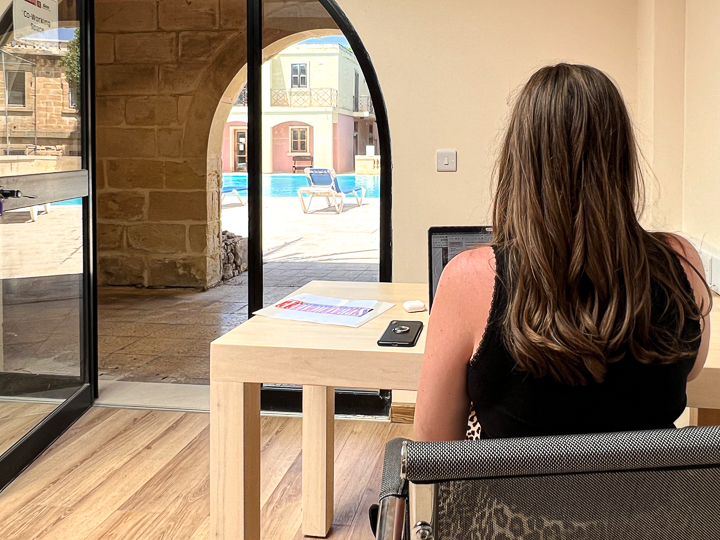 Tour Cafes with Free Wifi
If you're anything like me, then you get a special joy of visiting a new cafe and logging onto their free wifi with a fresh cup of coffee, ready to get some work done. It's the full experience of a digital nomad; going to a cafe in a foreign country with your laptop to work.
Fortunately, Malta is chock-full of cafes with free wifi that are comfortable, have plenty of outlets, and serve delicious beverages and sweets.
Rent a Boat and Water Sports
You'll find that the best time to visit Malta is during the late spring and summer months, so you get the full Malta experience of the island's crystal blue waters.
Renting a boat for the day and driving along the coast or taking a dip in the water to cool off is an excellent way to spend your days. Take a trip to the Blue Grotto and discover sea caves with mysterious openings – things you can only do from the water.
If you're a bit more adventurous, you can go scuba diving with licensed instructors and even explore an old shipwreck at the bottom of the sea. From jet skis to parasailing to paddle boarding, you'll surely get your adrenaline rush from participating in water sports while in Malta.
Taste the Local Cuisine
Malta is well-known for its delicious traditional cuisine, especially seafood and rabbit. Staying true to the Mediterranean diet, you can count on healthy and satisfying meals during your stay.
For breakfast, you must try pastizzi, a savory flaky pastry filled with either ricotta or curried peas. The Maltese typically enjoy a ftira, a unique sandwich, for lunch. To say that you'll enjoy the experience and adventure of trying Maltese cuisine is an understatement.
You can't forget about the delicious pastries native to Malta! You'll find many made with dried dates, figs, and honey, providing a thick, sweet experience.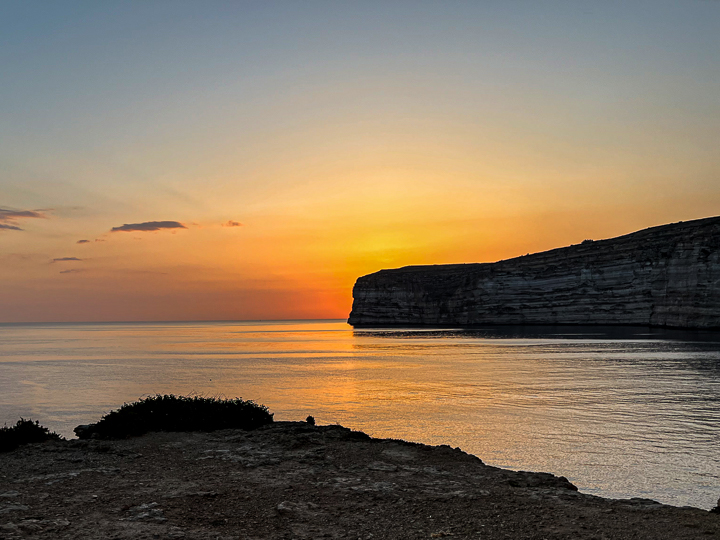 Experience Gorgeous Sunsets
Each night you can expect to experience a gorgeous sunset from the west side of the islands. One of our favorite spots to watch the sun go down is from the terrace at the Malta National Aquarium.
However, if you're in Gozo, you must visit the Sanap Sunset Cliffs for a stunning naturally-made work of art. Set up a picnic and grab a bottle of Maltese wine to share with friends as you reflect on your day and your life in Malta as digital nomads.
Make Malta Your Next Digital Nomad Destination
With all of these incredible things to do in Malta, you're probably already adding the destination to your bucket list. From admiring the Blue Grotto to planning day trips to Comino to researching wine tasting in Gozo, you'll surely have a fully packed itinerary when you explore Malta.
You can't possibly do everything you want in a week or two vacation – or even in a month! The best way to fully experience everything Malta has to offer as a digital nomad is to apply for the Nomad Residence Permit and live in Malta for up to a year.
See if you qualify for Malta's digital nomad visa today!
[ratings]