Finding the best cities in Malta for digital nomads isn't too difficult, especially with the country's 5G connection and fast wifi speed. While Malta may be one of the smallest countries in the world, it's full of digital nomad-friendly cities!
For a city to be considered ideal for the digital nomad lifestyle, we look at quite a few factors, including public transportation, wifi speed, public spaces to work, atmosphere, and things to do.
To help you narrow down your choices of where to live as a digital nomad, we've selected the best cities in Malta. 
From our first-hand experience, we can confidently recommend these cities to remote workers and digital nomads.
Best Cities in Malta for Digital Nomads
While Malta may be small, its cities are quite exciting and vastly different from one another. Whether you're searching for a quiet life by the sea, a village with small streets rich with history, or a more modern place with high-rise buildings, Malta offers it all.
There really is a place for everyone in this digital nomad-friendly destination.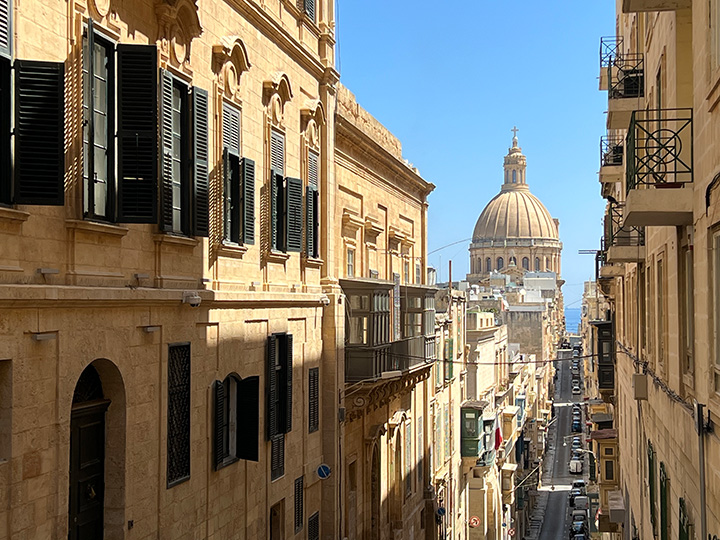 1. Valletta
The capital and possibly one of the most famous cities in Malta, Valletta, is a dream for digital nomads. Its narrow streets have a unique combination of modern life and rich history.
Located right next to the sea, Valletta has amazing views of the Three Cities and Sliema. Scattered with centuries-old churches, a historical library, museums, lively cafes, and bistros overlooking the water, there is always something to do in Valletta.
It's also a great city for shopping as well. You can find plenty of retail stores, souvenir shops, and jewelry stores on Merchant Street. There is nothing you can't find while living in Valletta.
You'll recognize Valletta from the distinct, colorful Maltese balconies lining the streets and long staircases connecting streets. This beautiful city is full of character and picturesque places such as the Upper and Lower Barrakka Gardens.
Don't be surprised when you hear loud cannons going off at noon from the Upper Barrakka Gardens. It's simply one of the joys and unique features of living in Valletta.
Why Digital Nomads Love Valletta
As the capital city, Valletta has plenty of modern amenities to offer digital nomads. There are a handful of coworking spaces that are easily accessible to remote workers and have comfortable desk setups. If working from cafes with a cup of coffee is more your speed, then you can choose from a handful of places with free wifi in Valletta. 
Getting around Valletta is extremely easy. In fact, we recommend using the public buses and ferries rather than getting a car as there is a toll for driving in the city. Fortunately, there is the large Valletta Bus Station with routes that go practically everywhere on the island.
If you're looking for a popular city in Malta with plenty of places to work from, things to do to learn about the country's history, listen to live music and be in the heart of the action, then Valletta is the place for you.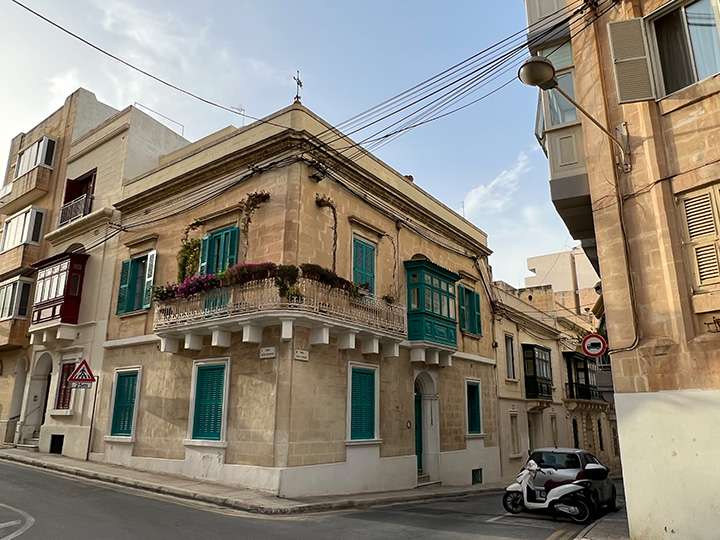 2. Sliema
Considered to be one of the best cities in Europe for digital nomads, Sliema ranks high on our list. It is more modern than Valletta, but it still has all of the gorgeous views and amenities of the capital. 
This city is positioned on a small peninsula, creating an abundance of sea views. There are plenty of delicious restaurants, cafes, and bars along the promenade where you can soak in the sun and listen to the waves.
This city also has everything you could ever need. From large supermarkets to small corner stores to a shopping mall and small boutiques, you can find virtually anything you may need to make your life here comfortable.
Getting around the city and the island from Sliema is extremely easy. There is a ferry that leaves every 15 minutes or so from the port to Valletta. You'll also find convenient bus routes nearby to take you wherever you may need to go.
Why Digital Nomads Love Sliema
One of the major attractions Sliema has to digital nomads is the affordable accommodations. Compared to Valletta, the rents tend to be lower. 
Sliema has numerous cafes and bars with free wifi and nearby coworking spaces in Gzira, the next town over. There is no lack of places to work from for digital nomads in this city.
You'll also have close access to the sea when you stay in Sliema. After a day of working, or if you simply need a mid-day break, you can find a rocky beach to lay your towel on and soak in the sun. You'll often see people taking a dip in the water almost year-round.
If a modern city near the water with plenty of restaurants, bars, cafes, and a shopping district is what you're looking for, then Sliema is the digital nomad city for you.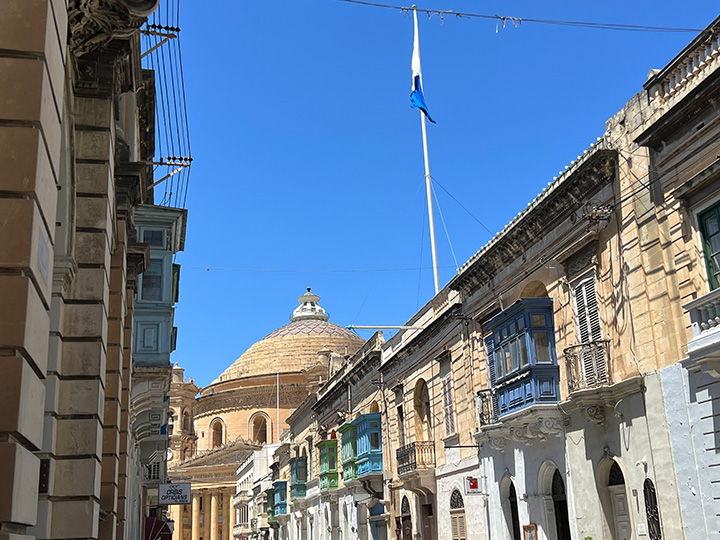 3. Mosta
Located in the northern region of Malta, Mosta is a wonderful city for digital nomads. While it is small in size, it is dense in population. Here, you won't find many tourists staying, so you can experience an authentic Maltese lifestyle.
The most notable site in Mosta is the Sanctuary Basilica of the Assumption of Our Lady, or the Rotunda of Mosta, situated in the city's center. This huge church has the third largest unsupported dome in the world. It's quite an astonishing view if you ask us!
Mosta also has a large artistic community present. While walking through the streets, you will notice many galleries and workshops throughout the city.
While the lifestyle here is relatively quiet, you will find everything you need to live and work remotely in Mosta. From a long shopping street to cafes and restaurants to local grocery stores, convenience is key here.
Why Digital Nomads Love Mosta
For digital nomads who want a simple place with quiet hours and a chance to focus on their work, Mosta is the place to live. The small-town feel will quickly make you feel welcomed and at home here.
There are a handful of cafes that offer free wifi that you can work from throughout the city if you want a change of scenery too. However, if you're searching to move around the island to a coworking space, there are plenty of convenient bus routes.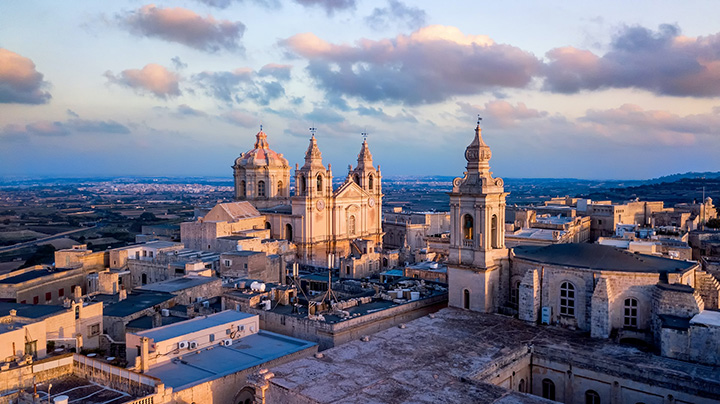 4. Rabat
The historic and culturally exciting city of Rabat is one of the best cities in Malta for digital nomads who want a calm, small-town experience while learning about ancient and medieval history.
Rabat, which is connected to the ancient capital city of Mdina, also known as the Silent City, is a tranquil place to live and work remotely. Mdina is quite a spectacular nearby destination with amazing little streets to get lost in and restaurants to enjoy a traditional Maltese meal.
Digital nomad residents will have plenty of options to choose from when it comes to how they spend their free time and explore a new area. From gorgeous churches to ancient catacombs and crypts, you will quickly realize the long history this town holds.
While living in Rabat may feel like walking through a museum, there are plenty of modern amenities appreciated by digital nomads. You'll find small boutique stores, supermarkets, and stalls selling traditional Maltese desserts and pastries too.
Why Digital Nomads Love Rabat
Digital nomads who decide to live in Rabat really get to experience two unique cities during their time here. Due to the close proximity of Mdina, many residents take advantage of both areas and may even consider them to be one and the same.
With ancient roots, Rabat offers both modernity and history to residents and visitors. Just imagine working from a cafe with speedy wifi while gazing at a cathedral built hundreds of years ago or sitting above catacombs dating back to 60 A.D.
It is easy to get around Rabat and the rest of the island with bus routes passing through the city. You will also be close to the iconic Dingli cliffs, perfect for watching sunsets or enjoying the gorgeous nature that Malta has to offer.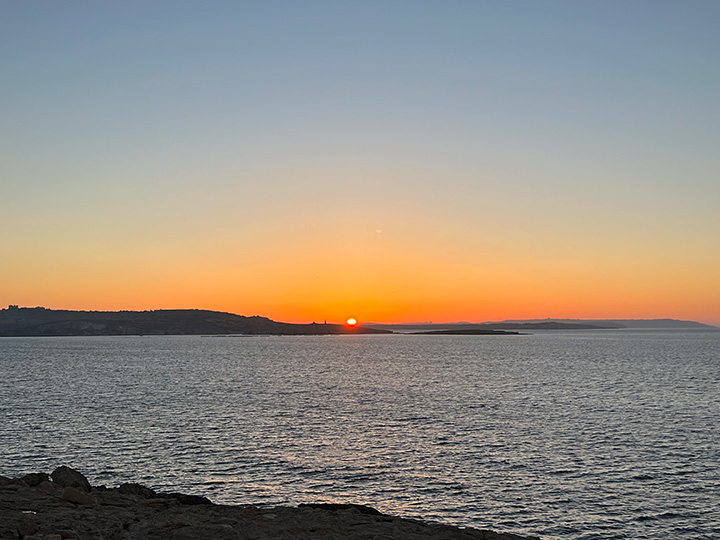 5. Bugibba
One of the best cities in Malta for digital nomads looking for a relaxed and resort-like vibe is Bugibba. While we often preach that living the digital nomad lifestyle doesn't mean you're on vacation 24/7, Bugibba can get you feeling pretty close to it.
Located along St. Paul's Bay, you'll find a relaxed, beachy atmosphere and some of the most beautiful sunsets in Malta here. The nightlife is exciting and there are plenty of different cuisines to enjoy from numerous restaurants.
You'll get to experience gorgeous rooftop bars and clubs, restaurants on the beach, exotic fish at an aquarium, and witness classic cars driving along the streets when in Bugibba.
While there is a tourist presence in Bugibba during the summer months, which is the best time to visit Malta, it can become fairly quiet throughout the rest of the year. So, if you're searching for a place that becomes more lively during the warmer months and settles down during the low season to focus on your work, then Bugibba is the city for you. 
Why Digital Nomads Love Bugibba
Aside from the vacation-like atmosphere, digital nomads love living in Bugibba for the sea views, sunsets, and cafe options with free wifi to work from.
Bugibba is also an affordable place to live while still getting an urban feel without the full city experience like in Valletta or Sliema.
With convenient bus routes connecting Bugibba to other important and popular cities in Malta, digital nomads are strategically located when they live here. It also has easy access to Gozo for beautiful and relaxing weekend getaways.
If you're searching for a carefree, relaxed, and entertaining city to live in as a digital nomad, Bugibba is your go-to city in Malta.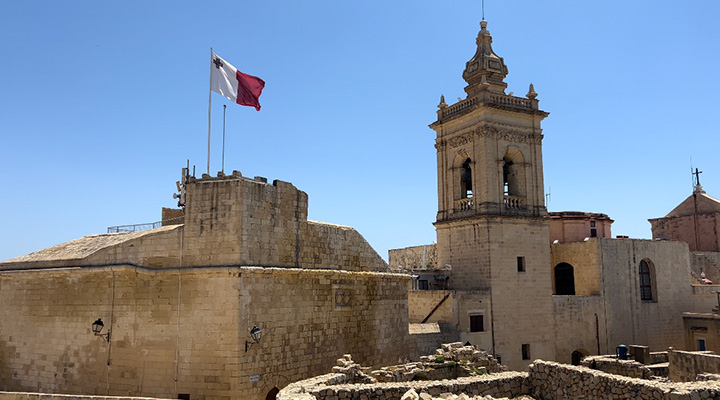 6. Victoria
Moving over to Malta's sister island, Gozo, our next best city in Malta for digital nomads, is the iconic and historic Victoria. Situated on a hill in the center of this even smaller island, Victoria was once known as Rabat but was renamed in 1887 by the British.
Gozo is a gorgeous island with a more slow-paced lifestyle than the other cities on Malta's main island. Natural beauty is abundant with crystal clear waters, cliff-side caves overlooking the sea, and Neolithic ruins.
If you're searching for a tranquil and relaxed atmosphere during your time in Malta, then Victoria in Gozo is the place for you. As the largest city on the island, Victoria has everything you could need, including cafes with wifi, museums, restaurants, retail stores, and supermarkets within easy reach.
You'll experience astonishing views of Gozo, seeing from one side of the island to the other when you visit the Cittadella. This historic and ancient town on the highest point of Gozo is full of traditional Maltese architecture and stories from the Medieval Ages.
Why Digital Nomads Love Victoria
For digital nomads who still want a little hustle and bustle while still living on a tranquil island, Victoria is exactly what they're looking for. With plenty of restaurants, bars, and cafes to work from, Victoria has exactly what a digital nomad needs to be successful.
Of course, one of the best parts of living in Victoria is the access to the rest of Gozo. With incredibly convenient bus routes, you can access all of the best parts of the island, including the harbor for the ferry, Ramla Beach, Sanap Cliffs, and the cute town center of Xewkija.
If you enjoy nature, the sea, and an overall laidback and calm atmosphere, then you most definitely need to consider Victoria city in Gozo for your stay.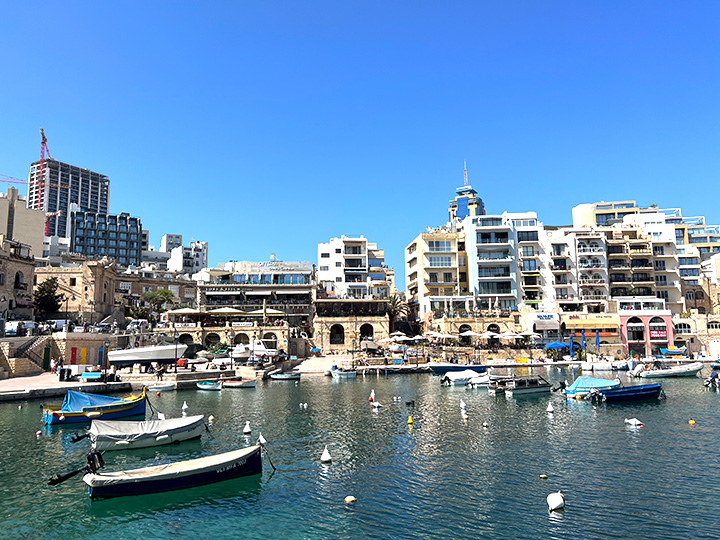 7. Paceville
One of the more completely modern cities in Malta is Paceville. With high-rise buildings, vibrant nightlife, delicious restaurants, casinos, and a beautiful shopping mall, it's safe to say that there is always something happening in this city.
You'll find a good mix of tourists and locals living in Paceville along with plenty of opportunities to meet other digital nomads. This is a city that is perfect for digital nomads who enjoy a more social setting with late-night outings.
After a day of working, you can relax in St. George's Bay on the sandy beach and soak up the sun. Or catch a movie at the local cinema with a friend and grab a gelato after.
Why Digital Nomads Love Paceville
Paceville is a lively city for digital nomads who like to always have something to do and new people to meet.
There are a handful of cafes with free wifi and some coworking spaces in the neighboring city of St. Julian's. With these two cities bleeding into each other, digital nomads in the area get to experience the best of both worlds.
In fact, many decide to live just on the edge of these two cities, so they are close to both the nightlife and activities in Paceville and the business district and harbor in St. Julian's.
As with almost every city in Malta, public transportation is convenient, thanks to the numerous bus routes going through the area.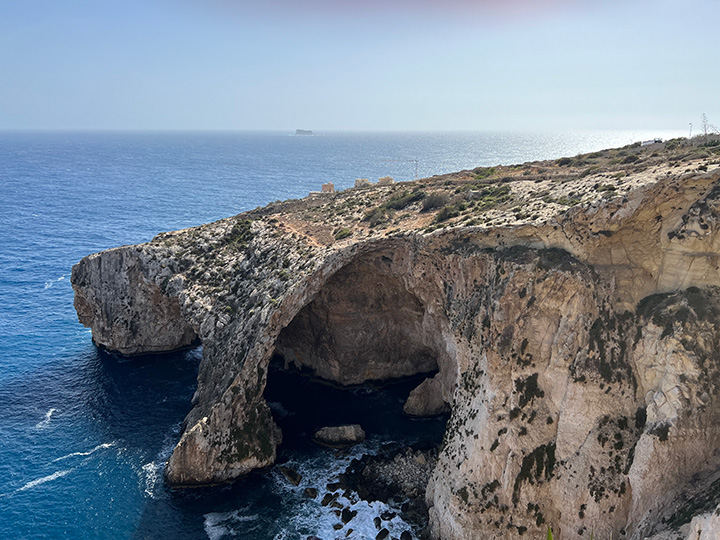 8. Zurrieq
Located in the southern part of the island, Zurrieq is one of the oldest cities in Malta. There is a strong Roman Catholic influence in this city, as you'll notice with the many exquisite churches that line the streets.
Zurrieq overall is a fairly quiet and calm city with close access to the sea. You'll find a handful of cafes, bars, and restaurants along with supermarkets and convenience stores in the area, all essential for digital nomads.
For digital nomads who want a more authentic local experience during their time in Malta, Zurrieq offers it all. Virtually free from chain businesses and coworking spaces, digital nomads can truly experience a traditional Maltese lifestyle here.
Nearby, you can visit incredible hiking trails and natural phenomena, such as the Blue Grotto. There are also ancient ruins, windmills, and towers in the region to enjoy as well.
Why Digital Nomads Love Zurrieq
Digital nomads love Zurrieq for its quiet lifestyle that allows them to focus on their work with little distraction. Due to its small-town nature, it's easy to make this city feel like a home away from home.
The transportation is also extremely convenient to get around the island. Many digital nomads who reside here enjoy visiting the old fishing village of Marsaxlokk, which has a harbor full of colorful boats known as "Luzzu" and a thriving Sunday market with fresh fish, fruits, pastries, and household items, clothing, shoes, and more.
If you're searching for a town that is relaxing, tranquil, and near beautiful natural sites, then Zurrieq is for you.
Malta for Digital Nomads
If you haven't noticed by now, Malta is full of digital nomad-friendly cities. Whether you're searching for an exciting social life with clubs and casinos in Paceville or a tranquil and relaxed atmosphere in Victoria, or to feel like you're on vacation all the time on Bugibba, you can find exactly what you want in Malta!
Not only are the cities in Malta welcoming to digital nomads, but the entire country is too. Now remote workers can live in Malta for up to three years with the Nomad Residence Permit. 
This digital nomad visa is perfect for non-EU nationals who want to live on the island and work remotely. It's extremely easy to apply for the visa as the entire process is done online and has a low application fee of just 300€.
See if you qualify for Malta's digital nomad visa here. 
Find Top Digital Nomad Destinations
Deciding on your next digital nomad destination can be overwhelming, with so many different places to choose from.
Narrow down your options and make your search simpler with Nomads Embassy!
Talk to other digital nomads and receive destination recommendations in our exclusive online community or join our newsletter for the latest digital nomad news and updates each week.