When considering a new destination to work remotely from, I want you to think about Malta for digital nomads.
Though it may be the 10th smallest country in the world, Malta holds so much potential and comforts for digital nomads who wish to call the islands home temporarily. Located in the southern Mediterranean sea between Italy and Tunisia, Malta is a country full of unique history, delicious cuisine, and lightning-fast wifi.
We had the opportunity to visit Malta and spend some time getting to know the country as digital nomads. Now we want to share our firsthand experience with you.
For those who don't know us, we are Jack and Brittany, founders of Nomads Embassy: The World's First Embassy for Digital Nomads. Our goal is to simplify the bureaucracy of being a digital nomad while scouting out the best destinations for you to call home.
If you're wondering what Malta is like for digital nomads, I'm here to tell you that it may just be the next digital nomad hotspot in Europe! 
A Day in My Life as a Digital Nomad in Malta
As you may know, the digital nomad lifestyle does not mean you're on vacation 24/7. You create daily routines and must be productive to complete tasks and assignments for your remote job. 
However, as a digital nomad living your life in different destinations, you get to fill your free time with more exciting things like visiting museums and archaeological sites, lounging on the beach, and meeting people from all over the world. It's safe to say that there are plenty of things to do in Malta for digital nomads, so you'll never get bored when you aren't working. 
During our time in Malta, I could get up earlier than usual, thanks to the early sunrise, and choose either a coworking space or cafe with free wifi to set up my workspace for the day. Afterward, I could explore a new town, visit a historic site, or learn something new about Malta.
Overall, I found myself super productive and excited to start each day. There's just something about being in a destination near the sea surrounded by ancient history that motivates me to keep living my digital nomad journey.
Watch the video above to see for yourself just how pleasant a day in a digital nomad's life is while living in Malta.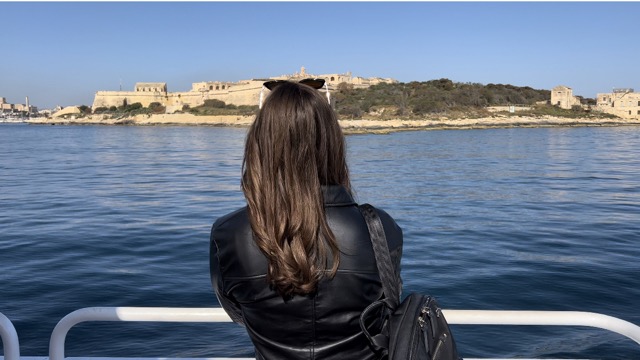 Why I Chose Malta
Choosing Malta as one of our digital nomad destinations was simple. There was so much buzz around it from other digital nomads, affordable cost of living, and the opportunity to be near the sea in a Mediterranean climate; it was a no-brainer.
Impeccable Weather
Malta is famous for its incredible weather. The sun shines for 300 days out of the year there! With no rainy season and mild heat for most of the year, this was a huge selling point for us.
As someone who enjoys being outside, especially while working on my laptop, this feature was essential to me when deciding where to go.
We were able to walk around the beautiful cities and enjoy the gorgeous beaches without worrying about the weather turning on us.
Convenient Transportation
Getting around Malta's islands was extremely easy and fast. A huge network of ferries and buses will take you everywhere you need to go on Malta and its sister island, Gozo.
The tickets for this transportation are fairly affordable, too! This was perfect for me as a digital nomad who loves to explore and truly get to know a destination.
Unique History
To say that Malta has a unique history is quite an understatement. With literally thousands of years of history, Malta is an incredible mesh of cultures over multiple empires and sieges.
You can wander through ancient neolithic temple ruins, admire the detailed artwork in baroque churches, or enjoy the modern architecture in Paceville. There is something from virtually every century for you to experience and learn about while in Malta.
If you're someone who enjoys learning about the local history of your digital nomad destination, then Malta will surely take up much of your time. There is so much history to learn; it's all you'll be able to talk about for a while!
Popular Cafe and Coworking Culture
One thing I absolutely loved about Malta for digital nomads was the popular coworking and cafe culture. With a large community of digital nomads, remote workers, and students, you will often see people sitting in front of their laptops sipping on a coffee at a cafe.
For me, working from different cafes in Malta is one of the best ways to get to know the destination. From interacting with local residents to meeting other digital nomads to simply walking on new streets to find a cafe, it's one of the many things that make me love my lifestyle. 
During the days that I really needed to focus, though, I chose to rent a hot desk at a coworking space in Malta. With a bit more professional setting and coffee included, I find myself more productive and in an environment with like-minded people. 
If you're a digital nomad who enjoys working outside of your accommodation at a coworking space or cafe, then Malta is definitely a place for you! There are so many great options to choose from.
Digital Nomad Community
Living a digital nomad lifestyle can feel lonely at times. For this reason, it's important to choose a destination with a digital nomad community present, such as Malta.
Due to all of the country's accommodating features and benefits for remote workers, digital nomads have flocked to the islands and created a welcoming and tight-knit community.
It's easy to meet people, attend organized events, and network with like-minded travelers and remote workers during your time in Malta.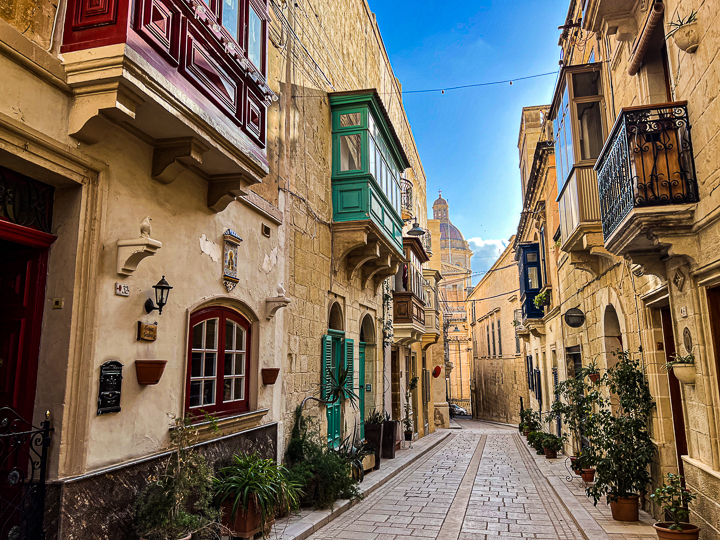 Common Questions People Ask About Malta for Digital Nomads
Whenever I tell people that we spent some time in Malta as digital nomads, we receive a lot of questions about what it's like. From wondering where to visit to the time zone to the language, I'm answering the most common questions we're asked.
How Expensive is Malta?
Malta has a relatively affordable cost of living when compared to the United States or other Western European countries.
For a more precise idea of how expensive it is to live in Malta, you can check the cost of living on Numbeo and compare it to other destinations. 
When Should I Visit Malta?
Malta is truly a great destination to visit year-round, depending on what you're looking to do while you're there.
In my opinion, the absolute best time to visit is between April and the end of June. This is when the weather is warm, but not too hot. You'll be able to partake in watersports and enjoy days at the beach.
We wrote an entire blog post about the best time to visit Malta for digital nomads, which I highly recommend you check out to determine when the best time is for you to go. 
What Language Does Malta Speak?
The official languages in Malta are Maltese and English.
Maltese is a mix of Italian, French, and Arabic and is extremely unique. However, it can be difficult for someone to learn, so having English as an official language is a tremendous benefit for digital nomads.
Digital nomads can easily communicate with anyone in Malta, and listen to the news, television, radio, street signs, and understand other important information. It also means it's easy to befriend local residents as there isn't a large language barrier to overcome.
What is There to Do in Malta?
While Malta may be small in size, there are plenty of things to do to stay entertained while learning about the country.
Whether you enjoy strolling through museums, exploring new cities, lounging on beaches, hiking, scuba diving, or walking through ancient ruins, there is an endless list of things to do.
To help you better plan your weekends and free time, check out our article with a list of 17 things to do in Malta for digital nomads. 
What Time is it in Malta?
If you're a digital nomad who works as a company employee or must attend virtual meetings, then you're probably extremely conscious of time zones while traveling.
A common question we're asked is, "What time is it in Malta?"
Malta's time zone is GMT+2. For better reference, it is six hours ahead of the east coast of the United States and one hour ahead of the UK.
What Are the Best Cities for Digital Nomads in Malta?
When it comes to choosing a digital nomad-friendly city to live in Malta, you will not be short of options.
Some of our favorite cities with digital nomad-friendly amenities include Valletta, Sliema, St. Julian's, and Victoria in Gozo.
Check out our in-depth article about the best cities in Malta for digital nomads for more details to help you choose the right place for your stay. 
How Can I Move to Malta as a Digital Nomad?
One of the hardest parts of being a digital nomad is leaving a destination you truly fell in love with when your tourist visa ends. Fortunately, Malta offers an option for digital nomads to extend their time in the country with their digital nomad visa.
Malta introduced the Nomad Residence Permit in June 2021, which allows digital nomads and remote workers to live in the country for one year with the option to renew it twice to live there for a total of three years, if eligible.
With a simple online application process, you'll receive your answer of approval within 30 days. Digital nomads worldwide are submitting applications in hopes of making Malta home for the next year.
See if you're eligible to apply for Malta's digital nomad visa now!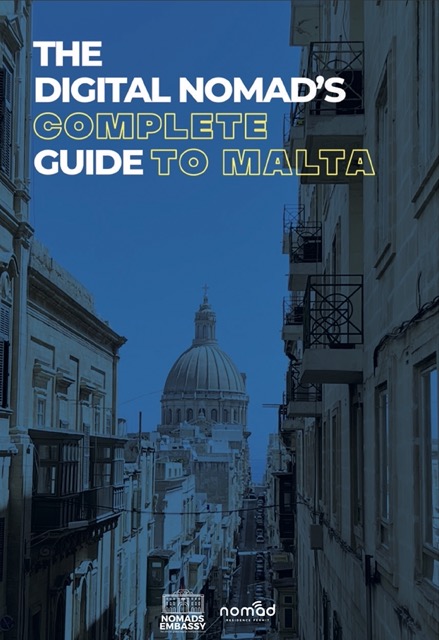 The Digital Nomad's Complete Guide to Malta
As you can probably tell, we really enjoyed our time in Malta as digital nomads. It had everything we were looking for – and more!
In fact, we think it's such a fantastic destination for digital nomads that we created a 40-page guide with everything you need to know about living in Malta as a digital nomad.
You can find everything in this complete PDF guide, from where to stay to what to do to how the health system works.