Buying gifts for digital nomads is one of the hardest things during the holidays or for birthdays. Since most of them carry their belongings with them, you must be strategic about what you gift them. If it isn't useful in their traveling lifestyle or doesn't fit in their luggage, they may leave it at home or return it.
So, to avoid having your gift left behind, we've put together a list of gifts for digital nomads that they'll actually appreciate.
If you have a friend or family member who lives the digital nomad lifestyle, or you're a digital nomad yourself simply looking for things you could use, this list is for you!
Best Gifts for Digital Nomads
From tech to travel to nifty gadgets, digital nomads can actually use many items to make their lifestyle easier. Rather than spending hours searching for the perfect gift for your digital nomad friend or relative, we've done the work for you.
Macaroon Global Hotspot
The one thing a digital nomad must have is a wifi connection. Unfortunately, this isn't always possible and unreliable wifi is more common than you may think. To ensure digital nomads always have a reliable and fast wifi connection, they need the Macaroon Global Hotspot with a 4G LTE connection.
This travel router has 80GB within the USA (perfect for van lifers) and 5GB internationally. Plus, there are no roaming fees or SIM cards to purchase. Simply activate the hotspot, top up your gigabytes, and enjoy a wifi connection no matter where you are.
SideTrak Swivel Portable Monitor
Many people who work remotely have the luxury of viewing their work on two computer screens. Unfortunately, digital nomads can't carry a second computer monitor with them in their suitcase – until now!
The SideTrack Swivel Portable Monitor is a lightweight second screen that connects and attaches to your laptop. Measuring at 12.5 inches, this portable monitor extends your computer screen like never before. It also has great mobility and can rotate as needed. Let's not forget that it's easy to travel with as it's about as thin as a pen and only weighs 1.3 pounds.
Protective Laptop Sleeve
A nomad's computer will see things most people never will in their lives. This laptop will go everywhere, from sitting on wooden tables in Thailand watching the sunset over the ocean or sitting in hostel lockers. So, you must protect it as much as you can.
One way to do that is with a protective laptop sleeve. Save your expensive laptop from scratches and dents as you throw your backpack under bus seats. Lightweight and super convenient, this laptop sleeve has an extra pocket to hold your notebook, pen, or computer charger.
HUANUO Adjustable Laptop Stand
Digital nomads don't always have access to a comfortable workspace or desk while living abroad. One way to combat this problem is to bring the HUANUO Adjustable Laptop Stand with you. This laptop stand is perfect for those who work sitting on the couch or in their bed.
You can find the perfect angle and height for your comfort preference with the adjustable features. If you do have a desk or table to work from but are tired of sitting, you can also use it to create a standing desk.
We can't forget to mention the two cooling fans included to keep your computer from overheating either!
Bluetooth Wireless Adapter
Sitting on a long flight and getting tangled up in headphone wires as you watch a movie and enjoy your in-flight meal. With the majority of headphones, especially AirPods, being wireless, you may feel at a loss when you can't use them to watch entertainment on the screen in front of you.
The Airfly Pro wireless Bluetooth adapter changes all of that! You can transform virtually any device, including workout equipment and handheld game consoles, to pair with your Bluetooth headphones. Simply stick this compact device into the headphone jack and connect your wireless headphones. It can even pair up to two different headphones so you can enjoy a movie with your travel buddy.
International Power Converter and Adapter
It can be quite a shock finding out you don't have the right converter or adapter for your electronics when you go to a new country. With the SOKOO international power converter and adapter, you'll never be in this situation again.
The voltage converter allows you to use North American electronics such as hair straighteners and laptops in countries like Japan, Germany, Peru, and 150 more. It also comes with four outlet adapters, three USB ports, and a carrying case.
Riapow Solar Power Bank
If you've ever been alone in a new place with a dying phone and no charger in sight, you know just how anxiety-inducing it can feel. With the Riapow Solar Power Bank, you'll never run out of battery on your phone no matter where you travel. You can charge the power bank either by USB or with the sun through solar power. So, there's no excuse for an uncharged power bank.
With the ability to charge four different devices at once and a built-in flashlight, this is a dream for travelers and nature-lovers alike.
Electronic Cable Organizer Kit
There is nothing more frustrating than getting your electronics' cables twisted and knotted together in your luggage. Between computer and cell phone chargers, HDMI cords, and other necessary wires, digital nomads carry a lot with them.
To help your nomadic buddy stay sane and organized, gift them an electronic cable organizer kit. This little pouch has so much space for chargers and wires with individual pockets.
Atumek Tripod with Bluetooth Remote
Many digital nomads travel solo and make friends along the way. But that doesn't always mean they have someone there to take photos of them as they visit gorgeous sites. A great digital nomad gift is the portable Atumek Tripod with Bluetooth Remote for their phone.
With this small tripod, which extends to 51 inches, your solo traveling nomad can take amazing self-portraits in the exotic destinations they're visiting. Plus, with the Bluetooth remote, they don't have to scurry to beat the self-timer. They'll get the perfect picture every time.
I got this tripod as a gift last year and can't tell you how much I've used it. The pictures I've gotten while traveling alone are awesome. It also fits in my purse perfectly and I love how adjustable it is to get the perfect angle.
Sony SRS-XB01 Portable Bluetooth Speaker
Bring your music wherever you go with the portable yet powerful Sony SRS-XB01 Bluetooth speaker. Small enough to fit in a backpack or purse, this speaker packs a big punch with a crisp sound. Plus, it's waterproof so that you can take it to the pool or beach without worry.
Rechargeable with a USB cable, this speaker's battery life lasts for a whopping six hours. The party (or work session) doesn't have to stop anytime soon when you use this portable speaker.
I had found this two years ago before I left on my big digital nomad journey. It is one of the best purchases I've made! It's so small, you hardly notice you're carrying a speaker with you.
VPN Service Subscription
Do you want to keep your friend safe as they travel the world and connect to various wifi networks? Of course, you do!
But what can you do to protect them while they're so far away? You can gift them a VPN service subscription.
VPN stands for virtual personal network and protects your personal information from hackers and snoops. A VPN hides your location, passwords, and other essential information.
For just a couple of dollars a month, you can fully protect your friend's computer and information with a VPN subscription.
Anker Nebula Capsule Portable Projector
Movie night is always a good idea, no matter where you are in the world. Instead of crowding around a laptop screen with friends, use the Anker Nebula Capsule Portable Projector to cast a 100-inch projection on your wall or screen.
Just the size of a soda can, the projector also comes with a powerful 360-degree speaker. You can seamlessly watch Netflix, YouTube, Hulu, and more right from your phone through the associated app. Plus, it has a battery life of four hours, meaning you can binge your favorite shows without interruption.
Blue Light Glasses
It's no secret that digital nomads spend a lot of time in front of computer screens. A great gift idea is blue light glasses, which protect the eyes from the light that the computer screen emits.
By simply wearing these nonprescription glasses, you'll reduce eye strain and prevent headaches and blurry vision. With these glasses, your remote working traveler can sit on their computer for as long as they need without worry.
Streaming Service Subscription
We all love our Netflix, Hulu, and Disney+ subscriptions. They allow us to unwind and relax as we binge our favorite shows. A great gift idea for digital nomads is a year of an entertaining streaming service subscription.
For the nights that they don't have plans or need to kill time on a plane or bus, they can plug in and stream their favorite movies. It's truly the gift that keeps on giving.
Online Course
If you know your friend or relative is planning to learn a new skill, you could gift them an online course to get them started. There are plenty of online courses available for all budgets. The best sites to find them are Udemy and Thinkific.
They will surely appreciate this gift not only because it shows your support for their learning and profession, but they can improve their skills with it.
Seagate 2TB External Hard Drive
No matter if you're a traveling remote worker or a stay-at-home one, it's always a good idea to have your computer backed up. Digital nomads can do this easily with the Seagate 2TB External Hard Drive.
They can have an exact copy of the files on their computer on a small, portable storage unit in case their computer is stolen or breaks. They won't lose a thing! Their client work, personal files, and photos are all protected with this nifty gift.
Kindle Paperwhite
Books can be super difficult to travel with, especially if you read quickly. If your digital nomad is an avid reader, then they would definitely appreciate an Amazon Kindle Paperwhite as a gift.
This lightweight reading tablet has ten weeks (yes, you read that right) of battery life and can hold thousands of books. With adjustable backlight settings and a customizable font display, it's the perfect gift for nomads who love to read.
Kindle Unlimited Ebooks Subscription
Maybe your nomadic friend already has a Kindle; then you can get them a Kindle Unlimited membership where they can download and access thousands of ebooks.
This is perfect for readers who whip through books and have a huge wishlist. It saves so much money when compared to buying individual ebooks. Plus, they have an entire library of books at their fingertips.
GoPro Black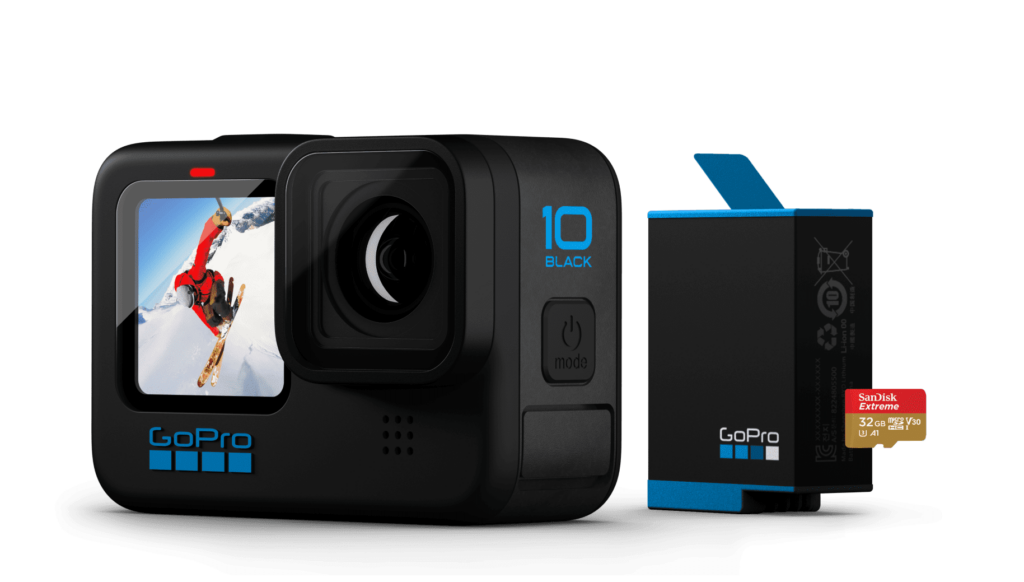 Small, compact, and powerful, the GoPro Black is perfect for adventurous nomads who want to document every second of it. This durable little camera can be submerged 33 feet underwater and has stabilizing features.
Whether you're going on a bike ride through the mountains or kayaking in the sea, a GoPro is essential to film your excursions. This is especially useful if the person you're gifting to is a content creator or travel blogger.
Bose QuietComfort 35 II Noise Canceling Headphones
Whether you want to watch a movie on a long flight or need to concentrate while working at a busy cafe, every digital nomad needs a great pair of headphones. This is where the Bose QuietComfort 35 II headphones come in as the perfect gift.
With Bluetooth connectivity and Amazon Alexa voice control, these headphones have fantastic features you never knew you needed. These headphones let you drown the world out and focus on working or relaxing, or listening to your favorite digital nomad podcast.
Packing Cubes
Help your globetrotting friend organize their luggage with a set of packing cubes. While they may seem like a boring gift, anyone who travels consistently knows just how amazing and handy these are.
Not only can you fit more clothing and items in your suitcase or backpack, but it helps you stay organized. You can easily grab what you're looking for during a one-night stop during a layover. Plus, they are made with water-resistant fabric, so clothing is also protected.
Alaska Bear Silk Sleeping Mask
There is nothing better than blocking out the world as you try to fall asleep while traveling on a plane, train, or bus. The Alaska Bear Silk Sleeping Mask makes it even easier to rest in a crowded area with its light-blocking features.
This sleeping mask comes in a variety of colors and designs, so you can find the perfect gift for your friend or loved one. We also can't forget to mention that the adjustable strap creates a perfect fit.
Language Learning Subscription
While traveling to different countries every few months, it can be difficult and sometimes overwhelming not to know the language. Of course, over time, you'll pick up words and phrases, but it's always better to come prepared.
Gifting a subscription to a language learning software like iTalki or Babbel is a great way to relieve some pressure and the language barrier for digital nomads. They can study and learn new languages quickly right from their phone or computer, no matter where they are.
Personalized Passport Holder
A passport is one of the most important items digital nomads travel with, other than their computers and phones. So, they do everything possible to protect it. This means that the perfect gift for an avid traveler is a personalized passport holder.
You can customize the holder with a photo or text to make the gift even more special. Every time they take out their passport, they'll remember you.
Memory Foam Travel Pillow
If you've ever flown a redeye flight without a pillow to support your neck, you know the pain and discomfort it can cause. Don't let your nomadic friend experience the same thing while traveling to a new destination. Gift them an MLVOC travel pillow set with a sleep mask and earplugs.
With a unique shape and design to fit your neck perfectly, it's one of the most comfortable pillows on the market. The fabric is also durable, sweat-resistant, and breathable. It's truly an essential for every traveling remote worker.
Speakeasy Travel Scarf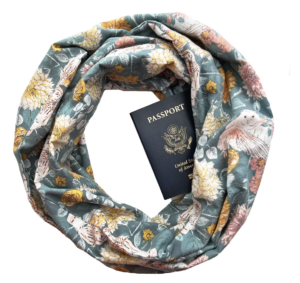 Digital nomads have to get creative with the items they have with them sometimes. Those traveling by bus or train have to be extremely careful and aware of their belongings. Too many people steal things while on this type of transportation.
Help your friend keep their belongings safe with the Speakeasy Travel Scarf. This nifty scarf has a secret pocket to store your cash, passport, and wallet while you're wearing it. So, when you're traveling and want to catch a few z's, you can do so without worrying about your valuables.
Comfortable Outfit for Traveling
Sitting for hours on a plane or bus in jeans is one of the worst decisions you can make. Every nomad needs a comfortable outfit for when they travel. Bonus points if it has layers; we all know how cold those planes can get.
A gift your nomadic friend or family member would definitely appreciate is a stylish yet comfortable matching set that's perfect for traveling or simply lounging around.
Handmade Leather Travel Journal
When you live a location-independent lifestyle, you'll want to document every single experience. To help your friend do this, gift them a handmade leather travel journal to carry with them wherever they go.
This journal comes in three different sizes and has three different paper types: lined, sketch, and kraft. It also has pockets for travel and admission tickets. It's the perfect journal to collect and document memories without taking up too much space.
LifeStraw Go Stainless Steel Water Bottle
They say not to drink the water when visiting foreign countries. This is largely due to the different chemicals and minerals it contains. However, you can help your friend stay hydrated and filter out parasites and bacteria with the LifeStraw Go Stainless Steel Water Bottle.
This travel bottle is perfect for hiking or visiting countries with questionable water sources like Mexico or Thailand. Using this bottle could save them a nightmare trip to the hospital. It's truly one of the best gifts for digital nomads you could give.
Smart Health Ring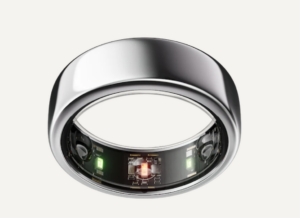 For those digital nomads who are health conscious and want to be in the know about the status of their movement throughout the day and their sleep quality, the Oura Ring smart health device is perfect. It's small, lightweight, and fashionable, all while providing important information about your health.
With seven days of battery life on a single charge, you can track your sleep quality every night. Choose from five different colors to best match your style too. When you're often traveling and don't have a doctor nearby to check up on you all the time, the Oura Ring is essential to stay on top of your health.
Travel Electric Toothbrush
A normal toothbrush just doesn't cut it anymore, but many electric toothbrushes are too bulky to travel with and charge. Thankfully, there are a variety of travel electric toothbrushes you can give as a gift.
From toothbrushes with USB chargers to battery-operated ones with sleek designs, there is one for every traveler out there. Don't take your oral health for granted! Keep up with routines while you're abroad with these diligent brushes.
Travel Yoga Mat
A portable and lightweight travel yoga mat is a great gift idea for someone who travels and enjoys practicing yoga. There are a variety of mats you can choose from, including foldable mats and some with a little more cushioning.
You can't necessarily bring the yoga mat you have at home with you across the world. But you can with one specifically made for travel. These mats don't take up too much room in luggage and will help keep healthy routines possible.
Learn More About Life as a Digital Nomad
After reading this article on gifts for digital nomads and the kind of life digital nomads live, you may be interested in learning more. I mean, how cool would it be to travel to a new country every month and embrace the culture and meet new people all while making a livable income from your laptop?
If you want to learn more and connect with other digital nomads for more gift ideas, check out Nomads Embassy's online community.