Finding the right Airbnb in San Juan, Puerto Rico, may feel a little daunting. There are so many things you need to pay attention to, such as location, amenities, and price. The options in such a popular place are endless! Sifting through the reviews to find the perfect San Juan Airbnb can take hours.
You have so many better things to do in San Juan than scrolling through rental listings. Instead, you should focus more on choosing which gorgeous beach to visit next or where your next empanadilla will come from!
So, to help you find the place you will temporarily call home in this lively digital nomad hub surrounded by untouched nature, we compiled the list of the best Airbnbs for remote workers in San Juan.
Interested in staying in other parts of the island? Check out our list of long-stay Airbnbs in Puerto Rico!
San Juan, Puerto Rico, for remote workers
For the past few years, remote workers have been flocking to San Juan. Reachable by a short flight from the US, this tropical island will instantly feel like home – with warmer temperatures and gorgeous sandy beaches.
There are numerous coworking spaces and cafés with excellent wifi to support your remote career. We think you'll love the OG San Juan coworking space: Piloto 151, which now has four locations. And as a nice bonus, Puerto Rico is in the Eastern Time Zone for six months each year, so no crazy wake-up times for your Zoom calls!
San Juan is a beautiful and lively city where nature is always within easy reach. You can enjoy the laid-back island lifestyle while still being productive in your remote job.
The city is located on the Northern coast of the tiny island. As the capital of Puerto Rico, all the best destinations are easily reachable, including the El Yunque National Park, the bioluminescent beaches, and the famous rum distilleries.
San Juan has so much to offer, from relaxing on the beach to adrenaline-filled adventures in the rainforest and unforgettable encounters with wildlife on land and sea.
But there is more to Puerto Rico than just fun and the sea. With the island's special focus on tech and entrepreneurship, it will be easy to network with fellow digital nomads while also managing your time and increasing your productivity.
In short – whether you are planning your first stint as a remote worker or looking for your next long stay as an experienced digital nomad, you need to check out San Juan. Pack your bags – here's our digital nomad packing list for inspiration – and go!
Best Long-Stay Airbnbs in San Juan
Here are our picks for your long stay Airbnb in the Puerto Rican capital. We define a long stay as at least 30 days. All of the rentals on this list allow month-long stays and have all the amenities you will need to comfortably work.
According to our experience, a remote worker looking for an Airbnb in San Juan, Puerto Rico, should make sure that the rental has:
Wifi
Kitchen/Kitchenette
A workspace
Washing machine
Ideal location
We screened the best of the best San Juan Airbnbs to compile this list. No matter your budget, your perfect long-stay rental is waiting for you here!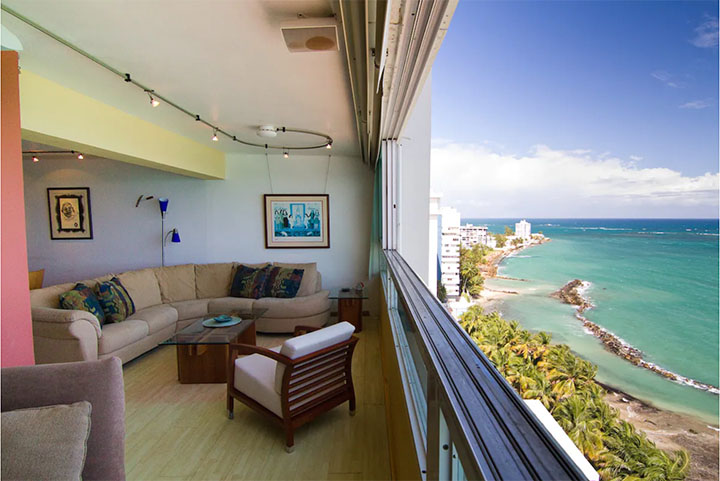 Ocean View Beachfront Condo
Rating: 4.94
Guests: 2
Bedrooms: 1
Monthly Discount: Yes
Special Features: Panoramic Sea View, Streaming TV, Direct Beach Access, New Central AC, Surround Sound Speakers
If you've been dreaming of cooling off between meetings on your own secluded tropical beach, look no further. The Ocean View Beachfront Condo is an elevator ride away from a rock-sheltered swimming area, far from the bustling crowds. Take a private plunge any time!
Boasting an unparalleled view over one of the best beaches in San Juan, this 800-sqft condo is truly a gem. You will produce some of your best work in the dedicated work area, with the salty ocean wind in your hair!
Equipped with every cooking appliance you might need for whipping up a quick lunch or workday dinner, the eating area is spacious enough to host a game night with your newfound friends on the island.
Located close to the old town, just outside the busiest area, this is an excellent choice for remote workers who want to wake up to the waves crashing on the shore.
Some of the most popular features of this rental include secure parking, a powerful surround sound system, and a cozy living room overlooking the gorgeous beach.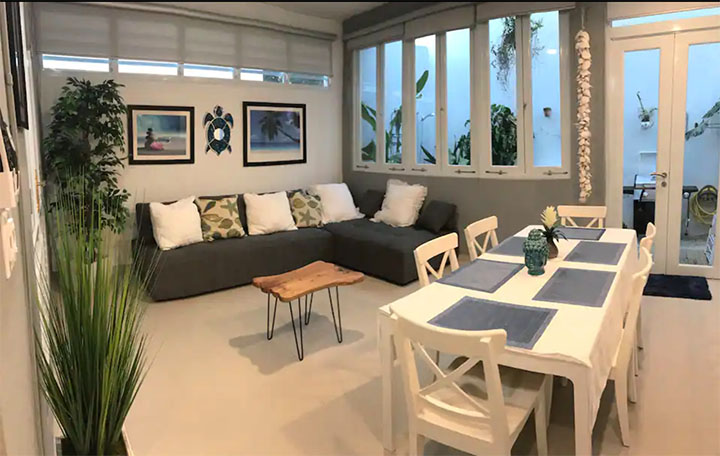 Relaxing Beach Apartment
Rating: 5
Guests: 4
Bedrooms: 2
Monthly Discount: Yes
Special Features: Moon Shower, BBQ, Fast Wifi
A calm oasis where you can retreat to focus and recharge alone or with friends. This Relaxing Beach Apartment is a few steps away from the beach and equipped with all the amenities for remote workers.
Featuring two bedrooms for a total of four guests, this is a great Airbnb rental if you are traveling with family or friends. Furnished in a boho, colorful style, this place will make you feel like you are staying in your own cozy indoor jungle.
There are plenty of restaurants and cafés within easy reach. Start your day with a perfectly crafted latte, or take advantage of the nightlife after work. In this safe and friendly area, you will have no problem walking home after sipping a few cocktails in a stylish beach club!
The hosts are extremely communicative and offer practical tips to make your stay more comfortable.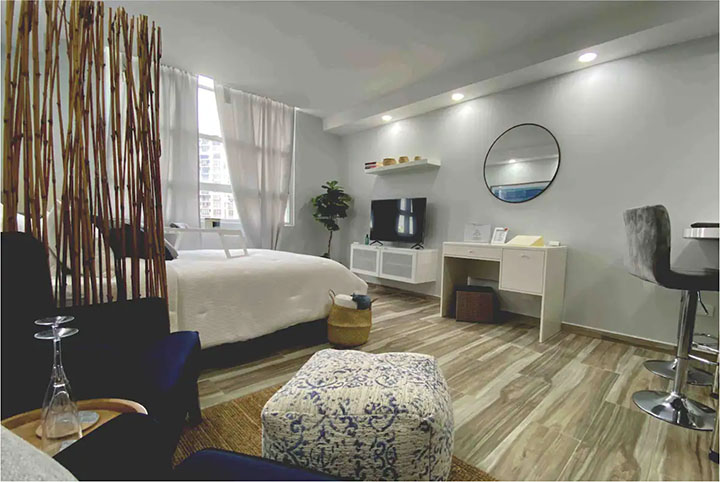 New Studio in Trendy Convention District
Rating: 4.88
Guests: 2
Bedrooms: 1
Monthly Discount: Yes
Special Features: 109" HD TV, Reliable High-Speed Wifi, Easy Parking, Fantastic View
If you like to be at the center of the action, this rental is going to be the perfect place for your San Juan workation. The New Studio in the Trendy Convention District is located close to the beach and the trendier areas of San Juan.
Furnished in a clean and modern style, this studio has all the basic amenities for the remote worker, including a drip coffee machine and reliable high-speed wifi for work calls.
Take a stroll in the vibrant Convention neighborhood after work, watch a live show, or unwind with a drink in one of the popular bars. Your cozy studio will wait for you when you are exhausted after a fun night out.
This precious studio is located in a safe condo building with underground parking, so both you and your vehicle are secure.
Villa with Private Pool One Block from Beach
Rating: 4.99
Guests: 3
Bedrooms: 1
Monthly Discount: Yes
Special Features: Private Pool, Premium Bedding, Air Fryer, Bikes, High-speed Wifi, Smart TV with Chromecast
The home you one day hope to afford is now yours to pursue your remote working dreams in! The Villa with Private Pool One Block from Beach is a short bike ride away from San Juan's Old Town. Oh, and the bikes are provided by the host!
You will find absolutely everything you need for a wonderful workation in this luxury Airbnb villa. Bring out your inner chef and prepare healthy meals in the fully equipped kitchen. A full-sized stove, coffee maker, and air fryer make for a homey experience. You might even be inspired to try making some local recipes!
Refresh yourself in the pristine pool so you always look composed and focused on your work conference calls. Don't worry if your SO keeps splashing around while you work; you will have a private room with a 32" screen for your office use.
The hosts go above and beyond to make sure your every need is met. It's easy to feel like you are the king/queen of the world in such an amazing spot!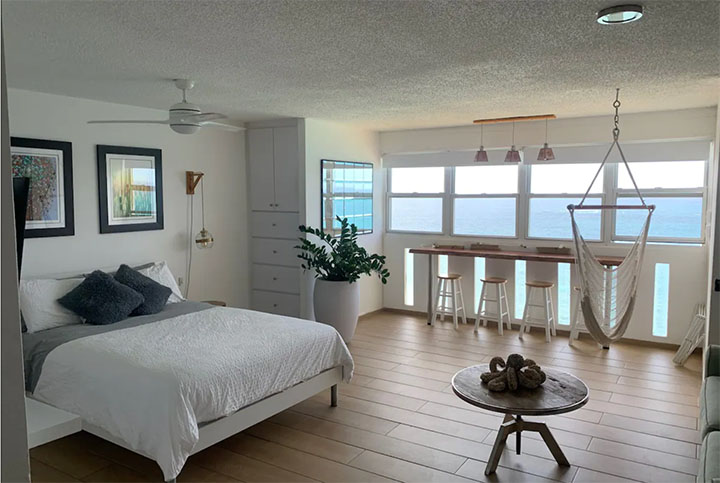 Boho Condo Near Condado Beach
Rating: 4.98
Guests: 4
Bedrooms: 1
Monthly Discount: No
Special Features: Ocean View, Shared Pool, Outdoor Grill, Pool Table
If you are looking for a comfy condo that doubles as an Instragram-worthy background for your selfies, this Boho Condo Near Condado Beach is the perfect choice.
Sip your morning coffee overlooking the sea from the 14th floor! This studio is furnished in a boho style with natural materials and soothing colors. And the view is simply the best decor you could wish for.
The hardest decision you will have to make here is whether you prefer the crystal-clear pool or the salty waves for your afternoon dip. There is also a gym in the building, so you don't have to give up your sporty lifestyle.
Conveniently located 15 minutes away from Old San Juan, you have a variety of restaurants and shops within walking distance.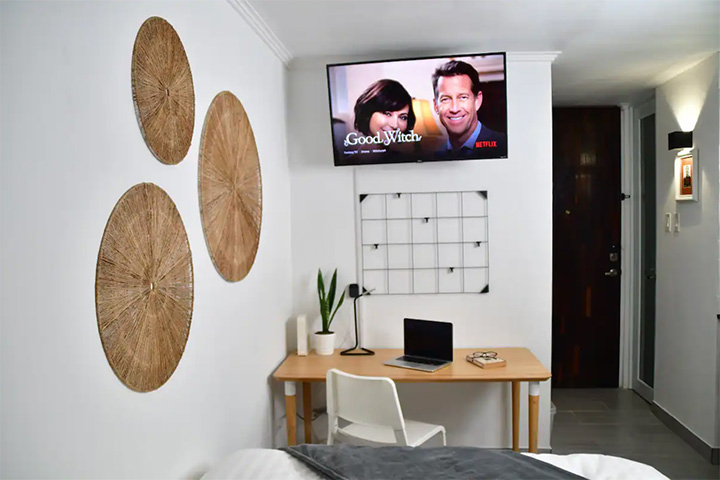 Modern Condo on Loiza Street
Rating: 4.96
Guests: 3
Bedrooms: 1
Monthly Discount: Yes
Special Features: Smart TV, Swimming Pool, Fast Wifi
A Scandinavian hipster haven steps away from the beach. If you are looking for a no-frills base for your exploration of Puerto Rico, look no further!
The Modern Condo on Loiza Street is furnished with comfort and elegance in mind. Premium mattresses will make sure you wake up refreshed and ready to take on the day. There is a dedicated work area with super-fast internet to power your remote endeavors.
Picking up a mid-work latte has never been this easy. Just step outside and choose from the trendy cafés on nearby Loiza Street. With easy access to shopping facilities and a beautiful beach, this place truly offers the best of San Juan!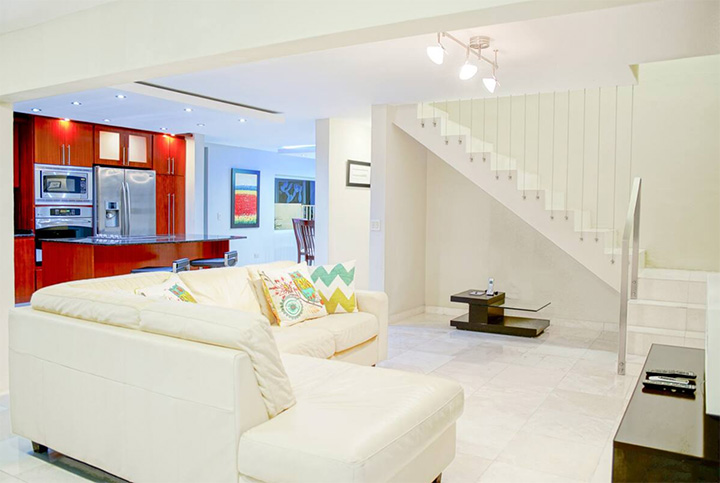 The Coral Luxury House
Rating: 4.9
Guests: 6
Bedrooms: 4
Monthly Discount: Yes
Special Features: Private Pool, TV in Each Bedroom, Two-Car Garage, BBQ Area
For those who work hard and want to treat themselves (and up to five friends), the Coral Luxury House is a quality option. The owner spared no expense in decking out this home with luxurious materials and a high-end kitchen.
Featuring a spacious backyard with a private pool, a BBQ area, four bedrooms, and three full bathrooms, this house was built for entertaining. If giving dinner parties is part of your remote working dream, this house has everything you are looking for.
This listing is situated in a gated community, secluded yet close to major San Juan attractions and beaches. If you are exploring the island by car, you will love the large and secure garage.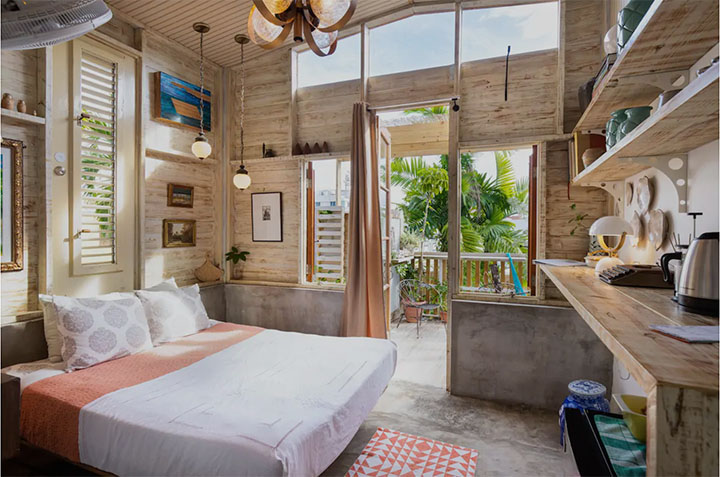 Unique Treehouse With Floating Deck
Rating: 4.96
Guests: 2
Bedrooms: 1
Monthly Discount: No
Special Features: Outdoor Shower, Ayurvedic Spa, Memory Foam Mattresses, Hammocks
If you can't start your day without a good Downward Dog stretch, you might like this Unique Treehouse With Floating Deck. It is part of a wellness center, so there is a wide range of services available, such as yoga classes, an ayurvedic spa, and healthy vegan breakfasts.
The treehouse blends into the green communal garden with its soothing boho decor. You'll have everything you need in this compact studio: a kitchenette, toilets, and even a private shower out on the deck. Unusually for Puerto Rico, the view here will be more green than blue!
You can mingle with other guests in the garden, or take a stroll to the nearest beach to clear your head after a long day of work.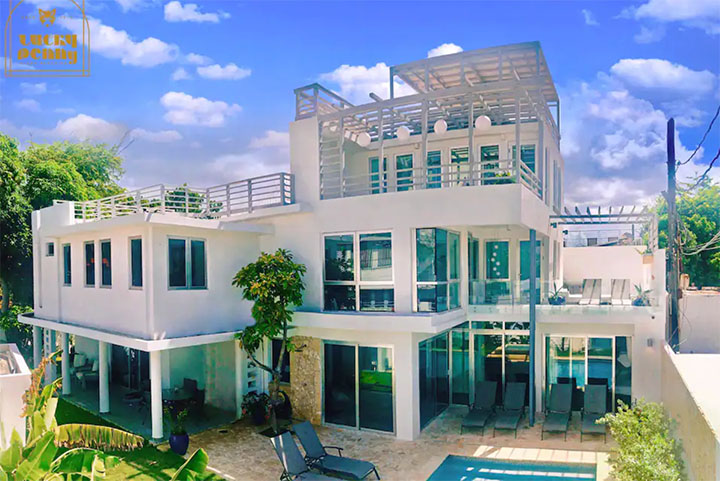 The Lucky Penny
Rating: 4.93
Guests: 14
Bedrooms: 5
Monthly Discount: Yes
Special Features: Rooftop, Chef's Kitchen, Heated Pool, 50" LED TV in Each Room, Backup Generator
Thinking big? The Lucky Penny is the perfect choice for a large group or a co-living remote working experience.
Featuring five bedrooms with premium mattresses, this chic mansion can comfortably house up to 14 guests. Imagine the possibilities: organizing a yoga retreat, cooking with your friends or family, hosting your mastermind group for a brainstorming session… this house has it all!
Centrally located, within walking distance of the beach and the restaurants and attractions of both Condado and Isla Verde.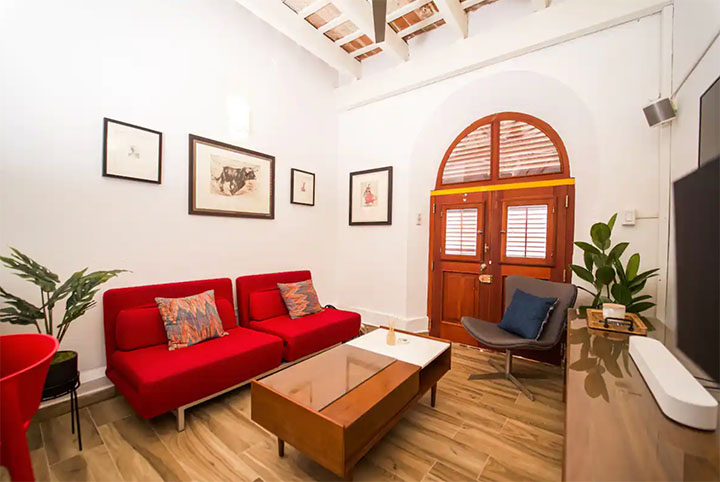 Old San Juan Apartment with Patio
Rating: 4.56
Guests: 4
Bedrooms: 2
Monthly Discount: Yes
Special Features: Shared Patio, Full Kitchen, Working Area
Live like a local and experience everything San Juan has to offer from this ultra-central apartment! The Old San Juan Apartment with Patio will be your perfect home base to explore the old town.
Step into the vibrantly colored patio and feel your mind switch to island time. Unwind in the shade of tropical foliage, take a deep stretch, then make yourself a cup of coffee in the fully equipped kitchen, and you'll feel ready to take on the world!
This listing is perfect for those who don't want to rent a car. You can easily do all your shopping and exploring on foot from here!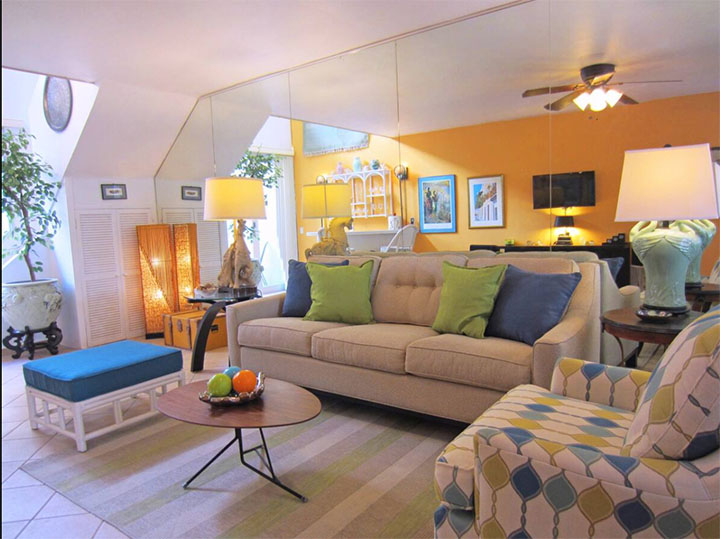 Exclusive Townhouse Steps from the Beach
Rating: 4.81
Guests: 2
Bedrooms: 1
Monthly Discount: Yes
Special Features: Zen Garden, Secure Carport, Private Veranda, HD Cable TV, Fast Wifi
A relaxing refuge for turbulent times. The Exclusive Townhouse Steps from the Beach embodies Zen philosophy in every detail. Featuring a beautiful garden with lush vegetation, a mini waterfall, and a koi pond, you will find yourself sipping jasmine tea and humming "OM" just about every morning.
This is no Buddhist monastery, though. The hosts equipped the townhouse with all modern necessities, such as high-speed wifi, cable TV, and a full kitchen.
Within walking distance of a pristine beach, this townhouse will be your oasis for your remote work in San Juan!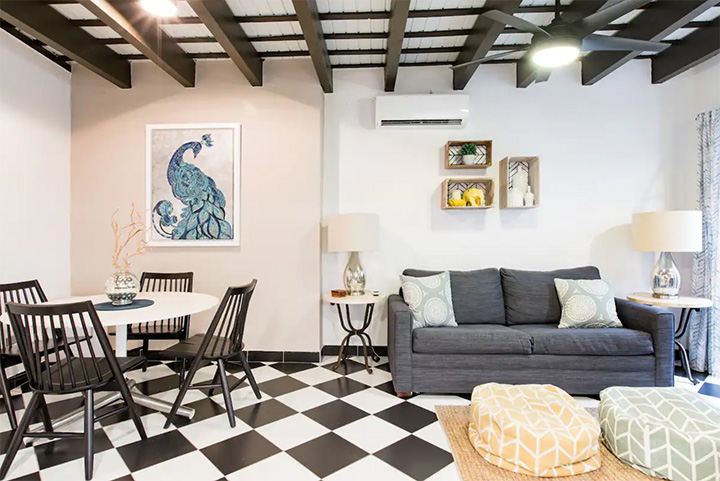 Checkerboard Hideaway in San Juan
Rating: 4.9
Guests: 2
Bedrooms: 1
Monthly Discount: Yes
Special Features: Patio, Wifi
If you need a cozy place to lay your head after a busy day of working and/or exploring, the Checkerboard Hideaway in San Juan is a sure bet. Tucked away in a quiet street in downtown San Juan, this little place has been meticulously decorated and equipped for your comfort.
Enjoy your first coffee on the secluded patio, then head out to find your office for the day. Your stylish little home will wait for you to come home and take a last look at the tropical stars before turning in.
Located conveniently at the very center of San Juan, within easy reach of sights and shops.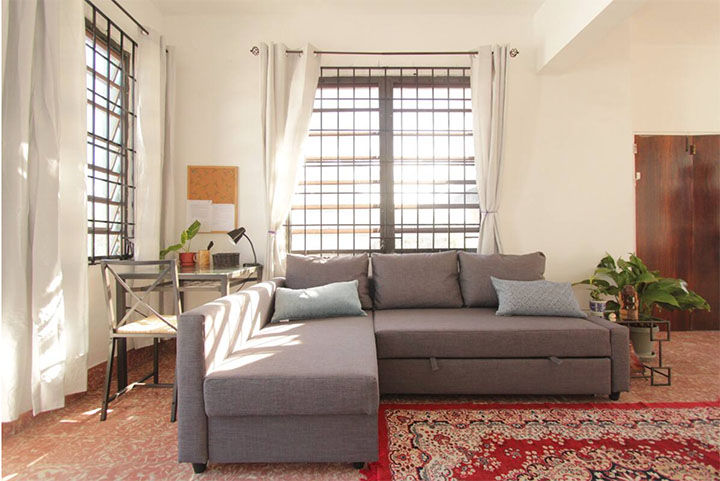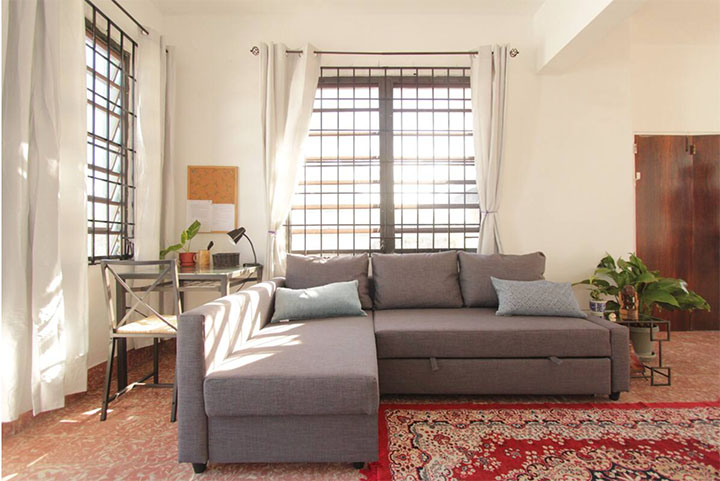 El Balcón
Rating: 4.89
Guests: 4
Bedrooms: 2
Monthly Discount: Yes
Special Features: Balcony with Hammock, Outdoor Space, Workspace, Grill Area
A cozy place that will feel like home in a tropical paradise. El Balcón is a bright and inviting apartment for up to four adults. Furnished in a typical Puerto Rican style, this place will truly have you living like a local.
Imagine finishing up a big project in the cool breeze on the balcony, then taking a stroll on the beautiful beach nearby to stretch your legs. Pick fresh herbs on the patio for your yummy dinner and enjoy a glass of local wine before going to bed with a smile on your face! That is no longer a dream at El Balcón, we call it Tuesday.
You can easily access the Ocean Park and Condado neighborhoods with their shops, restaurants, and sights. There is plenty of parking in the area.
Find Your Perfect Long-Stay Airbnb Worldwide
Don't waste any more of your precious time sifting through Puerto Rico Airbnb listings. As active digital nomads, we know exactly what you are looking for in long-stay Airbnb rentals to succeed and enjoy your life as a remote worker.
Let us help you find your next home! You'll always get the hottest tips from Nomads Embassy: The World's First Embassy for Digital Nomads.
Don't miss the latest news about working remotely while traveling the world. Join our newsletter and stay up to date on everything remote!