Finding the best Airbnb in Puerto Rico for your next workation can be quite a daunting task. From researching different locations to checking to make sure it has the right amenities, your search swallows a big chunk of your time, especially when you have work to do and meetings to attend.
It's understandable if you cannot go through every Puerto Rico Airbnb listing because you have other responsibilities as a remote worker. To simplify your search and save you time, we have compiled a list of the best long-stay Airbnbs in Puerto Rico for remote workers.
Planning where you'll be staying throughout your workation is probably the lengthiest part of organizing your trip. Now that you've found our list, you can spend your time scheduling fun excursions while on this beautiful island.
Puerto Rico for Remote Workers
This Caribbean island is located around 1,000 miles southeast of Florida. The entire coastline is around 300 miles, creating plenty of gorgeous beaches where you can lounge in the sand and soak in the sun or jump in the water to jump on some waves.
But, there's much more to this island than just the shoreline. Its living conditions and benefits are highly suitable for travelers with remote jobs. You'll find plenty of coworking spaces located in San Juan, such as co.co.haus and Spece, along with cafes with free wifi.
If you're looking to work from a place with warm weather throughout the year, Puerto Rico is the ideal place. You can head out for a swim before or after a hectic work day. Also, your work won't be interrupted because you can find 5G services on most of the island.
US citizens don't need a passport to travel to Puerto Rico, making it a convenient destination for many. Also, Puerto Rico is in the Atlantic Standard time zone. So, travelers from the east coast don't need to adjust their work schedules while working remotely from Puerto Rico.
You'll find a plethora of restaurants with delicious cuisine and traditional dishes. Feast on dishes of mofongo and empanadillas in fine restaurants or authentic food carts throughout the cities. It's safe to say that you'll always eat and drink well while in Puerto Rico.
Best Long-Stay Airbnbs in Puerto Rico
Famous for its palm-lined beaches, Puerto Rico is an excellent destination for remote workers. We will be looking at the Airbnbs in various towns of Puerto Rico, but there's one thing in common.
All the Airbnbs on the list allow month-long rentals, making them perfect for your long-stay workation. Also, these Airbnbs are in ideal locations, have excellent working conditions, and necessary amenities for remote workers.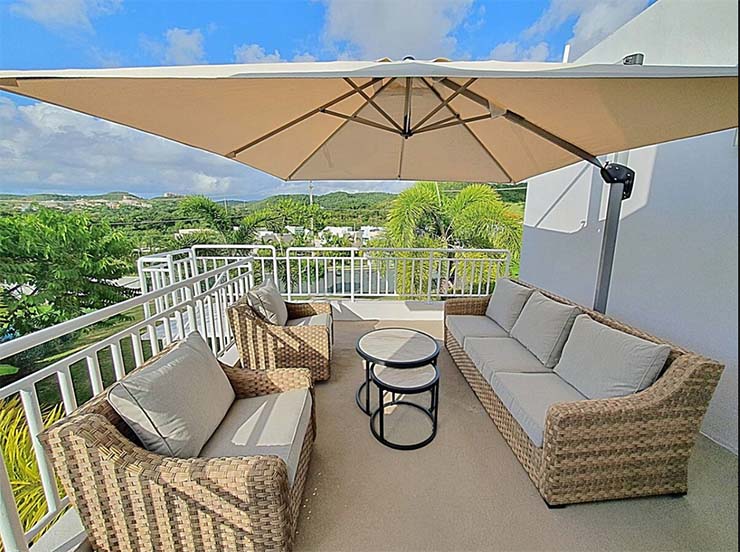 Villa with Pool Five Minutes from Beach – Fajardo
Rating: 4.84
Guests: 6
Bedroom: 3
Monthly Discount: No
Special Features: Pet-Friendly, Mountain View, Indoor Fireplace
This stunning villa with a pool has all that you could ask for. It is pet-friendly, so it's great for remote workers traveling with their furry friends.
There are three huge bedrooms, and best of all, there's an electric indoor fireplace. The house has been decorated very well with modern decor, and the ambiance is comfortably cozy.
Thanks to the pocket wifi service, you'll have a great time working remotely from this mountain-facing villa. The kitchen is fully equipped and has luxurious appliances like a rice cooker and a bread maker.
Guests can take advantage of the shared swimming pool, BBQ grill, and free parking on the premises. In the vicinity, you'll find the Puerto Del Rey Marina, great restaurants, and snorkeling tours. This waterfront property is just five minutes away from Luquillo Beach.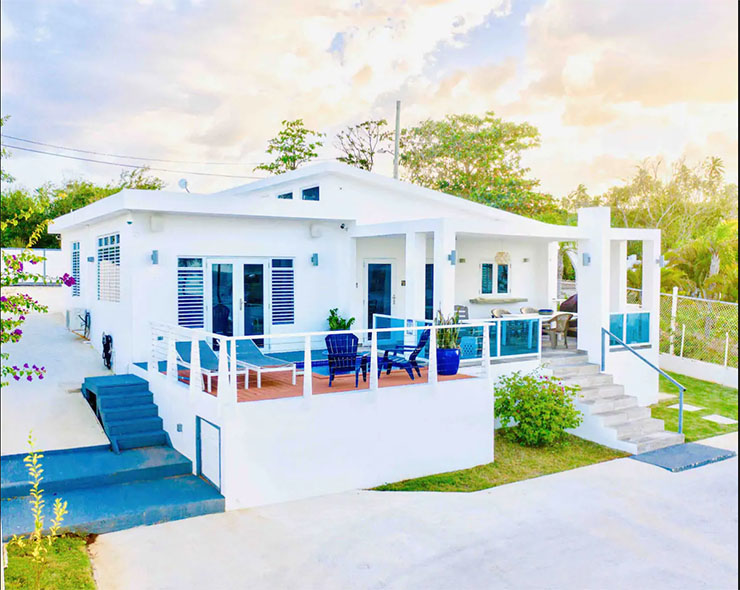 Villa Despacito – Camuy
Rating: 4.95
Guests: 6
Bedroom: 3
Monthly Discount: Yes
Special Features: Ocean-Facing, Pet Friendly
This beautiful villa in Camuy is a three-bedroom, two-bathroom property with direct access to the beach.
Enjoy the partial views of the Atlantic Ocean from the private pool, or lounge at the deck during sunset after a hectic day of work. This beach house has high-speed wifi with two routers, so you can always count on having a super-fast connection. Fast wifi means more than just productivity, it also means you can stream your favorite Netflix series.
The kitchen is fully equipped with everything you need to make a delicious meal, and there's a washer and dryer available. You can also host BBQ sessions on the private patio.
Located in a small-yet-active surfing village, this villa is great for remote workers who love surfing. The ocean is just a few hundred feet away from the villa, and the nearest beach is just two miles away.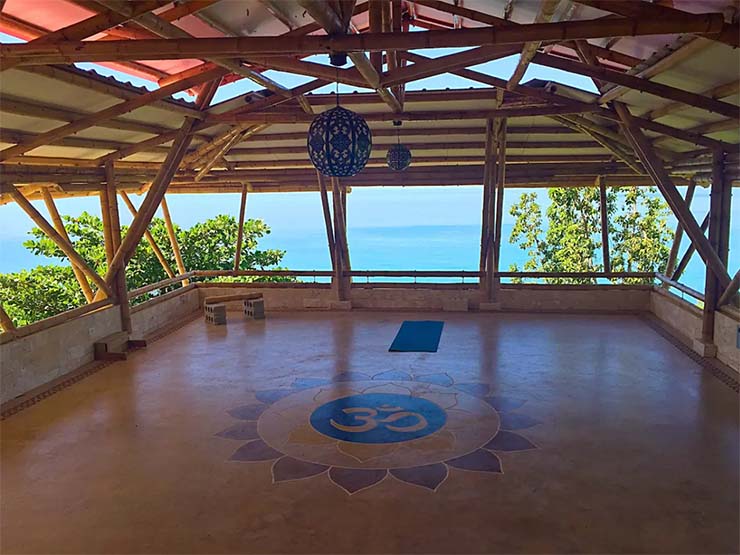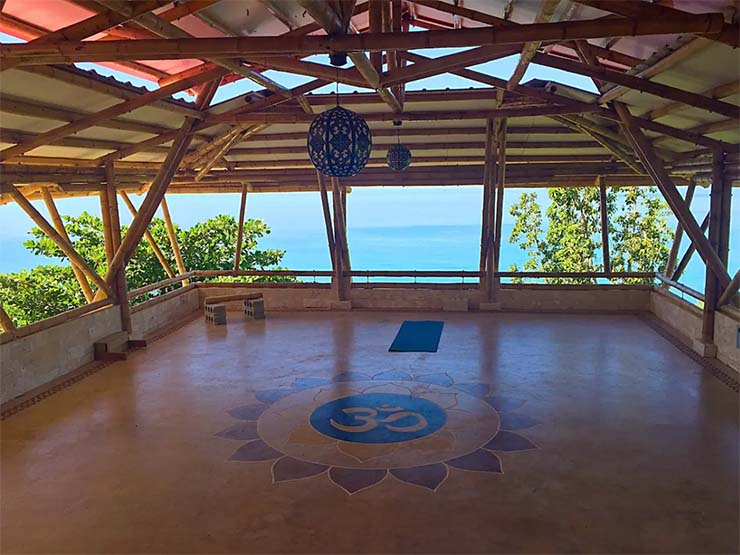 Peaceful Oceanview Villa – Rincón
Rating: 4.89
Guests: 4
Bedroom: 2
Monthly Discount: Yes
Special Features: Suitable For Events, Dedicated Workspace, Beachfront
You will be able to enjoy the tranquil countryside of Puerto Rico in this peaceful villa in Rincon.
Located 150 feet above sea level, you'll be able to enjoy a 180-degree view of the Atlantic Ocean from the deck. There are three levels in this villa. The lower level has a bedroom with a bath, the mid-level has a guesthouse with a veranda, and the upper level has a bamboo deck great for yoga.
There's a dedicated workspace for you with aesthetic decor, and according to a review, the wifi "worked greatly." Brew a fresh cup of coffee before work in the fully-equipped kitchen to get your caffeine fix for the day.
Enjoy the views, spend quality time with your loved ones, or enjoy meditation on the private patio or garden. This oceanfront villa is set away from the main road with quiet surroundings. The beach, restaurants, and the city are just a few minutes away.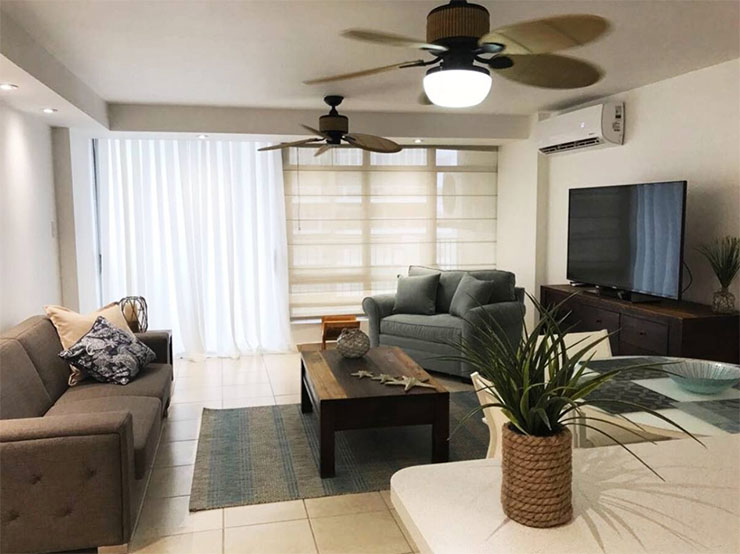 Oceanview Beachfront Studio – Carolina
Rating: 4.92
Guests: 3
Bedroom: 1
Monthly Discount: Yes
Special Features: Laundry Essentials, Beach View, Shared Olympic-Sized Pool
This oceanview beachfront house in Carolina is cozy and majestic. It is especially majestic since it's located on the seventeenth floor boasting an unobstructed view of Isla Verde Beach.
According to one review, this waterfront property was "really clean with nice decor." Besides the bedroom, there's plenty of space to rest, thanks to the pullout couch.
This studio apartment is perfect for remote workers because the wifi is super-fast at a tested speed of 159 Mbps. So, joining video meetings from multiple devices would be easy, and so would be streaming 4K videos on Netflix. You can also set up your lightweight laptop that's perfect for remote work at the dedicated workspace available.
Forgot your shampoo and soap? No worries! The bathroom is stocked with amazing Tresemme and Dove products. There's a free washer and dryer and a walk-in wardrobe so you can unpack comfortably. This beachfront retreat also has a fully-equipped kitchen with a dining table and wine glasses.
You can rent beach essentials or spend some quality time by the shared pool or backyard. This unique Airbnb is within walking distance of hotels and beaches. It's also minutes away from the capital, San Juan.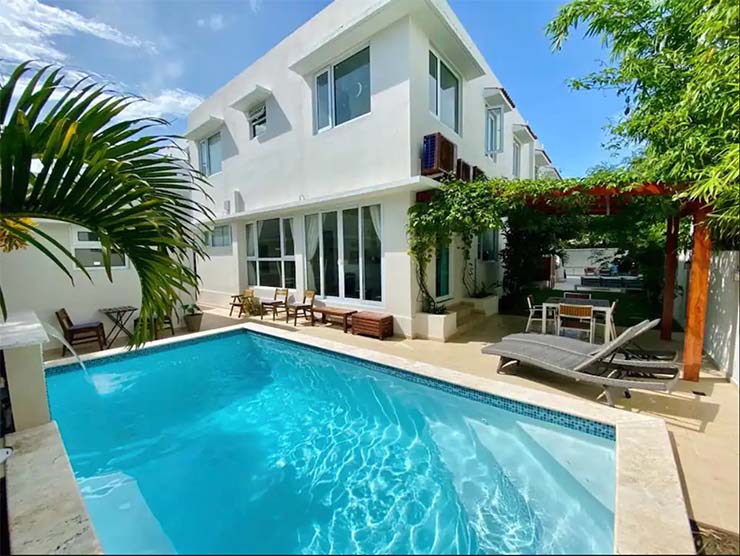 Spacious Villa with Private Pool – San Juan
Rating: 4.99
Guests: 3
Bedroom: 1
Monthly Discount: Yes
Special Features: High-Speed WiFi, Sound System with Bluetooth,
This luxury villa with a private pool is located in the capital city of San Juan. Imagine waking up on a Sunday morning from your premium king-sized bed to the view of a pool around palm trees. That's precisely what you'll experience when you stay in this Airbnb.
Relax under the hot water in the gorgeous outdoor shower after coming home from a long afternoon at the beach. Or, lounge by the pool in the fully-fenced backyard. The outdoor furniture has modern decor that looks really beautiful.
The wifi is impeccably fast, with a tested speed of 112 Mbps. There's also a dedicated space for you to work and conduct Zoom meetings from. Cook your favorite meals in the fully-equipped kitchen after work, or host a BBQ party on the private patio.
Restaurants and beaches are within walking distance too. If you don't have a vehicle, Uber is available to get around San Juan. The beach isn't so busy even during the evenings either. So, if you're looking for quiet Puerto Rico vacation rentals for your long stay, this is the one.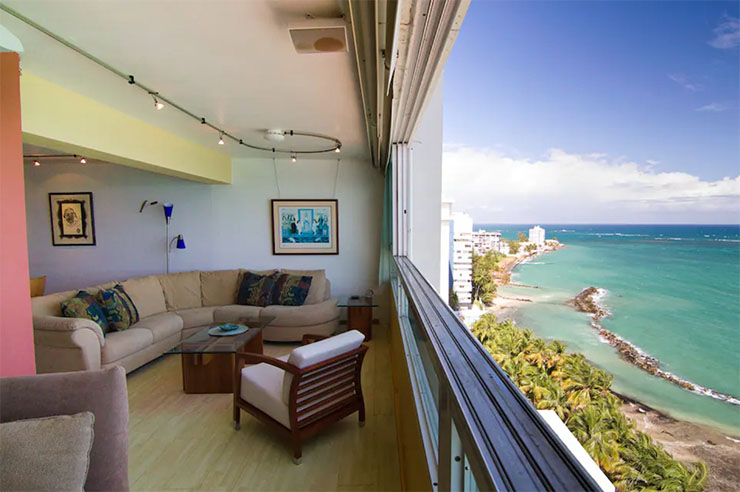 Cozy Beachfront Condo – Carolina
Rating: 4.94
Guests: 2
Bedroom: 1
Monthly Discount: Yes
Special Features: Waterfront, Common Workspace
This cozy beachfront condo in Carolina is a fully furnished one-bedroom, one-bath apartment.
The condo has some amazing panoramic views of the Atlantic Ocean. According to the host, this condo is ideal for a solo traveler or a couple.
This large beachfront condo has beach access through a private gate. So, you can enjoy an early morning walk or jog along the shore. Relax on the queen-sized bed on the weekend while enjoying the newly installed central air conditioning.
There's wireless internet and a common workspace where you can set yourself up. The kitchen is fully equipped with everything you may need, and the bathroom has a luxurious hot tub, too. After a long day of work, you can relax and watch your favorite shows on TV or tune into the stereo.
This apartment is only a few steps away from a 1.5-mile stretch of sand. It's within walking distance of various supermarkets, restaurants, clubs, and casinos. This Airbnb in Puerto Rico has been largely reviewed as the perfect place to stay for long stays and vacations for remote workers. Rest assured, you'll have one of the best Airbnb experiences here.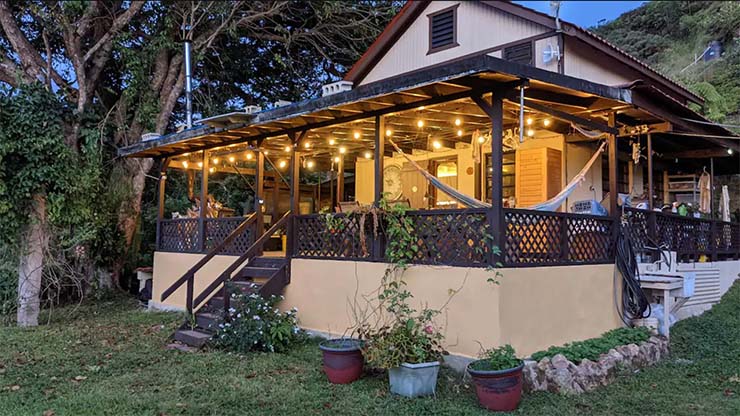 Healing Mountain Retreat – Utuado
Rating: N/A
Guests: 4
Bedroom: 2
Monthly Discount: Yes
Special Features: Mountain View, Outdoor Dining Area
This healing mountain retreat goes by the name of Refugio, and for a pretty good reason. When you're here, you'll enjoy refuge from the hustle and bustle of daily life while relaxing and working remotely. It's perfect for creatives who are looking to calm their minds and find inspiration for their next project.
This mountain-facing property has two bedrooms with a queen bed, and there's also a sitting area. There is a shared kitchen and a huge outdoor patio for you to lounge after a long work day.
The wifi is pretty fast, with a speed of 53 Mbps, and there's a common workspace. Also, this Airbnb is one of the few places in the area offering free parking.
According to the hosts, this property is best for remote workers looking for a peaceful hideaway. Head out for self-guided hiking trails, or book an excursion to nearby waterfalls.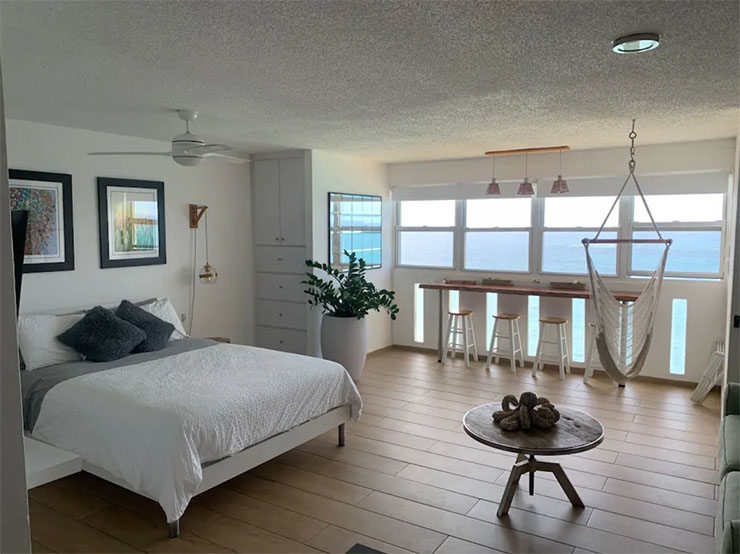 Minimalist Condo with Direct Beach Access – San Juan
Rating: 4.98
Guests: 4
Bedroom: 1
Monthly Discount: Yes
Special Features: Blackout Curtains, Exercise Equipment
This minimalist Airbnb in San Juan, Puerto Rico, has direct access to Condado Beach. Enjoy the view of the Atlantic Ocean or relax at the pool while sipping on a refreshing drink.
As the name goes, this condo has minimalistic decor and has been positively reviewed for its beautiful looks. It is a waterfront property with public or shared access to the beach.
There's high-speed wifi and a dedicated workspace where you don't need to set many things because there's already a table. The kitchen is fully stocked with many modern appliances.
Recreational time after work will be fun because you can also play pool at the pool table. You will also have access to a BBQ grill and a shared pool.
Fitness enthusiasts will enjoy their time here, thanks to the shared gym in the building. This fourteenth-floor apartment is located centrally within walking distance of many supermarkets and restaurants.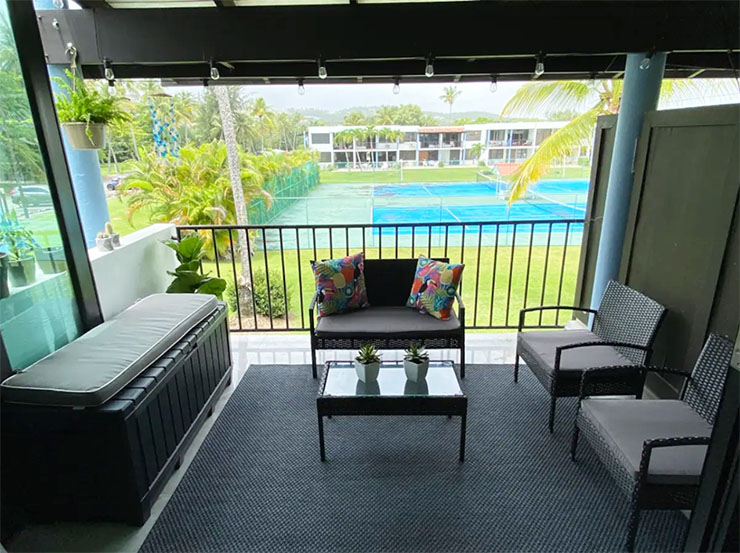 Glamorous Condo on Private Beach with Office – Rio Grande
Rating: 5
Guests: 4
Bedroom: 1
Monthly Discount: Yes
Special Features: High-Speed Wifi, Garden View, Mountain View
This glamorous condo in the Rio Grande has all the amenities you need to have an amazing Puerto Rican workation.
The workspace in this condo faces the beach, creating the perfect serene ocean view while you answer emails or fill out spreadsheets. . It isn't just the view that makes this Airbnb ideal for remote workers. The tested wifi speed at this condo is a whopping 265 Mbps!
It has been recently remodeled and decorated in a minimalistic and modern way. All the appliances are brand-new, from smart TVs to wine coolers. The balcony has a rainforest view where you can sip your morning coffee and take in the natural green setting.
The condo is located conveniently near restaurants and grocery stores. It's also great for you to explore the El Yunque National Park! If you're a remote worker living a nomadic lifestyle and looking for long-stay vacation rentals, this condo could be a great option.
Find the Perfect Airbnb Worldwide for Your Digital Nomad Lifestyle
Have you found your perfect Airbnb in Puerto Rico to spend your days working remotely in the sunshine of this gorgeous island? From beachfront condos to villas with private pools, you can surely find peace, productivity, and fun during your workation.
Just imagine if finding a digital nomad-friendly Airbnb was as simple as going through a finely curated list in just a few minutes.
With Nomads Embassy, it is! We're collecting the world's best Airbnbs for remote workers to help make your search stress-free and less time-consuming.
Join our newsletter to stay updated with the best Airbnb listings worldwide and some helpful remote working advice.