A new residence permit in Europe will be available for digital nomads this year. The government announced the Hungary digital nomad visa, also known as the White Card, for remote workers who want to live in the country.
This is excellent news for digital nomads who wish to live a European lifestyle while also taking advantage of affordable living costs. Hungary is a hidden gem for digital nomads as Budapest has long attracted adventurous remote workers.
Holders of the Hungary digital nomad visa can stay in the country for one year. They will have the option to renew it for another year. It's important to note that this visa is only for non-EU nationals.
It also will not allow family unification. So, if you are married, your spouse must apply for a separate White Card and also meet the requirements.
There are two methods to apply for the Hungary digital nomad visa. Third-country nationals that can enter Hungary visa-free may use the online application. If you require an entry visa, then you must apply for the visa with a local Hungarian embassy or consulate.
As Hungary is part of the Schengen Area, visa holders will have access to travel to the 27 countries part of the arrangement visa-free.
Hungary joins a long list of other European countries to introduce digital nomad visas including Croatia, the Czech Republic, Estonia, Malta, Portugal, Romania, Montenegro, Spain, and Greece.
What is a Digital Nomad Visa?
Before diving into the details of the Hungary digital nomad visa, let's first define what it is. A digital nomad visa is officially a residence permit allowing remote workers to live in a country for an extended period of time.
This visa does not allow holders to engage in economic activities with local businesses in the country they're living. So, all contracted work must be done with companies outside of the country where you hold the digital nomad visa.
Each country has different requirements and rules for its digital nomads. So, be sure to keep checking back on our website for more information about specific visas.
Hungary Digital Nomad Visa Requirements
As with any visa, there are certain requirements applicants must meet in order to be eligible to apply for it. Below are the Hungary digital nomad visa requirements.
Valid Passport – Your passport must be valid for at least 6 months after your visa expires
Proof of Remote Work – You must work as a freelancer, employee, or business owner for a company outside of Hungary
Income of 2,000€/month – You must meet this minimum income amount
Proof of Income – You'll be expected to submit bank statements from the previous six months
Proof of Health Insurance – You must have health/travel insurance coverage for the duration of your visa
Address of Accommodations – Present a lease or sale agreement of where you will live in Hungary
If you meet these requirements and can collect documentation to prove it, then you can move forward with applying for the Hungary digital nomad visa.
Steps to Apply
Applying for the Hungary digital nomad visa is fairly simple. It's important to remember that you must be outside of Hungary to apply for it at a local embassy or consulate. Below is a step-by-step guide on how to submit your application.
Step 1: Gather Documents
It's helpful to gather all of the necessary documents before you start filling out your application. The documents needed to apply include:
Valid Passport
Proof of Income
Proof of Remote Work
Address of Accommodations
Letter Stating You'll Leave Hungary After Your Visa Expires
It's important to note that when filling out the Purpose of Stay portion of the application you check "White Card."
Step 2: Submit Your Application
As of March 2023, there are two ways to submit your Hungary White Card application.
Third-country nationals who do not require an entry visa to Hungary may apply for the digital nomad visa online.
At the top of the page, click the link "Register," and it will bring you to a form to create an account. You will receive an email with a one-time use password to access your account and submit your documents.
The documents required for the Hungary digital nomad visa online application may vary. You can find a list of these documents here.
If you do require an entry visa to travel to Hungary, you must be outside of Hungary to submit your application for the White Card digital nomad visa. Make an appointment at your local Hungarian embassy or consulate to submit your documents.
You will go through a brief in-person interview where you will answer questions about your stay in Hungary. Make sure to bring all of your documents and completed application to this appointment.
Step 3: Wait for Approval
It will take about 30 days for you to hear a response about whether your visa application was approved or not.
Step 4: Apply for Residency
Once your application is approved and you've received your visa you can travel to Hungary! There is one more step to take, though.
Within 30 days of your entry, you must visit the Directorate General for Aliens Policing to apply for your residence permit. Make sure to find the office closest to your residence address as each office works with specific areas.
It's a good idea to bring all of your visa documents with you when receiving your official White Card. They may ask for certain information or copies.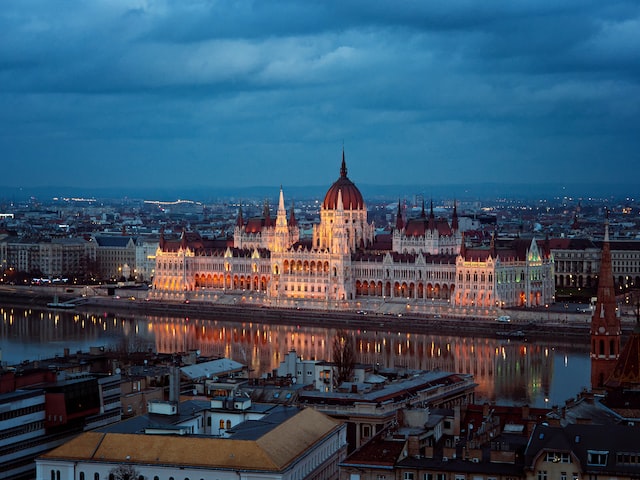 Why Hungary?
For those digital nomads who want to experience the European lifestyle on a budget, Hungary is the place for you. With a much more affordable cost of living compared to the rest of the countries in Western Europe. Plus, with the country's excellent infrastructure and lightning-fast wifi, it's a digital nomad's paradise – save for a tropical environment.
The most popular digital nomad hotspot in Hungary is the capital, Budapest. You'll find plenty of coworking spaces available and small cafes where you can use the free wifi.
Since Hungary isn't necessarily a popular tourist destination. So, digital nomads here won't be likely to fall into tourist traps or pay for overpriced meals during certain seasons.
Digital nomads residing in Hungary can expect to eat well at restaurants cheaply, experience great nightlife, and admire stunning architecture.
Let Us Help You Apply for the Hungary Digital Nomad Visa
Applying for a visa in a foreign country can be overwhelming and a bit confusing – even with helpful guides like this. Don't let that discourage you, though!
Nomads Embassy has partnered with professional visa lawyers to help digital nomads like yourself apply for digital nomad visas worldwide. So, you don't have to do it alone.
Fill out the form above or contact us to get in touch with our partners for help applying for the Hungary digital nomad visa.
Don't forget to join our newsletter for the latest digital nomad visa news and tips!
[ratings]