Last Updated on 16 August 2022 by Brittany
As someone who lives a life of traveling and working remotely, you may have considered staying in a hostel during your travels.
Thousands of people stay in hostels every year due to their affordability, comfort, and opportunities to meet people. They are perfect for solo travelers, backpackers on a budget, and digital nomads who want to meet people and save some money. Located in almost every country in the world, you can surely find one in great digital nomad cities.
You may be curious about this alternative accommodation method of staying in a hostel as it goes a bit against the grain. There are certain etiquettes, travel tips, and things you should know before booking your first hostel stay.
Fortunately, you found this guide on staying in a hostel to help you decide whether it's the right accommodation for you and what to expect when you do stay in one.
What is a Hostel?
A hostel, in the traditional sense, is an accommodation option where you can book a bed in a dorm-style room rather than a private room. More modern hostels do offer options to book private rooms now, but the main idea is to share a room with other travelers.
You'll find that most hostels offer an option between a mixed or female-only dorm room to travelers.
It's a very social accommodation with extremely affordable prices compared to hotels and private rentals like Airbnb. Booking a bed to sleep is much less expensive than an entire room or apartment.
You'll often find the setup of hostels is very similar no matter where you go. The bedrooms have four to ten beds, usually bunk beds to save space. The bathrooms are shared and are either in a hallway or ensuite in the bedrooms. There is a common area where you can socialize and a communal kitchen where you can cook and store food.
Of course, some hostels have other amenities such as pools, restaurants, bars, rooftop terraces, and more. There are a variety of different types of hostels out there.
We'll discuss more about finding the right one for your digital nomad lifestyle later on.
Advantages of Staying in a Hostel
You may be curious about why someone would choose to stay in a room with other travelers they don't know. Well, as you'll see, staying in a hostel as a digital nomad has some pretty great benefits.
Save Money on Accommodations
Oftentimes, the most expensive part of the digital nomad lifestyle is paying for accommodations. It makes up a significant part of your budget – no matter where you are in the world.
One of the most common reasons digital nomads decide to stay in hostels is because they're saving money.
Sometimes for just a few dollars a night, they can get a comfortable bed, free breakfast, free wifi, and a place to work.
When I spent some time in Mexico City, I found, Casa Pepe, an amazing hostel with an amazing free breakfast, rooftop terrace, free yoga classes, a bar, and comfortable beds for just $10 per night. It was so much better than staying all alone in a hotel.
Easy to Meet People
The glory of being a digital nomad is having the opportunity to meet people from all over the world. You can build a unique international network of friends, business opportunities, and more.
However, when you stay in an apartment or hotel room by yourself, it can be difficult to meet other like-minded people. You have to make an effort to go to local meetups or strike up conversations.
When staying in a hostel, it's much easier to meet people from different destinations. It's easy to break the ice since you're staying in the same place or talking about your destination.
Some hostels also have social events and excursions where you can connect with other people as well.
This is an important feature of staying in a hostel as a digital nomad as it can become a lonely lifestyle at some points, so making friends is important.
Experience Fun Activities
As I just mentioned, hostels often organize social events, tours, and excursions for their guests. This makes it easy to experience your destination while also meeting new people.
For example, when I stayed in a hostel in Nice, France, they organized bar crawls each night and had free walking tours of the city during the day. It was a fun way to relax after a day of exploring or working on my laptop and meet other travelers and digital nomads.
Disadvantages of Staying in a Hostel
As with anything, there are two sides to staying in a hostel. While we are all for booking hostels, it's important to know that there are some disadvantages, especially when staying there as a digital nomad.
Little Privacy
If you're someone who likes being alone and flourishes in peace and quiet, then you may want to rethink staying at a hostel for an extended period of time. You'll be around people most of the time while in a hostel.
Most of the time you'll be sharing the room where you sleep with others. You'll also share the bathrooms, which usually consist of stalls and multiple showers. Picture a college dorm's bathrooms; they're very similar to hostel bathrooms.
You often won't have a very private or very comfortable place to change, either. Some creativity is required if sharing a room with multiple people, but it can be done!
Surrounded by People
People will be working, reading, or socializing in the common areas. It can be difficult to find a place by yourself in a hostel. If you consider yourself an introvert or enjoy your alone time, then being in a hostel for a while can feel draining and possibly frustrating at times.
However, if you're simply passing through a destination and want to meet some people, staying in a hostel for a couple of days can be quite enjoyable, especially if you're craving social interactions.
Possible Distractions
If you're someone who needs to be super concentrated and can't have distractions while working, then maybe reconsider staying in a hostel for a week or more.
However, if you can slap on some Bluetooth headphones and zone out while sitting in front of your computer for a few hours and complete your tasks, then these distractions shouldn't be much of a problem.
It's important to be aware of these potential disadvantages of staying in a hostel before making your decision to book your stay. Otherwise, you may have an awful experience – which I'm trying to prevent.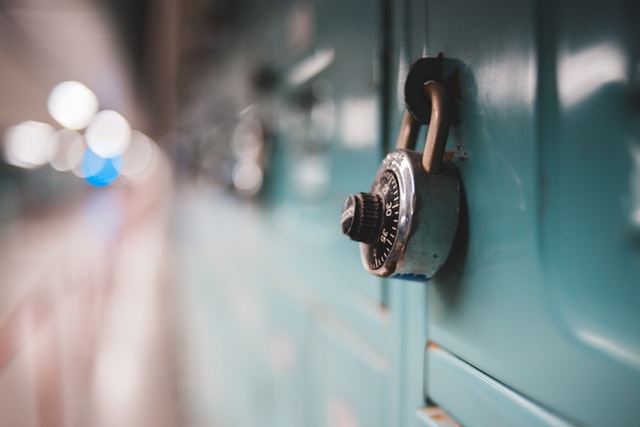 Are Hostels Safe?
The number one question most travelers and digital nomads have about hostels is if they are safe or not. Especially solo female travelers have concerns about whether or not they're safe.
For the most part, yes hostels are safe to stay in. The staff has a goal to keep guests safe and you'll see there is a lot of security. However, it's important that you take the right precautions to keep yourself and your belongings safe as well.
Below are some tips on staying safe in a hostel.
Security Items to Bring to a Hostel
Most people who are worried about staying in a hostel are concerned about their belongings being stolen. While this can happen on occasion, there are some security items you should bring with you to prevent it.
Make sure to always bring a combination padlock with you. Most, if not all, hostels have lockers for you to store your items, but you'll have to bring a lock with you.
You can also find a lock for your backpack or suitcase to secure it to your bed and to keep people from opening it.
Hide Your Valuables
If for some reason your hostel doesn't offer lockers or you forgot to bring a padlock, try to hide your valuables such as your phone, computer, passport, and wallet.
You can put them under your mattress, in your pillowcase, or keep them with you wherever you go.
For the most part, people staying in hostels won't touch your things, but there is always the possibility someone with sticky fingers books a bed. It's always a good idea to get travel insurance just in case your items are stolen in any situation while abroad too.
Alert Staff of Suspicious Behavior
If there is someone in your room who is making you feel uncomfortable for whatever reason, don't hesitate to let the staff know about the situation.
They can remove the person from the room and find other remedies to make you feel safe and comfortable. Never be afraid to go to the staff and let them know if there is a problem with other travelers.
Hopefully, you will never experience this, but just know that you can go to someone for help.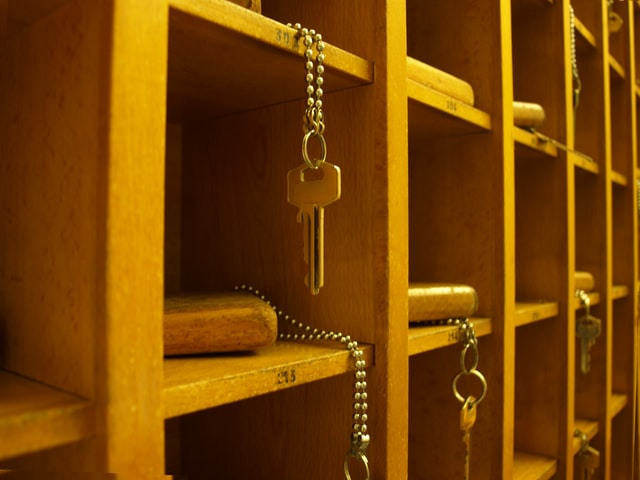 What to Expect During Check-In
Checking into a hostel is a bit different than if you were staying in a hotel. The process can take a bit longer, especially because each hostel has different rules and regulations.
Here is what you can expect when you check into your first hostel.
Key and Towel Deposit
You may be surprised when the staff asks you to leave a deposit for your room key and towels. This can range anywhere from $5 to $15 and usually must be paid in cash.
This is to ensure you don't lose your key and don't take or ruin the towels and linens they provide.
When you check out and return your key, you will get your deposit back. It's that easy!
Just make sure you have some cash on you when you check into your hostel.
Documents and Hostel Rules
While checking in, the staff will likely ask you for your passport or another form of identification. This is simply for their records. Make sure they return it to you and don't hold on to it for the duration of your stay.
The staff will also go over hostel rules such as curfews, quiet hours, and more. They may also give you a tour of the hostel and some tips about exploring the area like restaurants, museums, and parks.
Getting Your Bed
During check-in, you'll get your room and bed assignment as well. You'll find either a number on the side of the beds or the staff will tell you where in the room it's located.
Some hostels are more lenient about where you sleep and have a first-come-first-served basis. This means you can choose whichever bed is available when you arrive.
If you're someone who doesn't like the top or bottom bunk, then you can request which you prefer or ask to change. However, this won't always be possible, especially if the hostel is fully booked.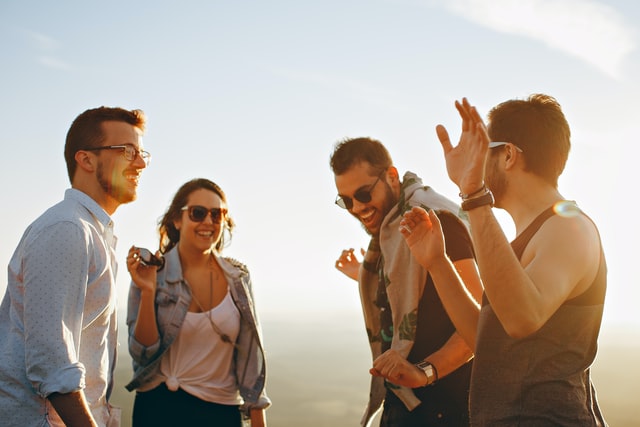 Tips for Making Friends in a Hostel
One of the greatest benefits of staying in a hostel is the ease of meeting people and making friends from all over the world. It's so much more convenient than trying to connect with strangers while exploring a new city or going out of your way to attend a tour or meetup event.
Below are some helpful tips to make it even easier (and more natural for our less extroverted readers) to make new friends in a hostel.
Introduce Yourself to Your Roommates
When you first arrive in your shared dorm room and find people hanging out or unpacking their things, introduce yourself. It's a great way to break the ice and feel more comfortable about sharing a room with people you don't know yet.
You might even come across someone with very similar experiences as yours and make an instant new friend.
Use the Common Areas
Another great way to meet people is to use the common areas offered by the hostel. Whether you want to read a book, journal, do some work, or simply be in the presence of other people, you'll have an easy time meeting other travelers.
You can easily jump into a conversation or partake in an activity happening in the common areas. Whether it's a game of Jenga or a card game or a simple conversation over a couple of beers, you'll often find people staying in hostels very welcoming and friendly.
Engage in Activities
You'll often find that hostels will organize events for their guests. These can include bar crawls around the city, walking tours, going to an entertainment event, a cooking class, and much more.
An excellent way to connect and create memories with other people in your hostel. This can be a much easier way to strike up conversations and make new friends because you share an experience that you can bond over.
Just Say Hi
It's as simple as saying hello when it comes to making friends in a hostel. You can start with the most common ice breaker, "How long have you been traveling?" Many people who stay in hostels are long-time travelers, backpackers, and digital nomads.
This question also allows you to share your own travels of where you've been and where you plan to go next. From this, you'll seamlessly move into other conversation topics and get to know the person a little better.
Again, most people staying in a hostel are friendly and welcoming. They also want to meet other like-minded people. So, don't be shy; just say hi!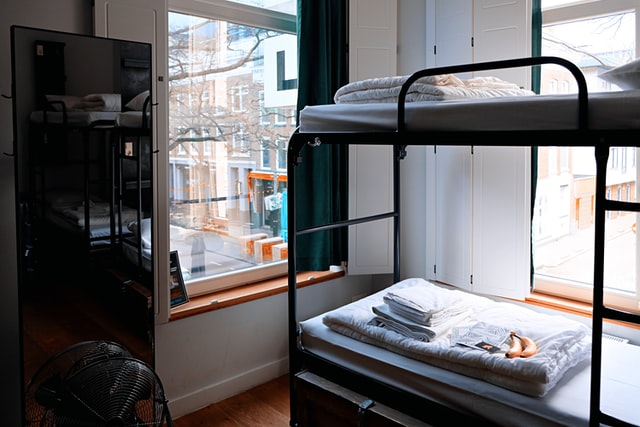 Dorm Room Hostel Etiquette
There are certain rules and hostel etiquette that you should follow, especially when it comes to sharing a dorm room with other travelers. If it's your first time staying in a hostel, you may not be aware of the courtesies you should show your roommates.
Fortunately, you stumbled across this hostel guide and will be aware of the most important etiquette rules to follow when staying in a hostel dorm room.
Keep Your Belongings Tidy
When sharing a room with four to ten other people, it's important to keep your belongings confined to your designated space. This could mean under your bed (if you're the bottom bunk) on the side of your bed, or in the locker the hostel provided you.
Avoid tossing your clothes everywhere and leaving your shoes or other belongings scattered around the room. Instead, keep your items compact and try not to take up too much space.
Don't Touch What Isn't Yours
You definitely wouldn't want a fellow traveler to touch your suitcase, clothing, and personal items. In fact, you would probably feel like your privacy was invaded and very frustrated.
So, it's important to follow the rule of not touching what isn't yours while staying in a hostel. Not only is it unnecessary, but it can cause plenty of conflict and problems between you and your roommates.
If you need to move something that isn't yours out of your way, then, by all means, move it. But that is about the extent of what you can do without permission from the person the item belongs to.
Common Courtesies Around Snoring
If you know that you snore and are planning to stay in a hostel, it's a good idea to bring some remedies with you. One of the most unpleasant experiences while staying in a hostel is to share a room with someone who snores loudly all night long.
Now, you may be wondering why people just wouldn't wear earplugs during the night. Some people do, but they can be terribly uncomfortable.
So, as the person who is the snorer, it's better if you find solutions. You can try adhesive nose strips, which are easy to pack, a nose clip to open your airway, or a mouth guard to decrease your snoring.
Be Quiet When Returning Late
It's easy to get carried away while out with friends exploring or having a night out at a bar or club and stay out until the wee hours of the morning. Some of your best memories will be made this way!
However, when returning back to your shared dorm room in the middle of the night, it's crucial that you stay as quiet as possible so you don't wake your roommates. Avoid turning on the light, too. Instead, use your phone's flashlight and keep it low so you don't shine it directly at someone.
Nobody wants to be woken up in the middle of the night from a restful sleep. Don't be the reason for it to happen.
No Hanky Panky
I'm not going to get too much into this topic because it's a pretty easy concept to grasp.
No sexual activities in your shared dorm room while staying in a hostel.
Just don't do it.
It's uncomfortable for you and everyone else, even if the room is empty at the moment.
Avoid this at all costs. Please.
Keep Your Clothes On
Some people are super comfortable around others and don't care if other people see them change. However, this can make others feel a bit uncomfortable.
Try to avoid walking around in your underwear while staying in a dorm shared with other people before getting to know them. Of course, changing your outfit does not count in this scenario.
I'm more talking about lounging around in your whitie tighties and socializing. Let's keep those clothes on until you get to know your roommates and they say they're comfortable with you walking around like that.
Pack the Night Before an Early Departure
There may be times when you'll have to check out of your hostel early in the morning to catch your next flight, train, or bus. If you know that you will be getting up and leaving early, then it's considerate to pack your belongings the night before.
Not only does this make leaving much easier as you can just grab your bags and go, but you'll avoid waking up your roommates by rummaging through your things and zipping your suitcase multiple times.
Pro Tip: Getting a Good Night's Sleep in a Hostel
It can be a difficult adjustment to sleep in a hostel for the first time. If you're someone who absolutely needs a good night's sleep, then I recommend making sure you bring some extra items with you to help.
You'll definitely want to pack an eye mask in case someone turns on the light, headphones if you want to block out any noise, and a travel pillow for some extra added comfort.
You may also want to bring a portable charger with you to charge your phone at night. Unfortunately, not all hostels have outlets next to your bed.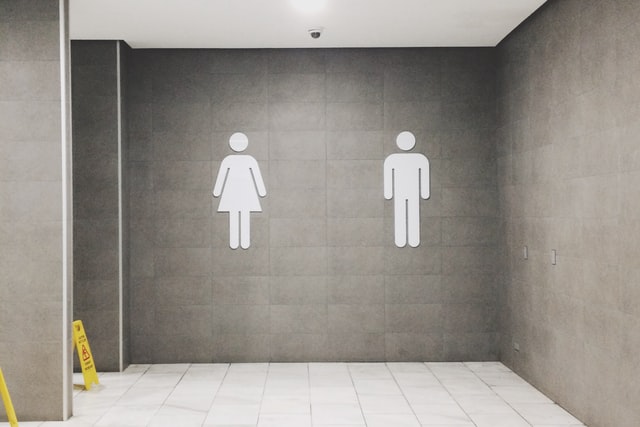 Hostel Bathroom Etiquette
Just as there is etiquette when staying in a hostel dorm, there is etiquette when using the shared bathroom.
This may be one of the more common places in the hostel to have disputes. Bathrooms, with their need and tendency to be private, can be difficult to share with people you don't know yet.
Below are some tips to help you have a stress-free experience when using a hostel bathroom.
Wear Shower Shoes
Let's face it; you don't really know where all of those other travelers have been. Where have they put their bare feet?
Sharing a shower in a hostel, just like showing in a gym locker room, can pose health issues such as foot fungus like athlete's foot. So, it's important to bring a pair of flip-flops to wear while showering.
I know; it can feel strange and unnatural at first, but trust me, it's necessary.
Don't Leave Your Belongings
Just as if you were back in college sharing a dorm bathroom, you shouldn't leave your shampoos, soaps, and travel towels in the shared bathroom. Not only does this take up space for other people, but you may not find it there when you come back.
Bring everything you need with you into the bathroom and then put it all back in your luggage when you're finished. It's a good idea to have a toiletry bag to keep all of your soaps and such for easy portability.
Avoid Long Showers
Waiting for someone to get out of the shower can feel like a lifetime passing by, especially if you have somewhere to be. What makes it even worse is if that person used up all the hot water.
So, to be considerate of other hostel guests, try to keep your time in the shower and bathroom overall short, especially if it's an ensuite bathroom in your dorm room.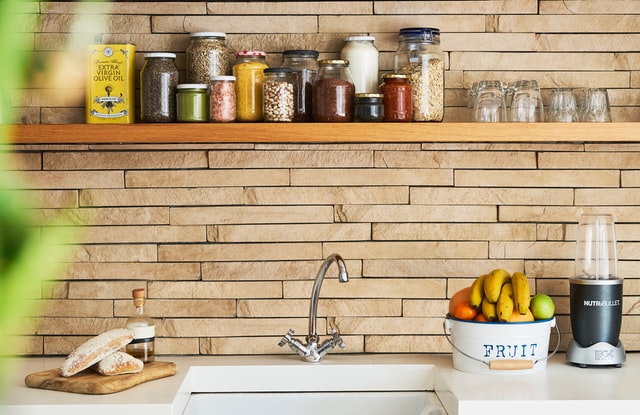 Hostel Kitchen Etiquette
If you've ever had roommates, then you know just how problematic sharing a kitchen can be too. From dirty dishes to dirty counters to eating food that isn't yours, the kitchen can cause quite the controversy.
However, when you follow these etiquette tips, you can avoid being a bad hostel roommate and guest and experience harmony and even a well-cooked meal.
Clean Up After Yourself
The number one rule of sharing a kitchen in a hostel is to clean up after yourself. This means washing your dishes, throwing out any food scraps, and wiping down your area.
Nobody wants to find dirty dishes in the sink or crumbs on the counter. It's just an invitation for critters to come searching for food and other guests to get upset and annoyed.
There are bound to be hostel rules concerning the communal kitchen as well. Make sure to follow all of them to keep peace and have an enjoyable stay.
Label Your Food
If you go to a grocery store and plan to cook your own meals while staying in a hostel, make sure you label all of your belongings. This will (hopefully) keep people from touching your things and eating them themselves.
It's important to be aware that the most common type of thievery in a hostel is in the kitchen. Don't get too upset if someone finishes off your yogurt or bread as it does happen often. Instead, move on, buy some new food, and enjoy your time there.
Don't Touch Other People's Food
I wasn't going to write this section as it's a pretty straightforward concept that shouldn't need to be explained. However, just to make sure I cover all of the bases of staying in a hostel as a digital nomad, I'm adding it.
If you see someone else's food in the fridge or pantry of the hostel, don't touch it. Just don't do it.
There may be communal ingredients such as coffee, flour, pasta, and sugar that are available to all of the guests, which you can use. However, if you see someone's name on something, don't touch it. If you aren't sure about whether or not it belongs to someone, best to leave it alone.
Tips for Choosing a Hostel as a Digital Nomad
Choosing a hostel as a digital nomad can be a bit overwhelming, especially if it's your first time. It can also be difficult to find the right one since there are over 36,000 different hostels worldwide.
However, it's also important to note that staying in a hostel as a digital nomad isn't always the best option depending on your preferences. Some people love hostel life with the hustle and bustle of interacting with new people every day while others appreciate their alone time and having a space of their own.
It's truly a situation where you decide what is best for your lifestyle. Whether you stay in a hostel for weeks or just a few days, I'm sharing some tips on how digital nomads can choose the right hostel no matter where they are.
Consider the Amenities
Every hostel is different and offers a variety of amenities. Some you may appreciate while others you can go without.
For example, I stayed in a hostel in Florence, Italy in the middle of July when the weather was brutally hot. Luckily, my hostel had a communal pool I could use to cool off and hang out after a long day.
Good amenities don't have to be as extensive as a pool, though. It could be as simple as a curtain on your bed for some extra privacy or a place to do laundry.
The best way to know what amenities you need and will make you feel at home is to experience different hostel stays.
Of course, the number one amenity a digital nomad needs is a wifi connection and a space to work. So, if you're happy with the bare minimum, those are all the amenities you need to consider.
Feel the Vibes
Earlier, I mentioned that there are different vibes when it comes to hostels. Some hostels have an overly chill and relaxing atmosphere while others are dedicated party hostels with loud events, music, and a bar.
It's important to decide what kind of experience you're looking for when staying in a hostel.
If you want to focus on socializing and enjoying yourself while taking a break from working, then a party hostel may be the perfect place for you to unwind.
However, if you're looking for accommodations where you can live your everyday routine and focus on your work, avoid these party hostels at all costs. Search for something with extra common rooms, places to work, or close to cafes and coworking spots.
Location, Location, Location
One of the biggest deciding factors for me when staying in a hostel is its location. I like to be in the center of everything and close to public transportation. I don't want to have to spend an hour to get to the hustle and bustle of the city.
It also must be convenient to reach from an airport or train station, whichever means of transportation I take to get to my new destination.
This is just my preference, though. However, as a digital nomad who probably does not have a car, you should consider the location as well.
Read the Reviews
One of the best things you can do before booking your stay at a hostel is to read the reviews. These will give you some more insight into other travelers' experiences while staying there.
You'll want to take reviews with a grain of salt, though, especially the bad ones. If there are major red flags in reviews, such as safety, cleanliness, and organization of management, then it's best to keep searching. However, if someone is simply complaining that they had a loud roommate or the breakfast wasn't what they expected, you may want to ignore it.
You can also look at curated lists for a top-rated and great hostel in your new destination. For example, if you're planning to nomad around Hawaii, then you'll want to check out our blog, Best Hostels in Hawaii for Digital Nomads.
Where Will You Book Your Next Hostel Stay?
Now that you've reviewed what you can expect from staying in a hostel and the etiquette rules you should follow, you're all set for an amazing hostel experience as a digital nomad.
Our favorite place to find the best hostels worldwide is through Hostelworld. With thousands of hostels in 178 countries, you're sure to find fantastic hostels to stay in. It's my personal go-to booking platform when I'm searching for a hostel while traveling.
Interested in learning more about the digital nomad lifestyle and travel tips and guides like this?
Join our exclusive online community to connect with other nomads and stay up to date about the latest digital nomad news.