Last Updated on 10 January 2022 by Brittany
So, you're looking for a PDF guide about how to become a digital nomad…
You've come to the right place!
Here at Nomads Embassy, we've worked hard to gather as much information as possible and draw on our own experiences to put together the ultimate how to become a digital nomad PDF guide.
This is what we've come up with…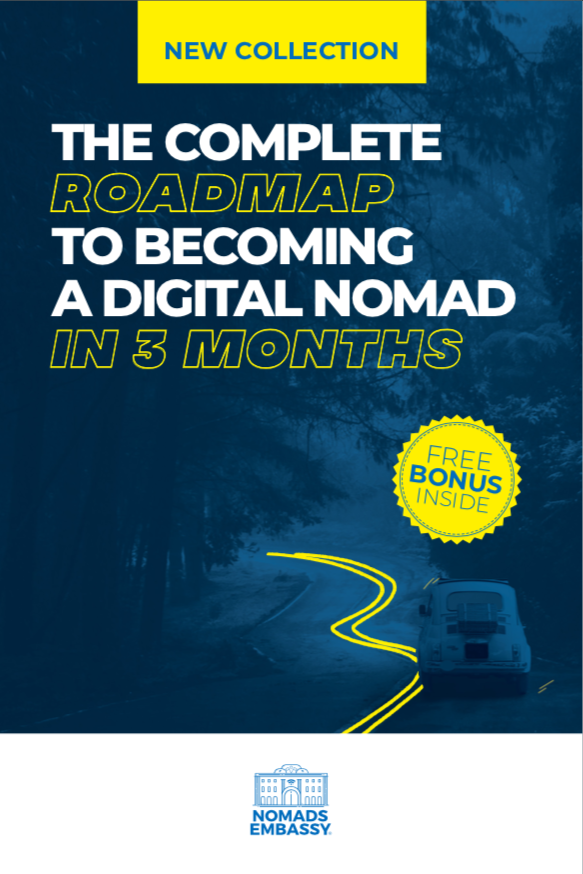 Written by digital nomads for digital nomads, you can now start your journey and be on your first adventure in just three months when you follow this PDF guide.
What's Included
This PDF guide is jam-packed with essential information and tips to start your life as a successful digital nomad.
You'll find a step-by-step process to prepare for your journey within the pages of this guide. Plus, we even created a calendar for you so you can stay on track to become a digital nomad in just a couple of months.
You won't find a more complete and comprehensive PDF online about how to become a digital nomad – guaranteed! 
PLUS this guide is completely FREE for you. It doesn't get much better than that, right?
How This PDF Guide Will Help You
Whether you are completely new to the idea of becoming a digital nomad or have already started, this PDF guide is your roadmap to getting on the plane and arriving at your first destination.
Many people feel lost and alone when they work to become a digital nomad. This guide is the answer!
You'll have a sense of direction to follow so you know you aren't missing anything important as you make your transition.
You'll also receive insider tips from experienced digital nomads – tips you won't find anywhere else that can change your life.
After reading this PDF guide, you will literally be set up for success as a digital nomad.
And You'll Get BONUS Material
You thought we were just going to give you a PDF about how to become a digital nomad and leave it at that?
Wrong!
When you download this guide, you'll also receive access to bonus material and even more guides to help you get started on your digital nomad lifestyle. 
To give you a sneak peek, here are just some of the bonus items you'll find:
The Digital Nomad's Handbook to Increase Productivity
Digital Nomad Budget Planner Spreadsheet
Access to the Private Community
That's right when I said you'll be set up for success after reading this guide, I wasn't lying!
Stay tuned in the coming months for our video course "How to Become a Digital Nomad in 2021" which will be released soon for even more information and tips.
Nomads Embassy Makes Becoming a Digital Nomad Easier
Aspiring digital nomads never have to go through this journey alone again.
With Nomads Embassy's innovative platform with a step-by-step process and one-on-one support with a personal ambassador, becoming a digital nomad is much easier.
Members also receive access to professional services such as specialized tax accountants, digital nomad insurance, visa filing, and more! 
Join the waiting list and be the first to know about Nomads Embassy updates today!