It's never been easier to become a digital nomad in 2021!
With the increase of remote work opportunities, the introduction of digital nomad visas, and a new comprehensive online course from Nomads Embassy, now is the best time to being your digital nomad journey.
Let's back up, though.
A digital nomad is someone who works remotely while traveling the world or living abroad full-time.
Digital nomads have the freedom to live where they want – in as many places as they want – while making a livable income from their laptops. They can choose to live on a tropical island or in a grand metropolitan city.
The freedom that comes with this lifestyle is insane!
It also wasn't easy to become a digital nomad in the past – before 2021 that is.
The Struggle of Becoming a Digital Nomad
In the past, people who wanted to become digital nomads were completely lost. They had absolutely no clear direction for how to achieve this location-independent lifestyle.
They spent hours researching how to become a digital nomad from influencers, bloggers, and online articles claiming to have the secret they needed – only to find that this information wasn't totally accurate and sometimes misleading.
Many people gave up and decided to keep living their lives at home. They gave up an incredible opportunity to make the most out of their life through traveling and having once-in-a-lifetime experiences.
This has all changed now!
The Answer to Becoming a Digital Nomad in 2021
Your answer to easily become a digital nomad in 2021 is here!

With this online course, you'll have everything you need to get started on your digital nomad journey. Plus, when you become a member of Nomads Embassy will give you an unfair advantage over other digital nomads thanks to our helpful resources, one-on-one assistance, and more.
What Can You Expect from the Course?
In our Become a Digital Nomad in 2021 course, we'll answer your most pressing questions about what you need to do in order to achieve a location-independent lifestyle.
We'll answer your questions about
Finding a remote job
Paying taxes as a digital nomad
Digital nomad visas
Where to go
Digital nomad insurance
The reality of the lifestyle
And Much More!
All in bite-sized lessons you can zip right through, you're getting a complete crash course in digital nomadism.
Plus you'll receive incredibly valuable guides and resources to help you find remote work, earn more while working less, and a calendar to help you stay on track.
Who This Course is For
Everyone and anyone who is interested in the digital nomad lifestyle!
While this course is excellent for beginners who aren't sure where to start their digital nomad journey, it's also great for digital nomads who are already on the road.
The information and resources we offer are essential for any location-independent person. If you're already a digital nomad, this course will make your life even easier.
1050 Students and Counting…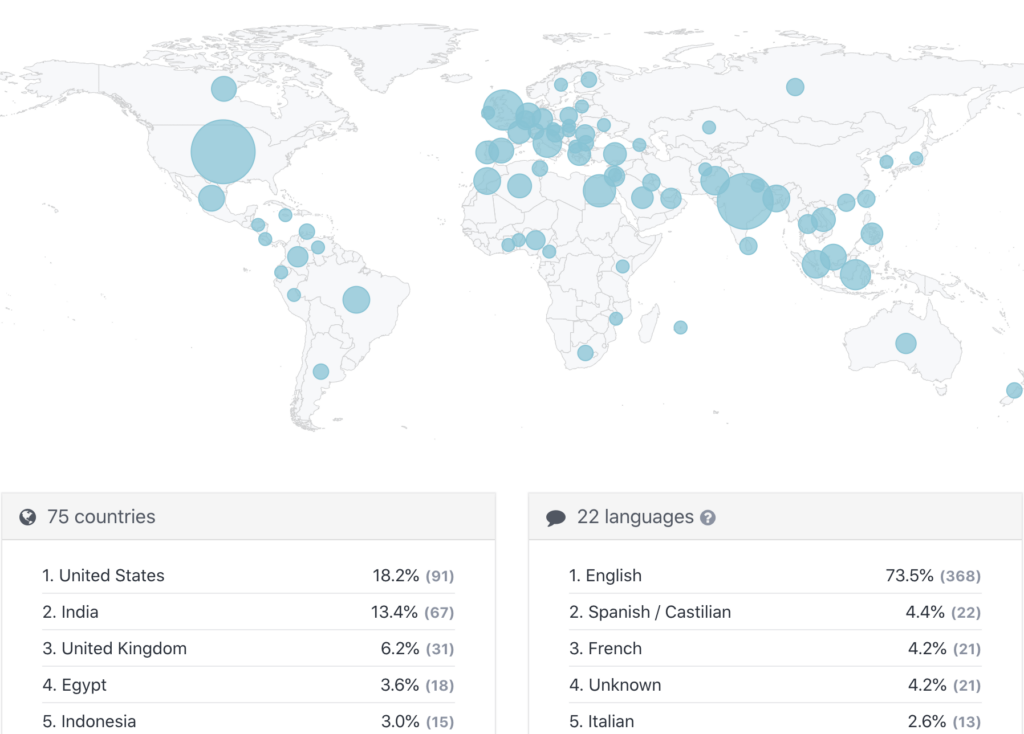 We're so excited that in just 3 days since publishing the course, we've had over 500 students sign up from 75 countries around the world.
Are you ready to join this global classroom and learn how to become a digital nomad in 2021?
Nomads Embassy Makes Becoming a Digital Nomad Easier
Our mission at Nomads Embassy is to make it easy to become a digital nomad with one-on-one assistance through an interactive platform to track your progress and helpful educational resources just like this course.
Created by digital nomads for aspiring digital nomads, we promote living a location-independent lifestyle of freedom and adventure.

Join our waiting list and be the first to know news and updates about Nomads Embassy.