Last Updated on 21 November 2023 by Brittany
The cold weather up north probably has you considering working remotely from a long-stay Airbnb in Orlando, Florida. Find your new temporary home in the Sunshine State and make your winter more bearable. Or, better yet, spice up your spring or summer and live close to some of the world's most famous and adventurous amusement parks.
It all sounds pretty great, right? Pack a suitcase and your laptop and spend a month or two in Florida visiting Disney World and Universal in your downtime. But then you think about the time you need to spend searching for an Airbnb that meets your standards and has all of the amenities you'll need as a remote worker.
Between working full-time, taking care of everyday tasks, and socializing with friends, the last thing you want to do is scroll through pages of Airbnb listings.
Well, we just made finding an Airbnb in Orlando for remote work so much easier. We've gone through and found the best long-stay Orlando Airbnbs with amenities that are absolutely necessary for remote workers – and have great reviews.
Start planning your workation from Orlando and browse our remote worker-approved Airbnb list.
Orlando, Florida for Remote Workers
Located in central Florida, Orlando is home to some of the best theme parks in the world. With more than 75 million visitors every year, Orlando offers a blissful adventure to its visitors.
Orlando is considered to be the best destination for family vacations in the United States, but you can also enjoy your stay while working remotely from here. The weather is one of the top-selling points for Orlando, with a warm and tropical climate and mild winters. It's the perfect trip to include in your digital nomad itinerary during the winter months if you hate the cold.
The most famous destinations are the theme parks like Disney World, Universal Studios, and SeaWorld. Now, there's great wifi connectivity all around, many cafes, and great coworking spaces spread throughout the city, like Bizcenter USA on MetroWest Boulevard and Expansive. So, a remote worker living in any Orlando Airbnb would have enough resources to work smoothly.
Workationing in Orlando could seem a bit expensive, but the cost of living in Orlando is lower than the national average. It lets remote workers with a nomadic lifestyle take advantage of the amenities like the co-working spaces and world-famous theme parks while staying within their budget.
Best Airbnbs in Orlando for Long Stays
We consider a long stay of at least 30 days, so all of the vacation homes on this list allow month-long rentals and extended stays. The list includes Orlando Airbnbs, from a one-room studio apartment to a 14-bedroom mansion.
For an Airbnb to be considered perfect for a remote worker, it needs to fulfill these requirements:
24/7 high-speed wifi
Well-equipped kitchen
Enough workspace
Washing machine
Ideal location
Ready to find your home away from home in Orlando? Let's take a look at these vacation rentals.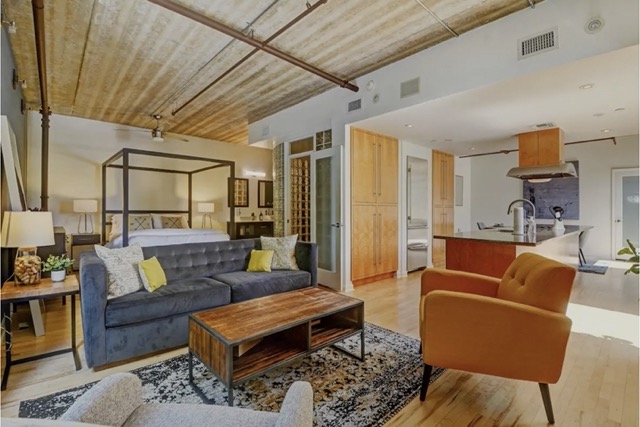 Upscale Downtown Loft
Rating: 4.93
Guests: 4
Bedrooms: 1
Monthly Discount: Yes
Special Features: High-Speed Wifi
This upscale loft in Downtown Orlando is modern, cozy, and spacious all at the same time, which makes it an amazing place for a workation.
It has an open floor plan with floor-to-ceiling windows that let the natural light hit the entire loft. Minimalistic in design, the apartment is equipped with high-speed wifi and comfortable spaces where you can set up your office.
The living area includes a pull-out couch and a Roku TV, where you can binge-watch your favorite shows on Hulu and Netflix while relaxing on the spacious couch.
The kitchen is right across the dining area, full of high-end appliances and everything you'll need to cook meals.
This loft apartment provides free parking on the premises. Located between Lake Eola and the Milk District, this Airbnb is a short drive from Thornton Park and some upscale Orlando restaurants.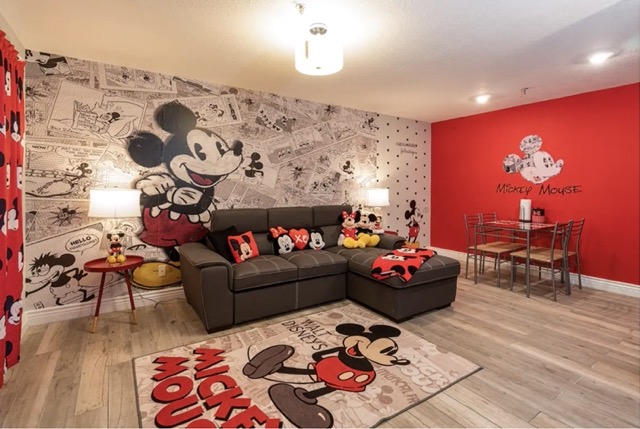 Mickey Mouse Themed Apartment
Rating: 4.75
Guests: 5
Bedrooms: 1
Monthly Discount: Yes
Special Features: Shared Pool, Gym
If you love Mickey Mouse, then staying in this Mickey Mouse-themed apartment will awaken your inner child.
This pool-view apartment has recently been renovated, so everything inside the unit is brand new. Light sleepers can rest thanks to the host's soundproof ceiling, earplugs, and white noise machine peacefully.
With a good wifi connection and a comfortable vibe, you'll easily be able to set up your workspace here. The condo has a fully-equipped kitchen with brand-new appliances.
Located in a building with a pool, hot tub, basketball court, gym, and BBQ area, you will have many options for recreational activities. You'll save time driving for essentials because CVS and Walmart are on the main road. This Airbnb is within walking distance from Orlando's best restaurants and Disney World.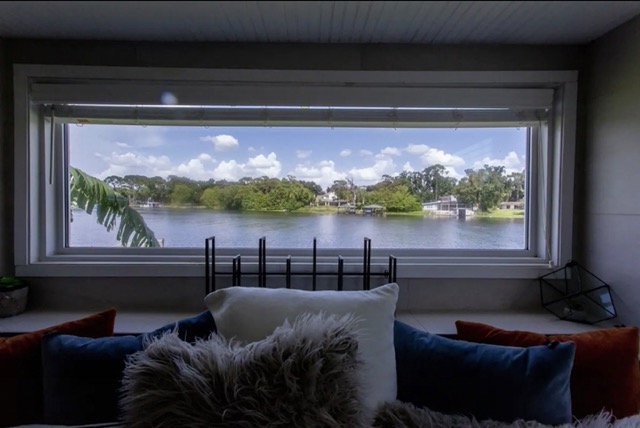 Tiny Home on the Lake
Rating: 4.83
Guests: 5
Bedrooms: 2
Monthly Discount: Yes
Special Features: Waterfront, Pet-Friendly
With raving positive reviews, this lakefront tiny house is one of the best Airbnbs in all of Orlando. Although the home is referred to as tiny, it's full of natural light and air and can sleep five people. The open floor plan with high ceilings makes it feel extra spacious.
The name of this house is The Ritz, and it has two loft spaces and a studio couch. It has great counter space that makes it perfect for cooking meals. You'll absolutely love working on your travel-friendly laptop in front of the lake view.
The house has high-end finishes and Italian tiling throughout. During your stay, you'll also have access to two fishing poles and a two-person kayak. Enjoy sunrise yoga by the lake while exploring the beauty of Orlando.
Located near many upscale restaurants, guests have reviewed this house to be one of the best Airbnbs in Orlando.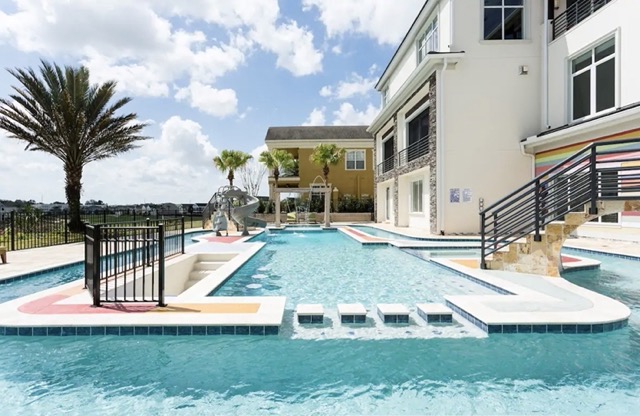 Luxury Mansion for Coworking Getaway
Rating: 4.66
Guests: 16
Bedrooms: 14
Monthly Discount: No
Special Features: Dedicated Workspace, Indoor Fireplace
This luxurious mansion measures 25,410 sq. ft, and it has 14 bedrooms with ensuite bathrooms. It is the ideal Airbnb for a group of remote workers, considering there is also a conference room. Enjoy working with high-speed wifi from the dedicated workspace in a private room.
The Airbnb Orlando mansion has four living areas with luxurious seating and furnishing. Enjoy your favorite movies and shows on the private two-tier home cinema equipped with a 150-inch screen and surround sound.
This mansion has multiple kitchens with state-of-the-art appliances. You'll also have access to a summer kitchen with a gas grill and wine cooler.
There are three full floors of ensuite bedrooms. All of them have HDTVs and walk-in closets.. Watch amateur golfers take a swing from the multiple balconies overlooking a finely landscaped golf course.
Arguably the best feature of this Orlando Airbnb is the rooftop pool with a spa, a lazy river, and a sunken pool bar with stools. It also has a private basketball court, bowling alley, game room, private gym, and private squash court.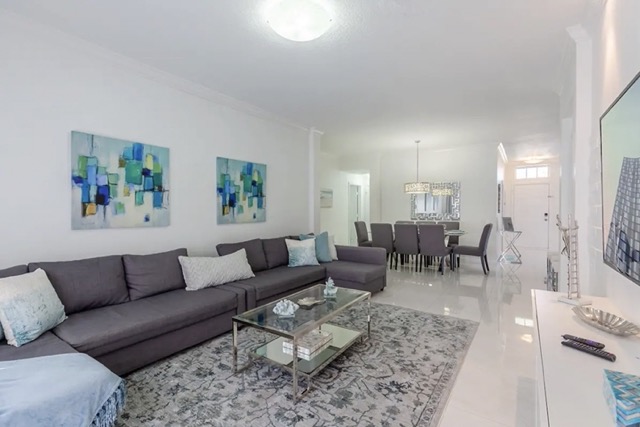 Family Villa with Themed Kids' Rooms
Rating: 4.65
Guests: 10
Bedrooms: 4
Monthly Discount: Yes
Special Features: Pool View, Free Resort Access
Deemed one of the best Airbnbs in Orlando, this family villa will make your workation feel like you're on holiday. It has an open plan for common areas, including four large bedrooms, perfect for bringing your family with you.
The villa has a private hot tub and indoor pool where you can spend quality time with your family. Kids will love the two rooms with a Frozen and Super Mario theme. This home has been designed with the comfort of kids in mind, as there are also many books and toys for them.
With high-speed internet, there is ample space for you to set up your workspace and get in the zone. For your entertainment, the villa also has an HDTV with Roku, perfect for a family movie night with popcorn.
This pool view Airbnb has a fully-equipped kitchen with new appliances, a private backyard, and an outdoor dining area with a BBQ grill.
You will have free access to the resort gym, pool, bar, convenience store, and other amenities. The villa is also located near Disney World.
This Airbnb is clean, comfortable, spacious, and conveniently located in a secluded area. The hosts are also super-helpful and communicative. All in all, you'll feel at home here.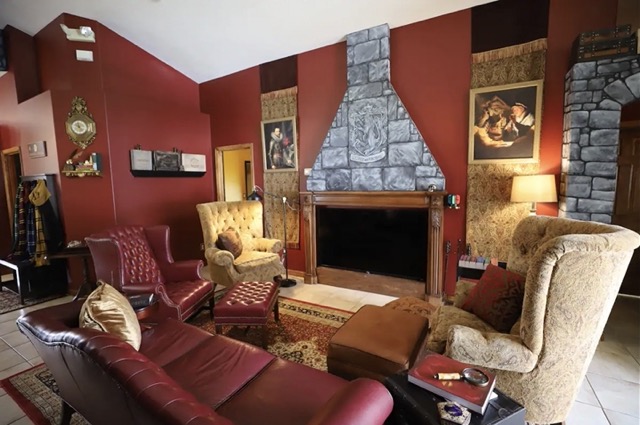 Harry Potter Wizard Lair
Rating: 4.81
Guests: 13
Bedrooms: 5
Monthly Discount: No
Special Features: Private Pool, Dedicated Workspace
Pack your robes, wand, and an owl if you have one, and enjoy your long-stay vacation in Orlando in this magical Harry Potter wizard lair.
This house provides quite an immersive experience in the wizarding world of Harry Potter. It is a two-story home with four themed bedrooms on the ground floor and a private master bedroom on the second floor.
The house comes with a private pool where you can get a quick swim before work. You'll also have access to super-fast wifi and a workspace in the common area.
Enjoy cooking your favorite meals in the fully-stocked kitchen with modern appliances. Or, lounge by the patio and enjoy a cookout on the BBQ grill. The villa also has a large solid wood dining table with a chandelier and floating candles.
After your meal, retire to the common area and binge-watch your favorite movies on the TV by the fireplace. For kids, there's the Nintendo Switch with many popular games.
This vacation rental is located in a tranquil Orlando neighborhood close to Disney World, making it ideal for your vacation adventures.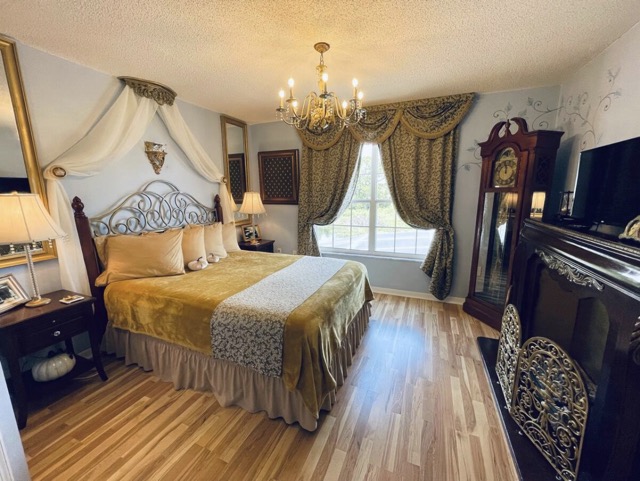 Elegant Disney-Themed Home
Rating: 4.97
Guests: 9
Bedrooms: 4
Monthly Discount: No
Special Features: Lake View, Private Backyard
Living in this elegant Disney-themed home will be a dream come true for all Disney fans. This enchanting home is a miniature replica of the Magic Kingdom vacation home.
Enjoy working remotely from the comforts of this home while being immersed in Disney fantasy. It has four detailed suites with different Disney themes, including the Haunted Mansion, Peter Pan's Neverland, Alice in Wonderland, and a Cinderella suite.
You can't have a Disney-themed Airbnb in Orlando without a Disney Plus subscription! Enjoy the classic cartoons on all televisions throughout the house.
Enjoy the Florida sun in the backyard bayou with a pool overlooking the lake. During your stay, you'll also have access to a tennis court, volleyball court, and community pool.
Located in a quiet neighborhood perfect for families, this Airbnb is very close to the Main Street Confectionary, where you can create a customized Disney feast for you and your loved ones.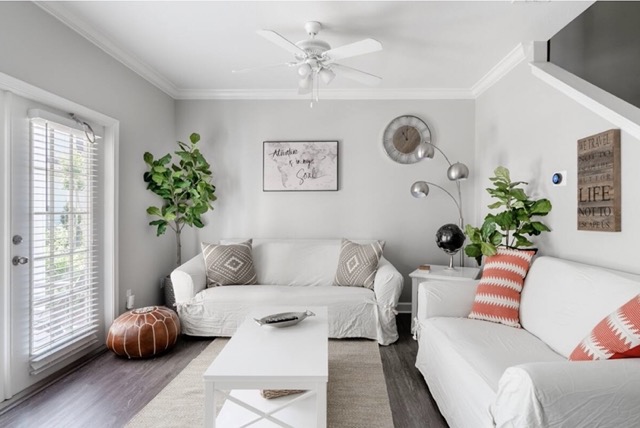 Beautiful Townhouse Near Disney Parks
Rating: 4.95
Guests: 8
Bedrooms: 4
Monthly Discount: Yes
Special Features: Pool, Gym
This beautiful townhouse near Disney Park is a great space for groups of remote workers or families. The interior is decorated with a clean and white aesthetic for a minimalistic look.
With high-speed wifi, you will have a productive remote working experience. For your entertainment, this townhouse also has a large flat-screen TV.
The hosts are very accommodating, as they have ensured that the kitchen is stocked with all the latest appliances. According to one review, this townhouse is "very clean and comfortable."
After a tiring day of work, hang out at the clubhouse or take a dive into the shared swimming pool. This vacation rental is within walking distance of many restaurants, shopping places, and a Walmart.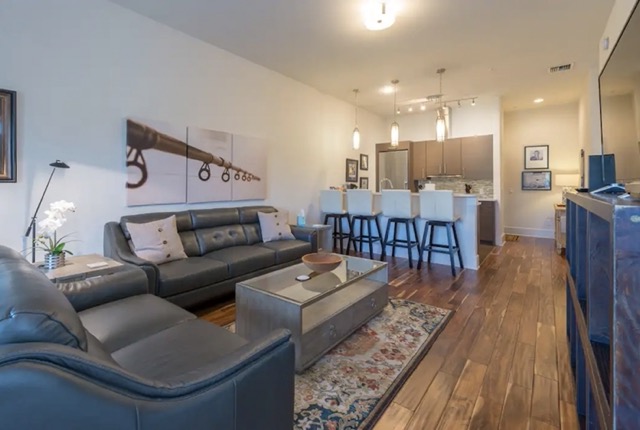 Modern Apartment in Winter Park
Rating: 4.96
Guests: 4
Bedrooms: 2
Monthly Discount: Yes
Special Features: Dedicated Workspace, Shared Pool
This modern apartment in Winter Park is a very cozy space. It measures 1200 sq. ft and has a contemporary design. The floors are made of Acacia wood, and the high ceilings let in plenty of natural light through the large windows. The decor is a mix of modern and traditional elements.
With a wifi speed of 139 Mbps and a dedicated workspace in a private room, work calls and online meetings will be a breeze.
The apartment has a 55-inch HDTV with Fire TV, Netflix, Hulu, and Prime Video. So, you have a sea of options as far as movies, and TV shows are concerned. The apartment also has a free washer and dryer, a fully equipped kitchen, and central air conditioning.
Go on a tour of Downtown Winter Park on the colorful bikes, or grill a delicious meal by the pool.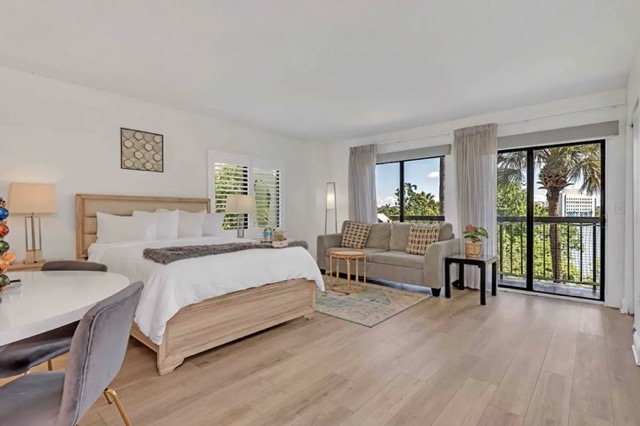 Stunning Lakefront Apartment
Rating: 4.81
Guests: 3
Bedrooms: 1
Monthly Discount: Yes
Special Features: Waterfront, Resort Access
This stunning lakefront apartment truly lives up to its name. It is a modern studio apartment with an intimate and relaxing vibe.
The views of Sandy Lake from the balcony are simply spectacular. The apartment has super-fast wifi, so take full advantage of it for your remote job.
The living area has a 60-inch SmartTV with Netflix. So, when you're in the mood to stay in, you can binge-watch your favorite shows while eating takeout. The kitchen is fully stocked and has a new Nespresso coffee maker. Imagine sipping some fine coffee in the morning while viewing the lake from the balcony.
The building has an outdoor pool and an indoor heated pool. For sports, there's a tennis court and a ping pong table. You will be surprised to know that the building also has a food court and convenience store.
Located at a five-minute distance from Universal Studios, you will have an amazing Orlando vacation experience here.
Find Your Perfect Digital Nomad-Friendly Airbnb Worldwide
Have you found the best Orlando Airbnb for your trip to the City Beautiful? From lakefront houses to Disney-themed villas, you'll definitely have a productive, peaceful, yet adventurous workation here.
Now, what if we told you that finding a digital nomad-friendly Airbnb was as easy as reading a well-compiled list like this one? With Nomads Embassy, it's true!
We collect and compile lists of the world's best Airbnb rentals for remote workers to help them save time and find the best vacation rentals for their next trip.
Join our newsletter to stay up-to-date with all kinds of Airbnb listings throughout the world and some super-helpful remote working advice.