Last Updated on 18 June 2023 by Brittany
Portugal has become an extremely popular destination for digital nomads to live and work remotely – especially with Portugal's digital nomad visa available. To enhance your stay in Portugal's second-largest city, we've collected a list of the most popular digital nomad cafes in Porto.
With so many digital nomads flocking to Lisbon, the northern city of Porto is often forgotten about. However, this means plenty of seats and outlets available at digital nomad-friendly cafes in Porto, no long lines waiting for restaurants, and a more affordable lifestyle.
I know the struggle of arriving in a new city and searching on Google Maps to find a comfortable cafe where I can work on my laptop for a few hours. So, to save you hours of searching and to help you avoid going to a cafe that isn't great for digital nomads, I've compiled a list of the most popular cafes in Porto for remote workers.
Porto is also extremely walkable, and their metro system is quite convenient. So, you can find all of these cafes in Porto easy to walk to, especially if you are staying somewhere near the city center.
So, grab your laptop, pack your bag, and get ready to explore a new cafe every day for the next week during your time in Porto.
Popular Digital Nomad Cafes in Porto
You'll find many cafes in Porto with free wifi, but that doesn't necessarily mean that they are ideal for digital nomads who need to focus on their work for a couple of hours.
Below are some of the most comfortable and productive digital nomad cafes in Porto.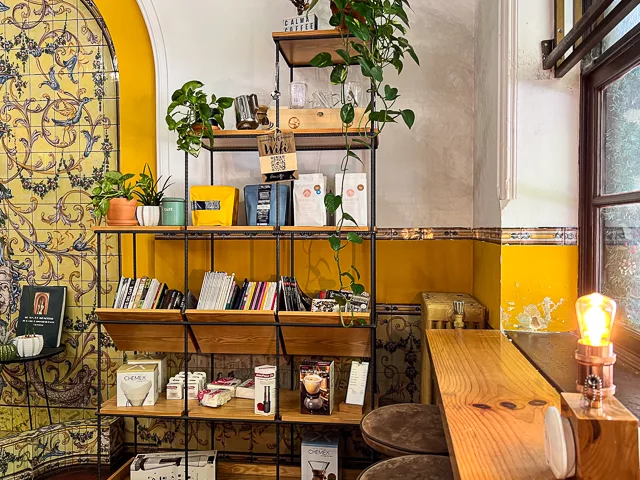 C'alma Coffee Room
Address: R. de Passos Manuel 44, 4000-381 Porto, Portugal
When you first enter the building that C'alma Coffee Room is in, you'll be greeted by a beautiful grand staircase. Just to the right, you'll find this quaint and cozy cafe. Some may even describe it as "hipster."
With just a handful of tables, but plenty of outlets, you can enjoy artisan roasted coffee, coffee flights, and homebaked treats as you answer emails and work on assignments. You'll find that almost everyone visiting C'alma is a remote worker, silently tapping away on their keyboards.
What I loved most about C'alma was the bar with stools against the wall with large windows looking out onto the street. On days with warm sunny weather, they will open the windows so you can feel the sunshine and breeze while you work.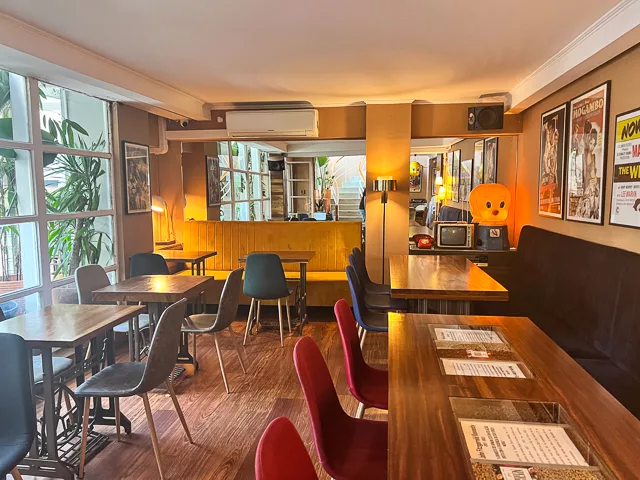 Negra Cafe
Address: R. Guedes de Azevedo 117, 4000-272 Porto, Portugal
Funky, uplifting, and a great playlist, Negra Cafe is one of the top brunch places in Porto. It also doubles as a digital nomad cafe, though!
With some of the best food we found (I recommend the Nutella pancakes or the florentine eggs) and reliable wifi, Negra Cafe is a fun and energetic place for digital nomads to work.
There are three locations throughout Porto, but we only visited the one Baixa (address above!).
It's important to note that while Negra Cafe does allow digital nomads to work there, they do not have outlets – so be sure to go with a fully charged laptop. You can also only work on the lower level of the restaurant, but with a bright and comfortable terrace attached to it, it makes it the perfect spot on a sunny day.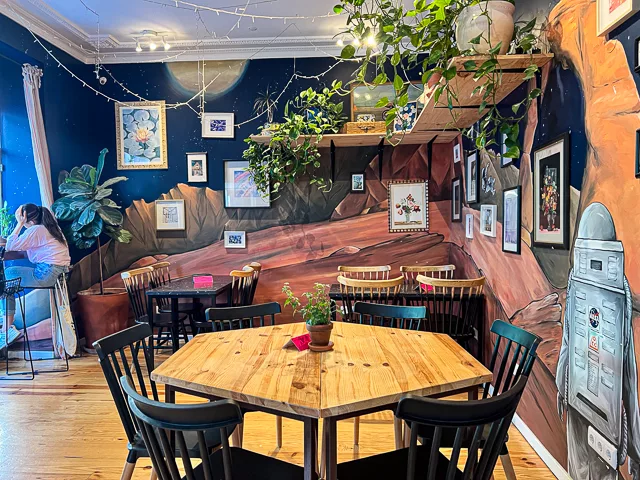 Supernova Cafe
Address: R. Guedes de Azevedo 217, 4000-273 Porto, Portugal
If you want to admire exotic artwork with a space theme, then Supernova Cafe is perfect for your abstract mind. Also doubling as a hostel, this cafe is the perfect place to meet other digital nomads while also grabbing a delicious bite to eat and getting some work done.
There are plenty of outlets available throughout the cafe. The only caveat is that there are designated tables where digital nomads can sit with their computers. You'll notice red signs on the table tops saying that it is a "laptop-free table."
If you wish to work with some nature around you, then you can take advantage of the large patio in the back and sit under beautiful green trees.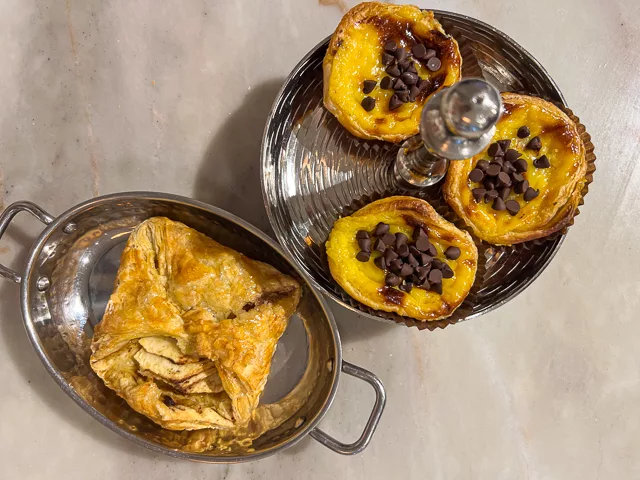 Confeitaria Imperio
Address: R. de Santa Catarina 149, 4000-381 Porto, Portugal
Do you have a sweet tooth and need to satisfy your sugar craving? There's no better place to do it than at Confeitaria Imperio while answering some emails. You'll surely be pulled in from the street by the decadent pastries showcased in the window.
This large cafe/restaurant/bar has plenty of seating for digital nomads and a reliable wifi connection. However, outlets can be scarce, so I suggest coming with a charged computer.
You can order a full meal or just get a tasty snack – I recommend the pastel de nata with chocolate for just €1 – while you get some work done during your time in Porto. As one of the most delicious and comfortable cafes in Porto, I can't recommend Confeitaria Imperio enough!
Metro da Trindade
Address: Praça Trindade 105, 4000-407 Porto, Portugal
While it may not look like much from the outside, there is a large room in the back of Metro da Trindade that has comfortable seating and plenty of outlets for digital nomads to work.
With a large menu of breakfast, lunch, and dinner items, you can easily enjoy a meal before opening up your laptop to answer some emails. Or if you just want to go for a snack, there are pastries and tostas to choose from.
I recommend going between main meal times, though, if you do not plan to order breakfast for lunch. This will give you some more peace and quiet and an emptier cafe to work from.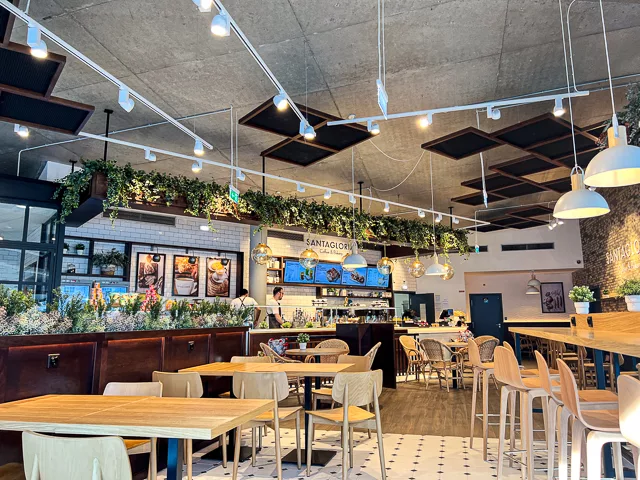 Santa Gloria Coffee and Bakery
Address: Passeio dos Clérigos – Santa Gloria Coffee & Bakery, Praça de Lisboa, 4050-546 Porto, Portugal
Located in the heart of where tourists like to frequent in Porto, Santa Gloria Coffee and Bakery is a modern, beautiful, and digital nomad-friendly cafe in Porto. It was definitely one of my favorites!
It is right near the Torre dos Clérigos and Livraria Lello, but with it hidden in the subtle street below a rooftop park, you won't have to worry about not getting a seat. There is plenty of seating and outlets near almost every table, making it a digital nomad's dream cafe.
Plus, the food is excellent! With pastries, sandwiches, juices, and fruit, you can stay for hours and enjoy the fast wifi, comfortable seating, and delicious food all day long.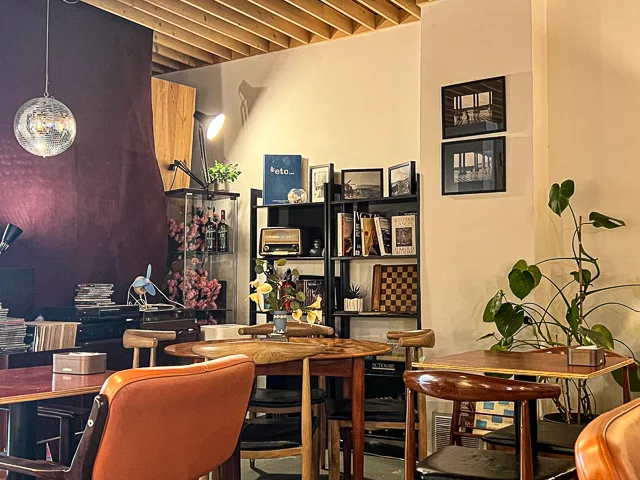 BUuh!
Address: Praça da República 164, 4099-037 Porto, Portugal
Cute, quaint, and affordable, BUuh! is an excellent choice for digital nomads who want some peace and quiet while being surrounded by fun artwork and vintage items.
Small and family-run, this cafe in Porto is perfect for digital nomads who need to study, read, or answer emails. While the interior can be quite dark, there is a back patio that has plenty of natural light.
There are quite a few outlets available inside, along with large cushioned chairs, great for hours of sitting and working.
You'll also notice delicious homemade pastries and cakes in the front of the cafe that you just have to order. I recommend the cheesecake with passionfruit and a flat white coffee.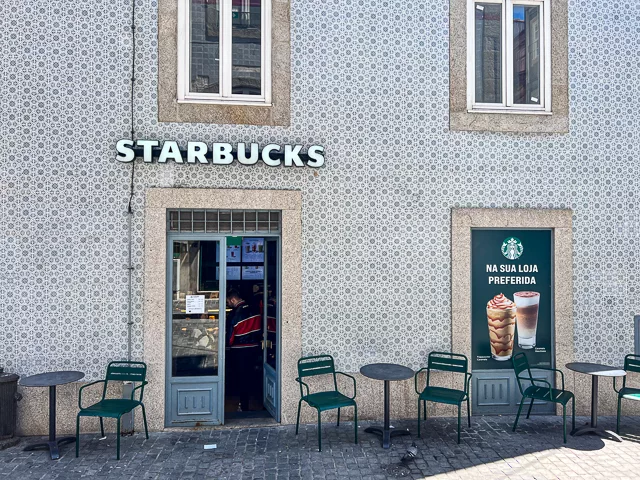 [BONUS] Starbucks
Address: La Vie Porto Baixa, Rua de Fernandes Tomás 506 / 508 Loja 0.19A, 4000-211 Porto, Portugal
If you are looking for a reliable cafe where you can get your all-time favorite coffee beverage and connect to decent wifi, then you can always trust Starbucks to provide. There are three locations in Porto where you can visit. However, the one listed above has the most seating available, both indoors and outdoors, for digital nomads.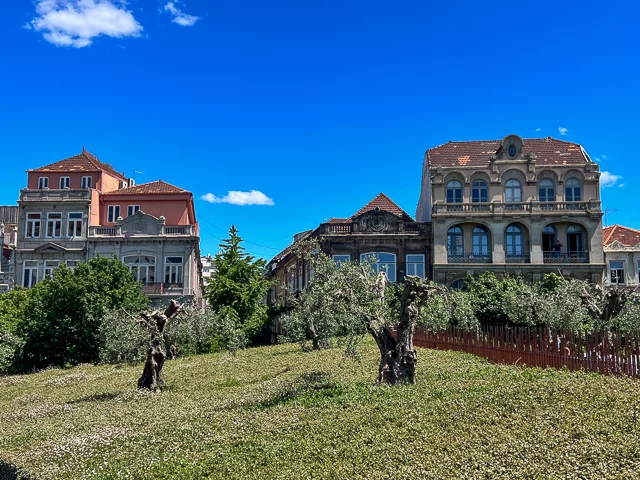 Why Digital Nomads Work from Cafes in Porto
You may be wondering why digital nomads choose to work from cafes in Porto rather than a coworking space or from their Airbnb.
There are quite a few reasons! While it may not be the ideal environment for everyone, you will often see digital nomads around town working from cafes.
Productively Explore the City
Working from a new cafe daily allows you to productively explore a new city. During your walk to a new part of the city to a digital nomad cafe, you can see new sites and tourist attractions.
Walking to new cafes each day gives you the opportunity to see and experience your new city while also being a hard-working and productive digital nomad. It's the perfect combination of travel and remote work!
Sense of Community
For digital nomads who travel solo, it can feel a bit lonely at times. Working from a cafe with other digital nomads can provide a sense of community.
Even if you don't strike up a conversation, you can still feel part of a larger group of people. Working silently alongside other remote workers can give a sense of belonging and ease your loneliness.
Enjoy Local Delicacies
Almost everywhere you travel, there will be local and national desserts, sandwiches, or beverages that you just have to try.
Working from a cafe will allow you to order and taste these local delicacies while also being productive and working for your employer, clients, or on your business.
Pro Tip: You have to try the pastel de nata in Porto whenever you can!
Affordable Option
With a variety of coworking spaces available in Porto, the cost can add up if you are only there for a week or two. With an average cost of €14 per day, you can easily go to a cafe and spend a third of that to work for a couple of hours.
Even if you go to two cafes in a day, that's only €10 and you get to explore two different locations!
Spend a Year Exploring Digital Nomad Cafes in Porto with Nomads Embassy
The cafes in Porto on this list are just some of my favorites that I had the chance to visit during my time in the city. However, there are so many more that I would like to check out.
Fortunately, with Portugal's digital nomad visa, remote workers earning over €3,040 per month can live in the country for a year and check out all of the cafes in Porto during that time!
Are you interested in applying for Portugal's digital nomad visa and living abroad for a year or two?
Nomads Embassy: The World's First Embassy for Digital Nomads can help!
We've partnered with hand-selected local immigration lawyers to assist you with your visa application and relocation to Portugal in a seamless and easy process.
Want to learn more? Claim a free 15-minute eligibility check with Nomads Embassy, and we will connect you with our partners. 
Simply visit our article for Portugal's digital nomad visa and fill in the contact form on the page to get started.