Last Updated on 4 December 2023 by Brittany
Nothing can match the feeling of waking up to the sweeping view of the Pacific Ocean from your Airbnb in Maui.
One of the best benefits of a remote job is the freedom to work from anywhere in the world. If you're a remote worker living a nomadic lifestyle, you may have considered a workation in a tropical environment – so why not work remotely from Maui?
Maui is a Hawaiian island where you can get a tan on the beach right before you go kayaking with whales!
Now, working long hours while simultaneously scouring the Internet for the best Airbnb in Maui is exhausting. Managing your work-life while also searching for your next temporary home could cost you a lot of time.
So, if you're looking for the best Airbnbs in Maui, you can relax and breathe easily. We have put together a list of the best long-stay Maui Airbnbs for remote workers with all of the essential amenities you'll need during your stay to save you time and get you in your Maui Airbnb faster!
Maui for Remote Workers
Maui is the second-largest Hawaiian island in terms of area and is located right in the center of Hawaii. A workation in Maui is like a dream come true for remote workers.
There are many reasons why employees want to work remotely from Maui. For starters, you can work in peace while enjoying the scenery and listening to the sounds of crashing waves.
The WiFi connection is excellent, and the best gyms and coffee shops are all nearby. So, you surely won't be missing anything during your time here.
Although Maui is famous for being a tourist destination, it's a great place for long stays. The weather is pleasant and the people are amazing!
It is the perfect place for you to find the perfect work-life balance. From enjoying the farm-to-table cuisine to relaxing on the white sand beaches, Maui is the workcation you didn't know you needed.
Best Airbnbs in Maui for Remote Workers
We consider a long stay to be at least 30 days, so all of the Maui Airbnbs on this list allow month-long vacation rentals. Furthermore, to be considered ideal for remote workers, an Airbnb should have the following basic amenities:
Strong WiFi connection
Full kitchen/kitchenette
Ample space to work
Washing machine
Ideal location
You'll find the best Airbnbs in Maui according to different budgets and situations to make it easy for you to find the perfect Airbnb for your long-stay workation.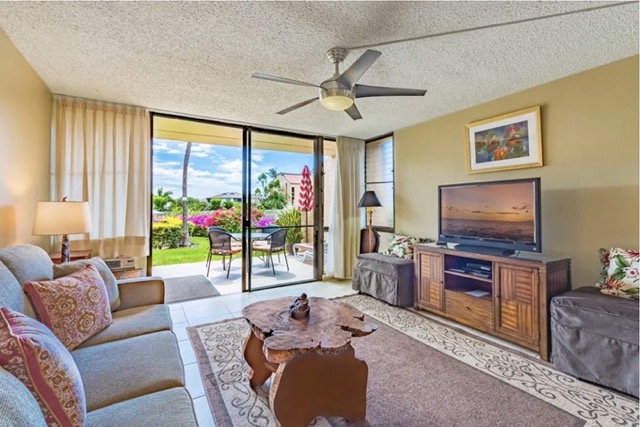 Ocean View Apartment
Rating: 4.8
Guests: 4
Bedrooms: 1
Monthly Discount: Yes
Special Features: Pool, High-Speed WiFi
This spacious ocean-facing apartment can sleep four people comfortably. It is truly the ideal place for a remote worker searching for a long-stay rental. The apartment is near the beach and close to many famous food spots, and it's pretty neat, cozy, and tidy.
Located within walking distance from the beach, parks, and grocery stores, this apartment has a simplistic and modern design. The kitchen is well-equipped, and you'll find laundry essentials as well. You'll have high-speed WiFi access for uninterrupted work, and there's a TV for entertainment, too.
This apartment also has a pool and free parking on the premises. The hosts also provide beach gear, chairs, and snorkeling equipment for a fun and comfortable day at one of Maui's amazing tropical beaches..
If you are looking for an affordable apartment with great amenities for your workation, then this place is perfect for you.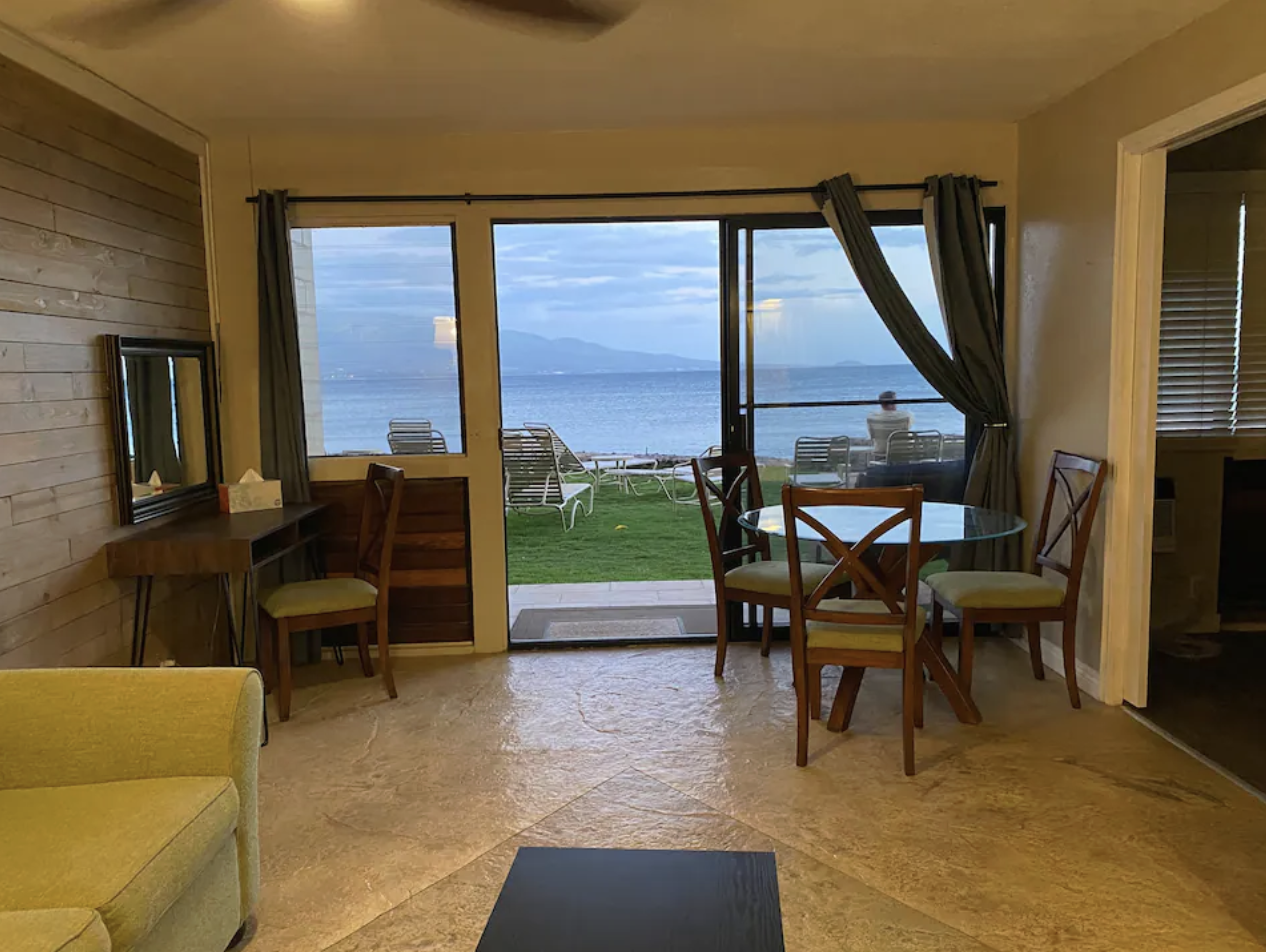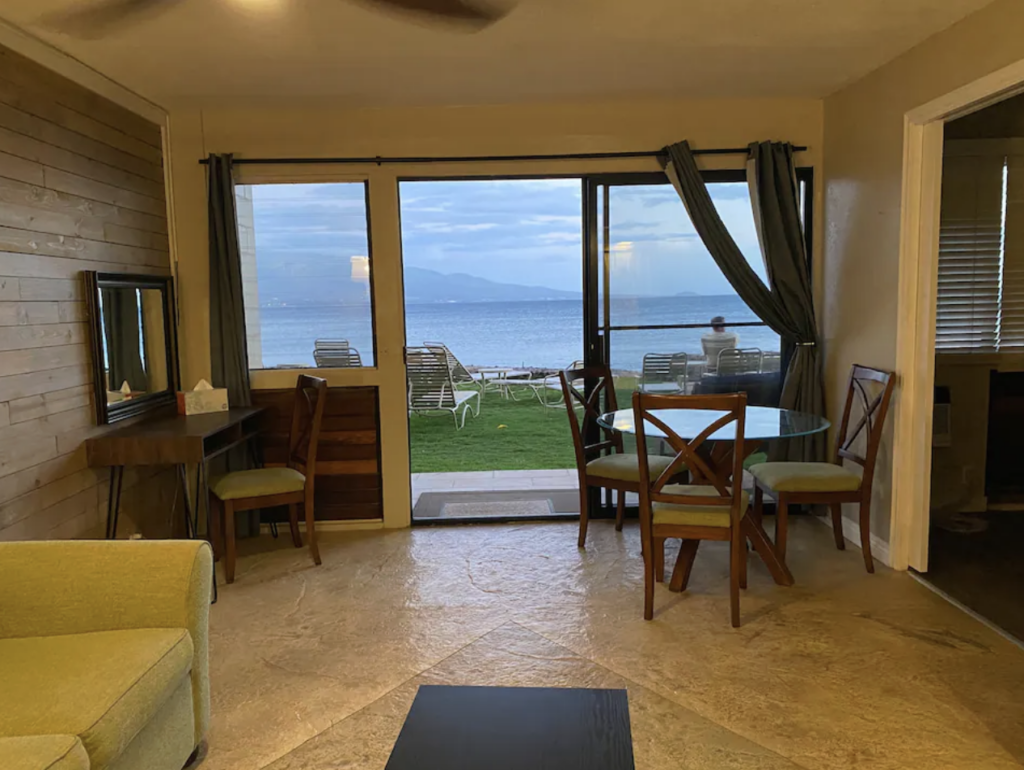 Oceanfront Condo in Wailuku
Rating: 4.89
Guests: 2
Bedrooms: 1
Monthly Discount: No
Special Features: Harbor View, Laundry Services, Ethernet Services
This ocean-facing condo in Wailuku is unique because it is just 20 feet away from the ocean. This one-bedroom condo comes with a harbor view and direct beach access.
This spacious Maui Airbnb has an incredible view of the ocean and is simply "unbeatable," according to one of the reviews. This condo is five minutes away from the Ocean Center and some of the best restaurants.
You will enjoy working remotely from here, and it's not just because of the views and the location. It's the fact that your dedicated workspace is located in a private room for peace and quiet. The WiFi connection is strong, and there's a fully equipped kitchen with everything you need.
This condo has a pool, free parking on premises, and beach gear for your use. There are security cameras for your safety as well. Working with a cup of coffee while enjoying the mountain and ocean views will surely be something to excite you to start your day.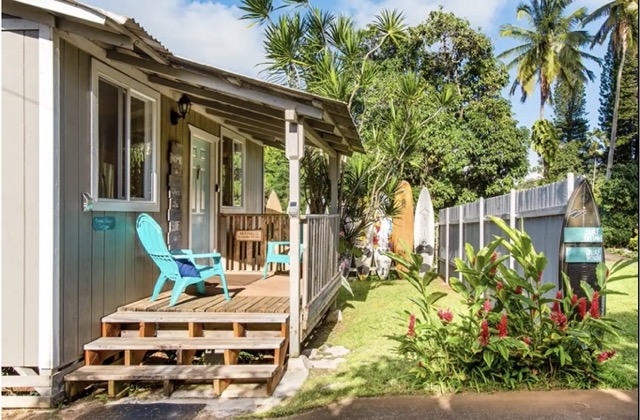 Colorful Surf Cottage
Rating: 4.98
Guests: 4
Bedrooms: 2
Monthly Discount: No
Special Features: Garden, Children's Tableware, Blackout Curtains
This vibrant cottage is ideal for remote workers who want to travel during the day and relax at night. As the name suggests, the home decor and the design of this cottage are pretty vibrant and colorful. This North Shore cottage has two spacious bedrooms, a fully equipped kitchen, and an outdoor shower with a fantastic view.
There's a coffee shop near the back gate, so you don't need to travel too far for breakfast. It's within walking distance of the bakery, market, and grocery store. This guest house is located in North Maui a one-hour drive from West and South Maui. The beautiful roads to Hana and Haleakala are easily accessible from here.
Overall, it's reviewed as a pretty quiet and private place, so it is ideal for you to work without distractions.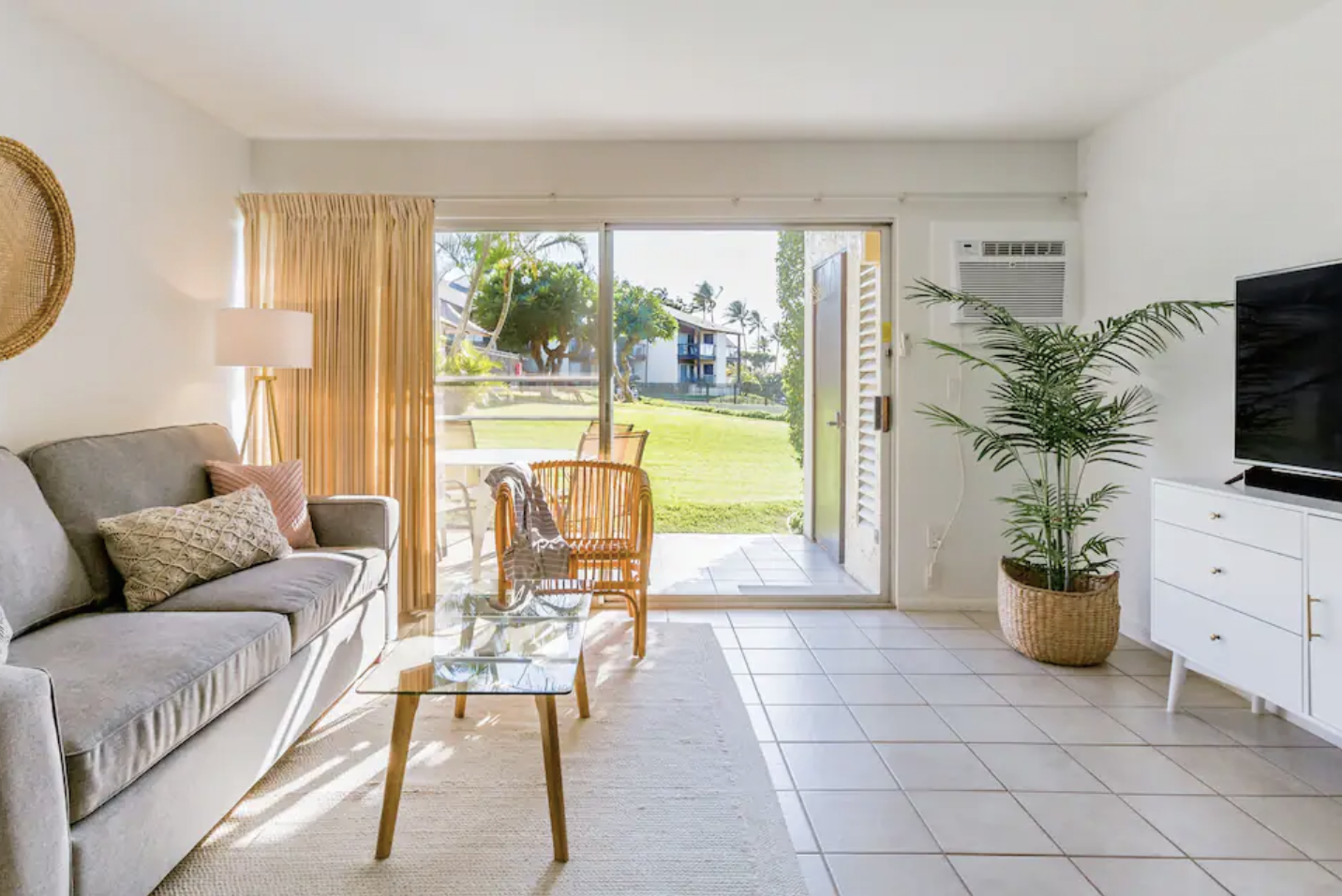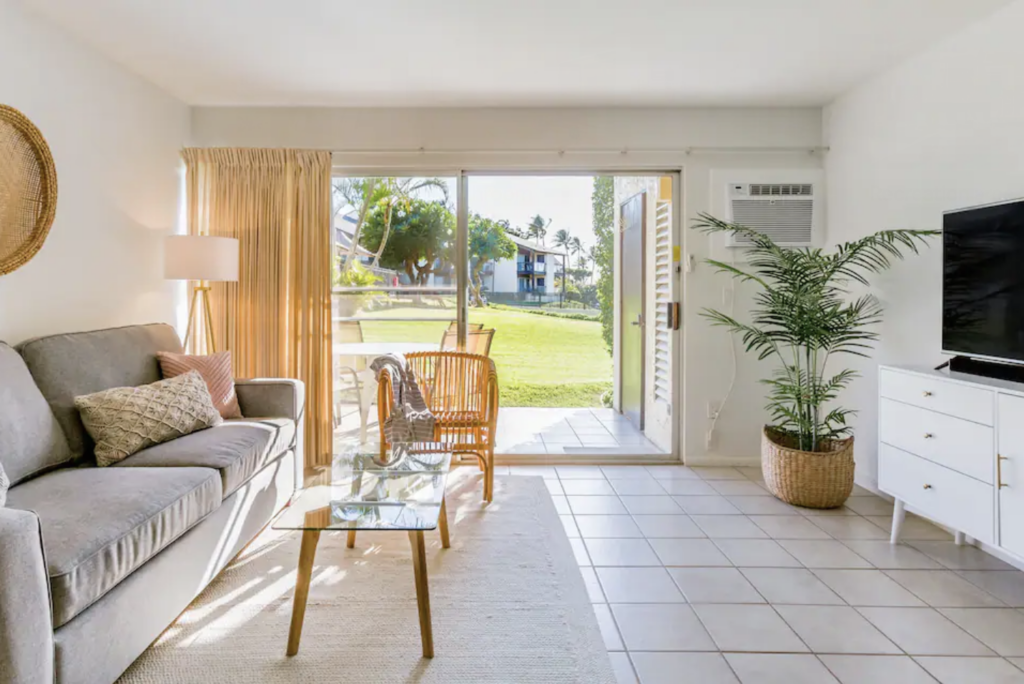 Beautiful Light-Filled Condo in Kihei
Rating: 4.96
Guests: 4
Bedrooms: 1
Monthly Discount: Yes
Special Features: Pool, Laundry Essentials
Located in Kihei, this beautiful condo has everything you could ask for. The Kahului Airport is at a 30-minute distance from here, and it is also near Maui's Kamaole Beach.
Because of its central location, other Maui towns are within an easy driving distance from this Airbnb. There's mid-century modern wall art throughout the condo, and the furniture decor is "cozy and cute," according to a review. When you stay here, you'll get access to beach gear, tennis racquets, and other sports equipment..
There are many famous restaurants in the vicinity, so you could always head there for dinner after work. This place also has a fully-stocked kitchen, a swimming pool, and free parking on the premises.
The Internet is super-fast, and because of the lighting and vibe, you'll easily be able to set up your workspace. This one-bedroom condo has been thoughtfully planned and is an excellent place for a workation.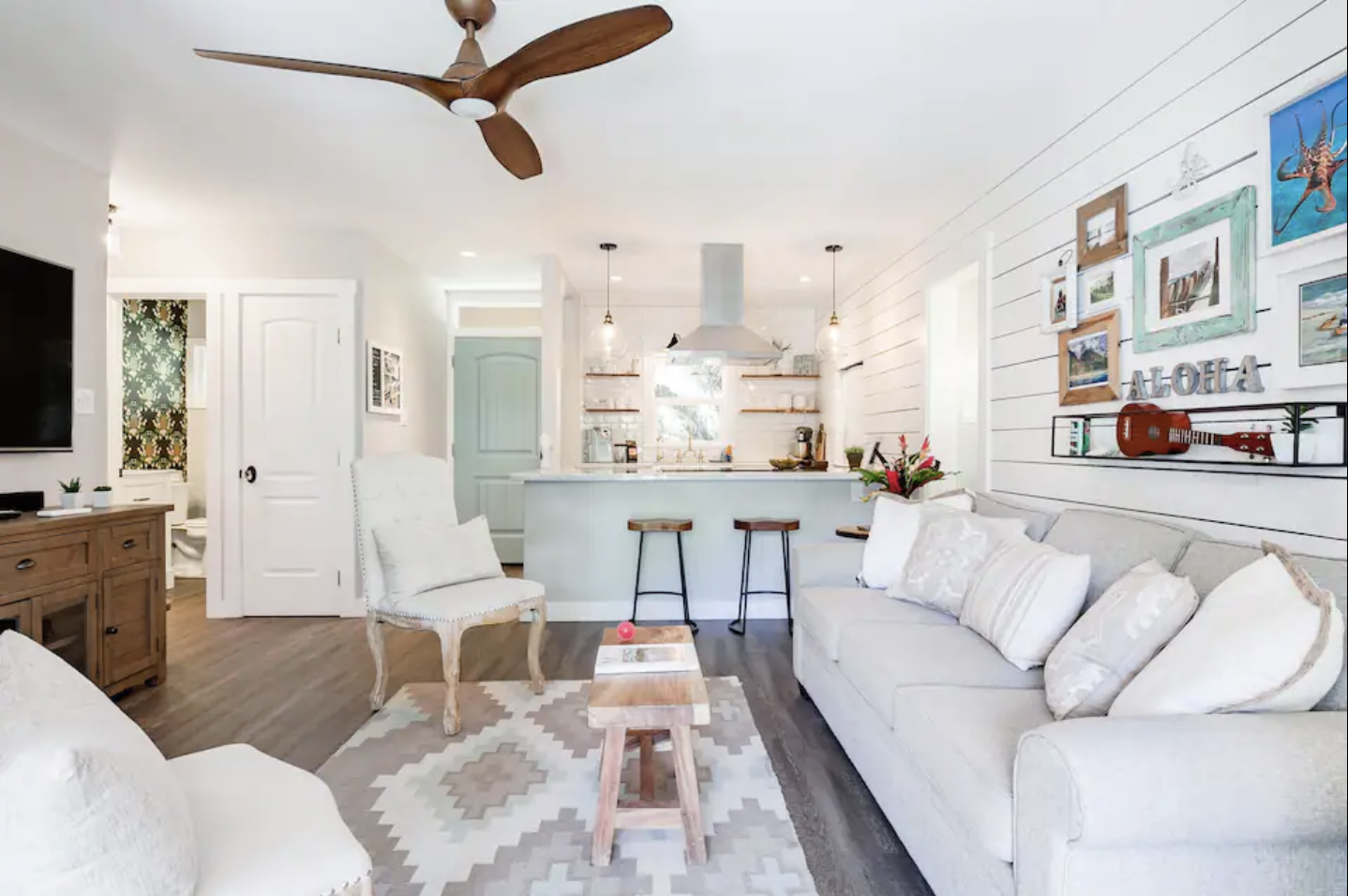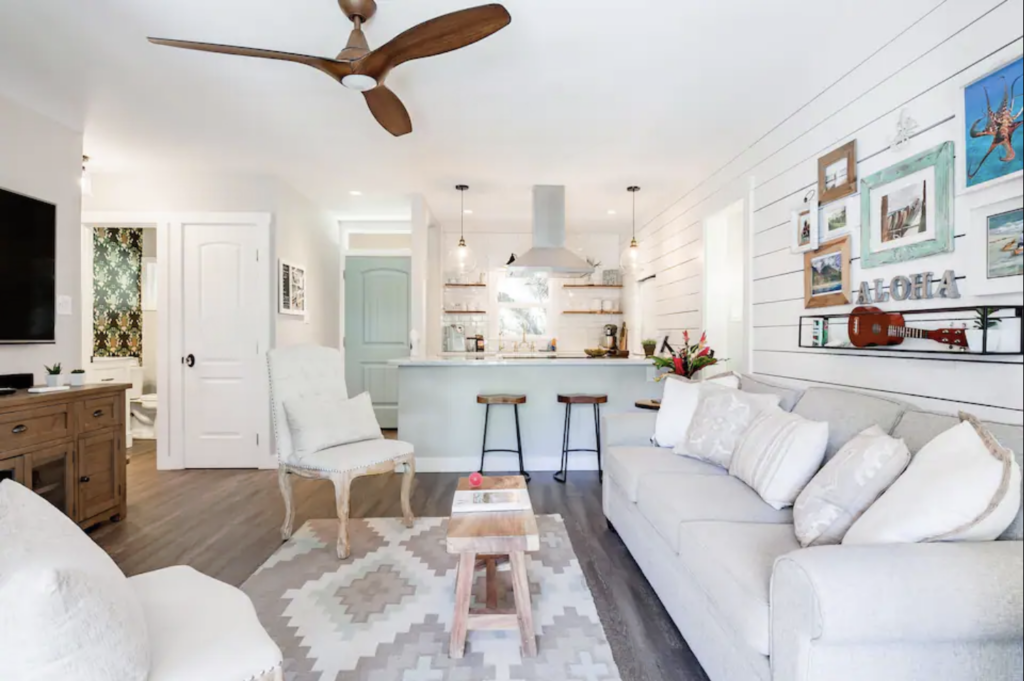 Say Aloha Apartment
Rating: 4.88
Guests: 6
Bedrooms: 2
Monthly Discount: No
Special Features: Pool, Strong WiFi
Cozy, unique, and stunning. We'd use those very words to describe the Say Aloha Apartment. This luxurious getaway is located in Lahaina, within walking distance from downtown Lahaina.
This Maui Airbnb could be perfect for your next temporary home while you work remotely. It is a comfortable cottage that has been decorated with great aesthetics. According to one review, the WiFi speed is great, and the kitchen is fully-equipped for all your cooking needs.
You can also work and conduct online meetings from this cottage's private backyard while enjoying its breathtaking views and breathing in the fresh Hawaiian air.
There is a garden terrace, a swimming pool, and free parking on the premises. The unit is at the border of the beautiful old highway.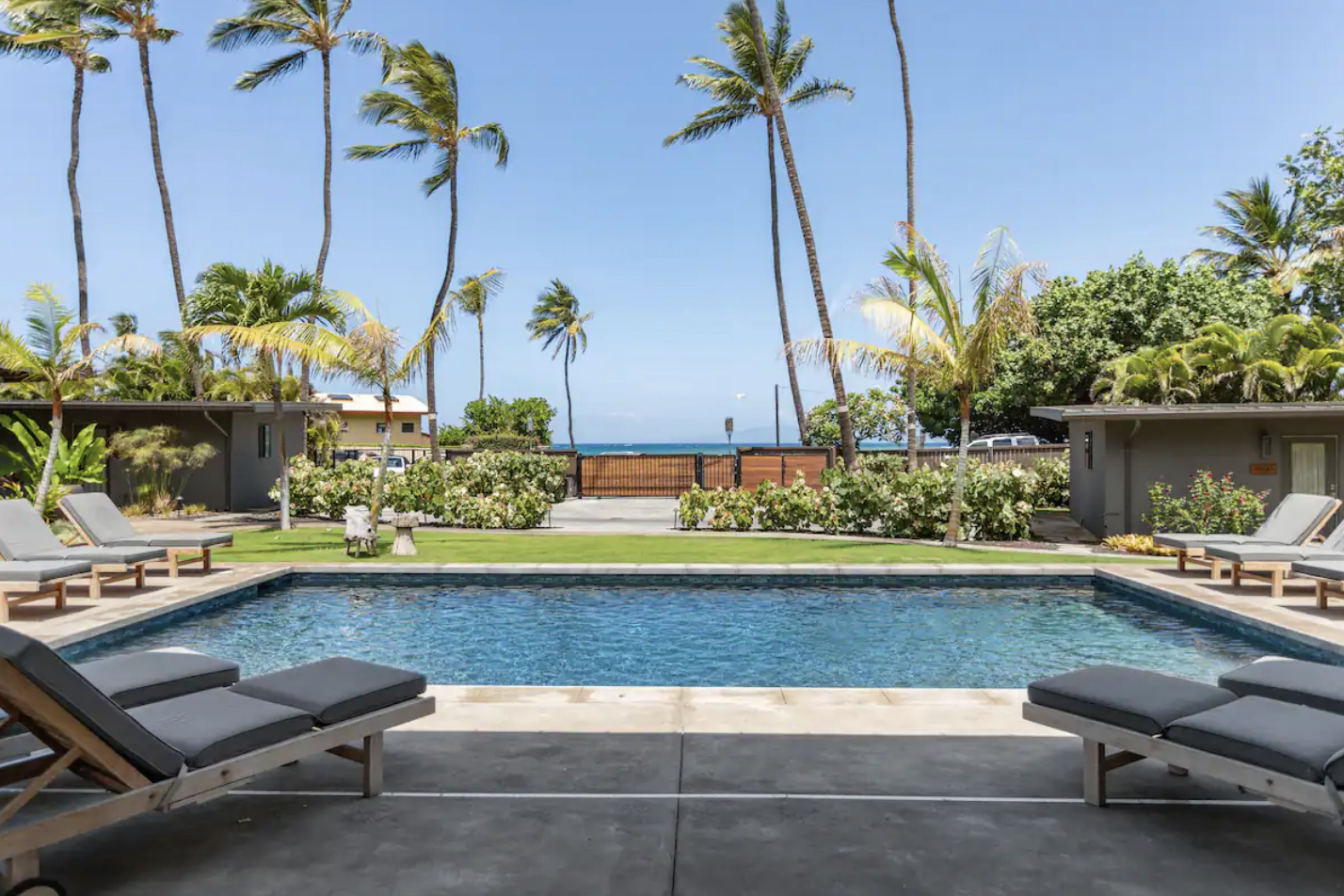 Modern Bungalow Near the Ocean
Rating: 4.93
Guests: 4
Bedrooms: 1
Monthly Discount: No
Special Features: Suitable For Hosting Events, Strong WiFi
This modern bungalow near the ocean is located in Kihei at a 25-minute drive from the Kahului Airport. There are a lot of fun activities here such as snorkeling, whale watching, and taking surfing lessons.
Equipped with a fully-stocked kitchen, great furniture, and minimalistic design, this 1-bedroom bungalow also has great lounging areas. It is quiet and private, so you can work peacefully and productively.
Many tourist attractions, including the Charley Young Beach, are within walking distance from here. So, you can always grab your beach gear and walk straight to the beach after a hectic work day.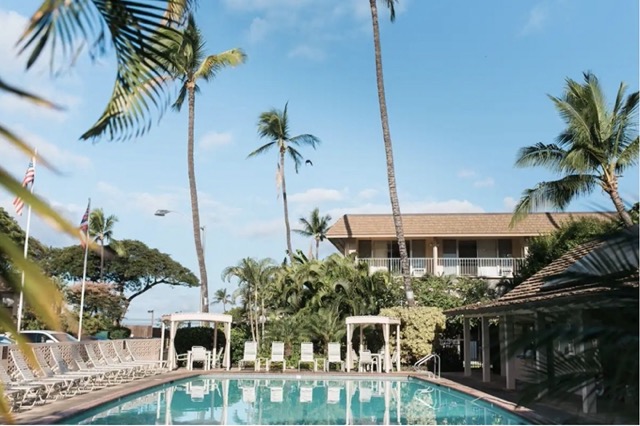 Fully Equipped Apartment in Kihei
Rating: 4.90
Guests: 4
Bedrooms: 1
Monthly Discount: Yes
Special Features: Laundry Services, Portable Air Conditioning, Bose Bluetooth Sound System
This apartment in Kihei is at the perfect location for you to explore Maui. It is a stone's throw away from some of the finest restaurants and beaches of Kihei. The apartment provides the perfect working atmosphere thanks to its tranquil atmosphere and location away from busy street noises.
The apartment has a minimal-yet-modern design, the kitchen is well-equipped, and there are a lot of useful items for the beach like chairs, towels, and umbrellas.
This apartment's hosts have arranged for travel resources, which shows that they have put a lot of effort into thoughtfully planning things. Upon arrival, you'll find a book of the hosts' favorite spots and a website of favorite places to visit.
You can also relax at home after a lazy work day while binge-watching your favorite shows on the Roku SmartTV. Oh, and let's not forget that the Bose Bluetooth System will only make your binge-watching experience more immersive.
This waterfront property has beach access and resort access too. With that said, a workation in this Airbnb will be full of fun.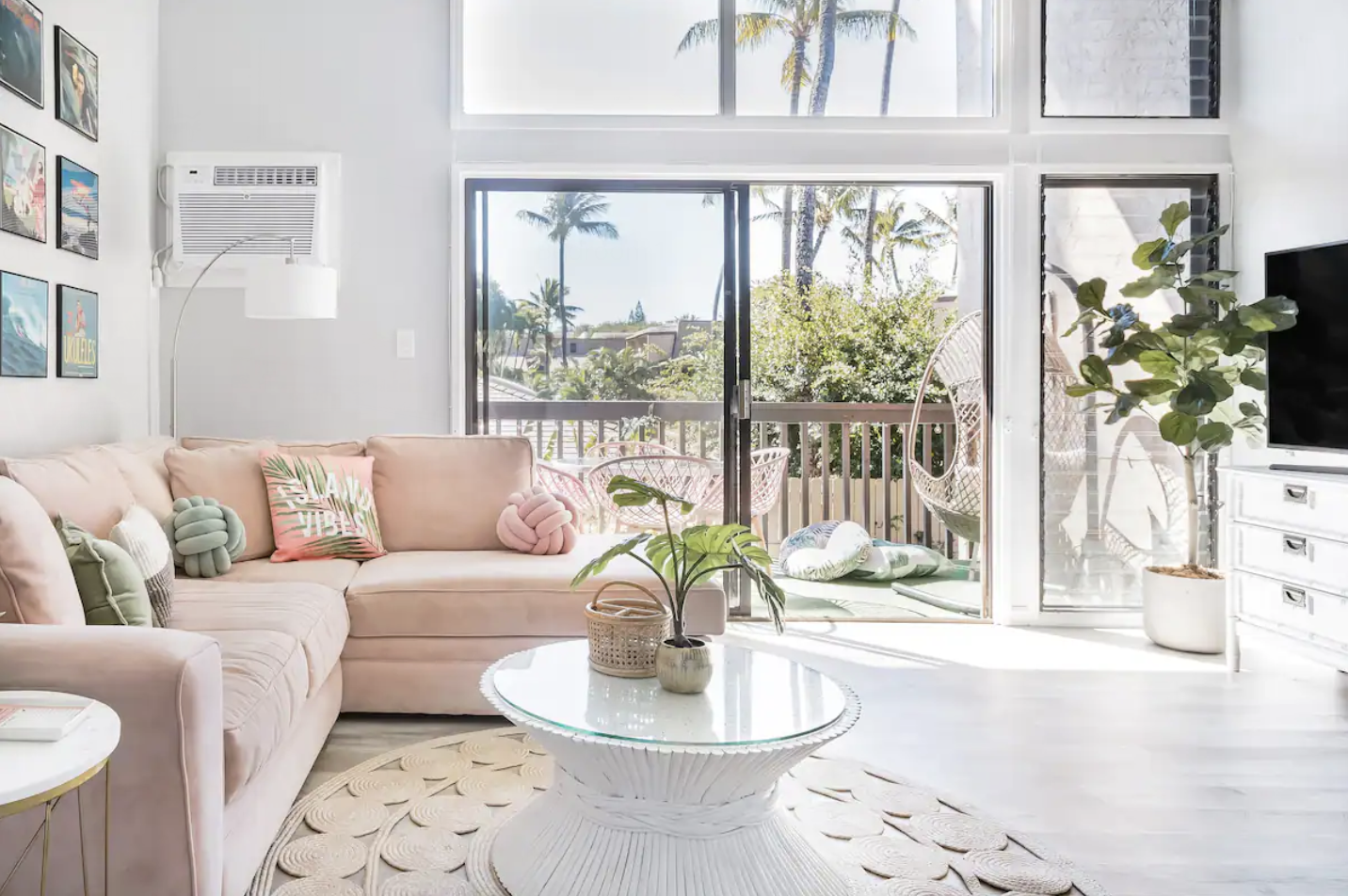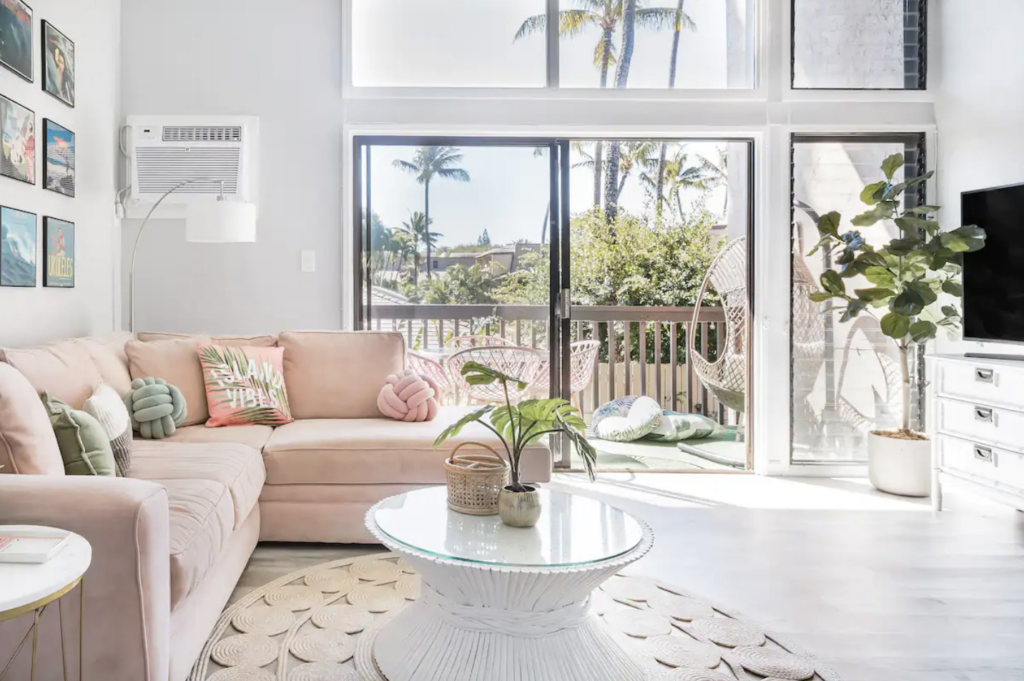 Surf Loft in Kihei
Rating: 4.97
Guests: 4
Bedrooms: 2
Monthly Discount: No
Special Features: Shared Hot Tub, Pool
This Kihei Surf Loft has the perfect location. It is close to restaurants and grocery stores, and it's also within walking distance of the quiet beaches of Kihei. The house has been decorated beautifully with a surf-inspired gallery wall.
The hosts are helpful, as they share their food recommendations and other local tips. You can rent a bike, scooter, or a car while in the area for convenient travel around the island. You may also visit the performance theater nearby if you want to enjoy a show after work.
This Airbnb Maui loft is located in a quiet neighborhood with many locals and very few tourists. So, it could be the perfect place for a long stay of at least 30 days. You can make the most out of this quiet neighborhood by working remotely from this beautiful house.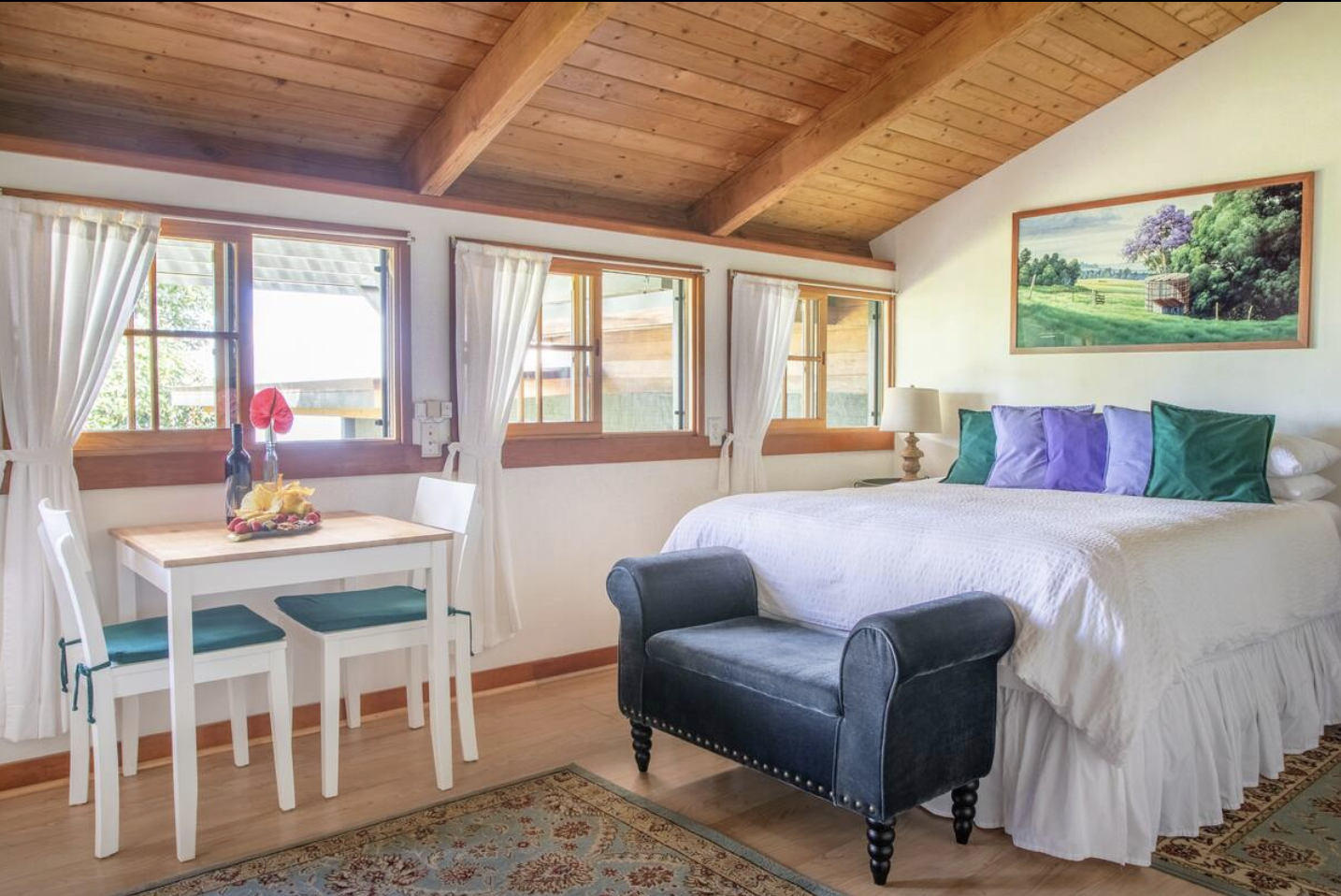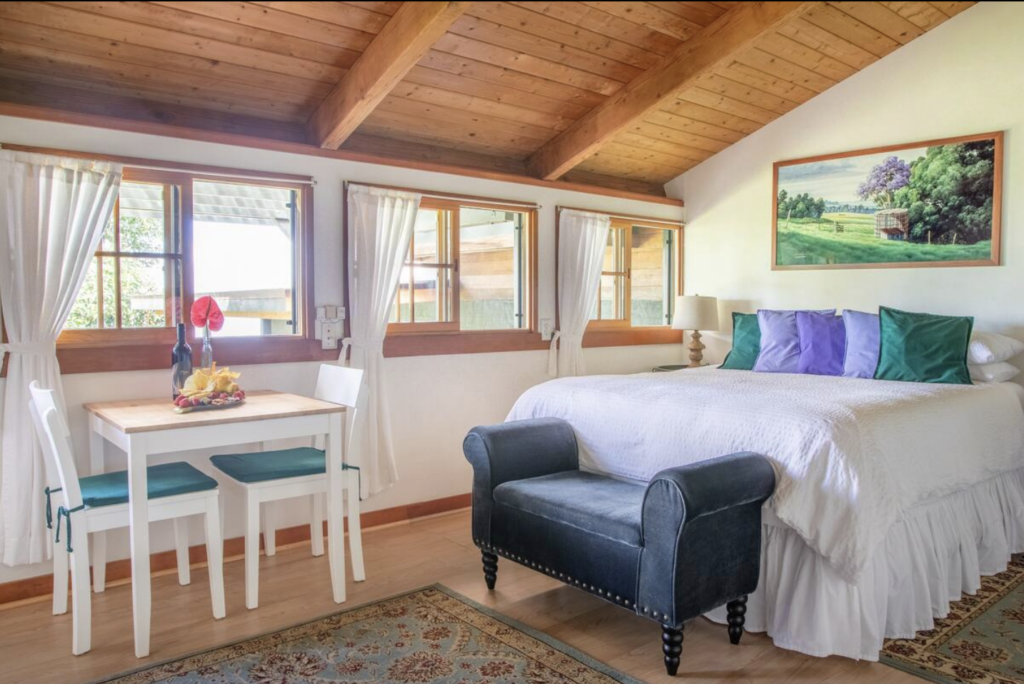 Charming Artist's Studio in Kula
Rating: 4.99
Guests: 2
Bedrooms: 1
Monthly Discount: No
Special Features: Heating, Garden View
Located in the countryside of West Maui, this Artist's Studio looks over a mountain slope. You'll experience life like a Maui local while staying at this Airbnb, which is built on five acres of pastoral land, away from the busy tourist areas.
According to a review, this place is "cozy, comfortable, and elegantly decorated." The decor is full of artful touches, and the kitchen and the bathroom are fully-stocked and recently renovated. You'll also get heating facilities and free parking on the premises. Guests especially love being surrounded by the beautiful garden with fruit and avocado trees.
There are many things for you to do here after a lazy day of sitting in front of the laptop. You can watch the sunset in the Haleakala National Park, you can go horseback riding, or you can also go wine tasting in Ulupalakua. This studio is simply perfect for a remote-working couple looking for a getaway.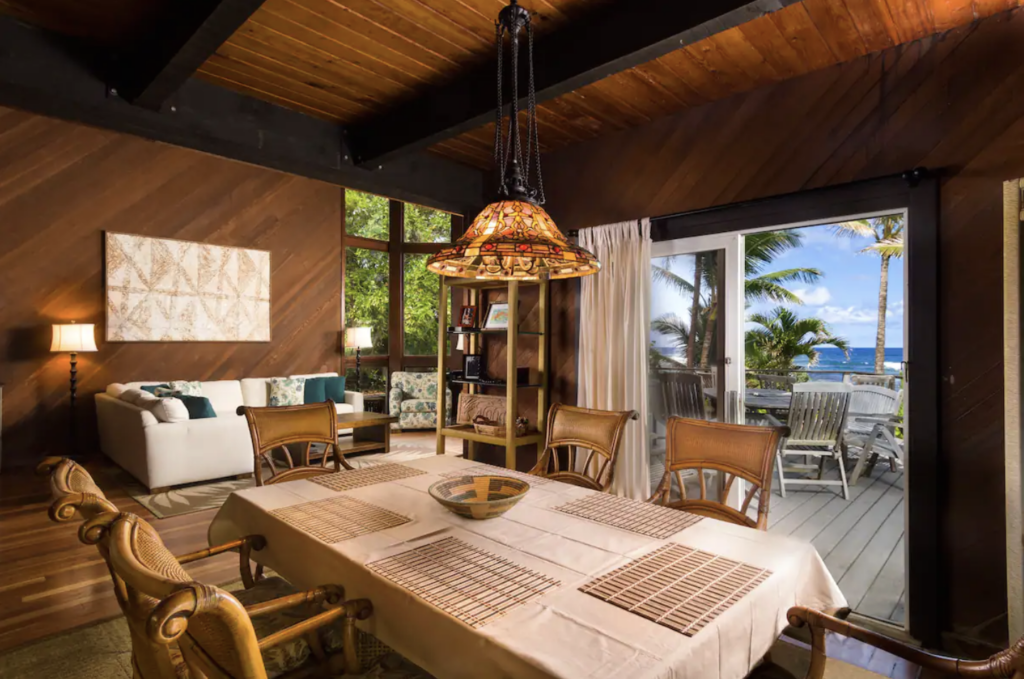 Hamoa Beach House
Rating: 4.84
Guests: 8
Bedrooms: 3
Monthly Discount: Yes
Special Features: Beachfront, Garden, Ethernet Connection
This beachfront house in Hamoa is spacious, tranquil, and full of amenities. Located conveniently between Koki Beach and Alau Island, this house is just a few steps away from the shoreline.
There are three huge bedrooms, two beautiful baths, and one hot tub outside for tranquil and relaxing stargazing. The wooden design makes this Airbnb in Maui all the more beautiful.
It includes a fully-stocked kitchen, laundry essentials, and everything else you may need to feel at home. The refreshing sea breeze would surely help you keep focused while working remotely.
The most famous tourist attraction near this Airbnb is Hana, a rainforest. There's easy access to this natural paradise via a 50-mile drive along the beautiful roads of Hana.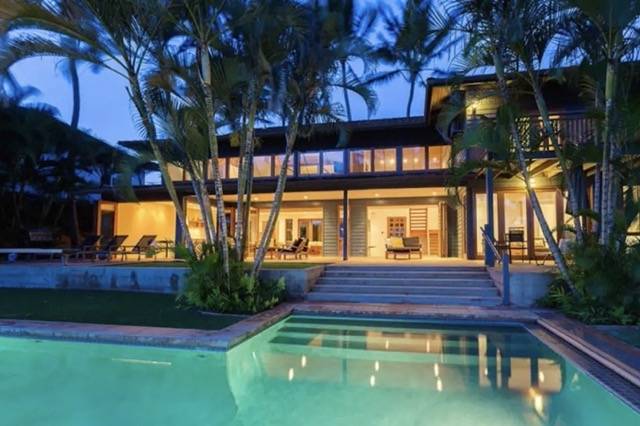 Oceanfront Villa in Paia
Rating: 5
Guests: 6
Bedrooms: 4
Monthly Discount: No
Special Features: Pool, Dedicated Work Space
This stunning oceanfront villa in Paia is ideal for large groups of remote workers or families looking for long-stay Maui vacation rentals. This villa has four enormous bedrooms and a private backyard.
Imagine waking up to the view of the Pacific Ocean from a glass door. That's precisely what you'll be getting here because the bedrooms directly face the ocean.
With a fence along the property's perimeter and the vegetation on the borders you will have plenty of privacy to work peacefully. Also, a huge swimming pool and hot tub separate the house from direct access to the ocean.
Grocery shops and restaurants are a walking distance from this Airbnb in Maui However, the hosts highly recommend renting or getting a car. That's because there are many things to do on all four corners of the island. Although many places are within walking distance, getting to other places would require a car.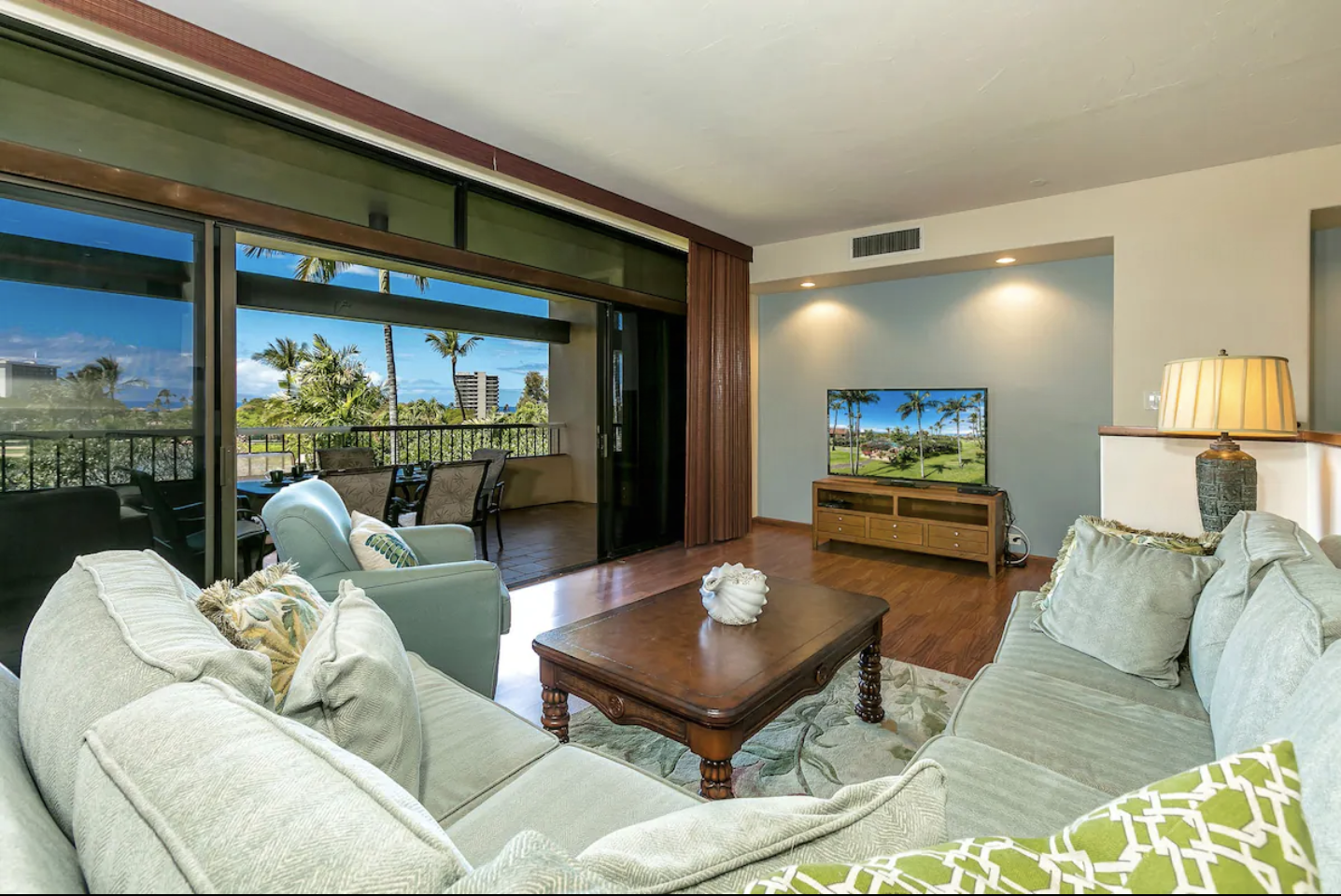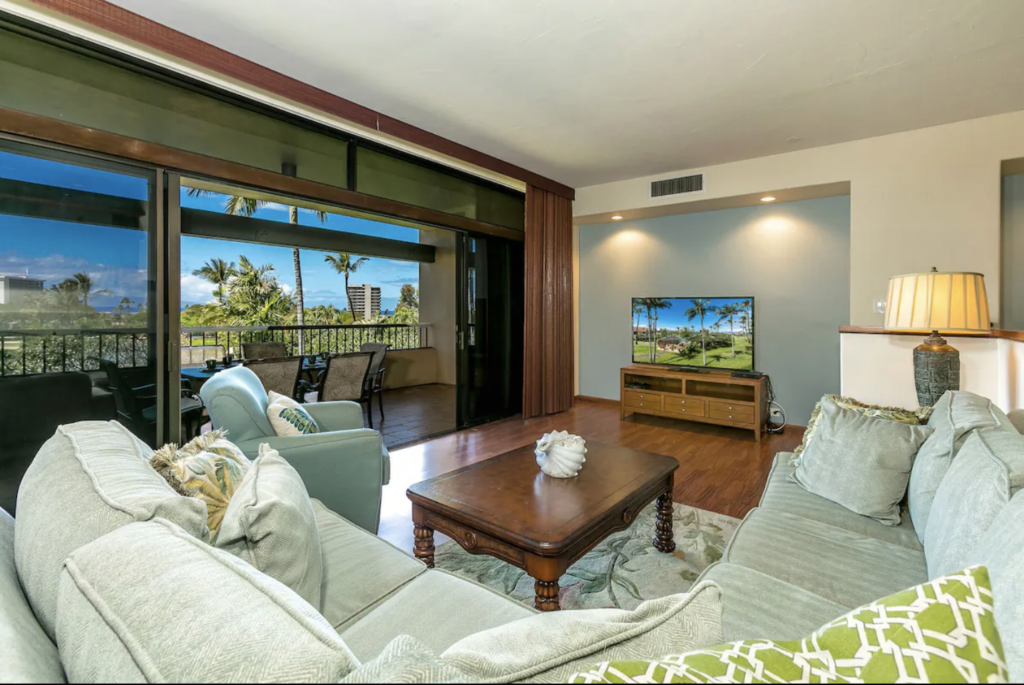 Kaanapali Luxury Condo
Rating: 4.88
Guests: 6
Bedrooms: 2
Monthly Discount: Yes
Special Features: Shared Beach Access, HDTV with Netflix, Prime Video, and Hulu
Located within walking distance from the famous Kaanapali Beach, this luxurious condo is well-maintained and comfortable. It is also near Whaler's Village, a famous dining and shopping place.
This condo is located on the second floor and has direct beach access. You can have the perfect work day while sitting with your laptop in the balcony with the ocean's view. There's fast WiFi and free long-distance calling anywhere in the USA.
You can golf on the Royal Kaanapali Golf Course or play tennis on the nearby courts. Or, if you've had a long day and you're too tired to play sports, you can stay back and binge-watch your favorite shows on Netflix.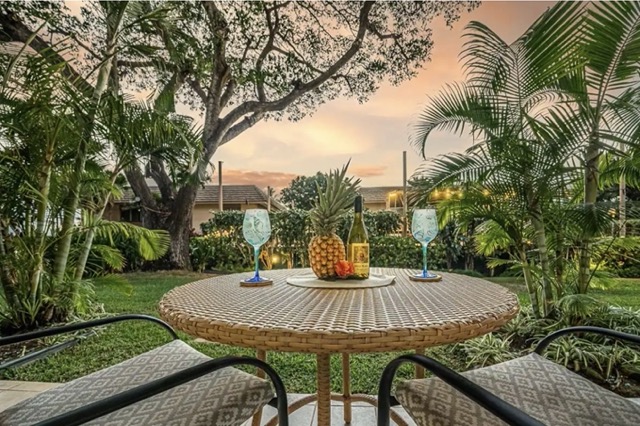 Garden Lanai Just Steps from the Beach
Rating: 4.84
Guests: 4
Bedrooms: 1
Monthly Discount: Yes
Special Features: Laundry Services, Dedicated Workspace, Pool
This luxurious one-bedroom garden lanai has everything a remote worker could ask for in a Maui Airbnb. You'll find a gazebo, beach gear, a BBQ grill, and many other things.
Waking up to the beautiful view of the garden and sipping some authentic Kona coffee is a delightful way to start your Maui mornings.
This lanai in paradise also has a dedicated workspace for increased productivity. There's a private patio where you can have BBQ sessions, and there's also a shared pool.
You'll find many amazing restaurants and shopping places within walking distance from the condo.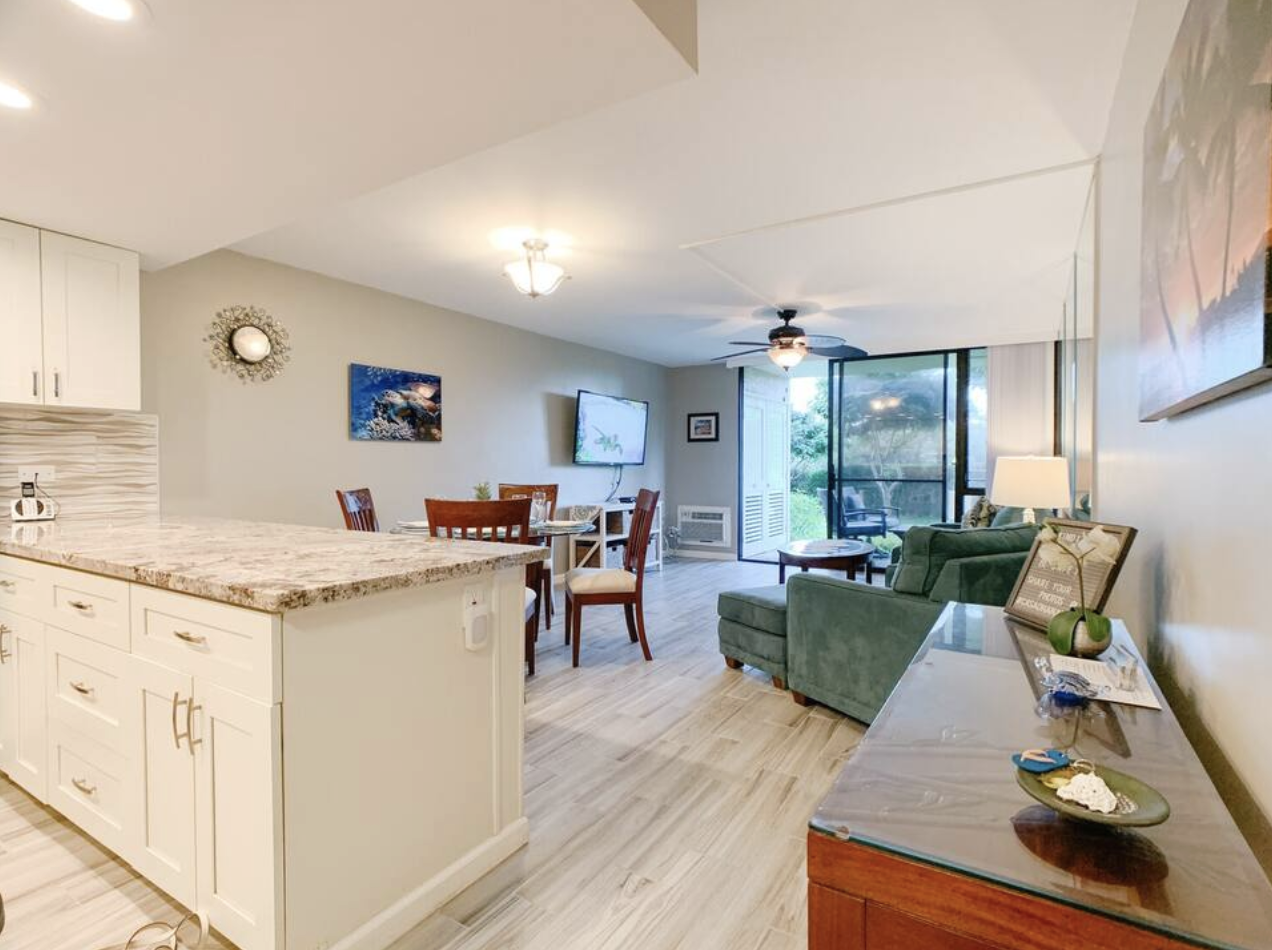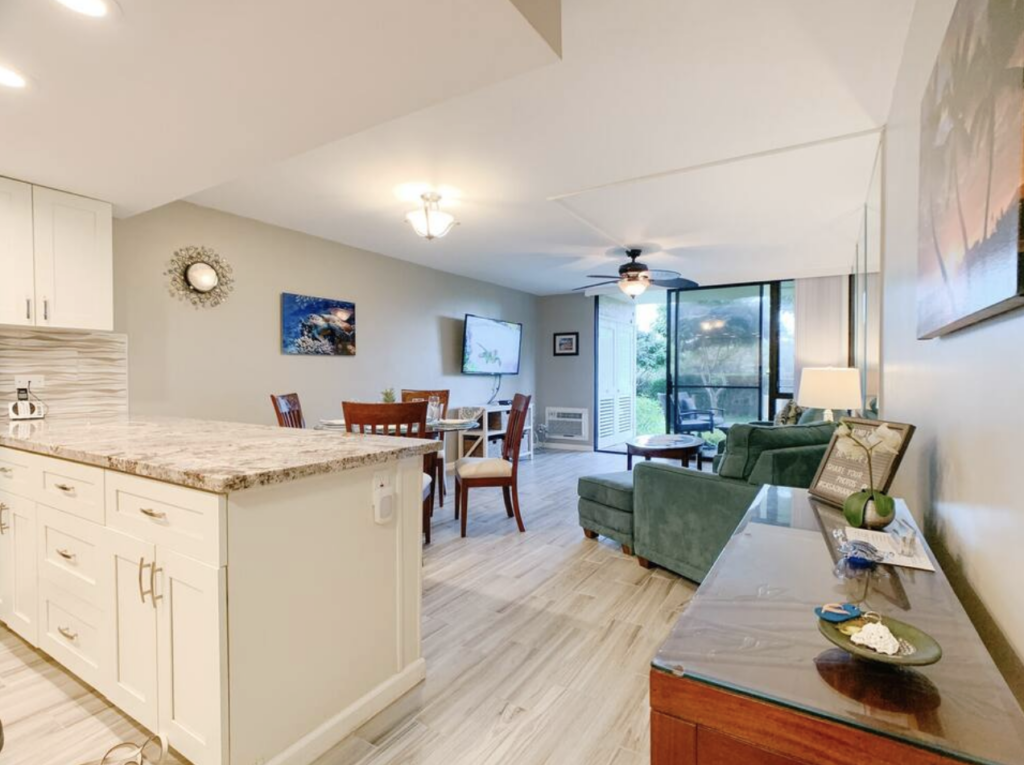 Casa Ohana at Kamaole Sands
Rating: N/A
Guests: 4
Bedrooms: 1
Monthly Discount: Yes
Special Features: Strong WiFi, Outdoor Shower, Exercise Equipment
Located just steps away from the beach, the Casa Ohana at Kamaole Sands is a one-bedroom, two-bathroom unit. It also has a private garden secluded from the noise of busy streets and crowds.
This Airbnb has a fully-equipped open concept kitchen with everything you need to conveniently prepare a meal. The living room has enough space to make you feel at home. Also, if you have guests staying over, you can always use the sofa that can be converted into a queen-size bed.
You'll have access to exercise equipment, tennis racquets, beach towels, chairs, and other essential gear. There's a dedicated workspace where you could work remotely from. The strong wifi allows remote workers to make video calls, upload heavy files, and work efficiently.
While staying here, you'll be within walking distance of many restaurants, shopping complexes, and other places of interest. Because of its central location, day trips to either end of the island are pretty convenient, thanks to the Airbnb's central location.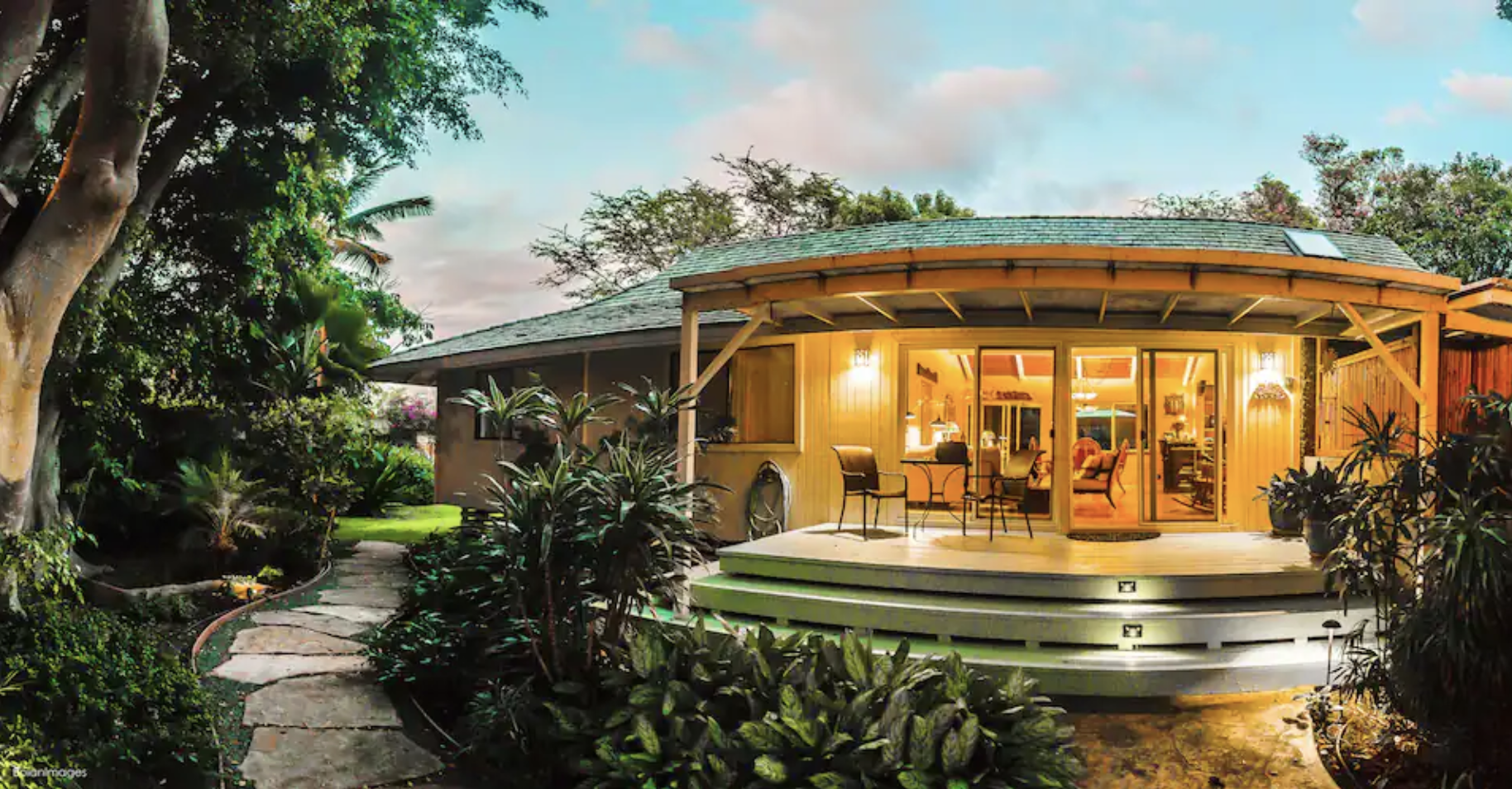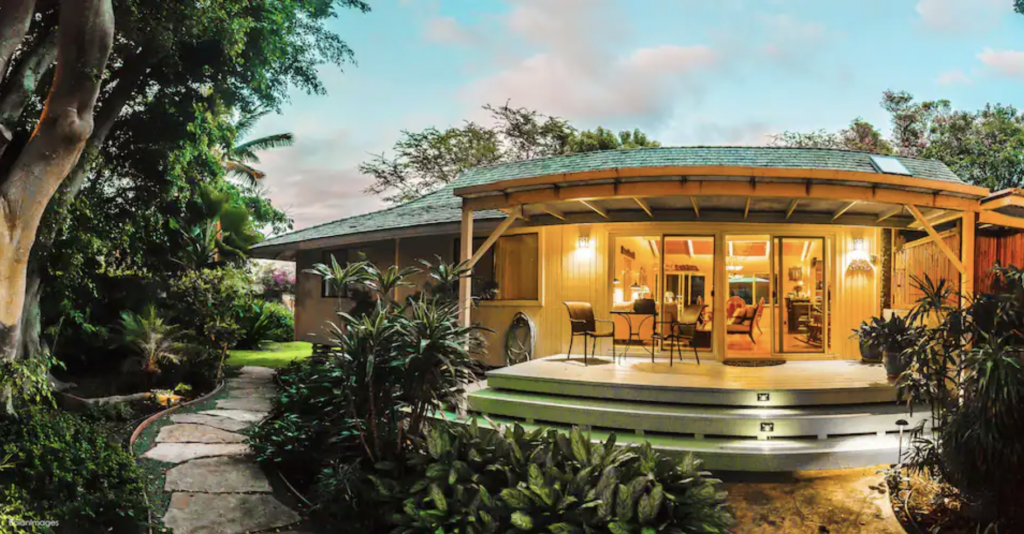 Mana Hale Vacation Rental
Rating: 4.97
Guests: 5
Bedrooms: 2
Monthly Discount: Yes
Special Features: Private Patio, Private Backyard, Pet-Friendly
The Mana Hale Vacation Rental is conveniently located in a garden just one mile from the ocean. It has two huge bedrooms and bathrooms. Enjoy the spectacular views while lounging on the front and back decks.
This vacation rental is close to various coffee shops, making it ideal for those remote workers who like setting up their laptops at cafes Many of Maui's best beaches, restaurants, and shopping complexes are also a short distance from here.
Plant lovers will adore this place surrounded by varieties of flowers and plants. This quiet and adorable garden gingerbread house is excellent for remote workers looking for a month-long retreat in nature.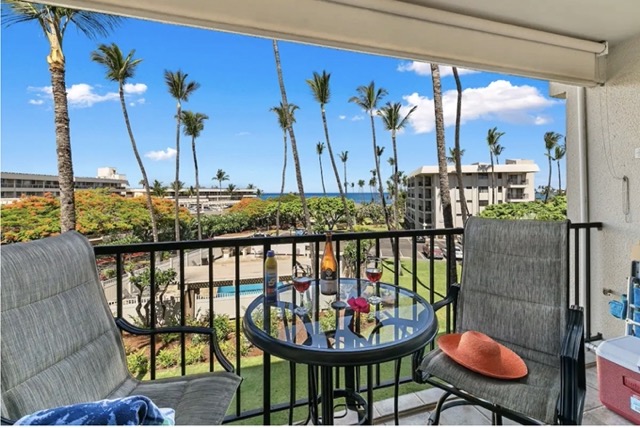 Ocean View Condo for Couples
Rating: 5
Guests: 2
Bedrooms: 1
Monthly Discount: Yes
Special Features: Pool, Ocean View, BBQ, Newly Remodeled
You can make this newly remodeled ocean view condo in Kehei home for a month or two during your time in Hawaii. With gorgeous views of the water from the outdoor furnished lanai, you could sit for hours admiring it.
The bathroom and kitchen are fully stocked, making you feel right at home. You'll also have access to a shared pool and BBQ station in the building, perfect for relaxing after a day of work.
The location is also fantastic as you're just a couple hundred steps away from a gorgeous sandy beach. Also in the area are restaurants, convenience stores, and cafes that you can easily travel to. This area is also very walkable, unlike other parts of Maui.
Check the latest rates on Airbnb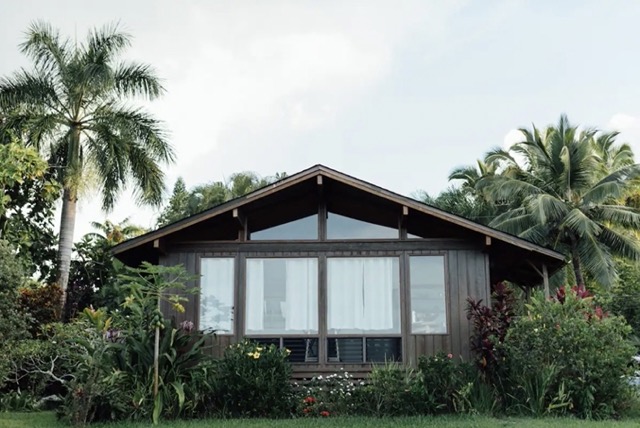 Farm Cottage in Hana
Rating: 4.99
Guests: 2
Bedrooms: 1
Monthly Discount: Yes
Special Features:
You'll absolutely fall in love with this cozy farm cottage in Hana. Spacious with a minimalist style, you'll find yourself in the middle of a dreamy tropical tree farm producing avocados, bananas, fruits, and exotic flowers.
The house has a bungalow style with large windows looking out onto the working farm. You'll be able to soak in the nature, citrus smells, and sounds of the buzzing bees at work during your stay. Relax in the hammock outside or find your favorite spot in this comfortable home to set up your laptop and get some work done.
You'll catch a sliver of the ocean on the horizon out the window. The host will also welcome you with a fresh fruit basket of organic goodies produced right on the property. Tranquility and peace is exactly what you will find during your stay at this Maui Airbnb.
Check the latest rates on Airbnb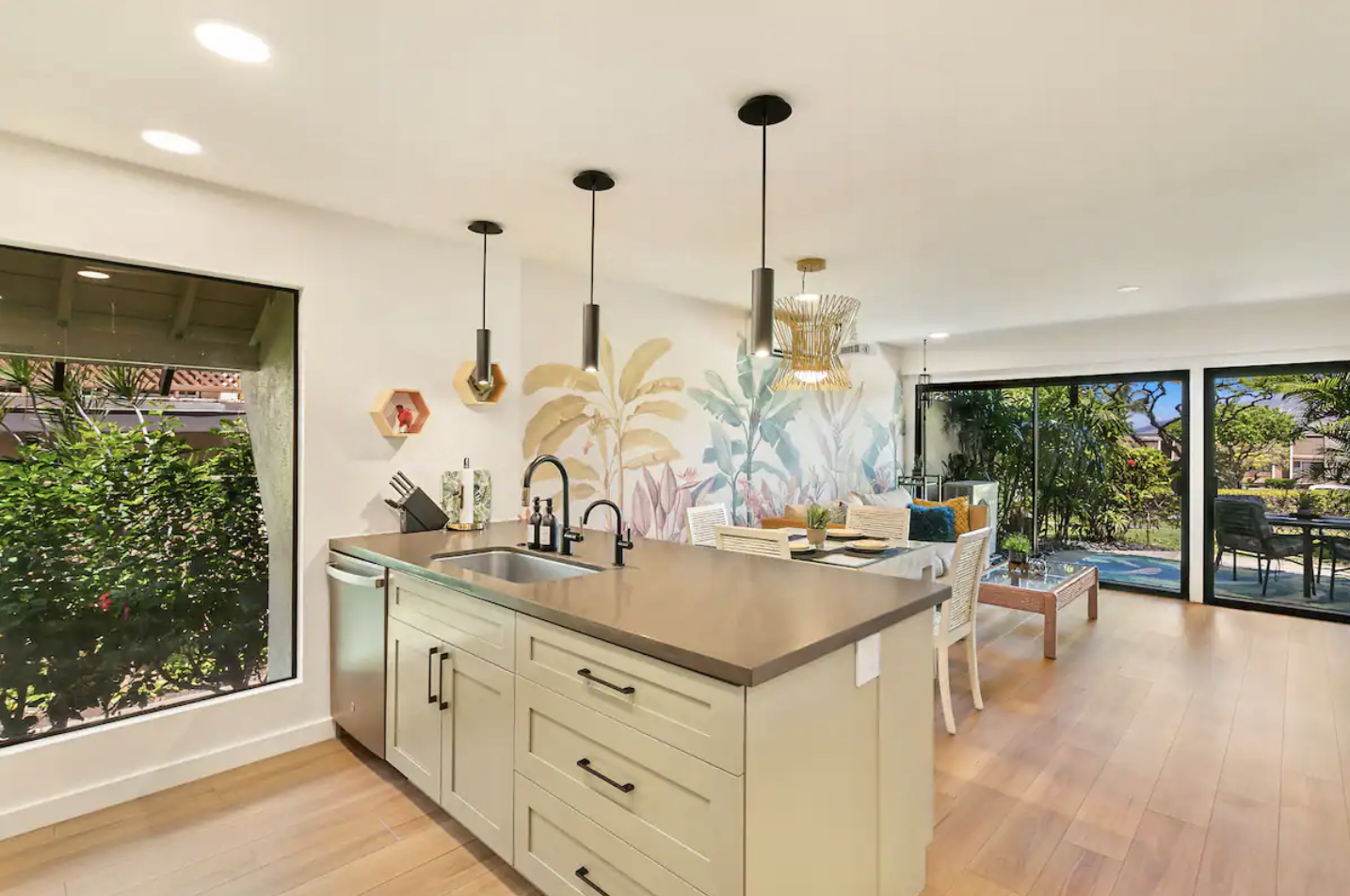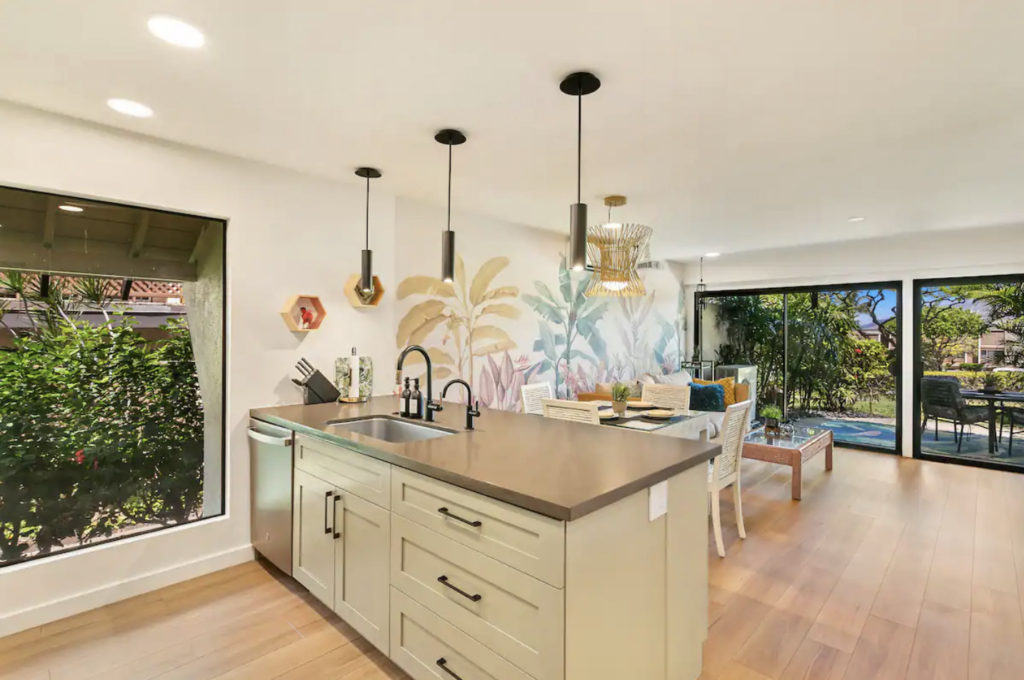 Desirable Getaway in South Kihei
Rating: 5
Guests: 4
Bedrooms: 1
Monthly Discount: Yes
Special Features: Pool, 300 Mbps Wifi Speed, Lanai
For remote workers who need a super-fast wifi connection, this desirable getaway apartment in South Kihei is for you. Comfortable and newly remodeled in 2021, this apartment will instantly feel like home, thanks to the details and amenities added by the hosts.
You'll love cooking meals in the large and modern kitchen with a beautiful view of lush green palm trees and crystal clear skies. Enjoy those meals on one of two lanai – your choice! With two full bathrooms, this is an excellent place for families too.
The unique murals and art on the walls create a relaxed and colorful vibe in the apartment. Two famous beaches are less than a ten-minute walk from the apartment. You can also enjoy the shared pool with the rest of the building or play a game of tennis on the courts during your days off.
Check the latest rates on Airbnb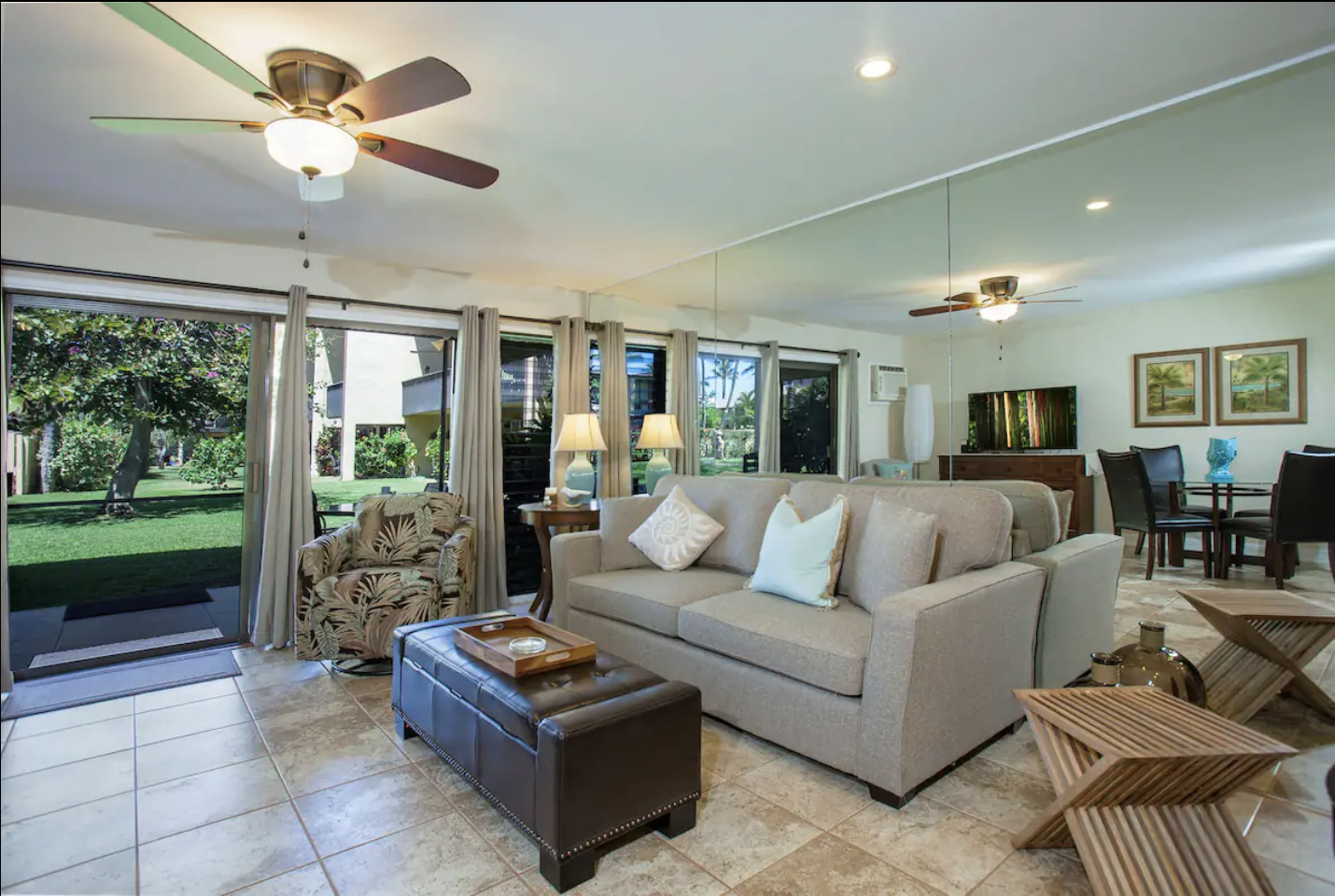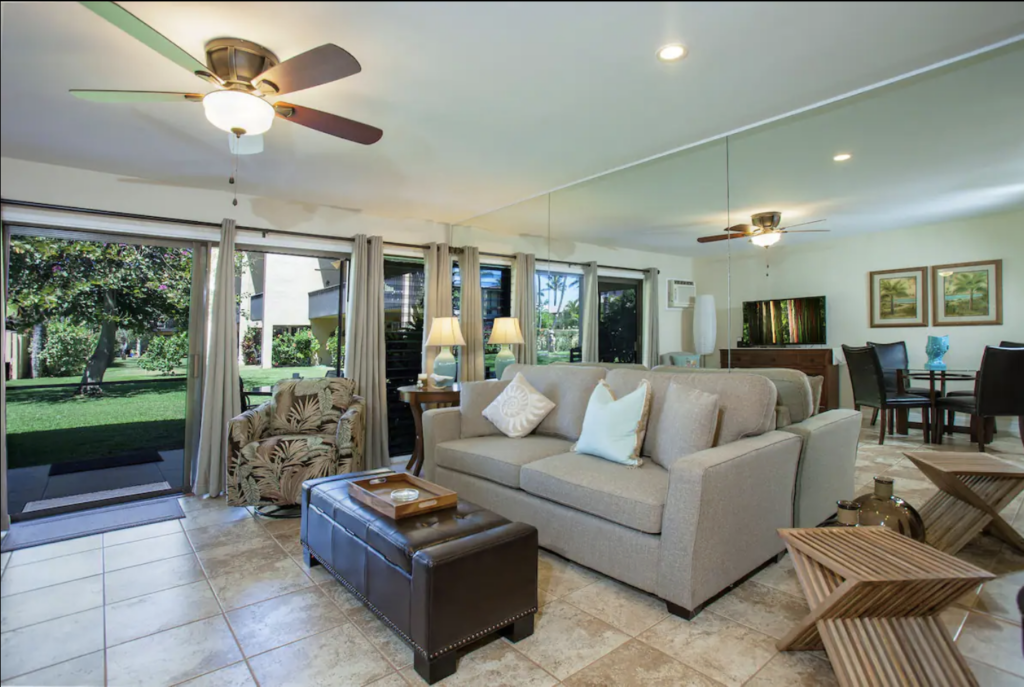 Luxury Condo Across from the Beach
Rating: 4.76
Guests: 4
Bedrooms: 1
Monthly Discount: No
Special Features: Pool, Dedicated Workspace
With 95% of guests rating this apartment as having an excellent location, visitors who enjoy convenience will love staying at this luxury condo across from the beach. There are supermarkets, restaurants, and cafes all within a short distance and the beach just steps away, you'll surely never get bored during your time here.
With modern amenities such as stainless steel kitchen appliances and bathroom structures, you'll feel comfortable and efficient in this Airbnb. The dedicated workspace with ideal lighting and a cushioned office chair is perfect for increasing productivity and managing professional tasks.
After a day of work, relax on the patio outside surrounded by soft green grass. Or take advantage of the shared pool and hot tub on the premises. Cross on over to the beach to feel the sand between your toes and smell the salty air.
Check the latest rates on Airbnb
Long-Stay Airbnbs for Remote Workers – Right to Your Inbox
Have you found the perfect Airbnb in Maui yet? Hopefully, this list gave you some ideas of where to stay and the kind of Airbnb to look for as a remote worker in Maui!
Either way, we can help you save time searching for the best long-stay Airbnbs worldwide. We know what a remote worker needs to work successfully on a workation.
Join our newsletter to stay updated with the best Airbnb listings and the best advice for remote workers.