With the new Portugal digital nomad visa available, remote workers are frantically searching for Airbnbs in Lisbon.
This beautiful coastal capital has so much to offer. From eating curated delicacies at the Time Out Market to riding the famous tram cars, you can immerse yourself in Portuguese culture. No wonder Lisbon is one of the best cities in Europe for digital nomads.
But who has time to constantly search and scroll through Airbnb listings to find the perfect one for a remote worker? Not you!
Rather than trying to find a Lisbon Airbnb that meets all of your needs, you could spend more time searching for cafes to work from instead.
To make your relocation to Lisbon easier, we have compiled a list of Airbnbs in Lisbon specifically for remote workers. So grab yourself a Pasteis de Nata, and put up your feet. We have done the leg work for you to find the best long-stay Airbnbs in Lisbon for you.
Lisbon for Remote Workers
The capital city of Lisbon, Portugal's capital city, is a much-desired destination for digital nomads searching for a beautifully colorful and relaxed European lifestyle. Situated in Western Europe, Lisbon is well renowned for having among the lowest cost of living in Europe. In addition, Portugal typically experiences warm weather all year round, which is a fan favorite for adventures.
Due to its ideal location in the Mediterranean, Lisbon has a wide variety of local food as well as a large selection of restaurants serving cuisines from across the world. Seafood, freshly made bread and pastries, wine, and coffee are all mouthwatering in Lisbon.
There are four main routes into this busy metropolis; automobile, boat, train, and air. There are daily international flights to Lisbon's airport, Humberto Delgado Airport, which is only seven kilometers away and has a direct metro line to the city's center.
For those digital nomads who absolutely fall in love with Lisbon's historic center with castles, traditional cuisine like the national dish Caldo Verde, or even ride around downtown on a funicular, they can apply for Portugal Digital Nomad Visa and live in the country for a year.
Culture abounds in Lisbon, which is a thriving city; it has been the host of Eurovision song contests and major tech world summits and won a handful of travel awards. Digital nomads who love to cowork in places like the first coworking facility in Lisbon, Cowork Lisboa, located at the LX Factory. It's a fun and exciting workplace because it's frequented by designers, artists, programmers, and people of a similar caliber.
The city offers a beautiful way to connect with others who share the same interests and explore Lisbon together through meetup groups. It is one of the top cities for Airbnb rentals for extended stays.
Best Lisbon Airbnb for Remote Workers
So, what is a long-stay Airbnb? A long stay is a rental property that can be rented for a minimum of one month, with options to extend longer (if you fall in love with Lisbon).
Long-term Airbnb vacation rentals are essential for remote workers. However, we need to remember that you aren't just on holiday; you are making money and working hard, so not just any rental will do; it has to be fitted to the nines for your remote work.
Lisbon Airbnb long-term rentals must have the necessary amenities to make your life as a remote worker nice and smooth. When you stay at one of the Lisbon Airbnbs we hand-selected, you can stress less over unreliable wifi and spend more time earning money and making memories.
To be suitable for remote workers, these Lisbon Airbnbs must feature a number of amenities, such as:
Wifi
Kitchen/ cooking appliances
Desk/Designated area to work
Washing Machine
Central Location
In order for you to find your long-term work rental conveniently and fast, we looked for the best Airbnbs in Lisbon that suits every circumstance and price.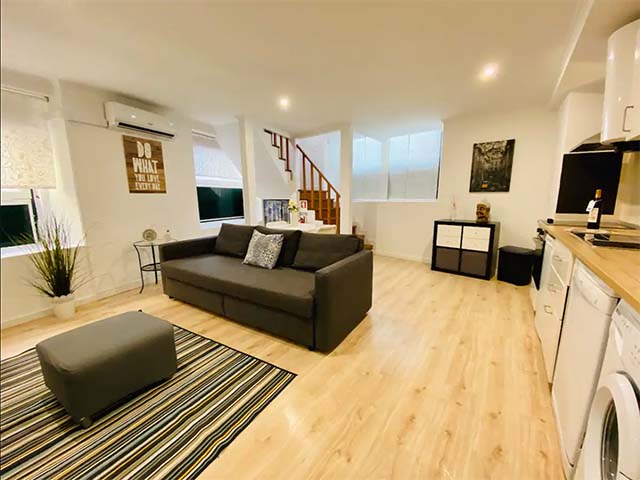 Lovely Duplex @ Bairro Alto
Rating: 4.72
Guests: 3
Bedrooms: 1
Monthly Discount: Yes
Special Feature: Baby Facilities
Use the Lovely Duplex @ Bairro Alto as your home away from home when you are planning your long stay in Lisbon. Located right in the heart of this city centre is this cozy and warm accommodation with Bairro Alto and Bica only a short distance away.
This Lisbon Airbnb apartment has lots of comfortable nooks to sit and chill with your laptop, but always a designated desk area with a door to shut yourself away from distractions.
This apartment is a perfect accommodation for two, providing extensive appliances and gadgets in the kitchen. However, if you bring a little one with you for a family adventure, this apartment has facilities such as a cot and highchair to keep your baby safe and secure.
A short stroll over cobbled streets to tram stops takes you all over the city. But stick to using your feet, discover hidden treasures of trendy bars and cafes around the neighborhood, and mix in with the locals. But, of course, now, you can't spend all of your time wandering the streets and discovering hidden gems in the area.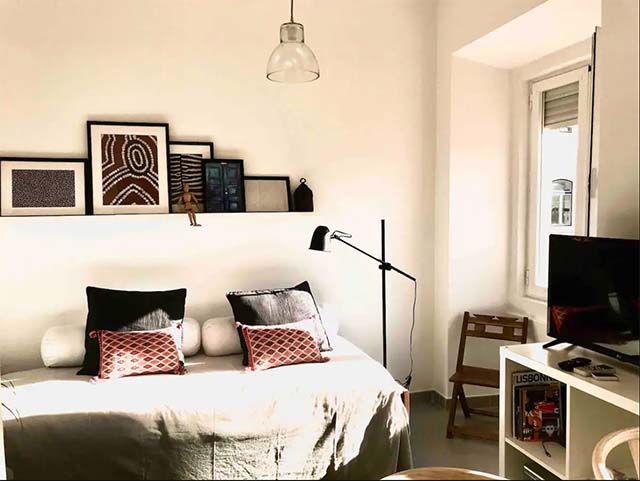 Cozy Apartment Next to Av. Liberdade
Rating: 4.89
Guests: 4
Bedrooms: 1
Monthly Discount: Yes
Special Feature: Pets allowed
You will find Cozy Apartment Next to Av. Liberdade in the city center of Lisbon. Walk in through the doors and be greeted by a bottle of wine, open windows, and the fresh air and sunshine bursting through.
The apartment promotes light, airy, and clean rooms with an added bonus of TV entertainment with Netflix for those chilling nights after long Zoom calls with the team.
This apartment has the perfect sun-trapped kitchen to pull out a chair and pour yourself a glass of Merlot as you wind down from a hectic work week to watch the sunset over this European city.
There are endless amenities, including a washing machine to catch up with your laundry and take out the hassle of finding somewhere or someone to clean your clothes, not to mention a super comfortable double bed with city views to seal the deal.
It is situated in the colorful and cultural streets, so this place gives you an inside look at what it is like to typically live and work in Lisbon. This Airbnb promotes a beautiful yet quiet location in one of the best neighborhoods in Lisbon.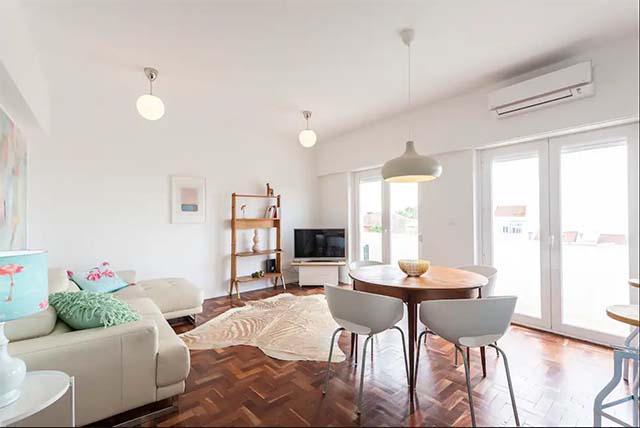 The LisBOA Riverview
Rating: 4.89
Guests: 5
Bedrooms: 3
Monthly Discount: Yes
Special Feature: The View
The highlight is in the title for this Airbnb long-term stay. The LisBOA Riverview has unreal river views. Sip your morning coffee on the balcony while watching the ships come in for a great start to the day.
Bringing the nautical theme inside this Airbnb rental, the decor follows with white-washed walls, blue hits of color, and sea-themed decorations. This property takes over the entire floor and is big enough for five guests with three bedrooms, perfect space to bunk up with friends or other work colleagues in the area.
While this Lisbon Airbnb has impeccable natural light, you may be working remotely with colleagues in a different time zone. Not to worry! Thanks to the blackout blinds in each bedroom, you can still catch up on your beauty sleep any time of the day.
Transport isn't an issue from here either; you can tour the town as there is a bus stop just outside. Or head out by foot, as your Airbnb is on one of the city's best shopping streets.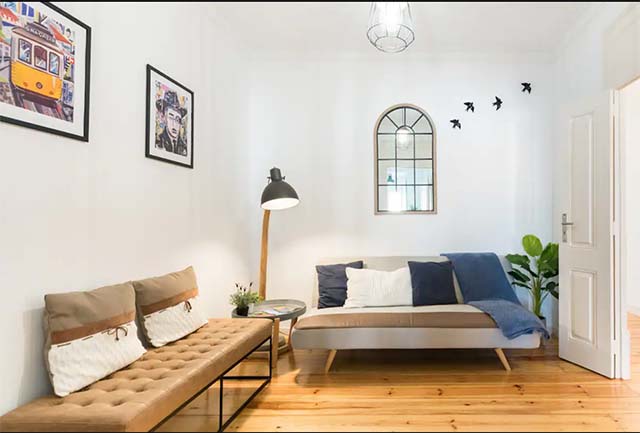 Overlook Largo da Graça at a Comfy Flat
Rating: 4.98
Guests: 4
Bedrooms: 2
Monthly Discount: Yes
Special Feature: Sunset Balcony Views
Sophistication and cleanliness are what you will find at Overlook Largo da Graca at a Comfy Flat. This place is clean and crips, following a calming color palette to stop distractions whilst working.
Modern furniture, plush beds, and sofas to work from to get a different perspective and inject a burst of creativity into your working day.
The location for this hotspot is ideal, with easy transport links all around and a great view to die for. Located in Garcia, a hilly neighborhood. This spot adds more character to this long-stay Airbnb in Lisbon with its traditional exterior and old-fashioned shutters.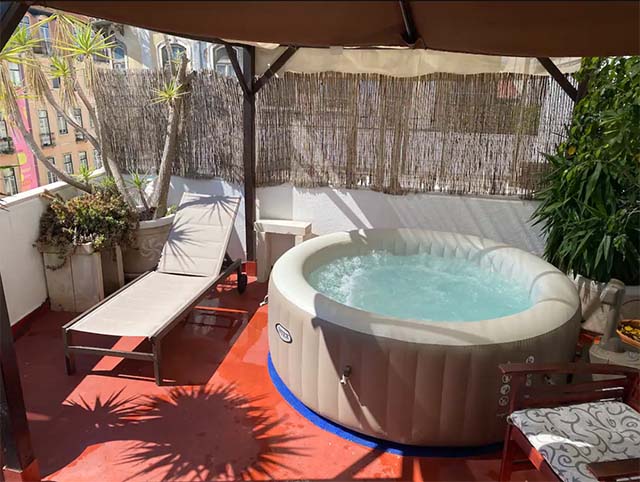 Yuka's Patio
Rating: 4.89
Guests: 3
Bedrooms: 1
Monthly Discount: Yes
Special Feature: Hot Tub
Your own little hideaway oasis for two is what you will get at Yuka's Patio. Get exclusive use of the terrace patio and chill for the day; eat al fresco around the table or take a dip in the private hot tub with a cocktail or two after a hard day of work.
The apartment is fully equipped with everything you would need to get busy in the kitchen and has a BBQ if you want to take dinner outside on the private patio.
The patio isn't the only place you can soak up the sun. This apartment has huge bay windows allowing all of that natural sunlight in, making it bright and an ideal place to sit down and gt on with replying to emails.
Step outside, jump on the tram or metro straight into the city center, or casually stroll to the monuments and touristy locations. Want to explore the fine ingredients in Portugal and make yourself a homemade meal? Take a quick trip to the supermarket located on the ground floor of the building.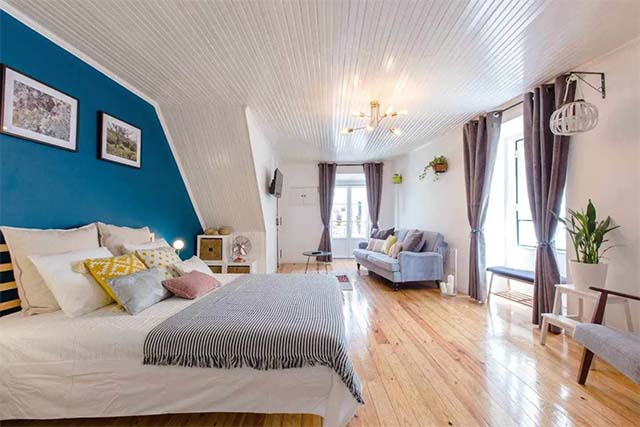 Jewel of Alfama
Rating: 4.53
Guests: 2
Bedrooms: 1
Monthly Discount: No
Special Feature: Door Code System
The Jewel of Alfama really is a treasure of an Airbnb long-stay rental in Lisbon. Situated in the oldest part of the city Alfama, find yourself meandering through cobbled streets, seeing the yellow exterior of your home away from home.
The accommodation is spacious, with a queen-sized bed, a fully equipped kitchen with a Nespresso machine, clean white modern cabinets and countertops for this open-planned living space, and a comfy couch to watch your favorite TV series after work.
Open up the old-fashioned windows and listen to the soul and heart of Lisbon as people go off to work and children play in the streets. This place seems like it would be a muse for many romance novels.
You are genuinely staying amongst the locals here, with local shops, bakeries, and deli a short walk away. Only a two-minute walk from this location is the 28 tram line, which can take you practically anywhere you want to go in Libson.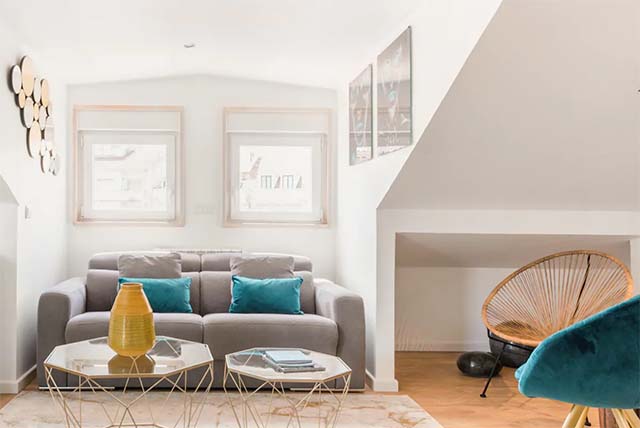 Bright and Sophisticated Apartment with Balcony
Rating: 4.80
Guests: 3
Bedrooms: 1
Monthly Discount: Yes
Special Feature: Patio
A newly renovated historical building is where you will find this Bright and Sophisticated Apartment with a Balcony. Designed to accommodate three people comfortably, whether you are a small family or a group of friends coworking and traveling the world together.
This modern flat has everything a remote worker would need; air conditioning, smart TV, wifi, different comfy areas to work from, a breakfast table, and a patio. Overlook the historical center of this neighborhood and listen to the sounds of the city from outside.
Bars, restaurants, shops, and cafes are all within walking distance if you need a change of scenery for your work call or for some inspiration. We recommend heading to A Marisqueira do Lis just around the corner for some epic seafood and beer.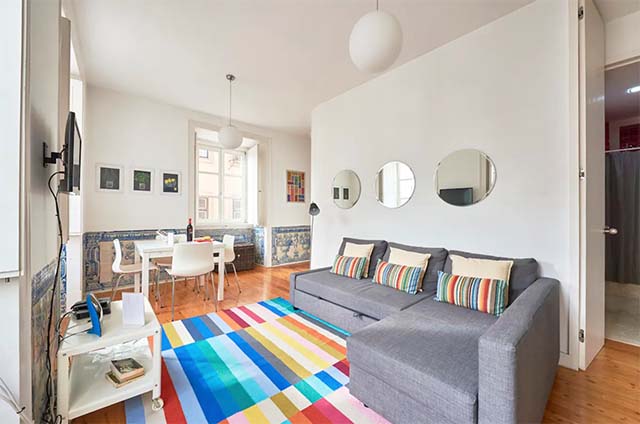 Charming Apartment in Lisbon
Rating: 4.92
Guests: 4
Bedrooms: 1
Monthly Discount: Yes
Special Feature: Traditional Decor
Stay in an 18th Century building with this Charming Apartment in Lisbon. Decorated in traditional and quaint Portuguese tiles and decorations and a beautiful stone archway to the entrance of this property, you can imagine what it must have looked like hundreds of years ago.
This Airbnb definitely has its own character, with bright floral walls, statement rugs, and a red shower. This location gives you a kick of history and a splash of modernity. Of course, it has all of the necessities like a washing machine, fitted-out kitchen, and the all-important wifi.
Perfect walking distance from areas like Chiado and Bairro Alto, as well as trendy and hip bars, clubs, and restaurants for when you have had enough of your laptop and need to get out and let your hair down.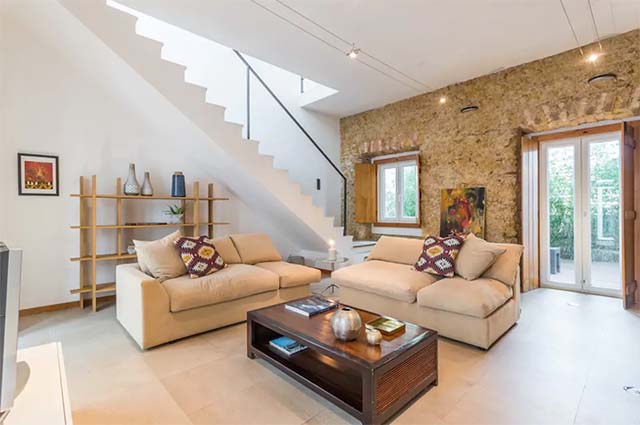 Alfama Villa Design
Rating: 4.72
Guests: 9
Bedrooms: 4
Monthly Discount: Yes
Special Feature: Inner Courtyard
The 1700s beautifully restored and renovated Alfama Villa Design is a location pulled right out of the pages of an Ideal Home magazine. This Airbnb can fit up to nine guests, so it's perfect for your whole family, a group of friends, or the whole team to get away for a month, brainstorm, and team building activities.
Perfect for all year round, with an outdoor courtyard with a seating area and BBQ, as well as an inside wood fireplace to get cozy during the colder months. This property has full kitchen appliances, clean and spacious bedrooms, and state-of-the-art bathrooms.
The property lies within Alfama, which has so many stories to tell. Tales from the Cathedral to Sao Jorge Castle, to the whispers and chatter when walking along the old town streets at night listening to the locals dance to Fado music.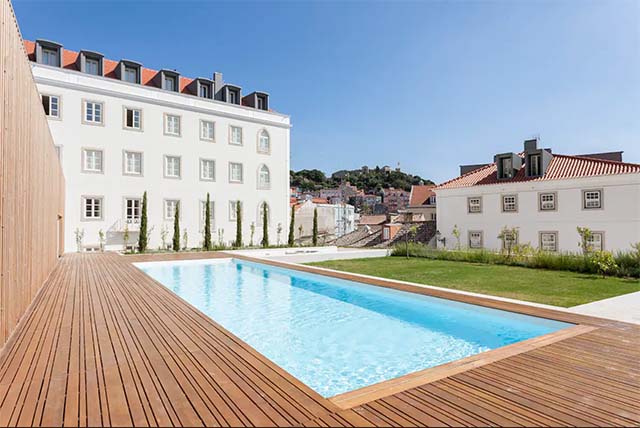 Sol ao Castelo with Pool
Rating: 4.90
Guests: 6
Bedrooms: 2
Monthly Discount: Yes
Special Feature: Pool
Luxurious condo stays at Sol ao Castelo with Pool for up to six guests. Fully indulge in the high life during your stay here.
This bottom-floor cozy studio has everything to make your stay smoother, including a smoothie maker. High-speed internet as well as different areas to sit down and work. When you have finished with the work that brings in the money, you can head to the communal gym and work on your fitness too.
Relax also on the private terrace or take a walk around the communal gardens, all on-site and available for you to use.
Sit back and relax by the pool and celebrate your victory of signing another freelance client. Or head out by foot to walk around the city center, as you are right in the center of it all when staying in this location.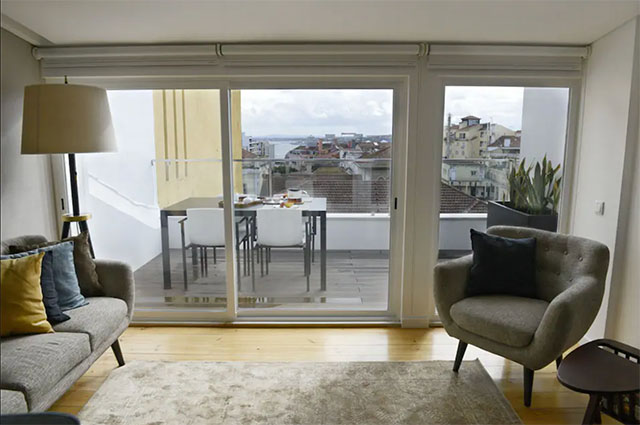 São Bento Charming Apartment
Rating: 5.0
Guests: 4
Bedrooms: 1
Monthly Discount: Yes
Special Feature: Skylights
A lovely rental awaits you at Sao Bento Charming Apartment. Located in central Libson in a charismatic, trendy neighborhood with unbelievable views of the city from the balcony.
This Airbnb apartment is clean and modern, which is newly refurbished just for you. Go to sleep watching the stars from the skylights in the bedroom, then wake up and have breakfast on the terrace while admiring the views.
Remote working is accessible here as there are many spots for you to sit down, get comfortable, and get down to business.
When you have finished, head downstairs and enjoy a meal with the locals at one of the many restaurants nearby. Locals rave about Frade dos Mares and their grilled octopus!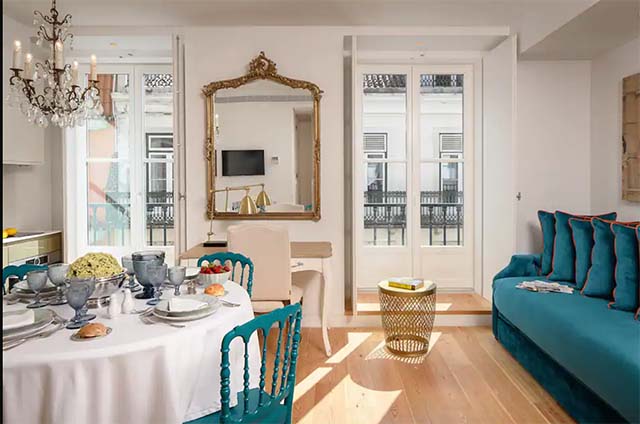 Elegant Apartment Near Iconic Square
Rating: 4.94
Guests: 4
Bedrooms: 1
Monthly Discount: Yes
Special Feature: Shuttered windows
If a stylish apartment is what you are after for your extended stay, then this Elegant Apartment Near Iconic Square might be precisely what you are after. This luxury apartment is decorated with chandeliers, plush sofas, and grand gold-framed mirrors.
This central apartment will feel like royalty with its interior design, up-to-date amenities, and one of the most comfortable beds to sleep in. It'sIt's okay; your boss will understand if you hit snooze.
The best part of this central Lisbon apartment is the floor-to-ceiling windows. Soak in the bright natural light to boost your energy and productivity. The view out onto the busy streets isn't too bad either. With the tram going past, people are busy shopping and ladies lunching with their friends in the local cafes.
Get on public transport, visit downtown Lisbon for a change of scenery, and perhaps even climb Castelo de S. Jorge. There are endless activities in Lisbon; some days it will be hard to choose!
Find the Perfect Long-Stay Airbnb for Every Workation
Stop wasting hours of your precious time reading through endless Airbnb listings in search of the perfect place to work on your remote job while you live your digital nomad lifestyle.
When you trust Nomads Embassy to hand-select digital nomad-friendly long-stay Airbnbs, you'll save hours of scrolling late at night. As digital nomads, we know exactly what amenities and features you need to succeed while working remotely and traveling the world.
Join our newsletter to stay up to date on the newest information and tips about working remotely and exploring the world.