Finding the perfect Airbnb in Cancun for your long-stay workation can be tricky. Between scouting out the best location to ensuring a listing has all of the amenities you need to read the reviews, it can take hours to find the right one for you.
You don't have time to scroll through Cancun Airbnb listings late at night when you have more productive things to do. Instead, you should be planning your excursions to Isla Mujeres and all of the different types of tacos you'll be eating during your lunch break.
So, to make it easier for you to fulfill your dream of working remotely in an exciting Mexican town with a tropical beach just minutes away, we've put together a list of the best long-stay Airbnbs in Cancun for remote workers.
Cancun for Remote Workers
Mexico has been a favorite destination for digital nomads and remote workers. Thanks to the affordable cost of living, ideal temperatures, and gorgeous sea views, Cancun makes for the perfect workation destination. With great wifi connection and speed, you'll be set up for success in this city!
While Cancun is known for its tourist activities and vacation rentals, it's still a great place for long stays of at least 30 days. You can truly create a great lifestyle and routine while living and working remotely in this fun and colorful city.
The city is strategically located near other popular and must-visit destinations such as Playa del Carmen and Tulum. You'll also have access to the multiple amusement parks by Xcaret.
The easiest way to get to Cancun is to fly to the local airport. From here, you can take a taxi or book a ride to your Cancun Airbnb.
From lounging at beach clubs to finding great cafes to work from to learning how to salsa dance on Thursday nights, Cancun is an excellent place to search for a long-stay Airbnb rental.
If you fall in love with the Mexican lifestyle, you may even consider applying for the Mexico digital nomad visa, allowing you to temporarily reside in the country for up to four years.
Best Long-Stay Airbnbs in Cancun
We define a long stay as being at least 30 days. All of the Airbnbs on this list allow month-long rentals and have the necessary amenities to make your stay comfortable.
Some of the amenities these Airbnbs in Cancun must have to be considered good for remote workers include:
Wifi
Kitchen/Kitchenette
Space to work
Washing machine
Ideal location
We searched for the absolute best Airbnbs in Cancun to fit every budget and situation so you can easily and quickly find your long-stay workation rental.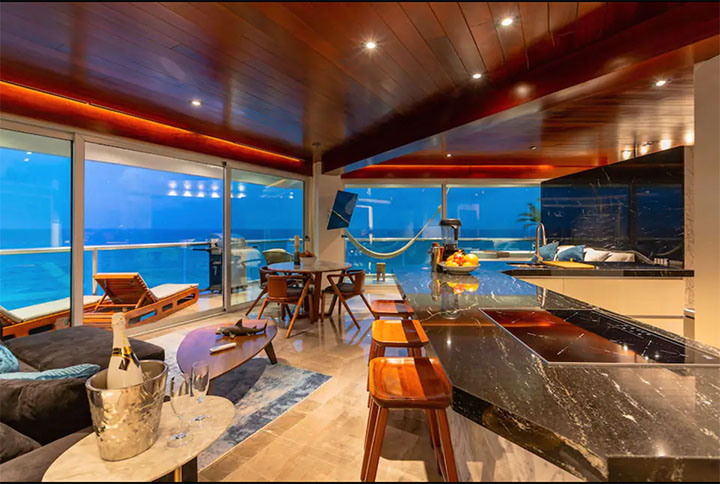 The Quarry Beachfront Penthouse
Rating: 4.93
Guests: 2
Bedrooms: 1
Monthly Discount: Yes
Special Feature: Panoramic Sea View, High-End Electronics, Two Pools, Beach Club, Laundry Service
Deemed one of the most luxurious Airbnbs in Cancun, the Quarry Beachfront Penthouse makes it hard not to feel like you're on vacation 24/7.
Aside from the incredible balcony with a sea view, high-end kitchen, outdoor soaking tub, and rainfall shower overlooking the blue Caribbean water, you'll be just 150 meters from white sandy beaches in the Hotel Zone.
Designed with imported marble and exotic wooden furniture and 180-degree views of the sea, your colleagues won't believe you when you say you aren't using a greenscreen during your Zoom calls.
Located in a condo building with two pools, a beach club, and a restaurant, you will have everything you could ever desire while staying in this Airbnb.
Some of the top features of this rental include free laundry service, an Alexa automated smart system, a professional cappuccino machine, and a brand new BBQ on the balcony.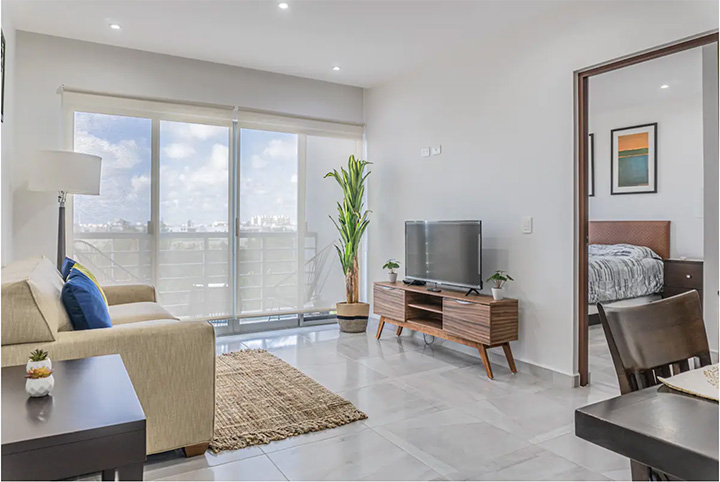 Beautiful Private Condo
Rating: 4.7
Guests: 6
Bedrooms: 2
Monthly Discount: Yes
Special Features: Maximum speed wifi, pool, ocean view
If you want to stay away from the more touristy areas of Cancun, then this beautiful private condo Airbnb is just for you. Located in an up-and-coming neighborhood, you will find everything you need. The Hotel Zone is just 20 minutes away and the airport just 15 minutes by taxi.
Simplistic in design, the condo is equipped with all of the necessities including a fully stocked kitchen, smart TV, high-end appliances, maximum speed wifi, and comfortable places to work from. You'll absolutely fall in love with the ocean views from the balcony too.
Located in a condo building with 24/7 security, a gorgeous pool, and lounge areas, you can fully relax and unwind during your stay here. If you decide to rent a car while in Cancun, there are two reserved parking spaces too.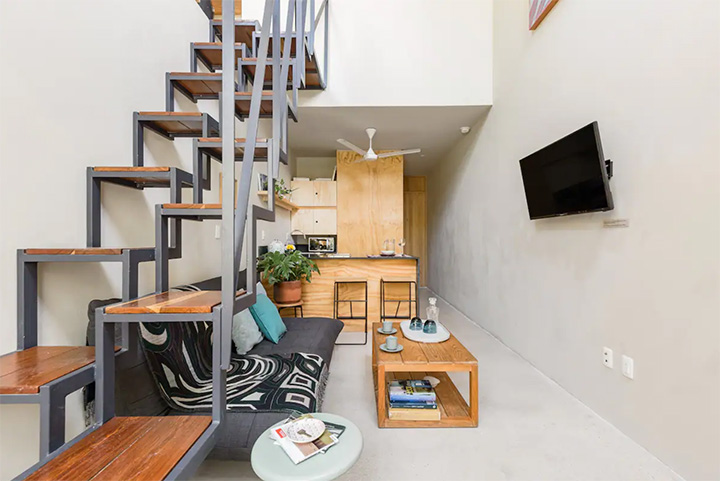 Cozy Loft Apartment Near Isla Mujeres Ferry
Rating: 4.86
Guests: 2
Beds: 1
Monthly Discount: Yes
Special Features: Private Pool
This cozy loft studio is perfect for the solo remote worker or couple who wants to spend some time in a lovely Cancun Airbnb. Equipped with everything you may need, including a full kitchen, smart TV, and comfortable seating, you will surely make yourself at home in this loft.
You'll also have access to a small private soaking pool in the back to cool off during the hot weather. This is truly a major selling point for this vacation rental!
This listing is also considered to be Airbnb Plus, so you can count on having an exceptional stay while in Cancun.
Located outside of the hustle and bustle of Cancun, you'll find supermarkets, retail stores, pharmacies, and more along the two main streets, just a 10-minute drive from the apartment.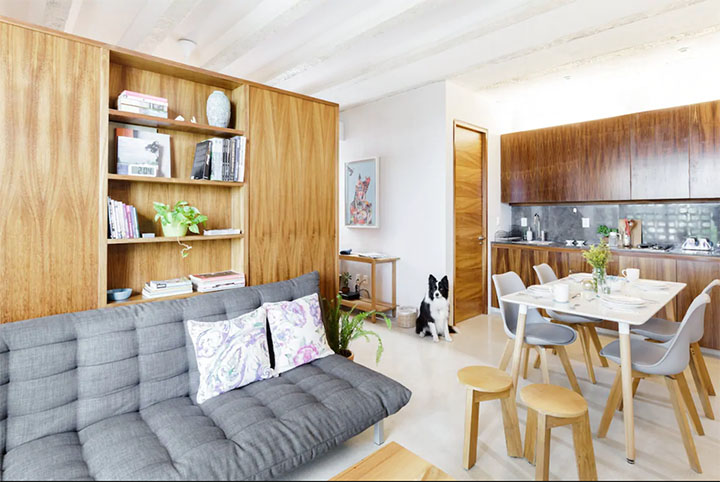 Award-Winning Caribbean Design Apartment
Rating: 4.85
Guests: 3
Bedrooms: 1
Monthly Discount: Yes
Special Features: Panoramic Roof Garden with Sea Views, Soaking Pool
Make this award-winning Caribbean design apartment your home for the next few weeks while you work remotely in Cancun. Thoughtfully designed and equipped with all of the necessities, you'll feel comfortable and productive here.
According to one reviewer, there was "great wifi," an excellent sign for remote workers to book this Airbnb in Cancun for their long-stay workation. With a large table or a sunny balcony or terrace to work from, you will be thankful that you chose this apartment.
In the common area, there is a shared rooftop garden and a soaking pool to cool off from the heat. You'll also find a cafe just under the building for a quick coffee or as another place to sit down with your laptop.
Unique Loft Design 1904
Rating: 4.95
Guests: 2
Bedrooms: 1
Monthly Discount: Yes
Special Features: Fast Wifi, Rooftop Terrace with Pool
This cozy unique loft in Cancun's Puerto Juarez neighborhood near the ferry to Isla Mujeres is perfect for remote workers searching for a quiet place to work, rest, and live. With tasteful decor and all of the necessities you could ask for, this loft will quickly feel like a second home.
With a dedicated workspace and wifi with a speed of 99 Mbps, remote workers will be productive and efficient while staying in this beautiful and cozy loft.
Enjoy the views from the balcony or relax with a book in the comfy hammock in the mornings. There is a shared rooftop terrace with a refreshing pool that you can use during the day as well.
Just ten minutes from the loft, you'll find supermarkets, retail stores, pharmacies, cafes, and more. There is also a bus stop nearby to take you to the nearest beaches whenever you'd like.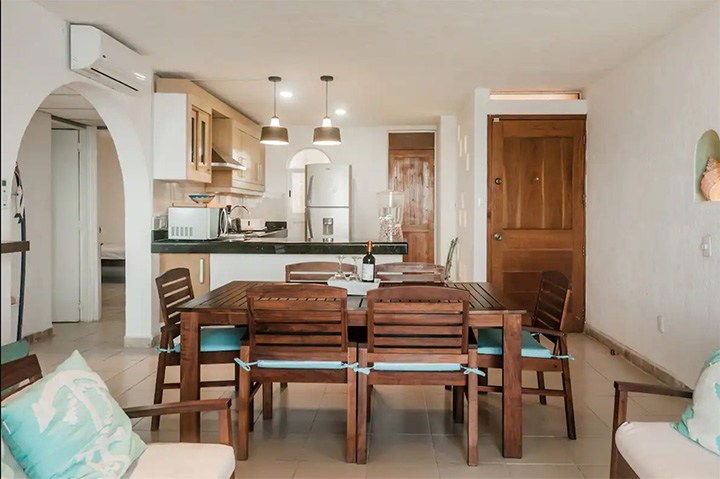 Beachfront House with Private Beach
Rating: 4.71
Guests: 5
Bedrooms: 2
Monthly Discount: Yes
Special Features: Beachfront, Dedicated Workspace, Shared Pool
You literally cannot get any closer to the beach than with this beachfront villa in Cancun. You'll enjoy spectacular views of the Caribbean Sea right from your window, the terrace, and the shared pool separated by just a few meters of sand.
Listen to the waves crashing as you lay in bed either waking up to start a beautiful morning or falling asleep after a wonderful day. Taking work calls is easy thanks to a dedicated workspace where you can find quiet and peace in this rental.
From the fully stocked kitchen to the ability to access Netflix on the televisions, you'll find that this apartment has absolutely everything you could ask for.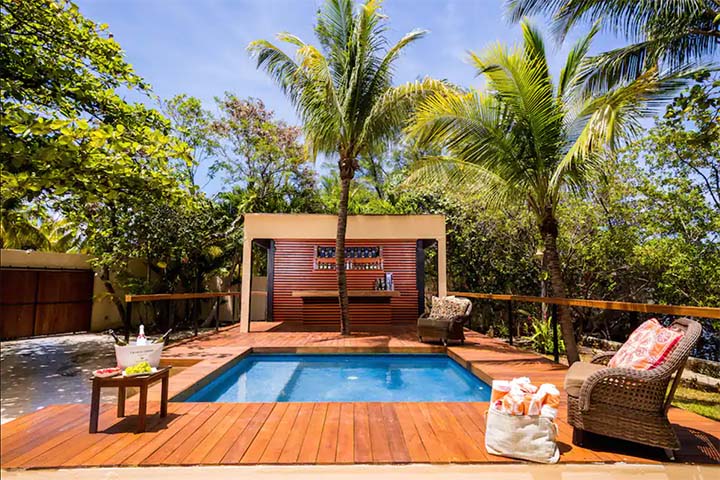 Mexican Mansion in Cancun Hotel Zone
Rating: 4.57
Guests: 16
Bedrooms: 6
Monthly Discount: Yes
Special Features: Personal Beach Club, Pool, On-site Concierge
This Mexican mansion in the Hotel Zone is perfect for coliving and coworking trips with large groups of colleagues and friends in Cancun. Consisting of four stories, six bedrooms with ensuite bathrooms, a private pool, and large communal spaces, it will be difficult not to feel like you're on vacation for a month here.
With airy bedrooms, large tables to work from, and shaded cabanas overlooking Laguna Nichupte, you and your friends, colleagues, or family will surely have the time of your life living and working from this Airbnb Cancun villa.
Take advantage of the on-site concierge and opt for a chef during your stay to make your working vacation truly feel like a vacation. The host team can also book excursions and organize day trips on a yacht if you so wish to.
Perfect Location for Cancun Holidays "Home Sweet Home"
Rating: 5
Guests: 4
Bedrooms: 2
Monthly Discount: Yes
Special Features: Pool, Central Location
For remote workers searching for a simple and affordable Airbnbs in Cancun, look no further than this perfectly located apartment. Equipped with everything you could possibly need, you will appreciate the thoughtful touches and just how clean and crisp this rental is.
Located in Downtown Cancun, you're within walking distance of tourist locations, restaurants, shops, cafes, and more. This is perfect for those who like to get out of the house and work from a coffee shop for a few hours a day.
Cool off in the pool shared by the complex or claim a sun lounger and work on your tan. Or stay in and watch a movie on the smart TV in the apartment on the cozy couch after a long day of work.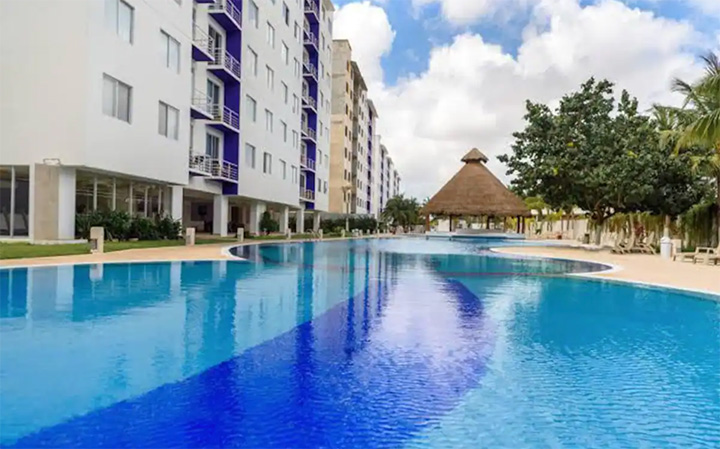 Condo Near Hotel Zone
Rating: 4.94
Guests: 5
Bedrooms: 2
Monthly Discount: Yes
Special Features: Pool, Central Location
There is a feeling of familiarity and comfort when you walk into this Cancun Airbnb condo near the Hotel Zone. Decorated with a simple and minimalist style and equipped with the necessities, you can easily make this rental feel like a home.
From the large walk-in closet to the full-service kitchen to the comfortable living area, this is exactly the kind of rental you would want for a long-term stay in Cancun.
Within the building where the condo is located, you'll have access to a gym, jacuzzi, pool, BBQ, and a large shaded cabana with tables and chairs. You'll also be near restaurants, supermarkets, cafes, shopping malls, and anything else you may need during your stay.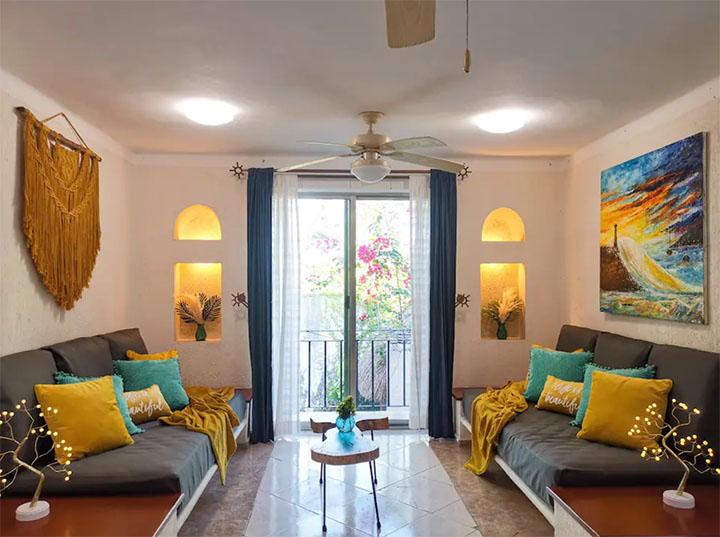 Beautiful & Cozy Apartment Near Beach with Pool
Rating: 4.88
Guests: 6
Bedrooms: 2
Monthly Discount: Yes
Special Features: Pool, Jacuzzi, High-Speed Wifi
This super colorful, beautiful apartment with a pool in Cancun is perfect for remote workers looking to save a little on accommodations while still getting luxurious amenities such as a jacuzzi, BBQ, and a comfortable setup.
You'll quickly appreciate the interior design with exquisite colors, artwork, and fabrics. It will surely get you into the Caribbean lifestyle mood. This is also one of the few units around that isn't located in a large condo complex. Rather, it's in a quiet building with just a couple of apartments.
Located outside of the center, you'll be able to fully relax and find peace in this Airbnb. However, you aren't far from supermarkets, restaurants, and transportation to take you to the beaches nearby.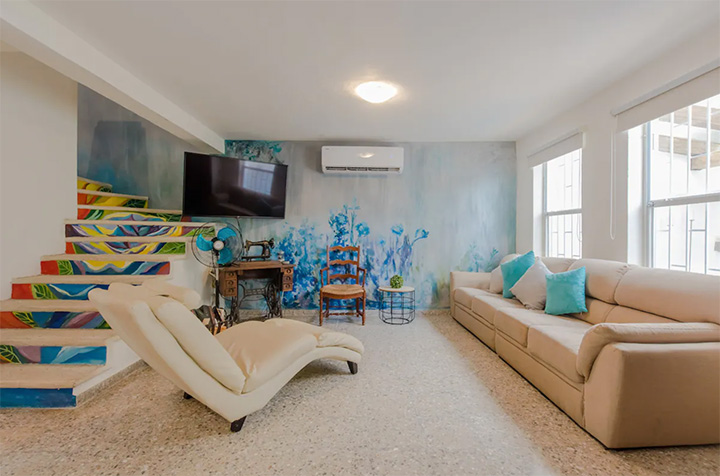 Casa Flores MX with Private Pool
Rating: 4.9
Guests: 4
Bedrooms: 2
Monthly Discount: Yes
Special Features: Private Pool, Excellent Wifi (155 Mbps)
The magnificent Casa Flores in the center of Cancun is ideal for both vacationers and remote workers. Fully equipped with everything you could need during a long-term stay, you'll find both comfort and beauty in this house.
Spacious and decorated with commissioned paintings by local artists, you'll appreciate each and every detail the villa has to offer. With a designated workspace and super fast wifi with a speed of 155 Mbps, you'll surely have no issue getting work done here.
After a long day of emails and meetings, cool off in the private pool outside, equipped with a fancy waterfall. Enjoy the quiet neighborhood and your unique lifestyle of traveling and working remotely in this beautiful home.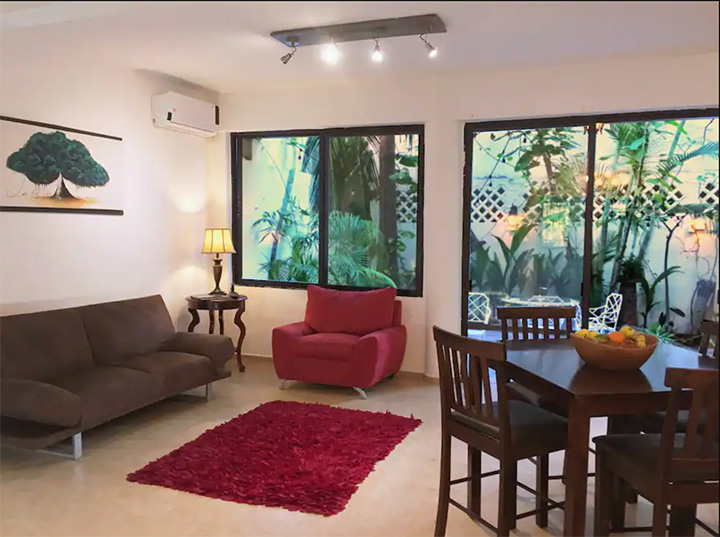 Home & Garden 2 Minutes from Beach
Rating: 4.68
Guests: 4
Bedrooms: 1
Monthly Discount: Yes
Special Features: Across from Beach, Spacious
Imagine waking up and seeing the white sandy beach of the Caribbean Sea right across the street. That's exactly what you'll get when you stay at this gorgeous home with a private garden in Cancun.
Comfortable and including everything you may need, you'll quickly make yourself at home in this apartment. The private garden is perfect for enjoying breakfast, practicing yoga, or simply reading a book. You'll also fall in love with the walk-in closet, allowing you to fully unpack your belongings.
Relax with friends or loved ones with a movie on the smart TV or make a meal in the fully stocked kitchen. Nearby, you'll find supermarkets and restaurants within walking distance.
The neighborhood is lively and it's always easy to grab a taxi as they are plentiful. You'll also be close to little-known ancient Mayan ruins, El Meco, the largest in Cancun.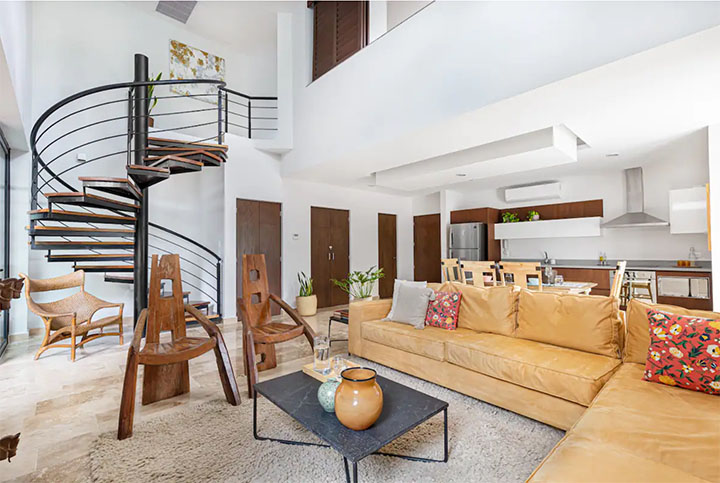 Luxury Apartment with Pool & Gym
Rating: 4.95
Guests: 2
Bedrooms: 1
Monthly Discount: Yes
Special Features: Pool, Gym, High-Speed Wifi (130 Mbps)
This gorgeous luxury apartment with a pool and gym is ideal for remote workers wanting to stay in Cancun long-term. Tastefully decorated, spacious, and comfortable, solo travelers and couples will quickly fall in love with this new modern apartment.
You'll find a spiral staircase leading up to a spacious bedroom with a comfortable bed and a full luxury bathroom. On the main floor, there is a kitchen with high-end appliances and a living area with comfortable seating and unique furniture.
You'll find multiple places to set up your laptop and get some work done. The high-speed wifi, at 130 Mbps, makes it easy to hop on video calls and download large files when needed.
Guests will have access to the shared rooftop pool and terrace. You can also take advantage of the fully-equipped state-of-the-art gym in the condo building. There is also 24/7 security and secure underground parking.
Find the Perfect Airbnb Every Time
Stop spending hours of your valuable time scrolling through Airbnb listings searching for the perfect one to work remotely from. We understand exactly what you need to work successfully while living and traveling abroad.
Next time you need to find an Airbnb for your next workation, come to Nomads Embassy: The World's First Embassy for Digital Nomads.
For the latest news and advice about working remotely and traveling the world, join our newsletter.