If you have a Twitter or Instagram account, you've probably heard about the scandal surrounding digital nomad Kristen Gray.
It was a long string of tweets to promote her ebook, "This Bali Life is Yours," that Gray caused controversy over her digital nomad lifestyle in Indonesia. This resulted in her being deported from the country and offending the local Balinese people.
Gray became a digital nomad and moved to Bali in January 2020 working as a graphic designer with her girlfriend. Entering on a tourist visa that was only valid for 60 days, she was able to get an extension until January 24, 2021, due to the pandemic.
In these (now deleted) tweets, she promoted the low cost of living in Bali and how wonderful her life was living in a $400/month treehouse as opposed to her $1,300/month studio in LA, described the country as LGBT-friendly, and encouraged travelers to visit.
There are three major things wrong with how the information presented:
She promoted exploiting a weak currency with a US-salary
She described the country as LGBT-friendly when in fact there are still many struggles with discrimination
She encouraged and even tried to help people travel to the country during the peak of the COVID-19 pandemic as its case numbers rise
These aren't the only things that were problematic about her lifestyle, though. The speculated reason that the government deported her was due to an invalid visa and not paying taxes.
Now, I'm not going to debate whether Kristen Gray should have been deported or not, that's a completely different story.
No, I want to talk about her irresponsible actions as a digital nomad and how you should take them as warnings.
Exploiting the Economy
First, let's discuss the promotion of taking advantage of a weaker economy so she can live a more luxurious lifestyle.
Yes, it is a trend for digital nomads to move to more affordable countries, especially those coming from the United States and Western Europe. However, it's your responsibility to acknowledge your economic status and how it compares.
To create a balance between staying in a place with a low cost of living and making an American salary, go out of your way to give back to the community.
Make donations and volunteer within the community. Support small businesses and local farmers by purchasing food at stands and farmer's markets. Help the local economy in as many ways as possible while you're there.
I wrote an entire piece about how to avoid being part of a digital nomad invasion and exploiting weaker currencies just like Kristen Gray did.
Disrespecting a Host Country's Rules and Regulations
One of the speculated reasons Gray was deported was because she did not pay taxes to Bali while she stayed there and made money.
Indonesia's law states that if you stay in the country for over 183 days, then you must pay a tax.
While Gray profited from selling her ebook about how to live in Bali as a digital nomad, she did not pay the required tax for staying there.
Her ebook also reportedly offers details about how to avoid paying taxes, tips to overstay visas, and more.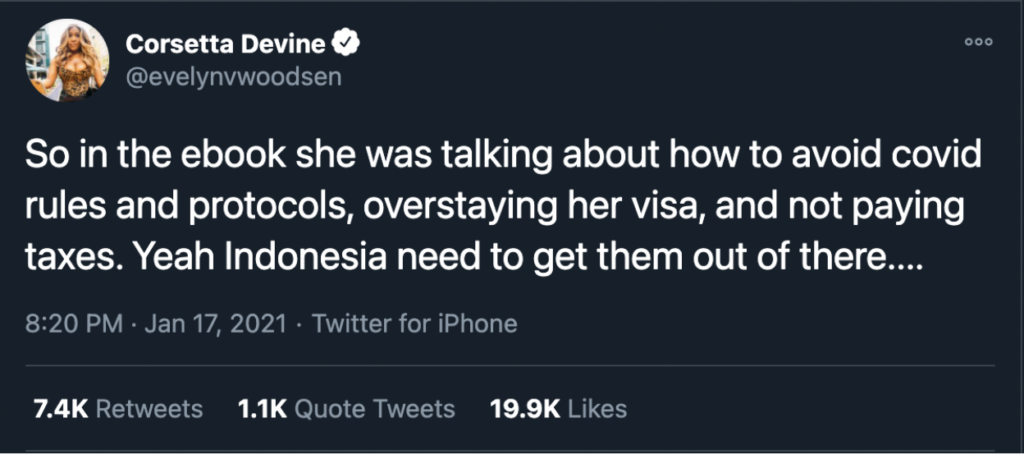 How can you avoid making this grave mistake? Do your research.
Encouraging Travel During a Pandemic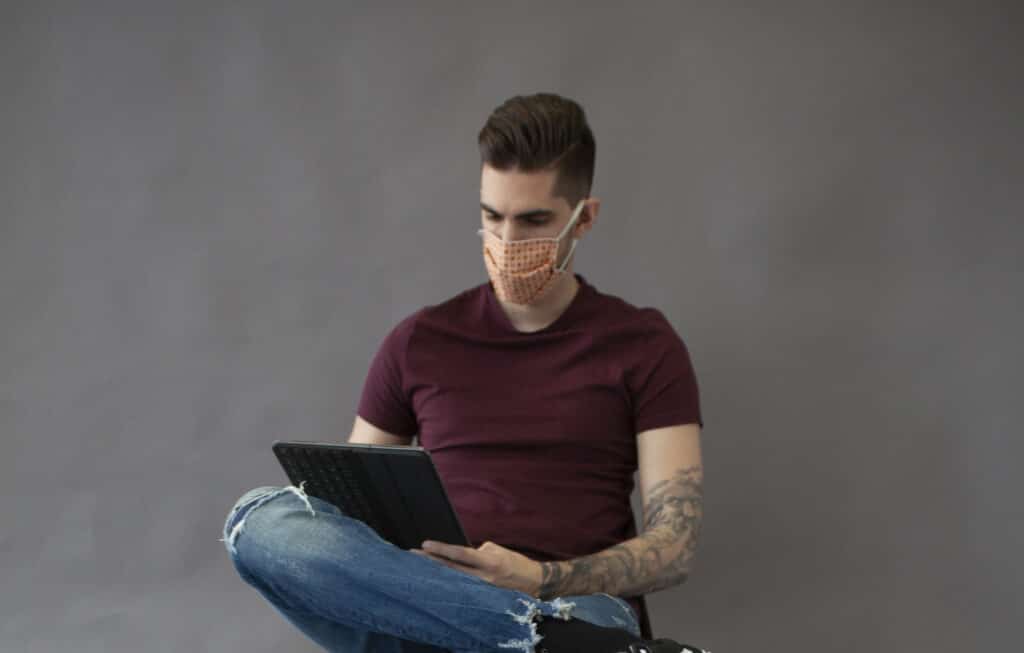 Until January 28, 2021, Bali is under a strict lockdown due to the severity of COVID-19 within the country.
Kristen Gray, in her Twitter thread, encouraged people to move to Bali during the pandemic. She even offered ways to skirt around the travel restrictions.
Not only is this another complete disregard for the country's rules and regulations, but it also puts people in danger. For the good of others, travel should be extremely limited right now – even for digital nomads.
If traveling during COVID-19, make sure you obey your destination's laws and restrictions.
When asked to present a negative test, present a negative test.
When asked to quarantine, quarantine upon arrival.
The situation won't get better if people bypass these strategies and put others at risk.
Promoting False Information
Kristen Gray is not a reliable source for information about being a digital nomad in Bali. She proved this by claiming Indonesia is an LGBT-friendly country.
Same-sex marriage is illegal and there is still a lot of discrimination within the culture. Gray gave completely incorrect information about the country that was hosting her and promoted it to her followers.
I also just want to drop in and say that love is love is love and everyone should have the same rights no matter which sex or gender they are attracted to. Okay, back to Kristen Gray.
Let this be a warning to current and aspiring digital nomads – you cannot always trust what you read on the internet, especially when it's coming from unreliable sources such as social media influencers.
Information is valuable, but only if it's true.
How You Can Avoid Making These Detrimental Mistakes
Digital nomads rely on correct and reliable information while traveling and planning their lifestyle.
Nomads Embassy offers exactly that.
We provide essential, research-backed information, not the experience of social media influencers, you must know while living abroad as a digital nomad.
So, when you're living in Bali for 184 days, you know that you owe the country taxes.
Members of Nomads Embassy have access to 24/7 support with trained ambassadors who can answer all their nomad lifestyle-related questions.
Plus, members can receive assistance in managing their taxes as digital nomads, applying for digital nomad visas, and more. 
Learn more about how Nomads Embassy can help you become a successful digital nomad now.